Shen Yun a Cultural Delight
April 14, 2014 10:43 pm Last Updated: April 15, 2014 11:34 pm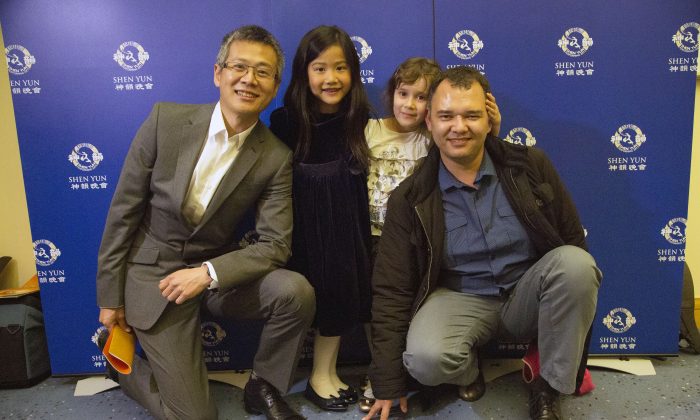 BIRMINGHAM, United Kingdom—Shen Yun Performing Arts showed the deep meaning within classical Chinese culture to a sold-out ICC audience in Birmingham on Monday, April 14.
Dennis Tahalele, a general manager working for BUPA, saw the first of only two U.K. performances with friends and family.
"I understand that this is a lost culture and a way of performing art that has not been practised in China for a long time," he said. "They're trying to bring it to the attention of people now worldwide, so I think that's a very positive thing."
New York-based Shen Yun's artists follow the ancient tradition of incorporating study and meditation into their rigorous daily training, according to the Shen Yun website.
Mr. Tahalele said it was a new experience for him to see a performance like Shen Yun, but that it was very original, highly enjoyable, and very cultural. "It's very interesting to watch it," he said.
'Excellent, So Stunning'
Also at this opening performance in the U.K. were Angela Cobb, a French language interpreter, and Richard Cobb, a town planner.
Mrs. Cobb liked the liveliness of the performance. It was "very colourful, very animated," she said. She particularly liked the way that Shen Yun portrays the Chinese culture from different eras through the medium of classical Chinese dance.
She was also intrigued by the way that animals feature in Chinese mythology, such as a frog in the dance The Monkey King Thwarts the Evil Toad, an episode from the classic novel Journey to the West. The performance programme says it "tells of a Tang Dynasty monk and his disciples (the Monkey King, Sand Monk, and Pigsy) on a quest for Buddhist scriptures."
The way the dancers interacted with the animated backdrop also impressed Mrs. Cobb. Shen Yun's website says, "The digital backdrop team creates vividly animated settings, extending the stage and transforming the audience to a world where heaven and earth are one."
She was particularly touched by the dance Lotus Fairies. "Excellent, so stunning," Mrs Cobb said about the dance that is described in the programme as a "dreamlike piece extolling the lotus' virtues … Dancers holding long silken fans glide across the stage like celestial fairies in flight."
Mr. Cobb said the whole performance was colourful and "very enjoyable."
Shen Yun Performing Arts go on to Dublin's Convention Centre for performances on April 19th and 20th.
Reporting by NTD Television, Shaoying Chen, and Damian Robin
New York-based Shen Yun Performing Arts has four touring companies that perform simultaneously around the world. For more information, visit Shen Yun Performing Arts. 
The Epoch Times considers Shen Yun Performing Arts the significant cultural event of our time. We have proudly covered audience reactions since Shen Yun's inception in 2006.