In this series, we ask chefs about the secret ingredients they love, and how you can use them at home. Here, two Southern chefs share their favorite sweeteners—which happen to be Southern specialties.
Steen's Cane Syrup, From Louisiana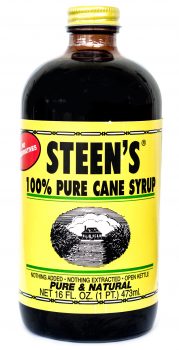 Isaac Toups
Executive chef and owner, Toups' Meatery and Toups South
New Orleans, Louisiana
Secret Ingredient: My secret ingredient is Steen's Cane Syrup. My family and everyone in Louisiana has been using it forever. It's just a secret outside of the South.
It's considered one of the basic flavors of Southern Louisiana, and Steen's has been making it since 1910. They make it using open kettles to cook down the cane juice into a concentrated syrup. It's absolutely essential in making sweet Southern dishes, but I use it in savory dishes too. It adds the perfect element of sweetness.
How to Use It: Think of it as a better version of molasses. You can add it to a salad dressing to give a hint of sweetness, use it in most desserts that call for sugar or molasses, and use it in glazes for all sorts of meat dishes to give a nice flavor. A little goes a long way, so start off light and you can always add more.
I love making a cane syrup gastrique to go on my most popular dish at Toups Meatery: the Double-Cut Pork Chops with Cane Syrup Gastrique. I also showcase this recipe in my book "Chasing the Gator."
Where to Get It: You can buy Steen's Cane Syrup at a lot of grocery stores, and, of course, on Amazon. There are other brands of cane syrup, but to me, Steen's is the only one.
Cane Syrup Gastrique
1 cup cane syrup (or molasses)
1 cup cane vinegar (or cider vinegar)
4 tablespoons unsalted butter
In a saucepan, combine the cane syrup and cane vinegar. Bring to a boil over medium heat and cook until the liquid has reduced to 1 cup, about 20 minutes. There's no need to stir, but watch closely, as it likes to burn.
You can make this in larger batches; the shelf life is pretty much infinite. In a sealed jar, it doesn't need to be refrigerated.
Recipe courtesy of Isaac Toups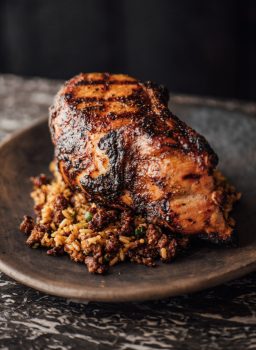 Sweet Sorghum, From Kentucky
Ouita Michel
Chef and restaurateur, Ouita Michel Family of Restaurants
Lexington, Kentucky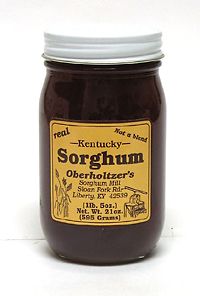 Secret Ingredient: Kentucky sorghum is my favorite sweetener and secret ingredient. It is a dark, thick syrup made from boiling down the grassy juice from sorghum cane after grinding. 
Historians believe that sorghum seeds were originally brought to the American South by enslaved people in the early 17th century. Sorghum is native to many parts of Africa and has been cultivated for more than 5,000 years. As a child, I ate sorghum on oatmeal, biscuits, and cornbread.
I use a sorghum produced by Randal Rock near my home in Woodford County, Kentucky. He grows many varieties of the crop, but says the quality of the soil and condition of the cane are the two most important factors in producing a quality sorghum. Randal produces an excellent sorghum called Country Rock Sorghum.
I like the herbaceous qualities of sorghum. It isn't a straight, one-dimensional sweetness; it has a minerality, and a natural acidity and grassiness that shine through from the original cane juice. Like Randal, I can taste the soil here in Woodford County and the region's signature limestone coming through the syrup.
How to Use It: We use it in every loaf of wheat bread we bake, and we make a delicious sorghum crinkle cookie. I love to use it in apple or persimmon chutney, butternut squash bisque, and in brines with bourbon, as well as caramel sauce. Often, we clarify butter and sorghum together and then use the butter for sautéing chicken or sweetbreads. We also use sorghum in cocktail-making with bourbon, as a julep, but my favorite recipe is my sorghum vinaigrette.
Where to Get It: You can find all kinds of sorghums from producers in markets around Kentucky. Sorghum is also available for purchase online from BourbonBarrelFoods.com, and Country Rock Sorghum is available at ArtEatables.com. Oberholtzer's sorghum (another Kentucky producer) is available for purchase on Amazon.
I also highly recommend Ruth Hunt Candy's sorghum suckers, available in late September and October for purchase at RuthHuntCandy.com.
Sorghum Vinaigrette
1/2 cup pure sorghum
3 tablespoons your favorite bourbon (I use Woodford Reserve)
1/2 cup malt vinegar
1/4 teaspoon Tabasco hot sauce
2 teaspoons grated onion
1 teaspoon salt
1 teaspoon freshly ground black pepper
1 cup blended olive oil or canola oil
In a large jar, combine the sorghum, bourbon, and vinegar together and shake until sorghum is dissolved. Add the hot sauce, onion, salt, and pepper. Stir to dissolve salt. Drizzle in the oil, whisking as you go.
This recipe is also very easy to make in a blender. 
Recipe courtesy of Ouita Michel