Succulent, juicy lamb meat is always served well-done in the Mediterranean region. This type of roast—once synonymous with Easter, weddings, and important feasts—is now often enjoyed at weekly family gatherings. A symbol of hospitality for millennia, this is an excellent celebratory dish that your guests will appreciate.
Many chain grocery stores offer leg of lamb, especially in the springtime, but if they don't, you can order ahead. Greek, Italian, Indian, and Middle Eastern meat shops usually sell lamb meat on a regular basis. Personally, I like to source mine from a halal butcher in my neighborhood.
For an easy side dish, try adding potatoes or other root vegetables; fennel, peppers, and carrots could all be added during the last hour of cooking.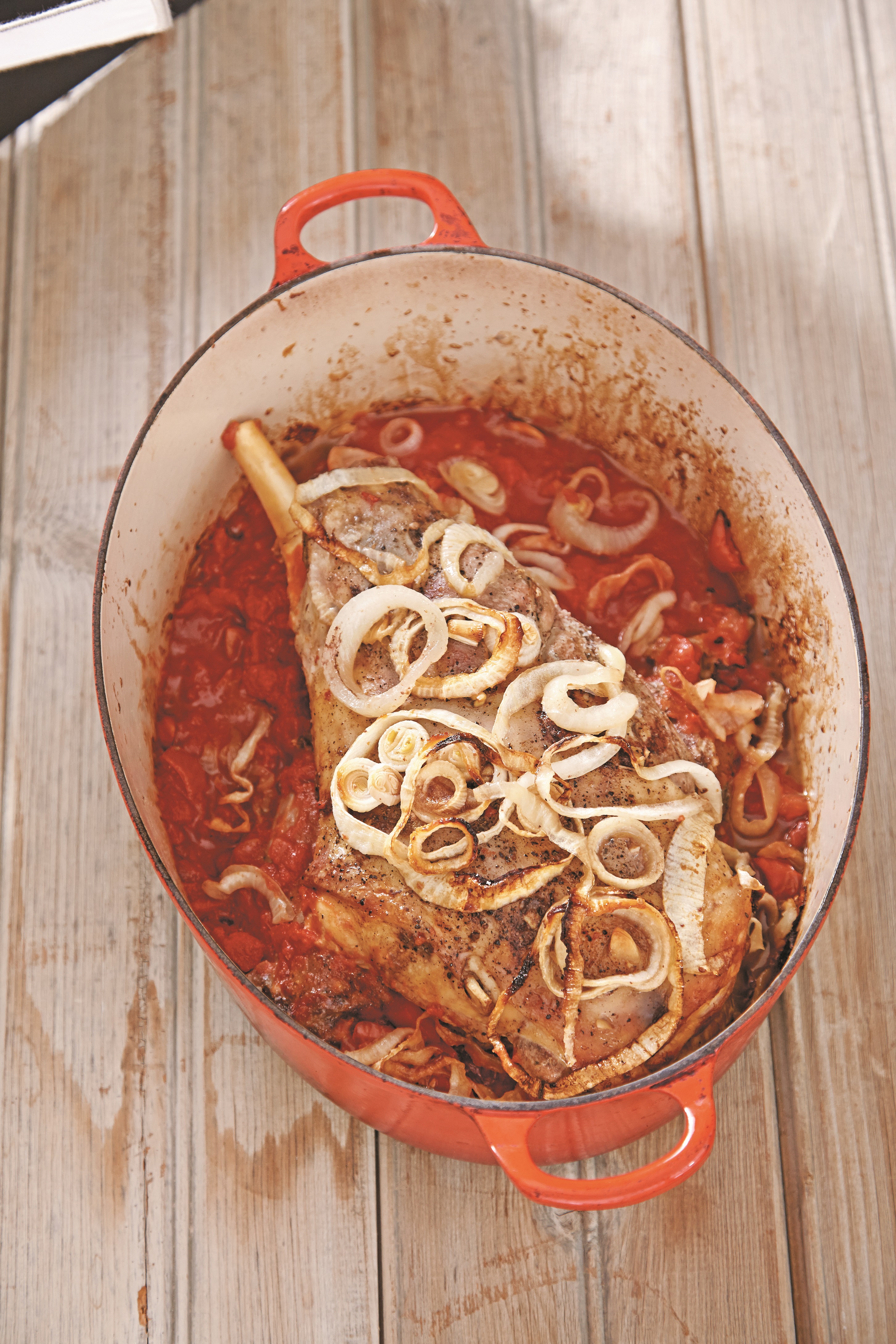 Leftover lamb meat can be added to stews, soups, pasta, frittatas, tacos, and more! I love serving thinly sliced leftover roasted lamb on top of salads and in pita sandwiches, or to accompany hummus and other traditional Mediterranean-style dips. It lasts for a few days in the fridge, and can also be stored in the freezer.
Makes 10 servings
1 (5-pound) leg of lamb
1 head of garlic, peeled
1/2 teaspoon unrefined sea salt or salt, plus to taste
1/4 teaspoon freshly ground black pepper, plus to taste
2 cups chicken stock or water, divided
Juice of 1 lemon
2 large yellow onions, sliced into rings
2 tablespoons Amy Riolo Selections, or other extra-virgin olive oil
2 large tomatoes, chopped, or 1/2 cup chopped canned tomatoes
2 cinnamon sticks
Preheat the oven to 350 degrees F. With a paring knife, make 1-inch slits in various places around the leg of lamb. Sliver garlic cloves and insert them into the slits in the lamb. Massage 1/2 teaspoon salt and 1/4 teaspoon pepper into the lamb, and place in a large roasting pan. Pour 1 cup of the chicken stock or water into the pan. Bake for 1 hour, uncovered, basting every 20 minutes.
Pour lemon juice over the lamb. Place the onion rings over the top and drizzle olive oil over the onions. Scatter the tomatoes around the sides of the pan. Add the cinnamon sticks and remaining 1 cup of stock to the pan. Return to the oven and bake, uncovered, an additional 2 hours, basting every 20 minutes, until lamb falls off the bone.
Remove from the oven and cover the pan with lid or aluminum foil. Allow the lamb meat to stand at room temperature for 10 minutes before carving. Remove and discard cinnamon sticks. Place the lamb on a serving platter and carve. Serve warm, with tomatoes and onions spooned over the top.
Recipe from "The Ultimate Mediterranean Diet Cookbook" by Amy Riolo.