As daylight keeps getting shorter and temperatures start to slip, trees take the hint and begin preparations for winter.
They send their sap down from the upper reaches through the trunk and into the roots. They stop producing chlorophyll for their leaves (nature's solar panels) in anticipation of shedding them for the season. What remains of this green pigment vital to photosynthesis, begins to break down. The fall colors that appear were there all along, waiting for a couple of weeks of limelight before the final seasonal curtain call.
It's a show that many of us anticipate each year, and we make plans to hunt for the perfect leaf or the ultimate display.
We've recently covered camping and road trips to national parks (and national forests!)—excellent travel ideas to consider when the colors arrive—but even a day trip to nearby woodlands requires a bit of planning, timing, or just plain good luck.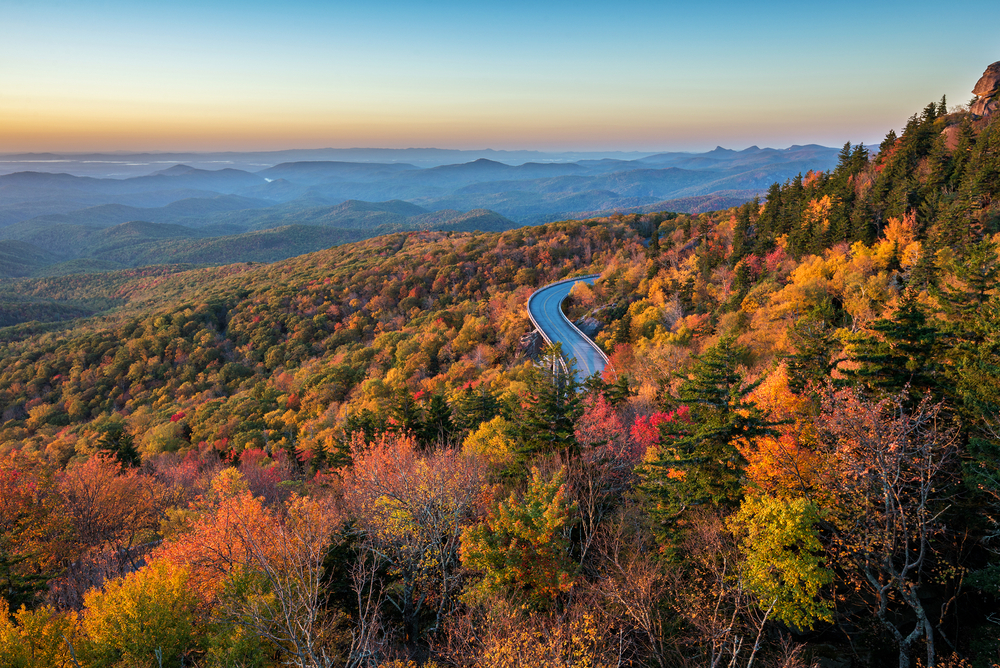 When to Go
"Peak color" is the sweet spot, the edge of that tipping point when all the leaves in an area have turned and in a moment will start to lose brilliance. Generally speaking, the first colors—and first peaks—appear in the north, and over the course of a few weeks the color wave rolls to the southern states; northern Vermont might peak as early as last week of September, while Alabama typically holds out until the first days of November. 
Travelers with time could ride high season for close to six weeks. But elements such as elevation, microclimates, and the sea or large lakes have an impact as well. From New Jersey down to South Carolina, peak colors might arrive together around the third week of October—along the coast. Head inland, however, and they come a week or more before that.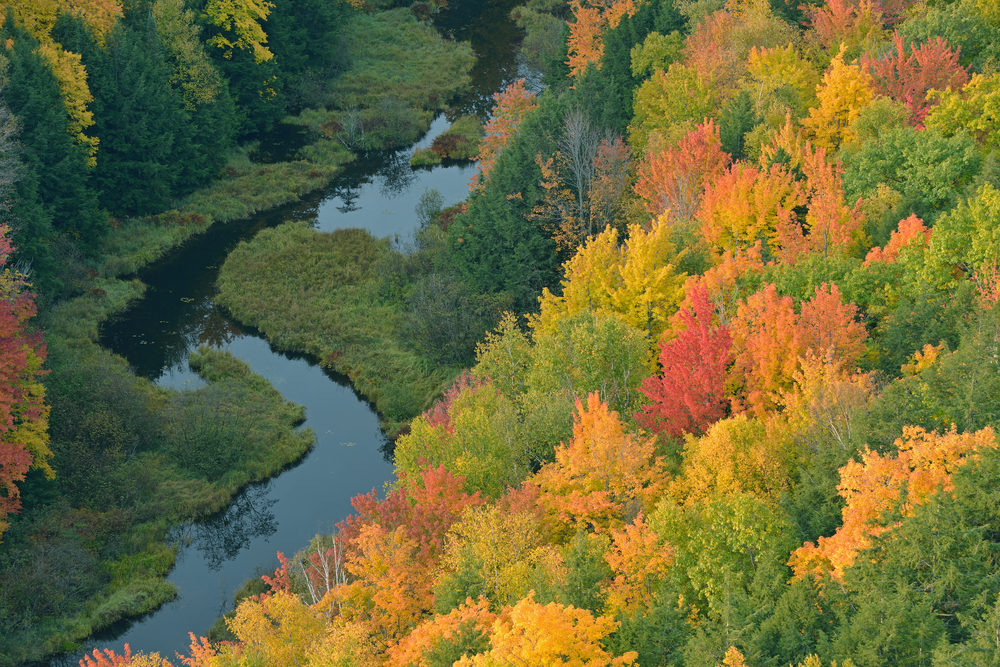 Long-range planning for leaf-peeping relies on general estimates, comparing the average annual date over the years plus considering the daily and nightly temperatures, the number of sunny days, and the amount of rainfall both earlier in spring and recent precipitation. An early freeze is detrimental, but cool weather breaks down the chlorophyll faster as does sunlight, bringing colors sooner. A dry fall is best, while hard rain can take leaves down too early.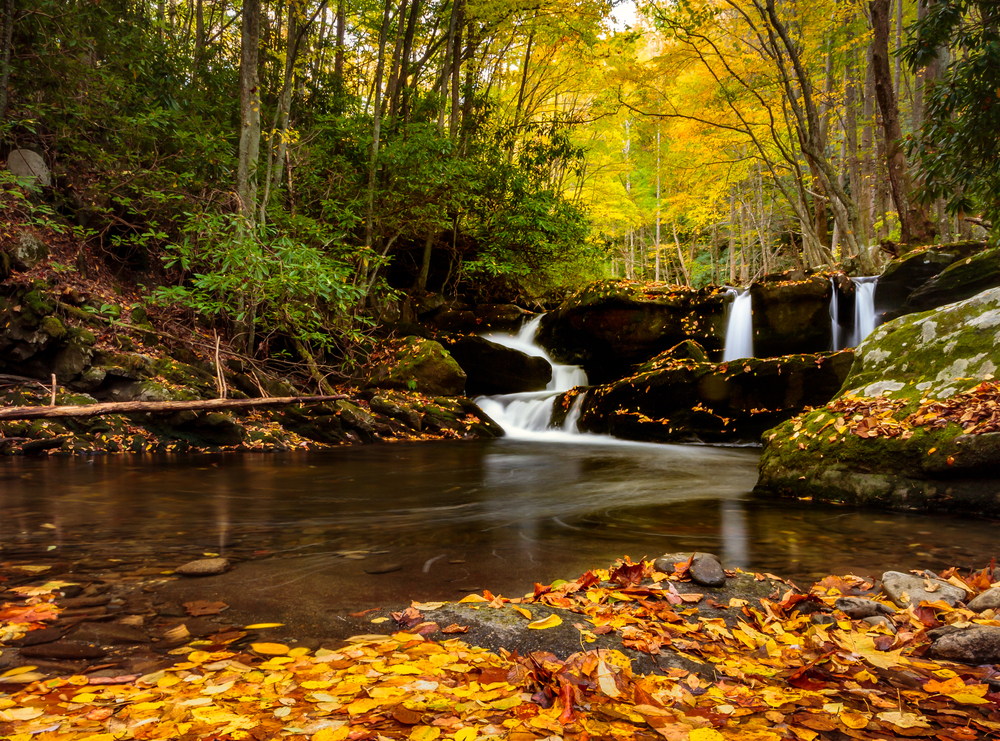 An online source for fall colors in the Ozarks (OzarkMtns.com/foliage/rule3.asp) even lists a favored regional forecast source. Peak colors in the Ozarks, the site informs us, typically come at the end of October and drift into early November, but the only guarantee is they will come, sooner or later.  
The fickle nature of the event favors last-minute planners. Online resources have made it easier than ever to get very current estimates of the amount of leaf cover that has already turned.
For example, the Upper Midwest along the Great Lakes has an abundance of protected forests and rustic rural routes, as well as myriad lakes and rivers for the mirror effect. Travel Wisconsin provides a frequently updated Fall Color Map (TravelWisconsin.com/fall-color-report). Michigan also chronicles changes by the day and encourages visitors to sign up for reports in a weekly email newsletter (Michigan.org/fall). Its designated driving routes are helpful. Minnesota's color map is operated by its Department of Natural Resources and highlights up-to-the-moment color changes within its state parks (DNR.state.mn.us/fall_colors/index.html)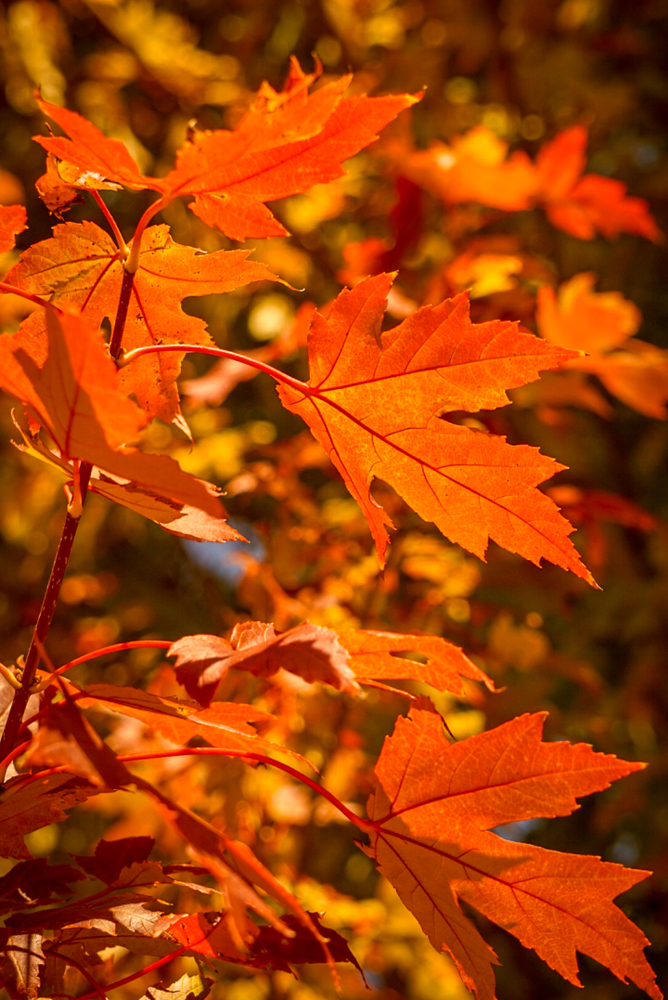 The nonprofit Great Smoky Mountains Association partners with its namesake national park to promote education and preservation, and provide a color prediction map that also shows previous years' timelines for leaf-peeping for comparison (SmokyMountains.com/fall-foliage-map/)
In New York state, check out the I Love NY Fall Foliage Report (ILoveNY.com/things-to-do/fall/foliage-report/)
Where to Go
The list of possibilities is long, and your choice depends on how far you want to go, and if you prefer a destination or a journey (or both). 
Spend a week in the Porkies: Camp or rent a cabin in Michigan's Upper Peninsula state park, the Porcupine Mountains situated along the shores of Lake Superior. Or swap to Lake Michigan, where Wisconsin's peninsular thumb, Door County, offers quiet escapes along over 300 miles of shoreline, with wineries, hayrides, and fine dining just minutes from state parks with trails through thick forest and even a dark skies setting. Minnesota has thousands of places to go for a "lake in the woods."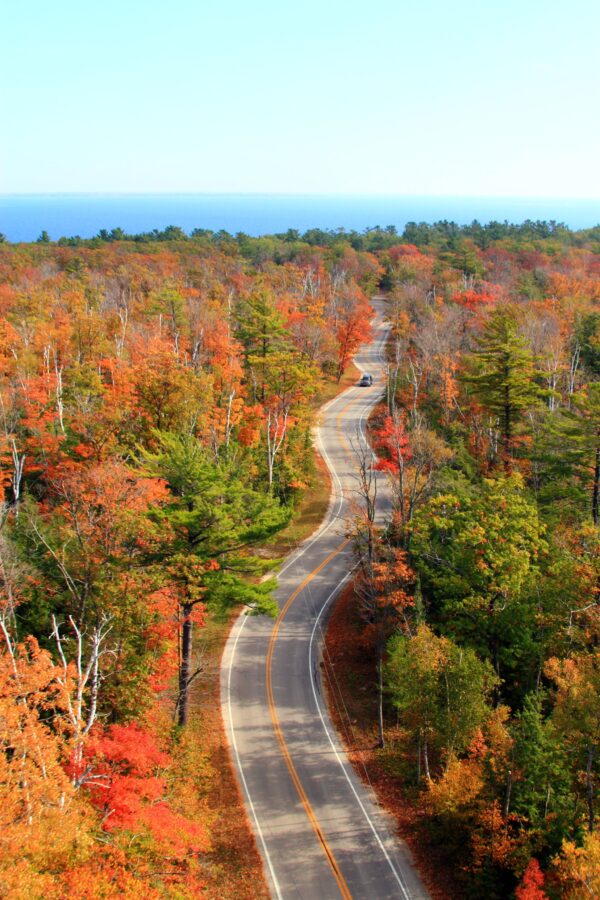 Or, keep it moving, and focus on the journey: Get on the Great Allegheny Passage, which offers nearly 150 miles of trail for hikers or bikers, connecting Pittsburgh to Cumberland, Maryland. Road trip down a national scenic highway or a designated rustic road. Take a turn through the southeast on the Blue Ridge Parkway, which winds 490 miles through Virginia and North Carolina (BlueRidgeParkway.org/fall-color-on-the-parkway/) from Shenandoah National Park to the Smokies. The route features scenic overlooks and overnighting opportunities in Roanoke, Asheville, and other great towns. (Be aware of recent weather damage and detours.) 
Up Your Photo Game
Tech has come a long enough way that you don't need several grand in digital SLR camera equipment, but if you still have a camera, even a point-and-shoot, that can use filters, get a polarizer. Your blue skies will darken and deepen, and reflected light off glossy leaves will be eliminated, making those colors richer as well.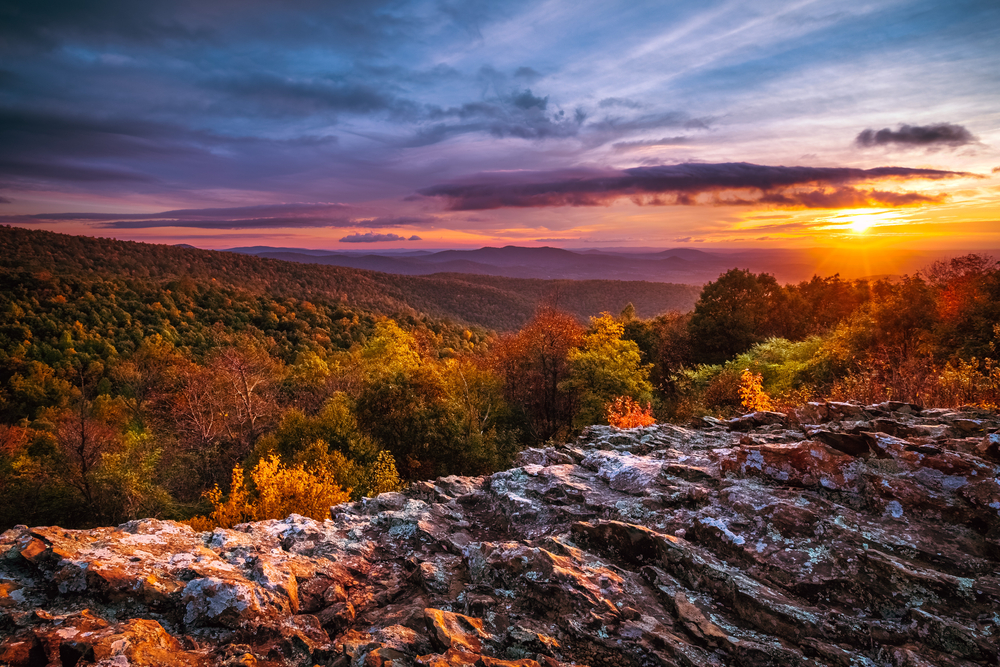 Cloudy days are a drag, but use warming filters or the cloudy white balance compensation, and consider skipping the sky and focusing on close up colors and contrasts. Also, watch for the sky poking through as clouds add drama or a rainbow catching the sunset unexpectedly can save a day. Photography is about timing, which requires readiness and patience.   
Look for vantage points. An interesting stretch of road, an overlook, a waterfall, or river, contrasting barns and homesteads, a nearby or distant landmark to focus on or use as a background. 
As with all photography, determine your subject, the details that draw the eye, and how they fit in your photo. Fall colors dazzle us to shoot shots like mad and end up with very colorful but characterless shots. Use contrasts in color and light to make the leaves pop. Would you hang this on your wall?
All the best-laid plans of mice and men, often go awry, however. A heavy rain or high winds, days before or during your trip can put a damper on things, for example. Roll with it. Give yourself some flexibility if you can, but most of us have to schedule leaves (sorry) precisely. Be sure to have a backup plan. Worst case scenario? Many destinations that offer the full autumn experience are also home to orchards, pumpkin farms, or other seasonal attractions, which are pretty good consolations. 
Kevin Revolinski is an avid traveler and the author of 15 books, including "The Yogurt Man Cometh: Tales of an American Teacher in Turkey," and several outdoor and brewery guidebooks. He is based in Madison, Wis., and his website is TheMadTraveler.com