Rolling out from West Hollywood and headed for the coast, the traffic has been a nightmare, a Friday afternoon filled with stop-and-go—those shimmering Pacific beaches just a dream for the moment.
Headed northwest, the urban tangle begins to loosen, hot streets supplanted by rolling hills and broad vistas. And then, just like that, it all falls away, the traffic, and my worries, a few hours into my journey. Leaving US-101 and dropping down to California Highway 1, the ocean spreads out before me, the thin ribbon of road stretching out ahead, to the horizon, with nothing to rein me in but my brakes—and my imagination.
This fall, the road trip is king. With Americans looking for a lot more space than usual, the open highway provides everything you need, from big cross-country treks to a quiet afternoon drive down a scenic byway. And the Pacific Coast Highway is one of the best, a cliff-clinging, sea-skirting drive that has been satisfying adventure-seeking motorists for decades.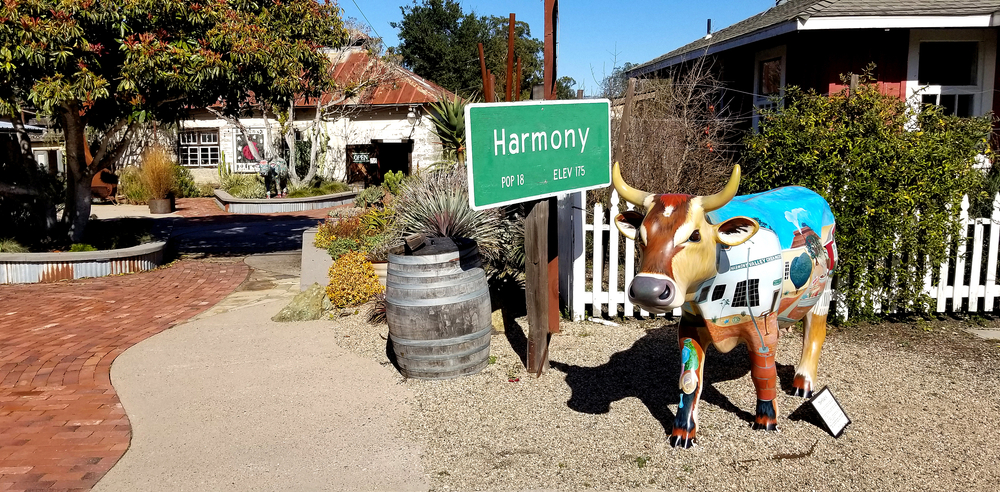 Tracing a route from Los Angeles to San Francisco, construction on "the PCH" began in the 1930s, its bridges and curves a true engineering marvel even now. (Although signposts extend down to San Diego, the LA–SF portion is the heart of the route.) It's possible to drive the whole thing in one very full day, but it's best broken up into manageable stretches, so you can get out and enjoy the wonders along the way.
Three days and nights is a good, recommended amount of time to travel at a leisurely pace, but there's honestly enough along the route to stretch this trip into a whole week. 
Traveling from south to north, here's a guide to one of America's most iconic drives.
Leaving Los Angeles
The first stretch of the journey, between LA and Santa Barbara, runs along a highway that's four lanes wide, or more, on US Route 101. It can be busy, and you're best off getting to Santa Barbara as quickly as you can (and mind the traffic, which can be heavy here).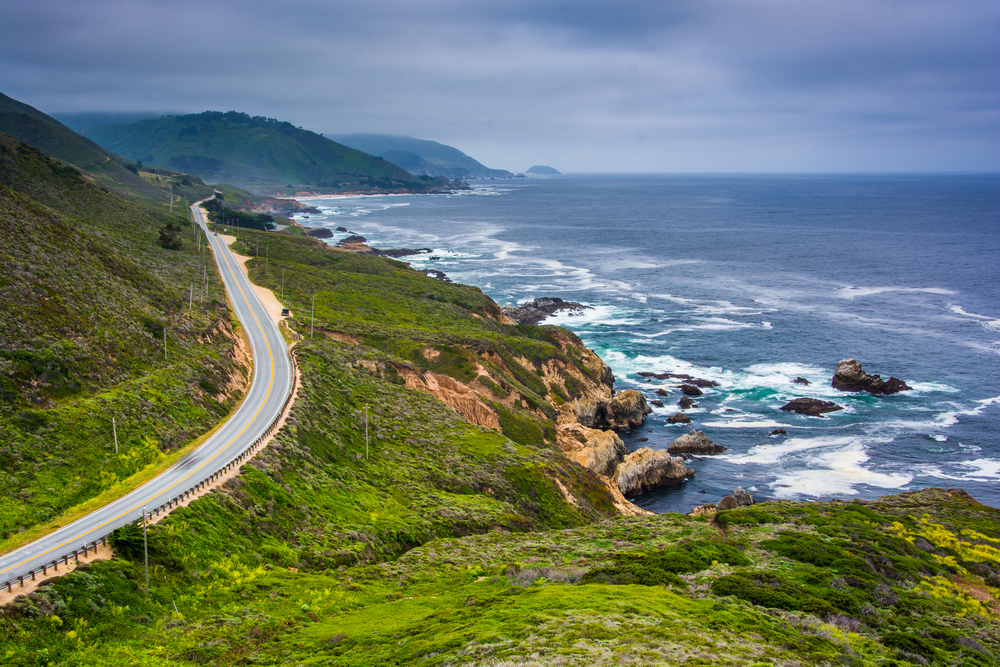 Santa Barbara
About 90 miles northwest of Los Angeles, this historic seaside town is a world away from the hubbub of the city. Take a stroll along Stearns Wharf, visit the Old Mission, then enjoy a taste of Central Coast at the Public Market, which brings together all the best tastes of the region, from noodles to pizzas to vegan fare, and beer. (Even better, take a guided walk with Santa Barbara Food Tours, and get the full story behind the food.) 
San Luis Obispo
Another couple hours to the northwest, this is a perfect place slow down for a couple of days. Known locally (almost without fail) as SLO (that is, slow), the founding of this small city of about 45,000 dates back to 1772 and the arrival of Franciscan priests. It's a culinary and cultural hub where you can spend time at local wineries and tasting rooms (some even offer programs where you take an al-fresco art lesson, painting the landscape while sipping its fruits), sampling at cideries and distilleries, and, when the season is right, taking a whale-watching tour.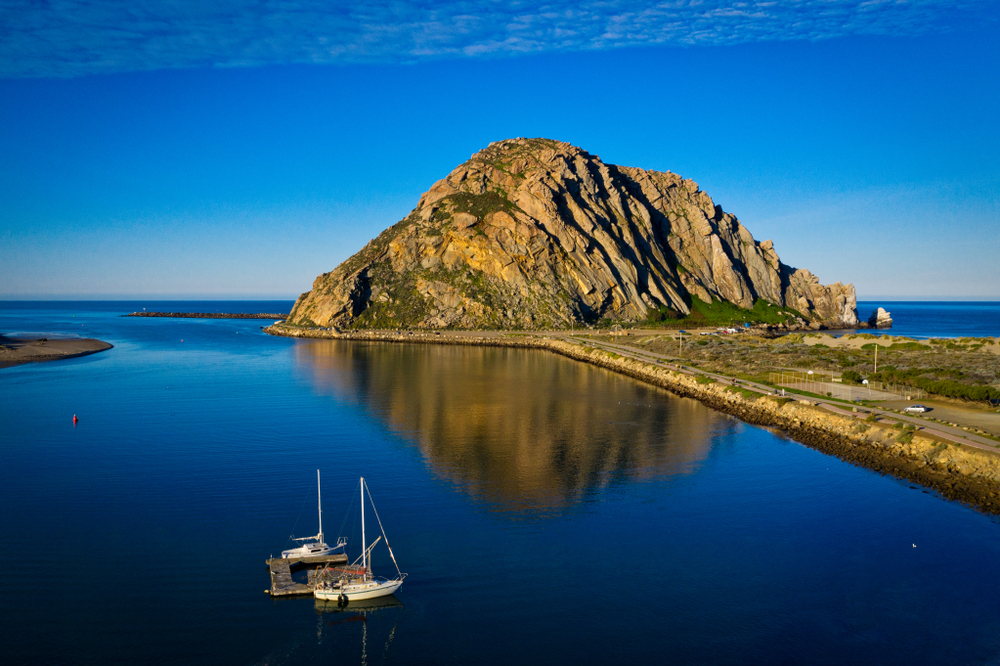 Morro Bay
Departing SLO, you enter the most celebrated part of the drive, those curvaceous corners, that serpentine two-lane highway, dropping down to the beach and then up, along the edge of the cliffs. The first stop, just a few minutes along, has to be Morro Bay. Marked by the eminence of the 580-foot Morro Rock, the cone of an extinct volcano, you can park near the base and walk the shores, keeping an eye out for sea otters, who often play here in the bay.
Moonstone Beach and Harmony
Just a little further up the road, stretch your legs at this windswept beach boardwalk where, yes, you can actually find moonstones (a type of gem), as well as California jade. And just nearby, Harmony (population: 18) is an artist colony housed in a former dairy co-op where you can browse pottery and glassworks, all made right on site.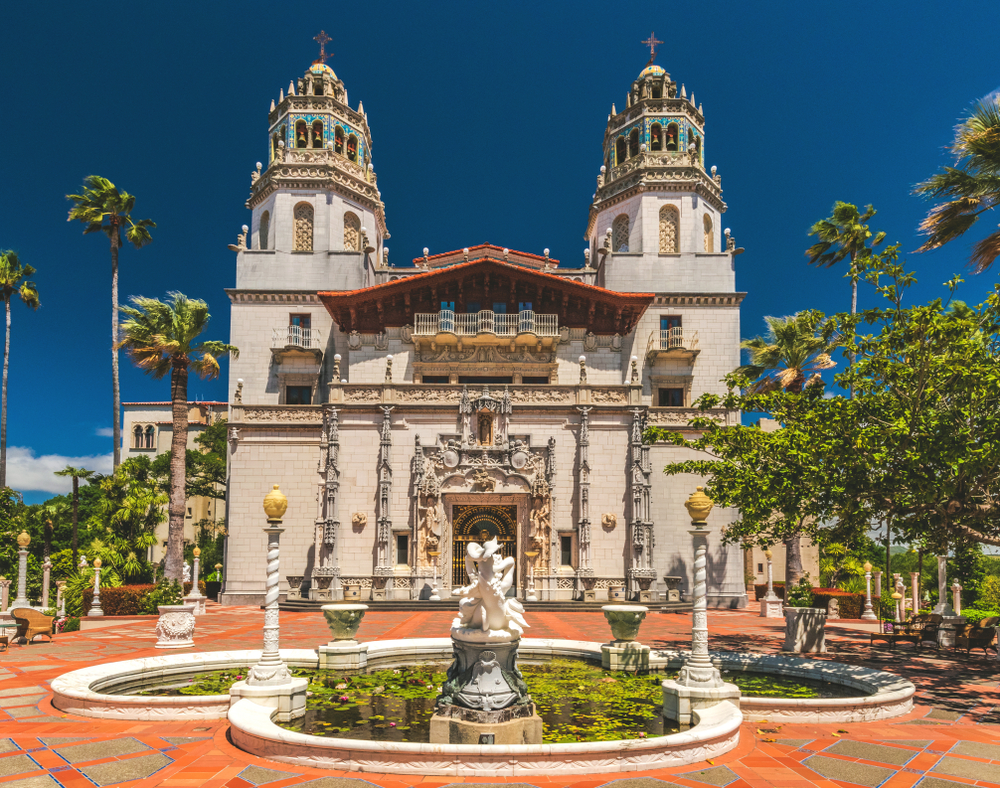 San Simeon
Stop here, at the crescent of Piedras Blancas, to see its famous rookery of elephant seals—massive, alien-looking animals that can grow to 4,500 pounds, and gather here by the dozens. (If you're lucky, you'll see a couple of young males jousting on the beach, slapping necks and baring their stubby teeth). And from here, you can board a short shuttle ride, up the hill to Hearst Castle, the twin-towered, absolutely palatial National Historic Landmark built by media baron William Randolph Hearst, where he hosted Hollywood royalty in the 1920s, and which served as the model for Xanadu in "Citizen Kane."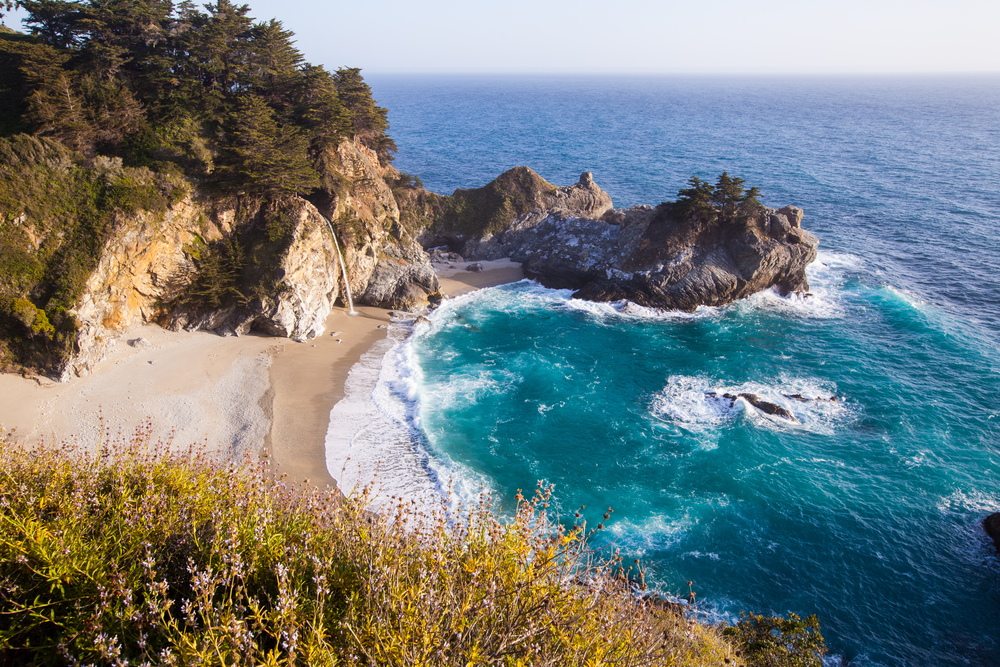 Big Sur
Here, the PCH rises and winds through one of the most scenic stretches of coastline you'll find anywhere, winding through redwood forest and curling along the flanks of the Santa Lucia Mountains, which rise straight from the sea. Take a hike in Pfeiffer Big Sur State Park, with its waterfalls and untouched beaches. And stop for lunch (or dinner) at Nepenthe, a restaurant whose patio sits 800 feet above the Pacific—pair a California beet salad with a nice glass of red, and one of the best views in the state.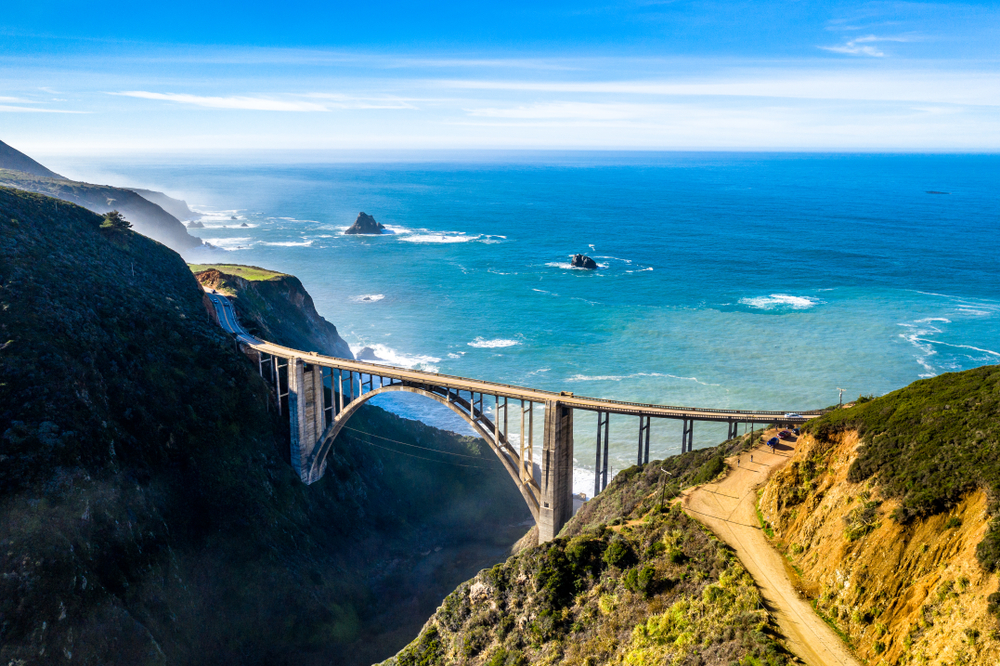 Bixby Bridge
Certainly the most famous landmark on the route, and maybe one of the most photographed bridges in the world, and with good reason. The highest single-span arch bridge on earth when it opened in 1932, the Bixby spirits drivers 700 feet over the canyon floor, more than 280 feet below. You can stop at a pull-out and small parking lot at Castle Rock Viewpoint past the north end of the bridge to snap a selfie with the huge, graceful concrete arch in the background.
Carmel-by-the-Sea
Girded on all sides by parks and conservation areas, this artsy village set on a broad beach is an excellent place for a stroll, browsing galleries and shops. It's long been a refuge for artists, and you can still visit Tor House and Hawk Tower, built from stone in 1919 and once home to the poet, Robinson Jeffers. And Pebble Beach, the famed golf course, is just next door.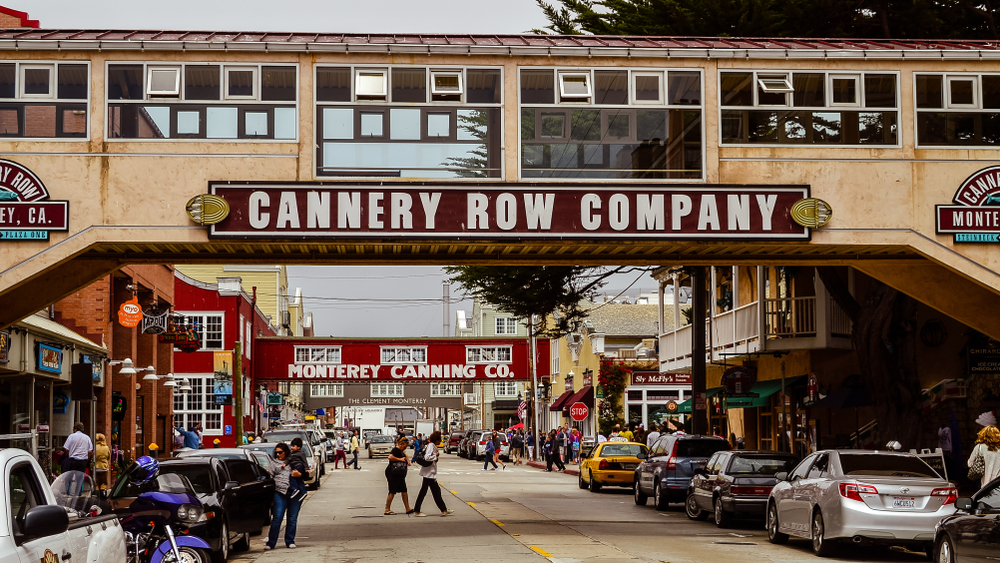 Monterey
Essentially, the northern end of the PCH, and just a few miles up the road from Carmel, Monterey is home to Cannery Row, made famous by John Steinbeck's 1945 novel of the same name, once a line of sardine-canning factories. (In the book's opening page, he calls it "a poem, a stink, a grating noise, a quality of light, a tone, a habit, a nostalgia, a dream.") Now, those former factories form the heart and soul of the town's waterfront, housing, among other things, the Monterey Bay Aquarium. And walk nearby to grab some local clam chowder at Old Fisherman's Wharf, which, until the 1960s, served as a fish market, and is now home to some of the area's busiest seafood spots.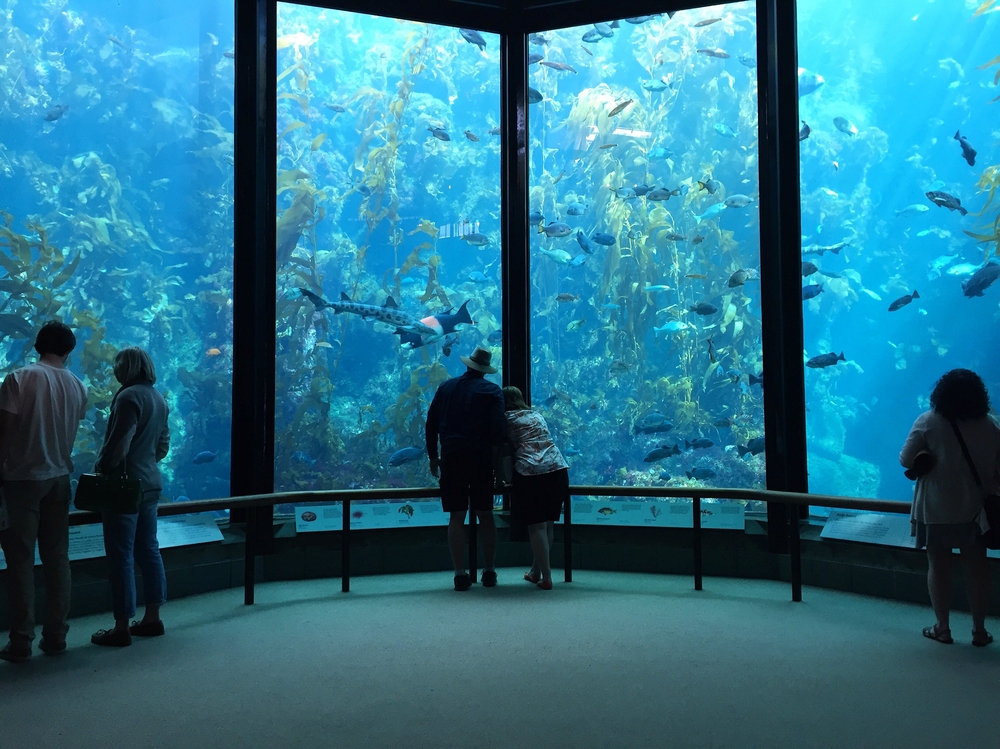 On to San Francisco
From Monterey, the lights of San Francisco and the Bay Area are only a couple hours to the north—and from there, the highways stretch on, to mountain and forest and coast, across the length and breadth of America. You may be tempted to just keep on driving.
Plan your trip at VisitCalifornia.com
Toronto-based writer Tim Johnson is always traveling, in search of the next great story. Having visited 140 countries across all seven continents, he's tracked lions on foot in Botswana, dug for dinosaur bones in Mongolia, and walked among a half-million penguins on South Georgia Island. He contributes to some of North America's largest publications, including CNN Travel, Bloomberg, and The Globe and Mail.