Not Rated | 2h 15min | Drama, War | 1945
As an Army vet, I've watched quite a few war movies. But as a landlubber, I've never known much about the PT boats I've seen snaking through jungle rivers in movies about the Vietnam War. Director John Ford sheds light on their impact in one of his lesser-known movies, long before the Vietnam era.
"They Were Expendable" (1945) is one of Ford's many collaborations with actor John Wayne. Although the two usually worked together on Westerns, they occasionally did other genres, such as this fine war drama.
The film begins with a U.S. Navy unit stationed in Cavite, Philippines. Lt. John "Brick" Brickley (Robert Montgomery) and his direct subordinate, Lt. "Rusty" Ryan (Wayne), lead newly founded Motor Torpedo Boat Squadron Three. Brickley hopes to show the value of his squadron, which consists of a number of PT boats, to a cadre of top brass, including overall commander Adm. Blackwell (Charles Trowbridge). A naval demonstration he performs culminates in a clever dispersal maneuver whereby the PT boats split up and become more difficult to be targeted.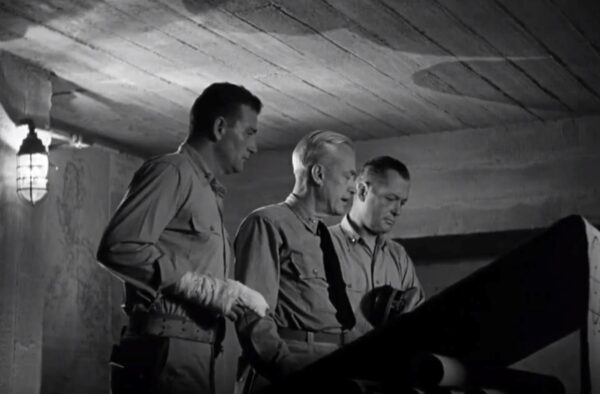 Blackwell voices his opinion of the newly designed vessels to Brickley: "Those boats of yours maneuver beautifully, but in wartime I'm afraid I'd prefer something more substantial." In other words, although they're fast, they're too small to engage larger ships. As the admiral departs with his driver, Brickley and Ryan stand in the car's dust, utterly dejected.
Ryan prefers larger craft, such as destroyers, and believes that the general lack of approval for the PT boats will cause him to miss out on any potential action that could break out in the region. After all, Japanese forces have been spotted in the area. Suddenly, the men get the word: The Japanese have successfully launched a devastating attack on Pearl Harbor, and they're officially at war.
At first, Blackwell assigns the squadron to light, noncombat duties, such as ferrying messages back and forth. But as the Japanese ramp up their assaults, the unit gets to show off some of its capabilities.
When a detachment of Japanese planes attacks their base, Brickley's squadron scrambles out to sea to face them. In one of the better naval warfare scenes I've ever witnessed, Brickley, Ryan, and their men duel a contingent of Japanese planes with their machine guns. Utilizing the scatter maneuver witnessed earlier in the demonstration, they manage to avoid taking damage and destroy the enemy's planes. During the exchange, Ryan's hand gets injured by shrapnel.
After showing some of the fighting capabilities of the PT boats, Brickley and his men are soon tasked with a difficult mission—a torpedo run on a Japanese cruiser that has been shelling U.S. coastal targets in the area. Going up against a cruiser is a daunting task, but this is Brickley's chance to prove his boats' effectiveness, and Ryan and his unit finally get to see the battle action they crave.
As Motor Torpedo Boat Squadron Three prepares for battle, Brickley discovers that Ryan's hand injury has led to blood poisoning and sends a testy Ryan off to the local hospital. There, Lt. Sandy Davyss (Donna Reed), an Army nurse assigned to him, eventually manages to melt away his crankiness, and the two soon develop romantic feelings for each other. Meanwhile, Brickley's boats destroy the cruiser.
When Ryan returns, the unit is assigned to more combat missions and succeeds in sinking many Japanese naval targets. The Japanese war machine revs up, and Ryan is ordered to embark on a dangerous, top-secret mission.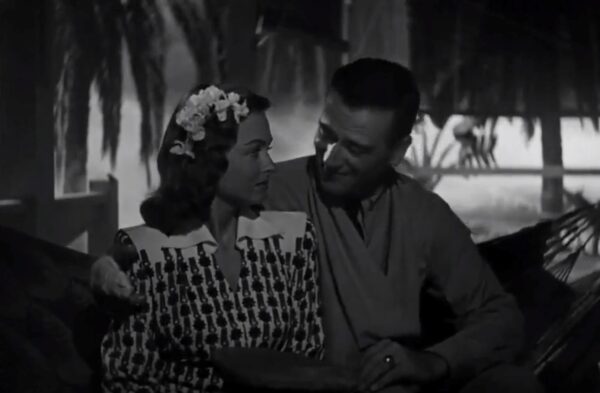 An Authentic Film
Interestingly, both John Ford and Robert Montgomery served in the U.S. Navy, and they lend authenticity to the way the film is shot and paced. This was Montgomery's first film after returning from action in both Europe and the Pacific theaters. He is especially convincing as a stoic, reserved Navy hero in contrast to Wayne's more braggadocious energy. The rest of the cast is excellent.
It's odd that "They Were Expendable" didn't seem to garner as much fanfare as many other war films of the era. This is perhaps because of the film's more somber tone that honors some who have been little acknowledged yet gave their lives for our magnificent country.
'They Were Expendable'
Director: John Ford, Robert Montgomery (Uncredited)
Starring: Robert Montgomery, John Wayne, Donna Reed
Not Rated
Running Time: 2 hours, 15 minutes
Release Date: 1945
Rated: 5 stars out of 5

Ian Kane is a filmmaker and author based out of Los Angeles. To learn more, visit DreamFlightEnt.com or contact him at Twitter.com/ImIanKane.