A military dog who formed an inseparable bond with one of his handlers during deployment in South Korea has been adopted by the airman after a near-death experience. The pair had a joyful reunion in New Mexico after being separated for eight months.
On July 12, military working dog Akim was reunited with Senior Airman Jenna Canada in Albuquerque. Since their pairing in 2020, Jenna knew she would be the one to adopt him upon his retirement.
With the support of the U.S. military and American Humane, the U.S.'s first national humane organization, the 10-year-old German shepherd was successfully transported over 6,000 miles from South Korea to New Mexico and into her open arms.

"I want him to experience the freedom of life," said Jenna, according to an American Humane press release. "I want him to go in a river and go swimming and just live his best, free life. He still deserves to see the world and get to have some fun."
American Humane shared heartwarming photos of the reunion on Facebook, captioned, "This morning, under the beautiful New Mexico sunshine, retired MWD Akim and Senior Airman Jenna were reunited at long last."
In a separate post, they wrote, "In the words of SrA Jenna and MWD Akim's favorite country artist, Luke Combs, 'Maybe some things last forever after all.'"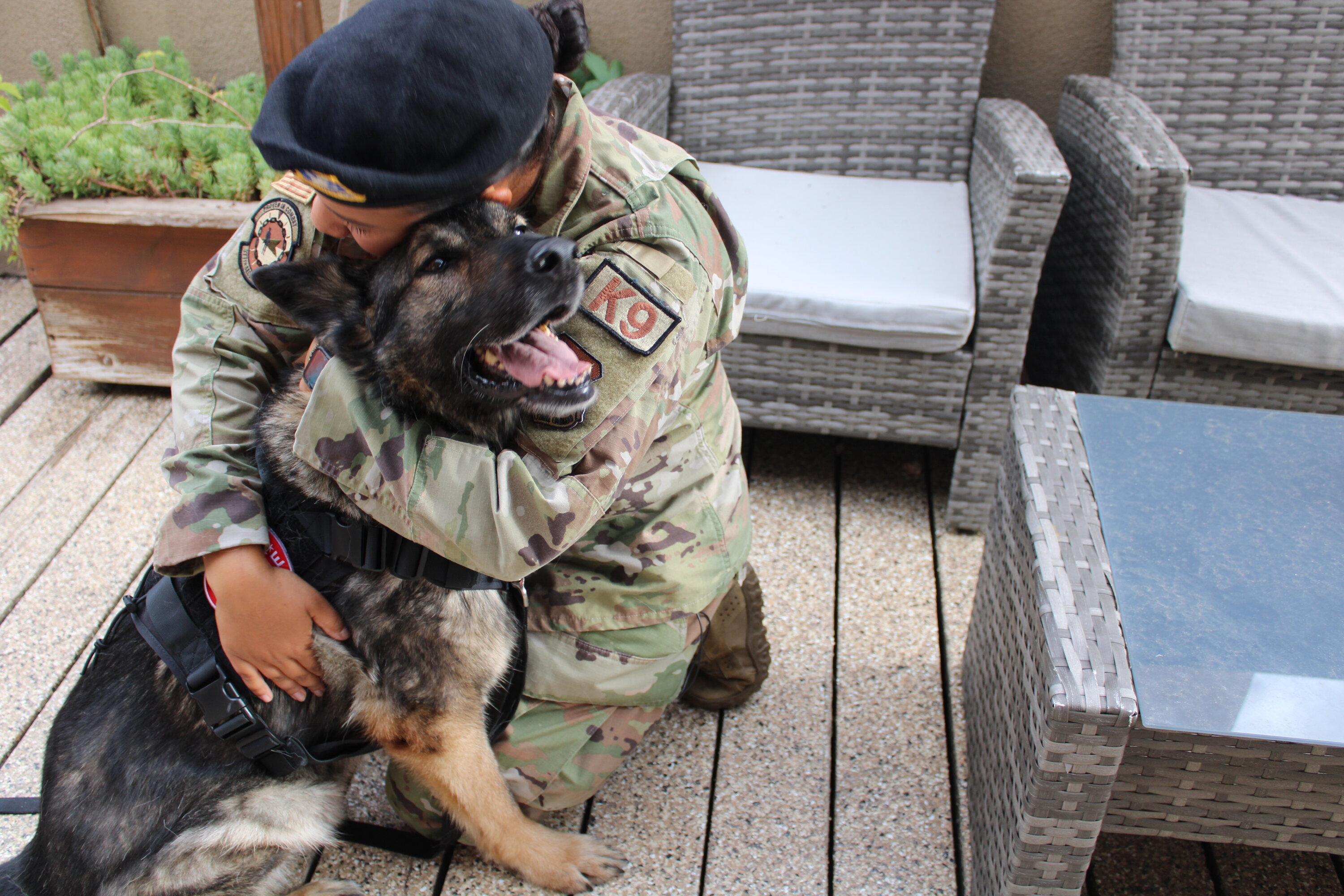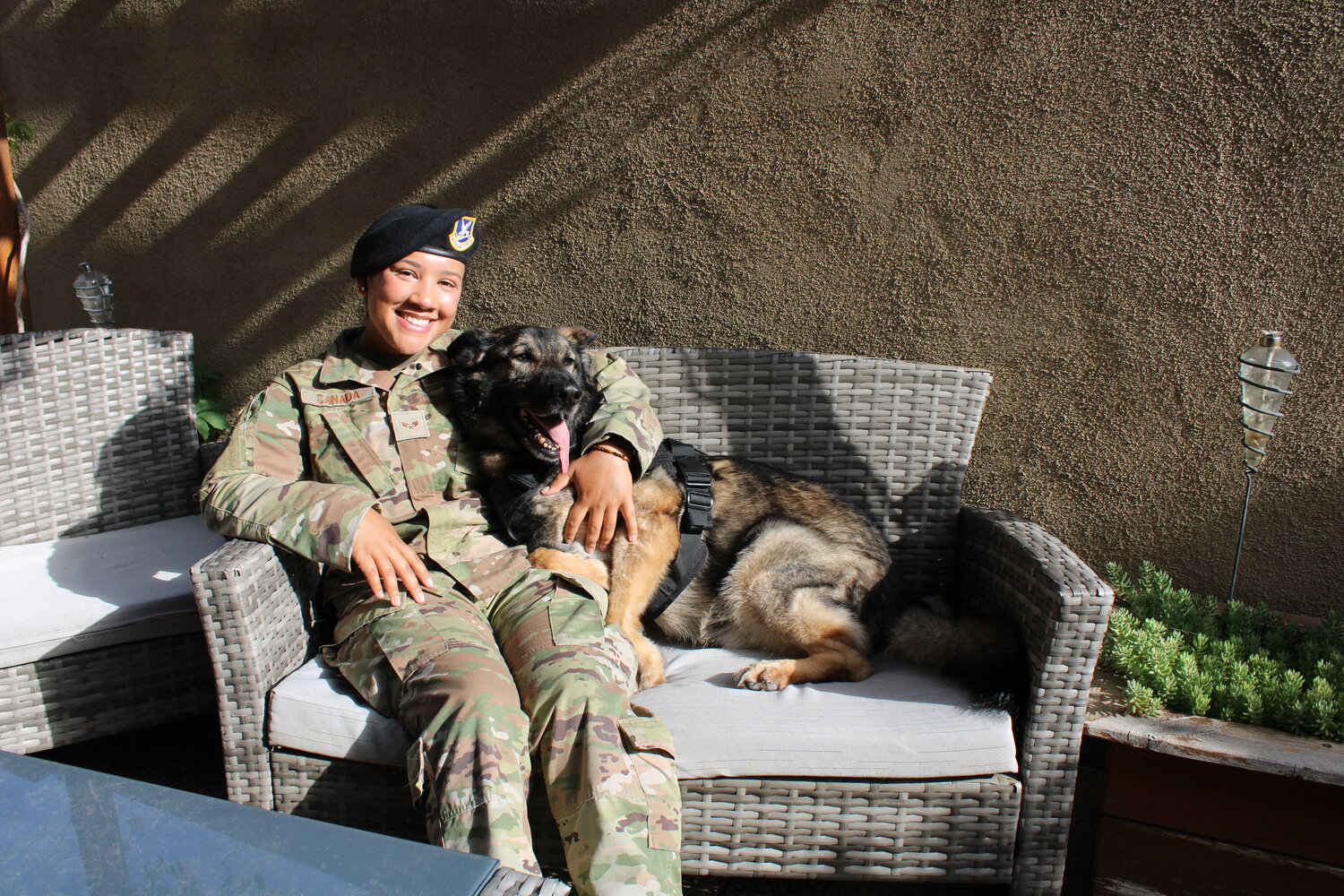 A detection and patrol dog, Akim was paired with Jenna in 2020, and the two were then tasked with patrolling the air base, searching vehicles, and training with the Republic of Korea Air Force Special Forces. While serving together, Akim nearly lost his life to anaphylactic shock when he accidentally swallowed a bee and suffered from an extreme allergic reaction.
Luckily, Jenna was there to save him.
She lifted the 70-pound (31.7 kg) dog and rushed him to the air base's on-site veterinarian, spending the next two days glued to his side as he slowly recovered. Akim lost his eyesight after being resuscitated but was eventually able to return to his duties on the base when some of his sight returned.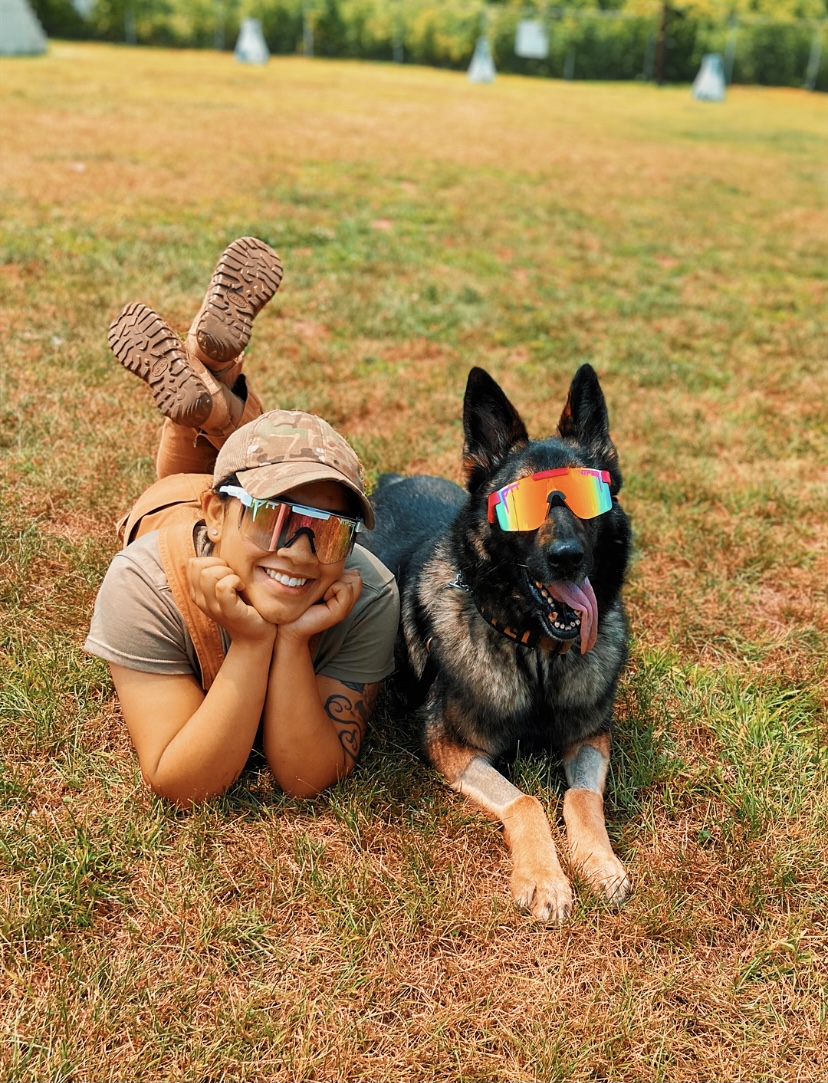 During the whole ordeal, something that was neither lost nor compromised was the unbreakable bond between the dog and his handler.
"I don't care about me. I care about my dog. I just wanted to make sure that he was as comfortable as he could possibly be," said Jenna. "No one is going to care as much about him as me."
The dog and handler were separated in November 2021 when Jenna was reassigned to Kirtland Air Force Base. But when it was confirmed that Jenna would be the one to care for Akim in his retirement, American Humane got to work facilitating their reunion.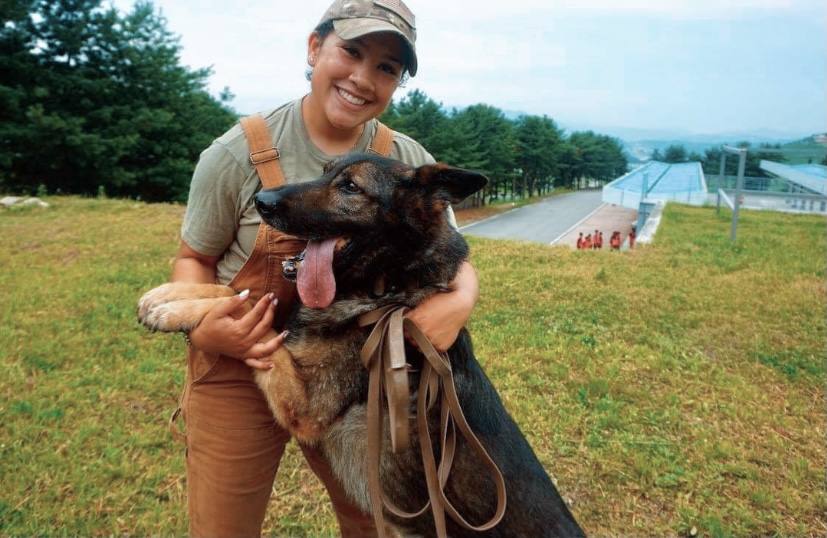 Dr. Robin Ganzert, president and CEO of American Humane, claimed the organization was "thrilled" that Akim will get the retirement he deserves with the human who loves him most, adding: "We at American Humane honor the lifesaving contributions of all veterans, including the four-legged military dogs who risk their lives to courageously serve our country."
As they do for all retired military working dogs on their roster, American Humane is also providing free, lifelong veterinary care to ensure Akim stays healthy and happy in his retirement.
Watch the adorable reunion:
(Courtesy of American Humane)
Share your stories with us at emg.inspired@epochtimes.com, and continue to get your daily dose of inspiration by signing up for the Inspired newsletter at TheEpochTimes.com/newsletter