Australia's drug regulator is considering legal action against Federal MP Craig Kelly after his party, the United Australia Party (UAP), sent millions of text messages containing links to a website, which included data on adverse reactions to COVID-19 vaccines.
It comes after Professor John Skerritt, deputy secretary of the Health Products Regulation Group at the Therapeutic Goods Association (TGA), warned that the UAP's recent advertising campaign was misleading.
The UAP's messages stated: "Australian Government's COVID-19 Vaccines Adverse Events Report. Click link uaptga.info. Authorised by Craig Kelly."
The link directed users to a website that included data from the TGA containing "adverse event notifications" related to the Pfizer and AstraZeneca vaccine.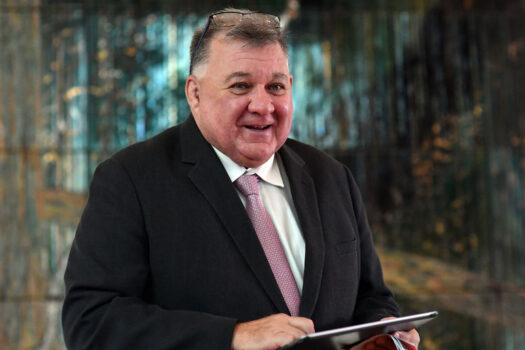 "The TGA is considering whether the use of the information, including the TGA logo, in this way potentially breaches both copyright legislation and the Criminal Code Act 1995," the body said in a statement issued to NCA NewsWire.
"The TGA is very concerned about any information which provides an incorrect picture of the safety of COVID-19 vaccines, particularly if that information is distributed widely to the public."
Kelly responded on Twitter, saying he would welcome any legal action.
"Of course, any such legal action would require the government health regulators to give evidence under oath, and we have a team of top-notch barristers salivating at the opportunity to get them in the dock and cross-examine them," he wrote on Sept. 13.
"And we can subpoena documents. So, bring it on, fellas," he added.
The UAP was founded and funded by billionaire Clive Palmer.
Skerritt told ABC on Sept. 8, that an independent panel investigated any deaths of patients who died after receiving a vaccine.
"It's not surprising that two days after, say, a Pfizer vaccine, some people will die, the same way two days after going and seeing a doctor about something totally unrelated, they will die or two days after catching a bus," he said.
"When we've looked at cause and effect, we believe that there's a total of nine reports of deaths that can be associated to vaccines, and this is against a background of 20 million doses of COVID-19 vaccines being given in Australia. Nine out of 20 million doses," he added.
"You would find hundreds, if not thousands, of adverse events with Panadol and some of which are related to the Panadol, but the vast majority, again, will be coincidental in time."