For months, a pregnant homeless dog had been wandering the streets of the LA neighborhood where Sonya fed her. The local woman had been trying to gain the female dog's trust so as to rescue her, but in all that time, she hadn't been successful.
The good news was that Sonya knew who to turn to for help in saving the stray, which had become very big (full of puppies) by now. She called a local dog catcher, who prefers to call himself a "dog rescuer." The man's name was Eldad Hagar, and the dog-saving organization he founded and ran was called "Hope for Paws."
Hagar arrived in his silver Toyota Highlander on the block where Sonya and the dog were. She was doing her best to lure in the pooch with food, and the girl dog was doing her best to keep a safe distance away. Hagar brought a cheeseburger, he told her. Food, they both knew, was their best shot at capturing her.
I never do selfies, but I had to do one with EVEREST!!!Loreta and I traveled almost 1,000 miles to accomplish this…

Posted by Eldad on Friday, March 2, 2018

The dog "rescuer" knew from experience to use his surroundings to his advantage when trying to save an unwilling K-9; in this case, it was the rows of fenced yards with gates that could easily contain the antsy dog.
Their first try failed as they threw bits of food into one of the yards in an attempt to lure her in. The dog was wary of the confined space where there was only a small gate to provide an escape.
The second attempt was a wide-open driveway, which fooled the dog into thinking that it led to somewhere besides a dead end. She strode right in. Now was their chance to close the gap. Hagar and Sonya dashed back to the car to grab some more equipment: a fold-up, plastic child barrier and a specialized "gentle" dog snare—Hagar is attentive to making his rescues as painless, and stress-free, for the dog as possible.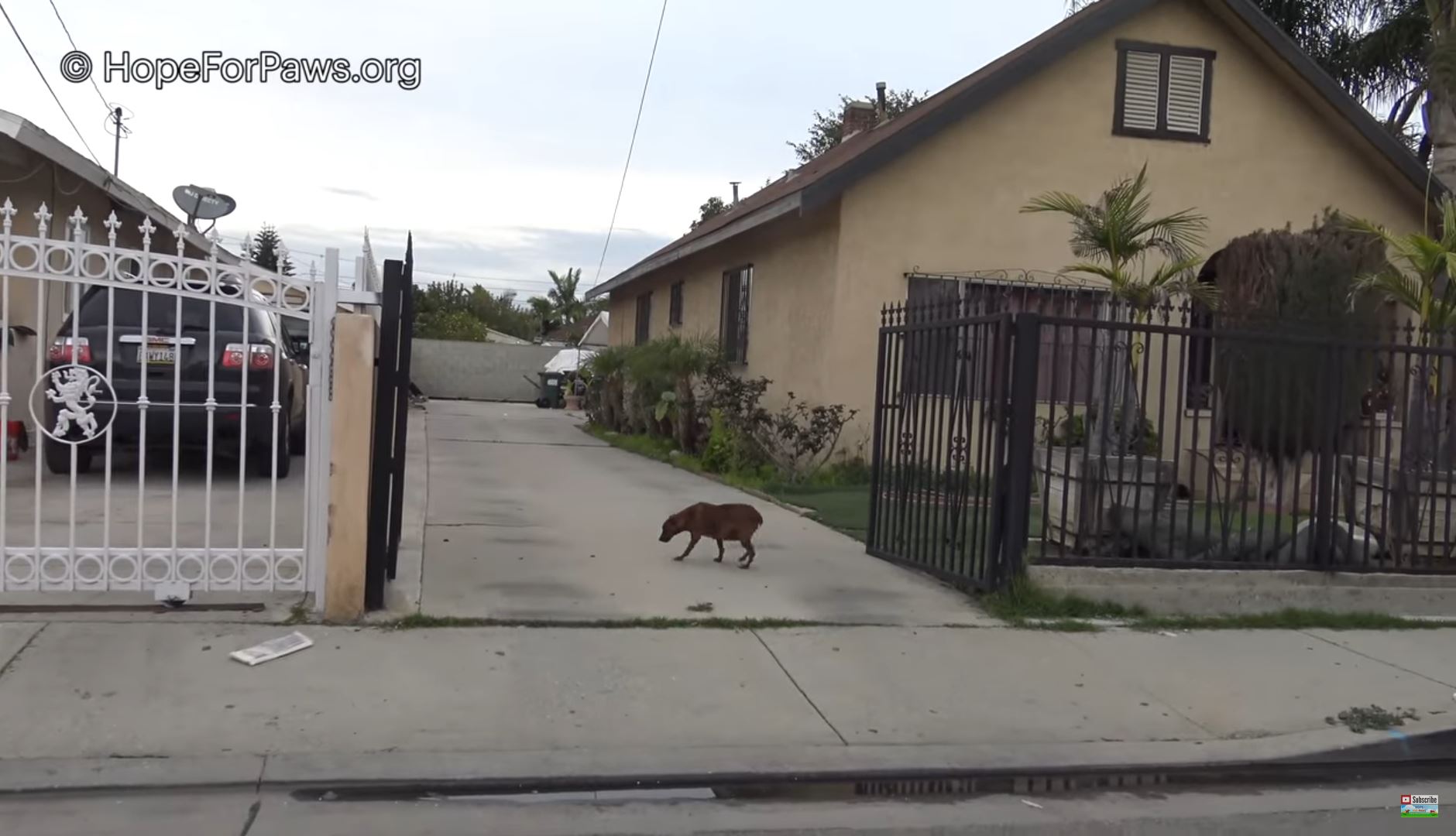 They quickly unfolded the child barrier and blocked off the wrought-iron gateway before Hagar made his way into the yard, after the pregnant four-legged female. She had disappeared behind the house. Hagar followed.
Sonya stood guard in the front yard. Suddenly, she saw the dog round the corner and run toward the child barrier where she was. She courageously stuck her leg out and managed to trap the terrified dog between her foot and the plastic barrier as Hagar, who was in pursuit, slipped the snare around the dog's neck—she was growling and baring her teeth. But after a few seconds, she calmed down and became completely docile.
"She won't bite me," said Hagar as he removed the snare. "She's just happy to be rescued." They put the Hope for Paws "lucky leash" around her neck, and she let them take her back to Hagar's car. They named her Sally.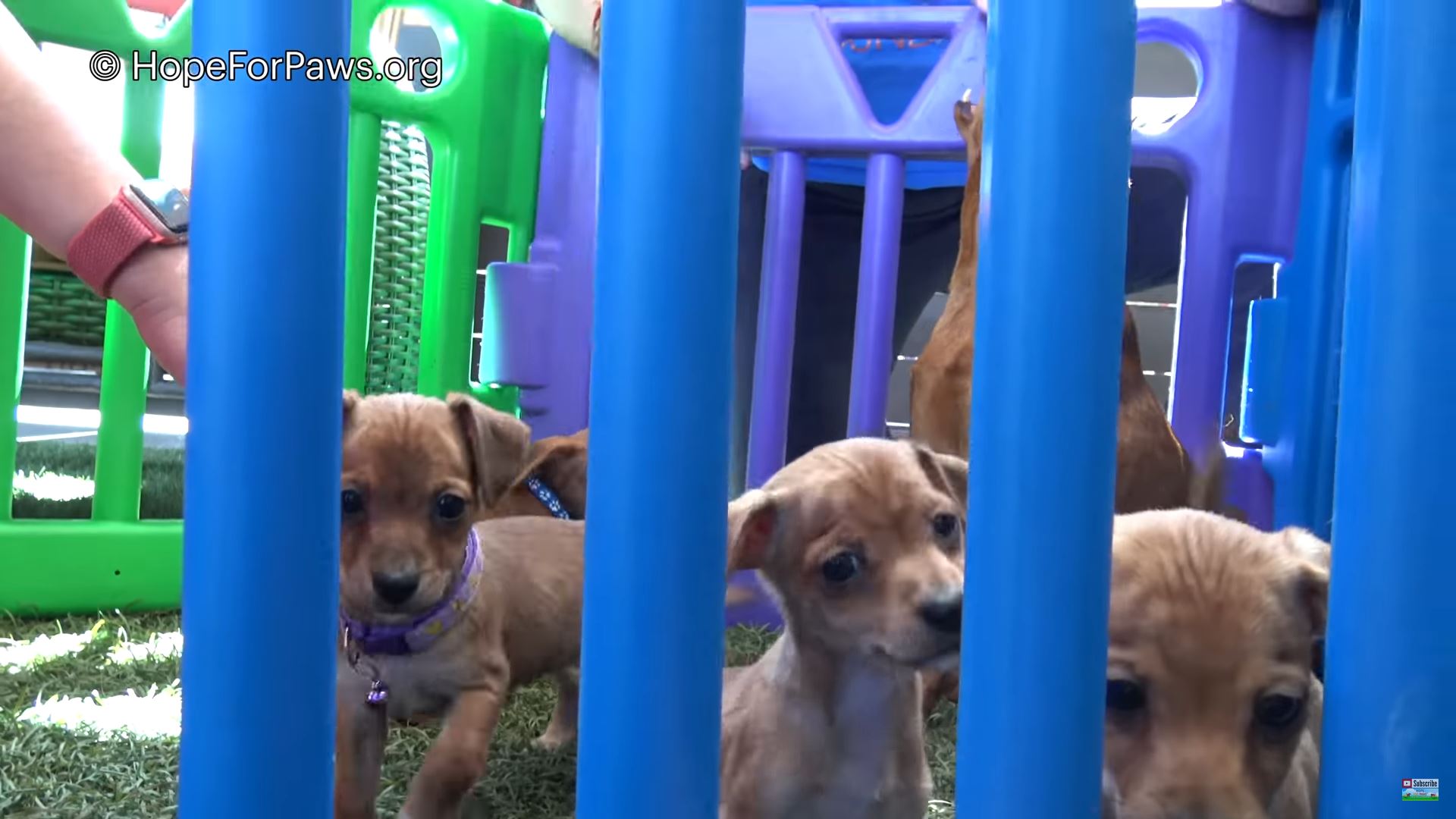 Yet, the best part of the story was yet to come for Sally; it came shortly thereafter, when she was taken to her new foster home, the Lovejoy Foundation, where Sally gave birth to four pups: Mustang, Nova, Wilson, and Chevy. Hagar video-recorded the touching moment when his team went to visit the adorable new family.
Sally, Mustang, Nova, Wilson, and Chevy are currently up for adoption. They are now seeking to leave their homeless days behind them and find a forever home with a loving owner to call their own.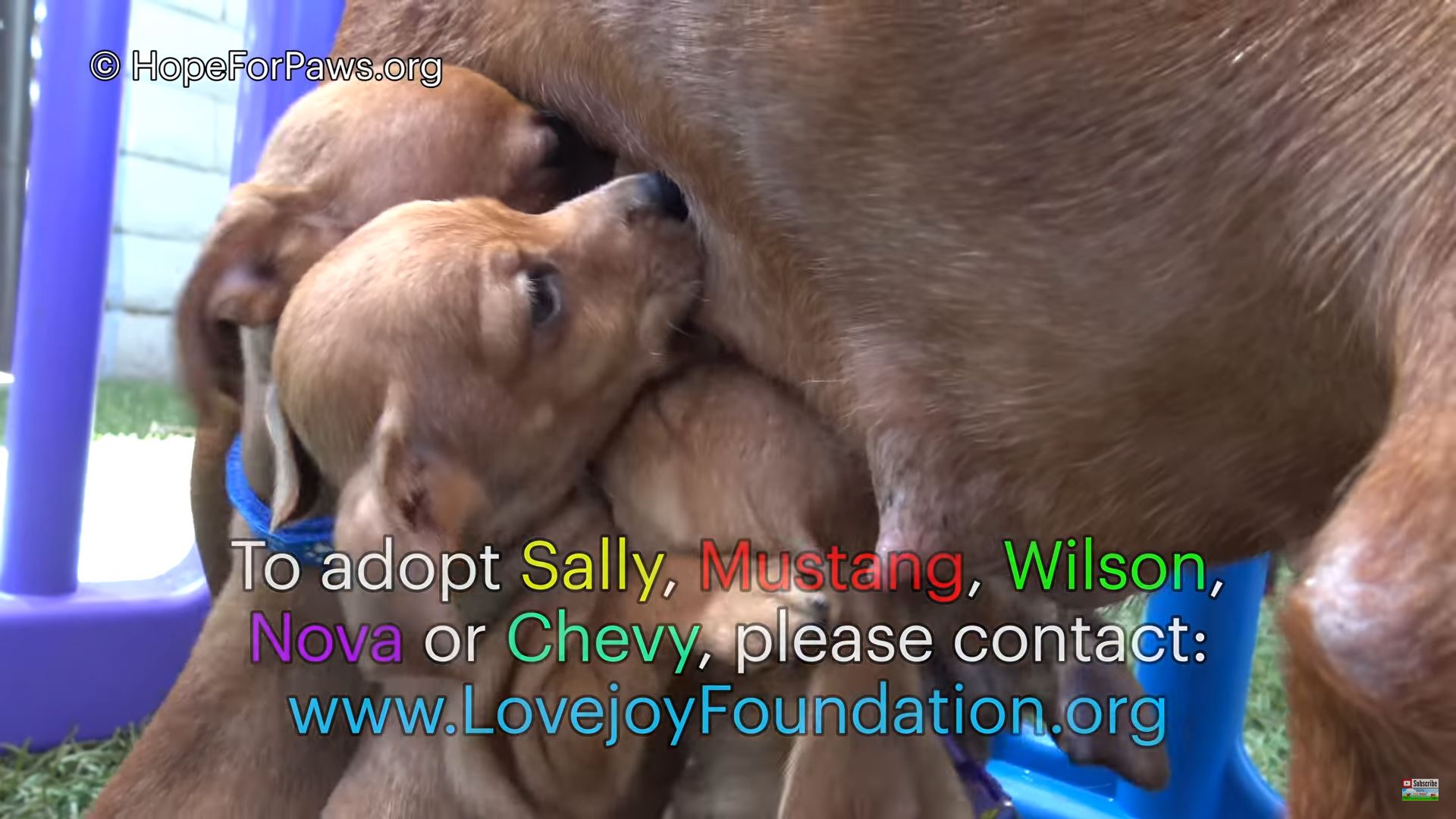 Watch another rescue courtesy of Hope for Paws: