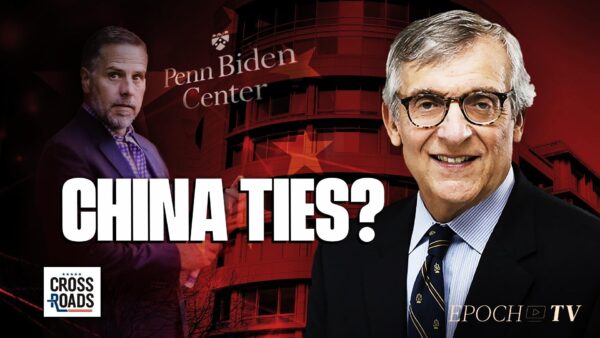 The discovery of classified documents at the Penn Biden Center raises questions about the connection between the Biden family and the Chinese Communist Party, according to Paul D. Kamenar, lead counsel for the National Legal and Policy Center. Kamenar has been investigating the connection between Hunter Biden and the Penn Biden Center since 2020, long before the recent classified documents scandal. Through multiple Freedom of Information Act requests, Kamenar is seeking to identify the source of more than $20 million in anonymous donations made to the University of Pennsylvania in recent years, the linkage to the university's Penn Biden Center, and potential connections to both Hunter Biden and the Chinese regime. We speak with Kamenar about why he believes that Hunter Biden and the Penn Biden Center must register as foreign agents of China under the Foreign Agents Registration Act, as well as why the federal government must step up its oversight of Chinese money flowing into U.S. universities.
About the show
It's easy to get lost in the daily news cycle, with its constant barrage of headlines and updates. What's often missing, however, is a broader and deeper analysis of what's behind the headlines. "Crossroads," hosted by Epoch Times senior investigative reporter Joshua Philipp, is an opinion and analysis show that presents deeper insights into the news cycle, culture, and society. It connects current events with history, ties various news stories together with analysis and opinion, and goes beyond the headlines to present a clearer picture of what's happening in the world.
About Joshua Philipp
Joshua Philipp is an award-winning investigative reporter with The Epoch Times and host of EpochTV's "Crossroads" program. He is a recognized expert on unrestricted warfare, asymmetrical hybrid warfare, subversion, and historical perspectives on today's issues. His 10-plus years of research and investigations on the Chinese Communist Party, subversion, and related topics give him unique insight into the global threat and political landscape.