When my husband George and I lived in Coronado, California, while he was serving as a Navy SEAL, we were lucky enough to meet and be embraced by the kindest, most welcoming family on the island.
The Hartigans' house has a revolving door of family and friends; they are forever hosting dinner parties and special celebrations, which have included their own two daughters' weddings, countless birthday parties and baby showers, and my sister's rehearsal dinner.
My favorite Hartigan party, however, doesn't require florists or gifts. 
"Friday Night Pizza Night," or "FNPN," as it is referred to by those in the know, is an open invitation to come over for pizza, wine, and a swim, depending on the time of year (or how brave you're feeling). Somebody picks up pizzas from a local restaurant, Nancy mixes up a huge salad, Larry serves tall pours of pink and white wine, and everyone eats whenever they're ready. 
We moved away from Coronado several years ago, as have many other members of the FNPN crew. But every time we make our way back to Southern California, the Hartigans open their home and make us feel like we never left. Occasionally, we even get to crash an FNPN to swim with the kids who were just babies when we moved away, eat tons of pizza, and drink cold wine like no time has passed at all.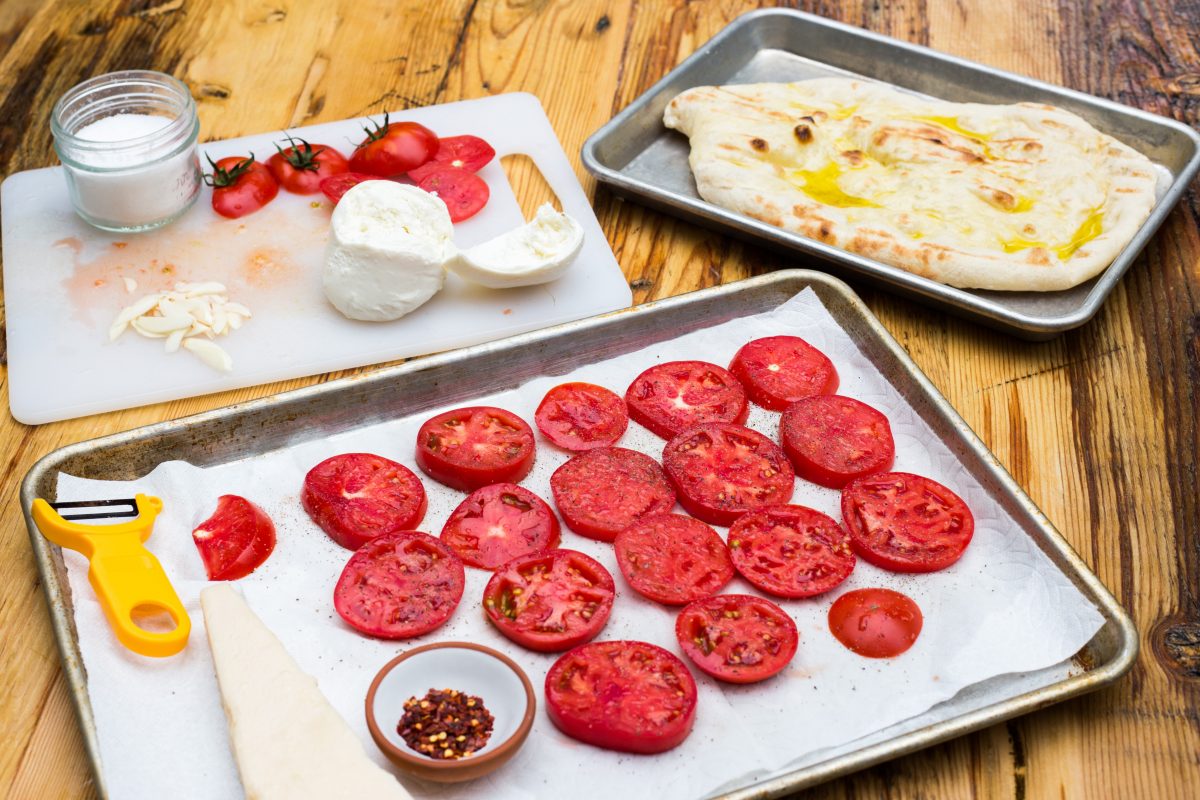 Better Than an Oven
Now, hundreds of miles north of Coronado in our new home, Carmel, George and I will occasionally mandate a Friday, usually after an especially long week, an "FNPN" night. 
Depending on our exhaustion level (we have a 7-month-old baby!), we'll either invite friends over to join us or make it a date night in. Whether we're eating pizza with friends or by ourselves, what's special about FNPN is just how easy and laid-back it feels. Pizza, maybe a salad (maybe not!), and good wine. That's it!
Occasionally, I'll let George pick up deep-dish pizzas at his favorite spot in Monterey, but more often, I'll just have him pick up some fresh dough so that we can make our own at home. 
It's impossible for an indoor oven to achieve the same smoke and char that a wood-fired pizza oven infuses into a fresh, yeasty pizza dough. But an outdoor grill is a different game. The direct flame mimics that of a wood-fired oven, delivering the blistered, bubbling crust that I so desire in a pizza. 
In the winter, I like to make a simple pizza sauce by blitzing together a can of San Marzano tomatoes, some extra-virgin olive oil, salt, and red pepper flakes. But this time of summer, when the tomatoes are so beautiful and so prolific at my local farmers markets, I stick with fresh ones. I don't even make a sauce out of them—once they're cooked on the grill, they become soft and jammy, with a flavor better than any pizza sauce you've ever had.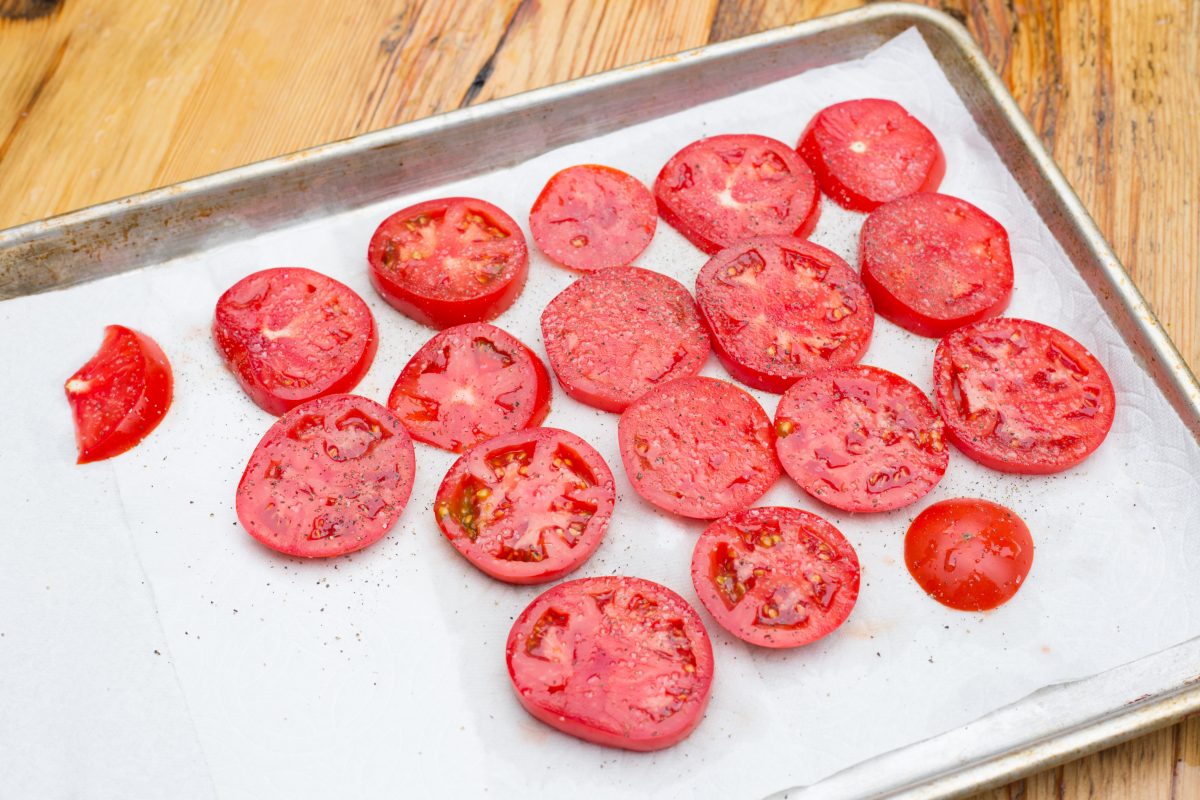 Faster Than Delivery
George and I tag team this recipe and have it cooked and eaten faster than it would take for any delivery man to arrive.
First things first, George heads out to heat up the grill. We want it piping hot—at least 500 degrees F—and that's going to take some time. While he heads outside, I slice and salt the tomatoes, ensuring that they shed some of their liquid and don't sog up our pizzas. 
Next up, I take the dough out of the fridge, roll it out, and pass it to George, who heads back outside to grill it. While he's grilling the dough, I throw the olive oil, mozzarella, garlic, and basil onto the baking sheet with the salted tomatoes and head out to the grill. 
There's not a huge rush to add your cheese and tomatoes to the grilled dough and get it back into the grill, but by this point, we're both salivating, so we divide and conquer, each topping our own pizza with the perfect amount of cheese, tomatoes, and garlic. I wouldn't put it past George to slip a few pepperonis onto his.
Now, the pizzas go back onto the grill for just a few minutes, for everything to melt and meld together. George pulls the pizzas back off the grill onto the baking sheet, which he immediately slides onto our outdoor dining table.
We quickly top our pizzas with basil, salty shavings of Parmesan, and red pepper flakes, then slice them up—and don't come up for air until we've devoured every slice. 
Grilled Margherita Pizza
Serves 2 to 4 generously
3/4 pound ripe tomatoes (heirloom, beefsteak, cherry—ideally freshly picked, local tomatoes!)
Kosher salt and freshly ground pepper
All-purpose flour, as needed
1 pound fresh pizza dough 
Vegetable or olive oil, for grill grates
2 tablespoons extra-virgin olive oil, plus more for drizzling
3 garlic cloves, thinly sliced lengthwise
8 ounces fresh mozzarella, patted dry 
1/2 cup fresh basil leaves
Optional: Parmesan cheese, red pepper flakes
Preheat grill to high heat (500 degrees F).
Line a baking sheet with paper towels. Slice the tomatoes 1/4-inch thick and sprinkle with salt and pepper. Allow to sit on the baking sheet for about 10 minutes while you prepare and grill the pizza dough. 
Sprinkle a large rimless baking sheet (or an upside-down rimmed baking sheet) with flour. Cut the ball of pizza dough in half, and use a floured rolling pin to roll out each half so that it's about 10 inches wide. It is very important that you not roll your dough too thin (wider than 10 inches), or it will burn and stick to the grill.
Coat grill grates with oil by soaking a wad of paper towels in oil, then grabbing the wad with tongs and wiping them over the grill grates. Slide the pizza crusts onto the grill. Close the grill and cook for 1 1/2 to 2 minutes. Use tongs to flip the pizza crusts. Close the lid and cook for 1 1/2 to 2 minutes more. Use tongs to transfer the pizza crusts back to the baking sheet. 
Drizzle extra-virgin olive oil on the pizza crusts. Use your hands to tear up the mozzarella and distribute it evenly over the tops. Pat the tops of the tomatoes dry with a paper towel and place them in a single layer, slightly overlapping, leaving a 1/4-inch border around the edges of the crusts. Sprinkle garlic slices over top. 
Return pizzas to the grill for 3 to 5 minutes, until cheese is melted. Use tongs to return the pizzas to the baking sheet or to a large platter. Drizzle with a bit of extra-virgin olive oil and scatter basil leaves over top. Garnish with red pepper flakes and Parmesan, if desired.
Tips
To feed four, add a simple Bibb lettuce salad tossed in a basil vinaigrette.
No grill? Preheat your oven to 450 degrees F. Give it time to get nice and hot! Oil a large rimmed baking sheet and roll the entire 1 pound pizza dough out to fit it. Add all the toppings, no need to pre-bake the crust. Bake the pizza for 20 to 25 minutes, until the crust is golden brown and the cheese is melted. 
Mix it up! This recipe is so versatile. Try cooking a pizza with brie and peaches, then garnishing it with basil and balsamic glaze for a summery stunner. In the wintertime, a pizza with mozzarella, blue cheese, and roasted squash, topped with honey and parsley after cooking, is homey and delicious.
Caroline Chambers is a recipe developer, food writer, and author of "Just Married: A Cookbook for Newlyweds." She currently lives in Carmel, Calif., with her husband, George, and baby boy, Mattis. Follow her on Instagram for cooking tips and snippets from her life in Northern California @carochambers.