Pasta With Burst Cherry Tomato Sauce
Tiny, plump cherry tomatoes burst from the heat and melt into the olive oil, becoming a chunky sauce flavored with basil and garlic. Chili pepper adds gentle heat, and a handful of pine nuts lends some texture. This burst cherry tomato sauce makes the perfect weeknight meal, as you can prepare it in 15 minutes. 
Choose small, ripe cherry tomatoes. A variety of colors and textures is ideal, though a bowl of ordinary red cherry tomatoes would work as well. Add basil, garlic, and chili pepper to taste: I prefer to be generous with basil (and olive oil), shy with chili pepper, and moderate with garlic. Finish with some grated Parmigiano or pecorino for a rounder and more intensely flavored sauce.
If you want to make the dish more special, channel your Italian nonna and roll out some homemade pasta. Otherwise, choose dry penne or orecchiette; they both work perfectly with this chunky sauce.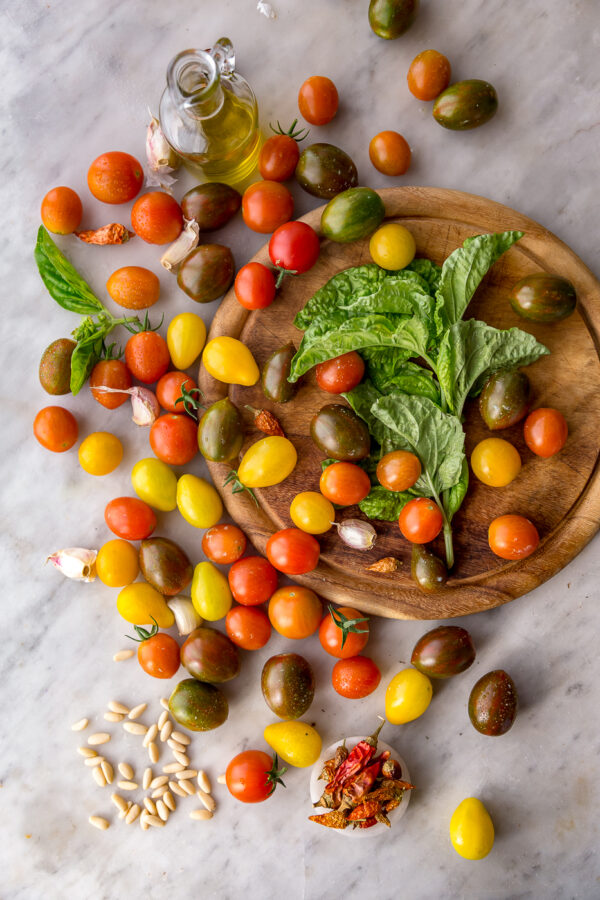 Serves 4
2 pounds ripe cherry tomatoes
3 cloves garlic, unpeeled
10 fresh basil leaves
2 1/2 tablespoons pine nuts
4 tablespoons extra virgin olive oil
Crushed red chili pepper flakes, to taste
Salt
12 ounces dry pasta
Grated Parmigiano Reggiano, or aged pecorino
Freshly ground black pepper
In a saucepan, collect the cherry tomatoes, unpeeled garlic cloves, basil leaves, pine nuts, extra virgin olive oil, some crushed chili pepper, and a generous pinch of salt. Cook over medium heat, covered with a lid, for 15 minutes.
After 15 minutes, remove the lid and crush the tomatoes with a wooden spoon.
Let the sauce cook for 5 more minutes. Taste and adjust the seasoning as needed. Turn off the heat and set aside.
Cook the pasta in a pot of salted water until al dente, according to the package instructions.
Drain the pasta and toss into the pan with the sauce. Sprinkle with grated cheese and add a few grinds of black pepper. Toss once more and serve.