Eight weeks ago, when my husband, George, and I welcomed our first child into the world, I finally truly understood why I am constantly asked to create recipes that are quick, easy, and use as few ingredients as possible.
As a freelance recipe developer, I cook all day long, so I've never been able to fully appreciate how difficult it can be to get dinner on the table. That is, until baby Mattis showed up, and the idea of preparing anything other than a bowl of cereal suddenly felt like a complete impossibility.
Luckily, George and I are no strangers to tackling mealtime together. Like many busy couples, our careers mean that most weekdays, we only get to spend a couple of hours together. Since early in our marriage, cooking together has been our time to unwind and hang out after our busy days. We catch up on what happened that day at work, in the world, or with our friends while we chop, season, and saute, glasses of wine in hand. While I adore the compliments that George showers upon me when I cook him a beautiful meal on my own, I so much more appreciate getting to share that sense of accomplishment with him.
In order to strike a balance between caring for a newborn and spending quality time with one another, George and I have started cooking meals that are quick, efficient (use as few dishes as possible), and nutritious (let's face it, we're new parents and we probably forgot to eat lunch).
I'm excited to share our favorite new quick recipes, and to inspire other busy couples to find joy in the kitchen together in my new column, "Table for Two."
In these recipes, I promise never to ask you to dirty two skillets where you could have used just one. I promise to help you save time by providing shortcuts such as buying pre-cut vegetables or pre-made pizza dough, even if it means going against the "everything from scratch!" mantra that was drilled into me during my restaurant and catering days. I promise that each recipe will be scaled to feed two people generously—no skimpy portions, and no eating the same leftovers for days and days. I promise that every recipe will deliver a full meal in under 45 minutes, not just a veggie side or a meat entree. And I promise to help you eat seasonally, and thus eat the most flavorful, sustainable food possible.
Which brings me to the first "Table for Two" recipe: a one-skillet Parmesan and leek chicken pot pie. The entire dish comes together simply and quickly by sauteing vegetables, simmering a creamy gravy, and stirring shredded rotisserie chicken all into the same skillet. A (store-bought!) pie crust is then draped over the skillet and you bake it just like that, no pie dish required. If one of you chops the veggies while the other measures out the remaining ingredients, you can have the pot pie in the oven in around ten minutes. Once the pie crust is perfectly golden brown, you're ready to dig in.
March is a funny "in between" season when the last of the winter produce is dwindling out, but the abundant spring produce—such as asparagus, fresh peas, and stone fruit—hasn't quite made its debut. This chicken pot pie relies on the last of winter's delicate, garlicky leeks and a generous portion of Parmesan for its creamy base—a far cry from the bland freezer-aisle chicken pot pie that I grew up on.
Winter seems to always insist on having one last hurrah in late March. So when you're still wearing your puffer jacket long after the official "first day of spring," resist booking the next flight to Florida, and instead embrace the final days of comfort food season by whipping up a cozy pot pie for two.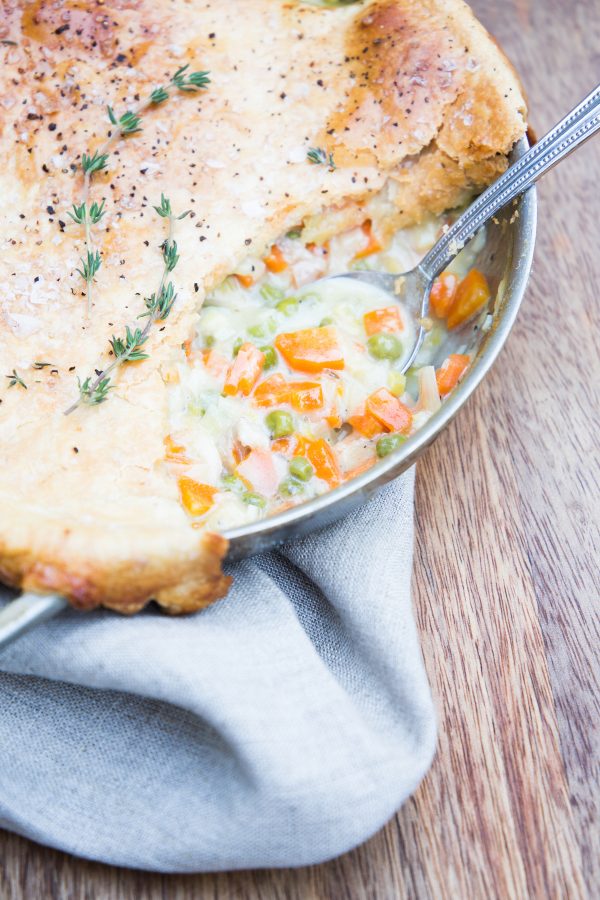 One-Skillet Parmesan and Leek Chicken Pot Pie
Serves 2
2 tablespoons unsalted butter
1 leek, trimmed, cut in half vertically, cleaned, then sliced into very thin half moons
2 large carrots, peeled and diced
2 garlic cloves, minced
2 tablespoons all-purpose flour
1 cup chicken stock
1/2 cup heavy cream, plus more for brushing the pie crust
1/2 teaspoon kosher salt
1 tablespoon fresh thyme leaves or 1/2 teaspoon dried thyme
1/8 teaspoon freshly ground black pepper, plus more for garnish
1 1/2 cups shredded cooked chicken
1/2 cup frozen peas
1/3 cup grated Parmesan cheese
1 frozen pie crust, thawed (make sure you get the rolled up kind, not the kind pre-frozen into a pie tin!)
Flaky sea salt
Preheat oven to 400 degrees F.
Melt butter in an 8-inch ovenproof skillet over medium heat. Add leek and carrots and cook until softened, 4 to 5 minutes. Stir in garlic and cook for an additional 30 seconds.
Stir the flour into the vegetables and continue to cook for 30 seconds while stirring. Stir in the stock, cream, salt, thyme, and pepper until no flour lumps remain. Turn the heat up to medium-high to simmer the filling and thicken it to almost the consistency of a thick gravy. Taste and adjust salt and pepper to your liking.
Stir cooked chicken, frozen peas, and Parmesan into the mixture and remove skillet from heat. Allow to cool slightly.
Place pie dough over the skillet and use kitchen shears to trim the dough, leaving a 1/2-inch overhang (it will shrink as it bakes). Cut two 2-inch slits in the middle of the pie dough to allow steam to escape. Brush pie dough with a little heavy cream and sprinkle with flaky salt and freshly cracked pepper.
Place skillet on a baking sheet to catch any drips and bake for 25 to 35 minutes, or until pie crust is golden brown. Different pie crusts will take different amounts of time, so start checking on it at the 25-minute mark.
Use a big spoon to dish the pot pie into two shallow bowls. Enjoy!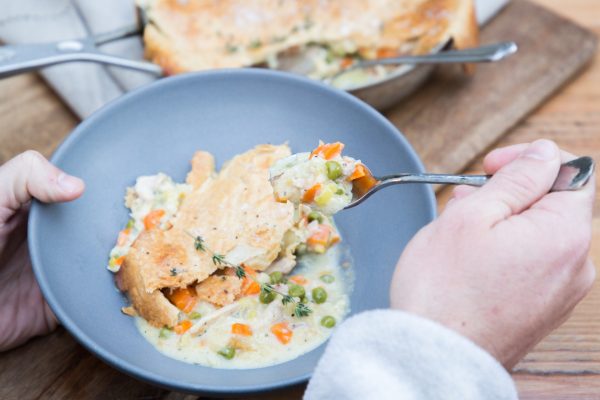 Caroline Chambers is a recipe developer, food writer, and author of "Just Married: A Cookbook for Newlyweds." She currently lives in Carmel, California with her husband George and brand new baby boy, Mattis. Follow her on Instagram for cooking tips and snippets from her life in Northern California @carochambers.