Musician: Shen Yun 'Absolutely Out of This World'
April 27, 2014 1:14 am Last Updated: April 27, 2014 6:48 am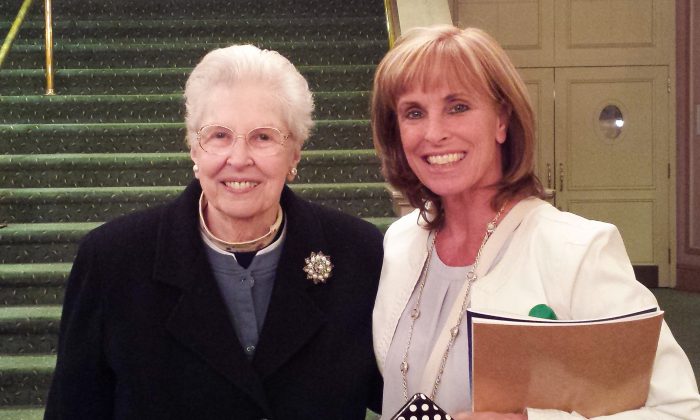 PHILADELPHIA—Eve Persicketti, a dance teacher, and Lorraine Andrews, a musician, became inspired when watching Shen Yun Performing Arts on April 26 at the Merriam Theater.
"Oh, my goodness. I thought it was fabulous. I thought the costuming was phenomenal. The dancing was gorgeous. It was really absolutely wonderful representation of the culture," Ms. Persicketti said.
"The musicians were excellent, too. It was just an very absolutely enjoyable show. Something you don't see every day. And it's very exotic. And, I was overwhelmed sometimes with all what was going on," said Ms. Andrews, who is a church organist and still active at 85-years-old. "It was absolutely out of this world."
New York-based Shen Yun tours the world reviving China's rich 5,000-year-old culture, presenting tales and legends through classical Chinese dance and ethnic and folk dance. The performances are accompanied by an orchestra that combines traditional Western instruments and classical Chinese instruments.
The performance featured the two-stringed erhu, a 4,000-year-old instrument known as the Chinese violin. "I also loved the performance of the pianist and the woman that played the erhu," Ms. Persicketti said. 
Being a dance expert, Ms. Persicketti was stunned by the dance in the performance. "I think the dance was gorgeous," she said. 
"Yes, it was really very controlled, very flexible."
Classical Chinese dance combines graceful moves with more dramatic jumps and tumbling techniques. "It is able to transcend ethnic, cultural, and even linguistic barriers, taking this well-established Chinese culture and presenting its essence to the world," according to the Shen Yun website.
Ms. Persicketti especially lauded the "port de bras" arm movements, which she described as very expertly done. Ms. Andrews was more focused on the feet. "I loved the way they moved their little feet. That was amazing, it really was."
Deeper Meaning 
Apart from the artistic skill, both women discovered a deeper meaning behind the performance. 
"A lot of it was when the lady was singing and we could read in English what she was singing about. And how the world has transgressed and evolved … from the beginning into now. It told a beautiful story," said Ms. Andrews. 
Shen Yun's vocalists perform songs that are interspersed with the dance pieces. While singing in Chinese, English lyrics are broadcast on the animated backdrop. 
Ms. Persicketti saw a connection between heaven and earth. 
"And the connection," she said, "where we begin, where we hope to go."

New York-based Shen Yun Performing Arts has four touring companies that perform simultaneously around the world. For more information, visit Shen Yun Performing Arts. 
The Epoch Times considers Shen Yun Performing Arts the significant cultural event of our time. We have proudly covered audience reactions since Shen Yun's inception in 2006.