There are two recent concerns about the COVID-19 vaccines, including one that has not yet happened and one that already has.
I. Will the FDA Approve new COVID-19 Vaccines Based on 'Preclinical Data' and Allow the Vaccines to Become Similar to the Flu Vaccines?
The existing COVID-19 vaccines are based on the older virus that is more virulent than the current strains. And as the virus continues to evolve, the vaccines' protection declines. Recently, Pfizer has begun developing its Omicron vaccines.
Pfizer is developing two types of Omicron vaccines, including one monovalent vaccine that directly replaces the original strain with the Omicron variant, and a bivalent vaccine that contains both original strain and an Omicron strain which would partially neutralize the challenging Omicron variant with the immunity triggered by the original strain.

There is no consensus as to which vaccine will be ideal for use so far.
Some researchers believe that as the bivalent vaccine contains the original strain, which is more pathogenic than the Omicron variant, it should be more effective in preventing severe disease.
However, there is not enough data from clinical studies to support this argument. Besides, it is also unclear how the ratios between the two strains of viruses should be deployed.
So far, Pfizer has tested the effectiveness of Omicron's monovalent and bivalent vaccines with the BA.1 variant. These vaccines have not yet been tested clinically, but only in preclinical studies. The results showed that the neutralizing geometric titers against Omicron BA.1 increased 13.5 and 19.6-fold for the monovalent vaccine, and 9.1 and 10.9-fold for the bivalent vaccine at 30 μg and 60 μg dose levels, respectively.
However, both monovalent and bivalent vaccines have lower neutralization capacity against the currently prevalent BA.4 and BA.5 variants.
That is, despite Pfizer's efforts to develop a vaccine against BA.1 during the recent past six months, the virus mutated again, creating further immune evasion against the vaccines. Today, over 70 percent of the newly confirmed COVID cases in the United States are brought by BA.4 and BA.5.
In any case, the new vaccines are more protective than the old ones, in terms of neutralizing antibodies. So, the question now is: Will the Food and Drug Administration (FDA) approve the Emergency Use Authorization (EUA) for the new vaccines?
If it is approved, it means that there will be no need to do clinical trials for new vaccines in the future, as only pre-clinical data are needed (i.e. from in vitro experiments and animal trials) before a vaccine can be approved and used for large-scale administration. That will be a very large change.
It is almost impossible to ask vaccine companies to keep up with the speed of viral changes. At present, it is already impossible to keep up with the changes in the virus even just by doing preclinical studies. If clinical trials are also demanded and performed, the virus may have become "completely different" in its serotypes by the time the trials are completed.
Therefore, in the future, the COVID-19 vaccines could probably follow a similar path as the flu vaccines.
Is There The Possibility That Annual Vaccination May Reduce Protection?
This is related to the medical institutions' perception of the development of the COVID-19 vaccines. If their perception is that the pandemic's development will be closer to that of influenza, then it is likely that the COVID-19 vaccines will be developed in the same way as the influenza vaccines.
Influenza vaccines need to be updated annually, and their development time is very limited. There is no possibility to conduct clinical trials, and basically not even animal trials. So the companies can rely on only the results of in vitro sequencing and antigenic typing studies to determine the next round of vaccine ingredients.
Researchers need to collect sera from influenza-infected people around the world within six months to test whether there is an overall trend in their antigenicity, from which strains are selected as vaccine seed strains for the next influenza season. The prediction results are sometimes accurate and sometimes inaccurate.
For instance, in the 2014 to 2015 influenza season, there was an outbreak of the H3N2 strain of influenza A, and the vaccine prediction was off by a large margin, so the overall vaccine protection rate for that year was relatively poor.
Such an approach has both advantages and disadvantages. Since influenza viruses change from year to year, if a vaccine is designed with accurate predictions, its protection rate will be relatively high.
However, there is also a downside: the annual vaccination may also weaken the vaccine's protection.
According to the Canadian Medical Association Journal, people who got the flu vaccines in both 2013 to 2014 and 2014 to 2015 flu seasons ended up with only 15 percent vaccine effectiveness, but the ones who got vaccinated only in the 2014 to 2015 flu season got 43 percent vaccine effectiveness.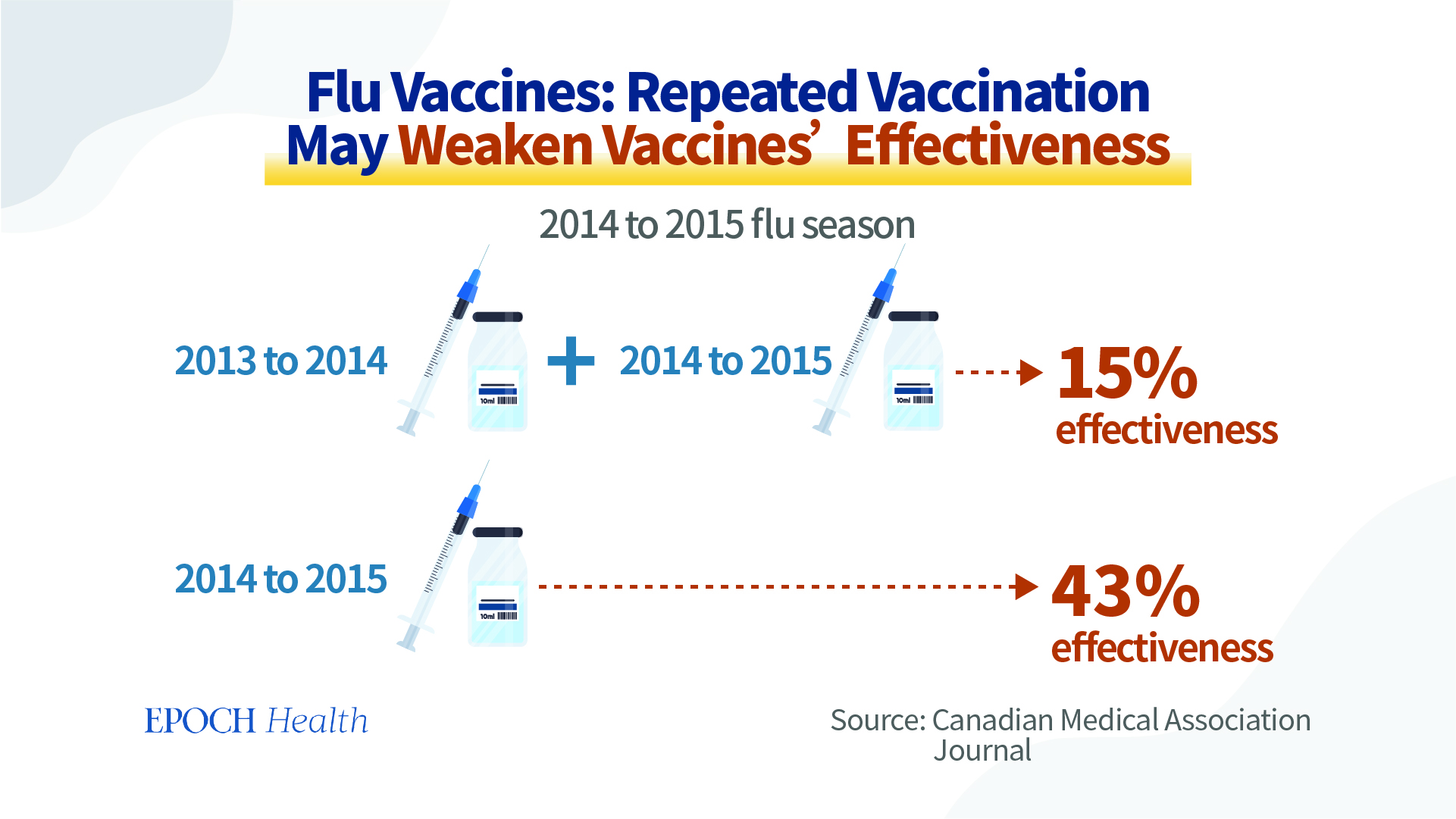 This is a reminder that repeated frequent vaccinations may not be a good thing.
A more complete research report is available in the journal BMC Medicine. The researchers specifically compared the effectiveness of vaccines against three flu types in four different vaccination groups: current season only, prior season only, both seasons, and neither season.
They discovered that when comparing "both seasons" with "current season only", the vaccine effectiveness against H3N2 and influenza B decreased by 20 percent and 11 percent, respectively.
Therefore, many experts are also questioning whether or not the COVID-19 vaccines should be implemented as regular injections with frequent updates
Frequent vaccination may have a negative impact on immunity: the body's immune system will suffer from immune fatigue. Just like "crying wolf," the immune system that has been repeatedly stimulated by the vaccines will not be able to perform at full strength in the face of a real virus attack. On the other hand, the risk of side effects may be greater with one or two booster shots.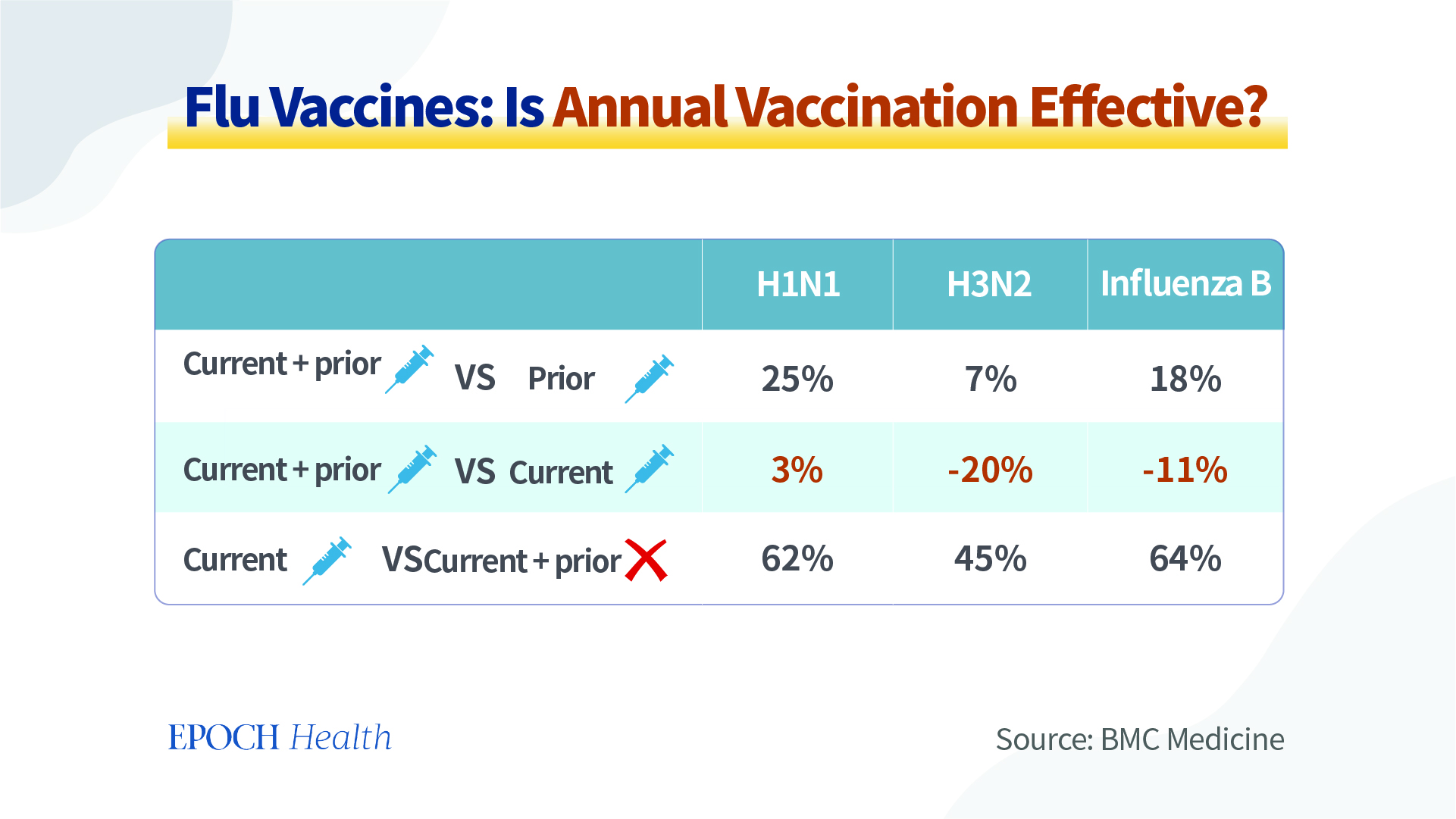 According to Dr. Marco Cavaleri, head of the European Medicines Agency's Biological Health Threats and Vaccines Strategy, frequent booster shots may have a negative impact on the body's immunity to the SARS-COV-2 virus. People can get a booster shot once, maybe twice, but they shouldn't keep receiving injections over and over again.
In the face of the COVID-19 pandemic, we all hope that we can respond positively, for example, by using vaccines to boost our own immunity. However, we also need to calmly analyze how effective the vaccines will be against the current variants, and whether or not they will bring side effects. We can listen to all sides and consider comprehensive information to make a better decision for ourselves.
II. FDA Approved COVID-19 Vaccines for Children Over 6 Months of Age
Another worrying event is that the FDA has recently authorized COVID-19 vaccines for children over 6 months of age.
As we know, we should be more cautious in the use of medications and vaccines for children, weighing the vaccine effectiveness against the possible risks. So, how much protection does the COVID-19 vaccine provide to children?
The threshold for vaccine efficacy is 50 percent. According to the data published by the FDA for the Moderna and Pfizer vaccines, the effectiveness for children aged 6 months to 2 years with 2 doses of the Moderna vaccine was 50.6 percent; for children aged 2 to 5 years, the effectiveness was 36.6 percent, which didn't meet the threshold.
The data for children aged 6 to 11 years are too little to be taken into account, which means that there is no valid effectiveness data for this group of children.
Pfizer's study compared vaccine data on 80 children aged 6 months to 2 years, 140 children aged 2 to 4 years, and 170 children and young adults aged 6 to 25 years.
They recruited a very small number of subjects, with less than 100 subjects under the age of 2. This data, in itself, is already very weak.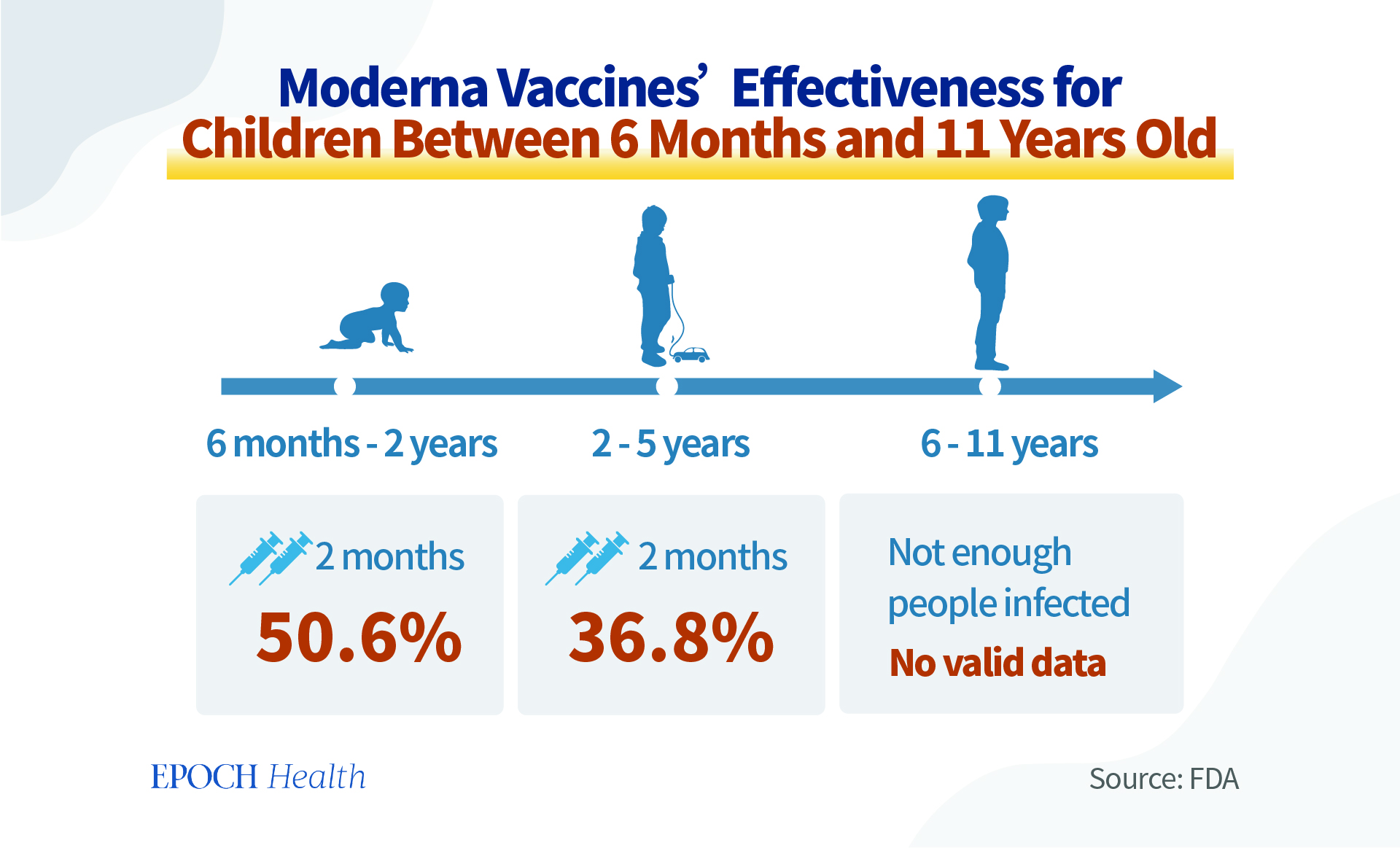 Moreover, Pfizer did not provide specific data on vaccine effectiveness for children under the age of 4, but only concluded that the data on effectiveness were "similar" to those for children and young adults aged 6 to 25, according to a previous study that was not specifically done with the Omicron variant, either.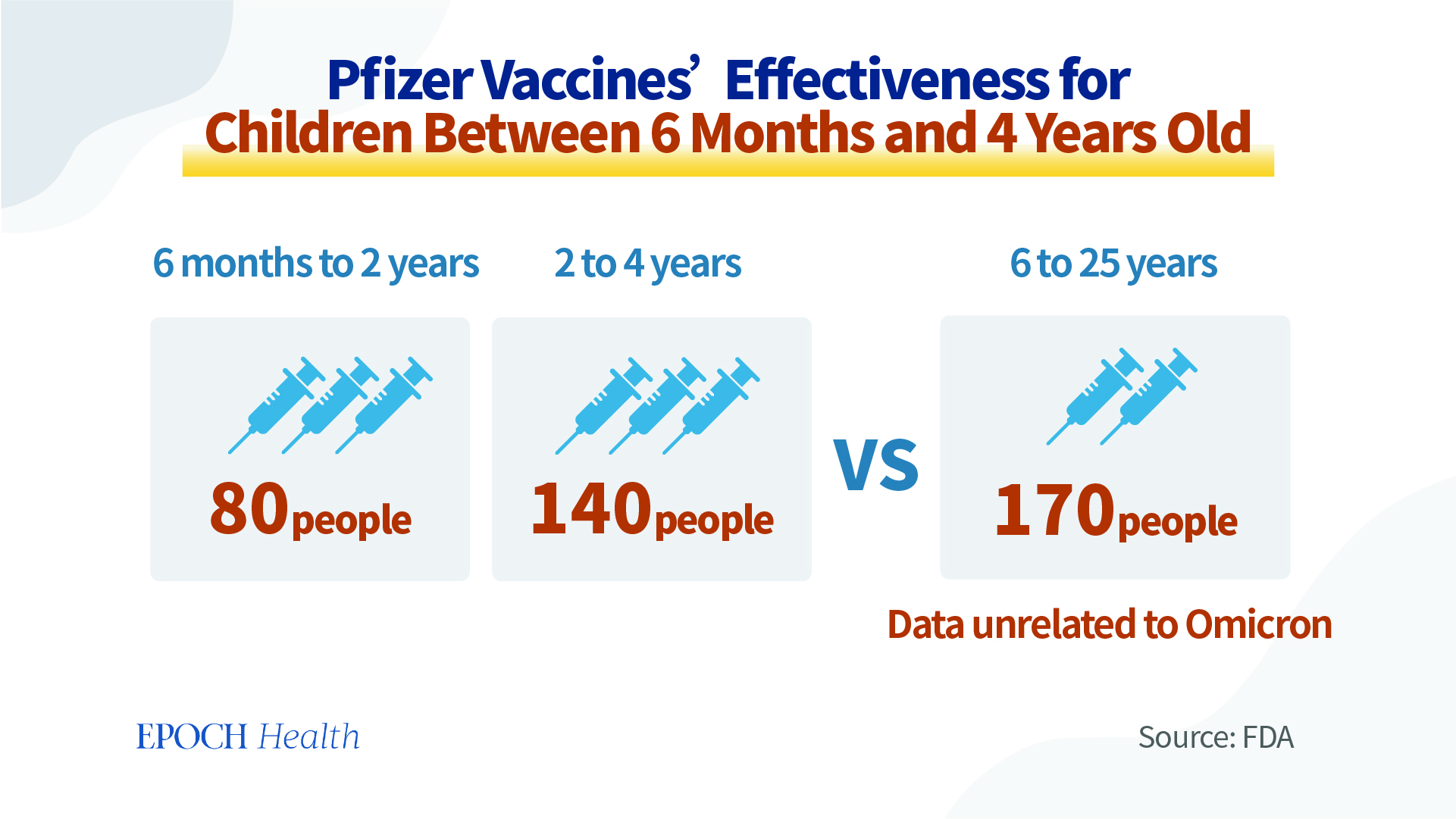 The probability of children contracting COVID-19 is very low in the first place. In this case, it is surprising that the FDA uses these poor experimental data as the basis for introducing the vaccine to children. Specifically, the Moderna vaccine's efficacy failed to reach the 50 percent threshold  and Pfizer did not provide effectiveness data at all.
The Side Effects of Vaccines on Infants and Children Are a Concern
Another issue of concern is what side effects the vaccines may cause to children.
The FDA mentioned that the Modena vaccine may cause irritability, crying, drowsiness, and loss of appetite in children under 3 years old; fatigue, headaches, muscle aches, nausea, vomiting, chills, and stiff joints in children 3 to 5 years old; and fever, swelling, and pain at the injection site, and swollen lymph nodes in all children 6 months to 5 years old.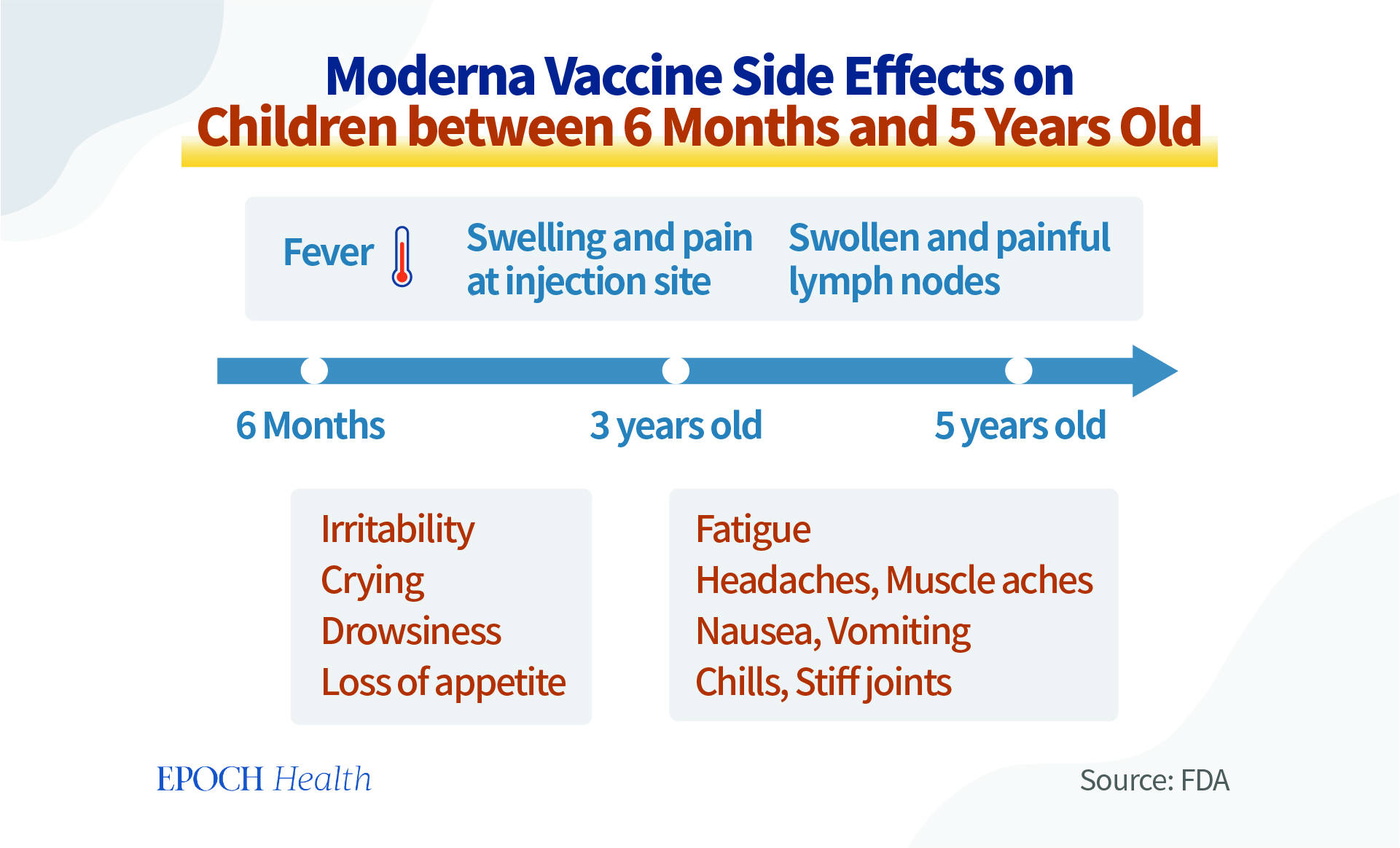 We are already very familiar with the side effects of vaccination on adults, including fever and swollen lymph nodes. Nevertheless, these seemingly mild symptoms can signify more serious problems for children.
For instance, while adults may easily get over a fever, infants may be at a higher risk for serious problems. Headaches in children can be a dangerous symptom, and the severity of headaches is not clearly stated by the pharmaceutical companies.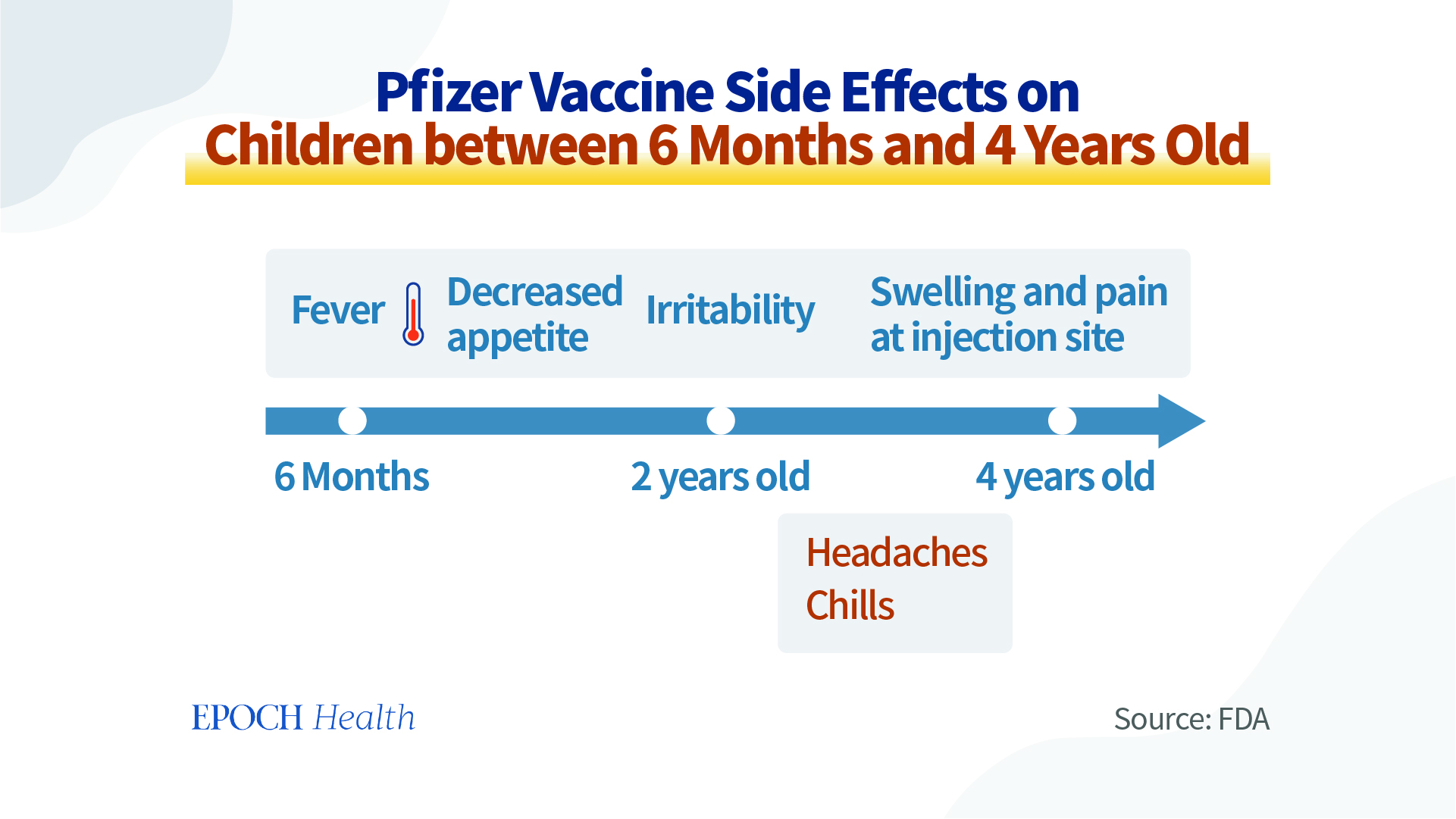 In addition, we know that "crying" is not a medical diagnosis; it is not a clinically accurate representation of physical impairment, and it is difficult for infants and toddlers under 3 years old to express their discomfort. What are the causes of their crying, irritability, loss of appetite, and sleepiness? We need to be more careful and cautious in diagnosing children's physical conditions.
Another question is, how long does it take for these side effects to resolve?
Will the infants' loss of appetite last for 1 to 2 days or several months, and will it affect their nutrition intake and health? How long will the stiffness of the joints last, and will it affect the children's growth and development and leave long-term damage? These are all issues of great concern.
The Pfizer side effect report is similarly vague. The cause of irritability in children is unknown, as is the duration of fever and decreased appetite.
From the existing reports, it appears that the FDA has been unbelievably weak in scientific judgment in its consideration of the vaccine effectiveness data for children and the possible adverse effects. This calls for a more comprehensive understanding and careful judgment by parents to take responsibility for the health of their children.
And it also calls for medical providers to use their common sense and medical knowledge and expertise in prescribing COVID vaccines for infants and toddlers, rather than blindly following a recommendation.
For the above situation, some independent media outlets' views may be shielded from the public. I think that it's a shame that the public is being deprived of their right to be informed to some extent. That is, the public needs to know the real, concrete facts about the COVID-19 vaccines, in order to make better decisions and protect their own health.  To be more responsible in taking a vaccine is not anti-vaccine, and not anti-science at all.
Views expressed in this article are the opinions of the author and do not necessarily reflect the views of The Epoch Times. Epoch Health welcomes professional discussion and friendly debate. To submit an opinion piece, please follow these guidelines and submit through our form here.