R | | Action, Crime, Music | 28 June 2017 (USA)
Heist/romance movie "Baby Driver" is a mashup of "The Fast and the Furious," "Rain Man," and "Cinderella" containing arguably the most electrifying non-digital, straight-up stunt driving (compliments of pro stunt driver Jeremy Fry) of any car-based movie to date—and certainly the most fun!

The titular Baby (Ansel Elgort) is a baby-faced boy, who drives. But he's all man when he slides behind the wheel of a getaway car—Rain Man, that is. The boy's got savant-level, smokin' donut-spinning and Secret-Service-limo-floored-in-reverse drifting skills.
It's about the fascinating ability of this young man to hold to an inner moral compass while tangled up with some seriously bad characters.
One example: In a bank-robbery getaway, Baby spots two other red Subaru WRX sports cars, exactly like the one he's driving, and choreographs a three-card monte-like, lane-shifting shuffle, befuddling the chopper cops. Should I say it? A "three-car monte." Ba-dum-bum.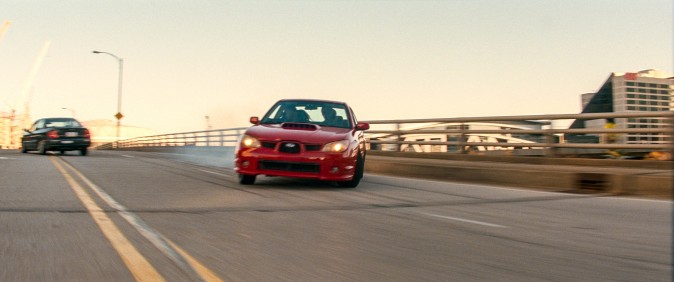 He's a super talented kid who's got so much Ferris Bueller-type, hyper-sanguine, air guitar-playing, lip-syncing, can't-sit-still energy, that if Bueller and Baby sat next to each other in high school, their shared ADHD natures would annoy each other so much they'd both immediately settle down, focus, and pay attention to the teacher.
"Baby Driver" is likely to be the height of 2017's summer blockbuster fun. It's pop fluff, for sure, but such tasty fun, it's almost nutritious.
'One Last Job and I'm Done!'
Usually that's the line spoken by the salty dog who comes out of retirement for one last whatever: mission, bank heist, and so on. In this version, it's Baby who wants out of the wheelman business.
See, Baby got caught in his misspent youth (he was 8) trying to rip off Doc (Kevin Spacey, doing his power-alley role of witheringly abusive boss man), and now Baby has to drive off his debt.
Doc, like "The A-Team's" Hannibal, also loves it when a plan comes together, and he's well aware that Baby's phenom driving skills are the common denominator to all of Doc's bank heist successes. Can Doc entice Baby to stay on and make some real money?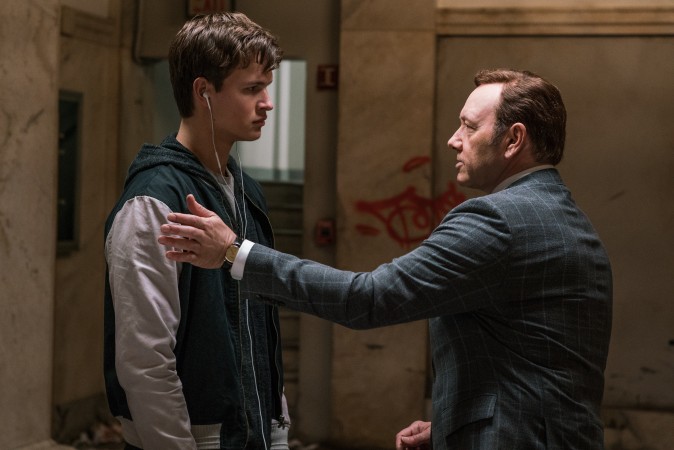 What Goes On?
Well, Simon and Garfunkel wrote a strange song called "Baby Driver," about a kid whose bass-playing dad was a former Navy SEAL. That song is in the movie. But this is not a movie about that.
It's about, as mentioned, bank robberies, stunt driving, and the fascinating ability of this young man to hold, more or less, to an inner moral compass while tangled up with some seriously bad actors. Ahem, by "bad actors" I don't mean the actors in the film—they're all A-listers. A-listers in a summertime drive-in B-movie.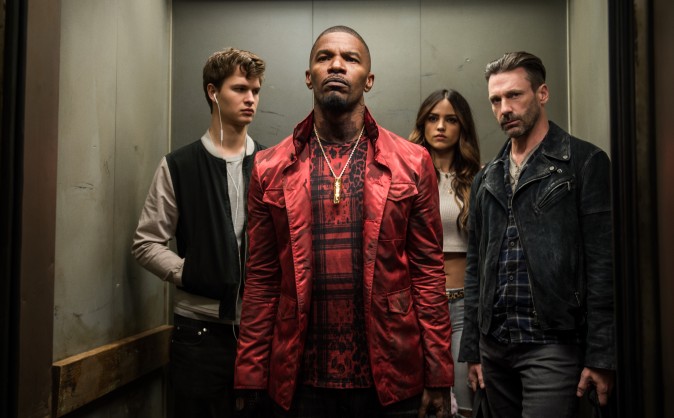 And then there's the sweetest romance you've seen in a while—the diner waitress Baby gets involved with provides the Cinderella angle. She's got a snarky chef/boss in lieu of ugly sisters, and she's waiting for her prince. Why not a nice, quiet boy who's a stunt-driving wizard?
It helps that Debora, the waitress, is played by Lily James, the British actress who recently played that lovely, blonde-in-a-blue-dress Disney Cinderella.
Meanwhile, CJ Jones plays Baby's deaf, mute, wheelchair-dependent, African-American foster dad, Joseph. He exists to demonstrate what a good boy Baby is for taking care of him. Think Ferris Bueller doing sign language.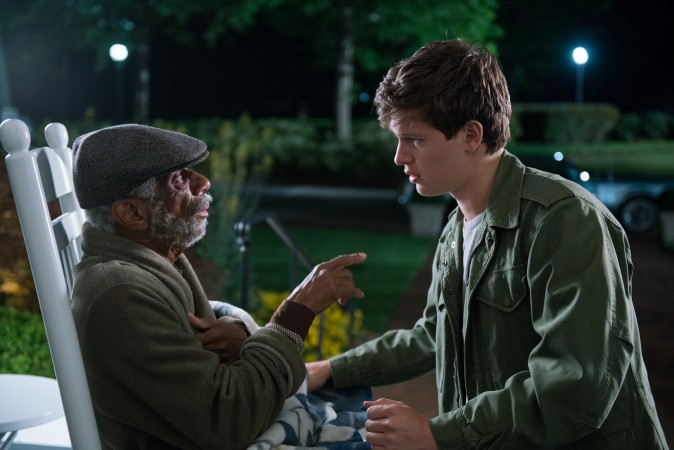 The Bad Guys
Jamie Foxx steals most of the movie as super street-savvy Bats, an intelligent version of the character he played in "Horrible Bosses," who waxes jaw-droppingly articulate with his X-ray-like ability to get a read on people.
Rounding out the bad-guy cast are the tattoed Griff (Jon Bernthal), who might be ex-military gone wrong; Buddy (Jon Hamm), a former Wall Streeter gone wrong; and Buddy's wife (Bonnie to his Clyde), Darling (Eiza González).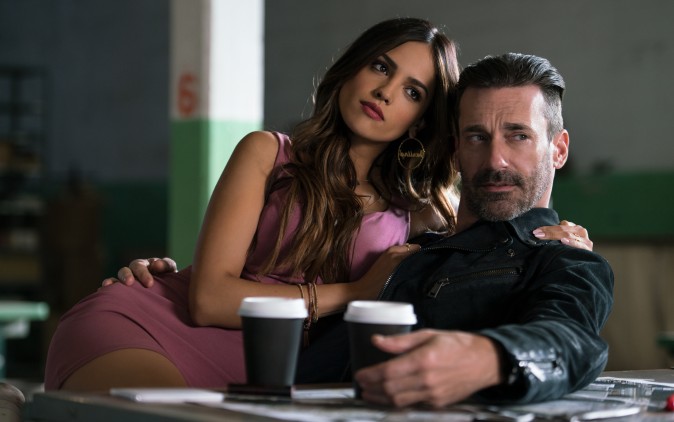 Style Over Substance, but …
The movie's a good example of a mess of clichés kaleidoscoped into fresh storytelling. The dialogue's seriously sharp and syncopated, almost rap-like at times, and Spacey subtly isolates the poetry, giving it a rhythmic pop and sounding a little like Shakespeare set to hip hop.
Similarly, concussive gunfire sometimes syncs with concussive soundtrack rhythms—that's a director (Edgar Wright) wielding style for you.
And speaking of the soundtrack, this is, after all, a jukebox-comedy-heist-romance caper, so the soundtrack is king. This is majorly facilitated by the fact that Baby's got a serious case of tinnitus from the car accident that killed his chanteuse mom, so he needs to block the ringing in his ears with a steady stream of beats, played on many iPods (including a pink, sparkly one), each programmed to suit his driving moods.
Dark but Funny
While it features lots of noir photography and dark humor, it's a dark (but light-hearted), funny film that's pure fun, foolishness, and absurdity.
It's only Baby's attempt to protect Cinderella from the not-really-a-chauffeur nature of his Baby-Driver-ness that has anything like a real emotion attached to it. Which is why it's a sweet little romance.
The only thing missing for me was Prince's song "Baby Knows," with Sheryl Crow on back-up vocals and a sample of Patrick Swayze saying, "Nobody puts baby in a corner!"
'Baby Driver'
Director: Edgar Wright
Cast: Ansel Elgort, Kevin Spacey, Jamie Foxx, Jon Hamm, Lily James, Eiza González
Running Time: 1 hour, 52 minutes
Rating: R (for violence and language throughout)
Release Date: June 28
Rated 3.5 stars out of 5