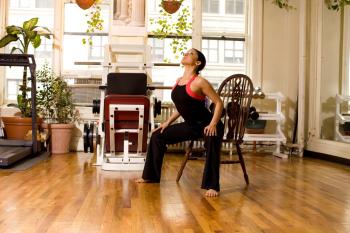 Warming up the body at the start of a workout is a great way to prevent injury. It helps to relieve stiffness and aches, and to get you focused and centered before tackling the challenges of the workout.
A warm-up can be approached in a variety of ways. Many people opt to begin with cardiovascular exercise such as walking or biking. Some people utilize what is known as a foam roller, where they roll out all their knots and kinks. While rolling the tighter muscles out, the muscle starts to heat up and get more mobile. Dynamic stretching, where you are moving through the stretch, is a popular warm-up, as is static stretching.
But in many mind body exercise routines, such as Pilates, Gyrotonic Expansion System, and yoga, one begins by focusing attention on breath and body. This awareness gets you ready for the challenges ahead.
In Pilates one traditionally takes note of their body alignment before executing the full routine. An example of how to do this would be to begin by lying on your back and finding the proper alignment of your body before beginning the first exercise.
In yoga, one often begins by sitting and quieting the mind. Then they begin what is known as pranayama or breath work, and of course there are a number of breathing techniques that can be practiced to heat the body up for the coming workout.
In Gyrotonic Expansion System, one often starts in a seated position to begin moving the spine in a variety of ways designed to mobilize the vertebrae, create length in the torso, and move from the center of the body.
Next time you workout, try combing these three warm-ups:
Start by sitting on the front edge of a chair with your feet shoulder width apart and flat on the ground. Keep your thighs pointing in the same direction as your feet.
Gently sway left and right to get a better sense of your sitting bones on the chair. Make sure your weight is evenly distributed between them. Sit up tall, lining your shoulders over your hips and your ears over your shoulders.
Take a few deep breaths. Notice where you feel the air being drawn from. Is it your throat, neck, shoulders, or chest? Or is it your lower abdomen. The area that is being used to draw the air in will rise and fall with each breath. Try to use your belly (diaphragm) to pull the air in. When doing this properly, your belly will expand out as you inhale and go in toward your spine as you exhale.
After practicing a few breaths, gently draw your navel toward your spine, tightening up your lower abdominal area. Then continue to breath into your lower abdominal area without letting your belly go.
Now for the movement:
Arch and Curls:
Inhale and lengthen your spine upward.
Exhale and arch forward as if being pulled by a string attached to your chest. Keep arching your back as you bow forward until you can go no further, than relax over your legs. Roll up through your spine until sitting upright again. Your head should be the last thing to come up. Repeat this four times.
Reverse the movement by rolling down, leading with your head, and arching up by picking up your face, than your chest, than your solar plexus up until you are sitting upright.
Repeat in the opposite direction four times.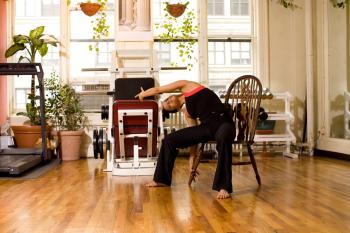 Side Bends:
Bend to the side, stretching the side of your waist. When you bend to the side, imagine that you are in between two walls so you don't lean front or back as you bend.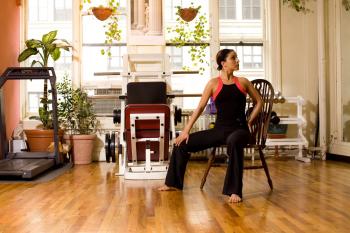 Twists:
To complete the spinal warm-up, you don't want to forget twists.
As you twist to the right, press your left knee open with your left hand and bring your right hand to your right hip. At the end of the twist, exhale deeply, pushing the air out of your body and if being wrung out like you would wring water out of a wet towel. Done correctly, you should feel your oblique's engaging.
This warm-up will leave you centered, calm, open, and ready to work. Plus it feels great
The Epoch Times fitness team is made up of certified personal trainers. If you have any fitness questions, feel free to contact the editor at Tysan.Lerner@epochtimes.com