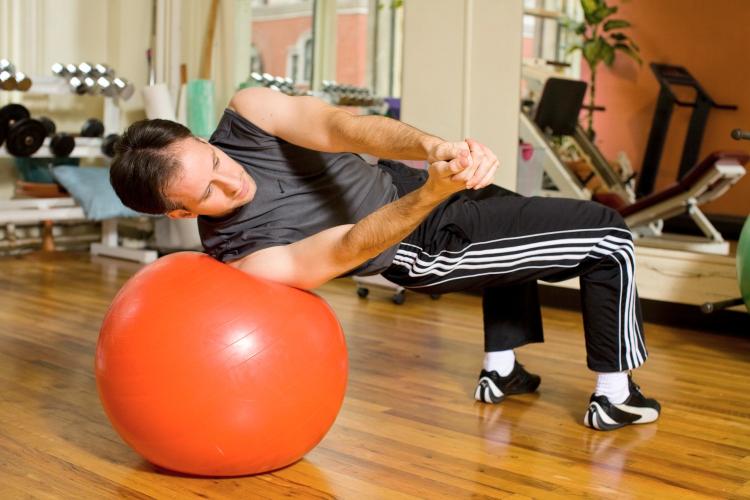 Incorporating Russian twists into your workout routine is a great way to develop powerful obliques. This is a fairly advanced exercise. If you have any problems with your back, please refrain from performing this exercise unless being coached to perform them by a very qualified and trustworthy professional. Twists can be quite strenuous on the spine, especially when performed incorrectly.
Russian twists target one's abs and back. Start off practicing Russian twists at a slower pace to master the movement and speed up as you master the coordination.
Prime Movers: Erector Spinae, Rectus Abdominus (abs), Transverse Abdominus, Obliques.
Secondary Movers/Stabilizers: Anterior and Medial Deltoids (delts), Gluteus Maximus (glutes), Gluteus Medius/Minimus (Abductors), Quadriceps (quads), Hamstrings.
Set up: Rest your head and shoulders on the ball and keep your hips held high, so they are parallel to the floor. Keep your feet parallel to each other and hip width apart. Extend your arms up above your chest, with your palms or fingers clasped together and your elbows straight. Make sure to keep your weight evenly distributed between both feet.
Pull your shoulders down and back, feeling firm contact of them on the ball. As you move through the exercise, maintain this alignment.
Step One: Exhale to draw navel to your spine, creating a compact and supported feeling throughout your torso. This will help you maintain the support and integrity of your spine.
Step Two: Starting at a slow pace, roll onto your upper right arm until your left shoulder is stacked directly onto your right shoulder and your back is off the ball. Keep your hips facing the ceiling as your chest faces the sidewall. Your hips will tend to want to drop down toward the floor. Keep them at knee height and bent. Do not turn your hips or allow your knees sway left or right. It will help to focus on pushing your feet toward the floor and your hips toward the ceiling. Inhale, and as you exhale, rotate to the other side.