I think it's fair to say that smoothies haven't always had the best reputation. Upon hearing the word smoothie, many of would visualize those nasty shop bought bottles of gloop that, lets face it, really didn't taste too good.
But that has all changed since social media exploaded. Now, with the online world at your fingertips, you can find blogs and Instagram accounts dedicated to sharing an array of bright, colorful smoothies that look seriously tasty.
And so we decided to try and give smoothies another go. And let us tell you, you will never want to buy one ever again when you can make these beauties from the comfort of your own kitchen.
If you're not already aware of the smoothie hype on Instagram, then smoothies really are huge at the moment. Whether you decide to drink them from a glass, eat them from a bowl, have them as a breakfast or make them as an afternoon snack . . . they're quick, they're easy, and they're a super convenient way of smashing in those greens when you're in a rush. And the best thing? You can't even taste that you're eating spinach. And trust us, you will even start to like the color green.
We've sourced from a selection of blogs our top 20 most tastiest and diverse range of smoothie recipes out there. So now that the hard work is done for you, all you need to do is sit back and choose which one you're going to make first.
1. Pbee & Banana Smoothie

Alexandra makes smoothie bowls look effortless and her Instagram page is packed full of bright green bowls of absolute goodness. And this recipe is no exception. And I know what you're thinking: green doesn't always look as inviting as we'd like. But while this smoothie may be packed full of spinach, the avocado gives it this beautiful, creamy texture, and the banana and peanut butter combo is divine! If you don't believe us, go make it for yourself and become a green smoothie convert. Get the recipe here. 
2. Easiest Breakfast Smoothie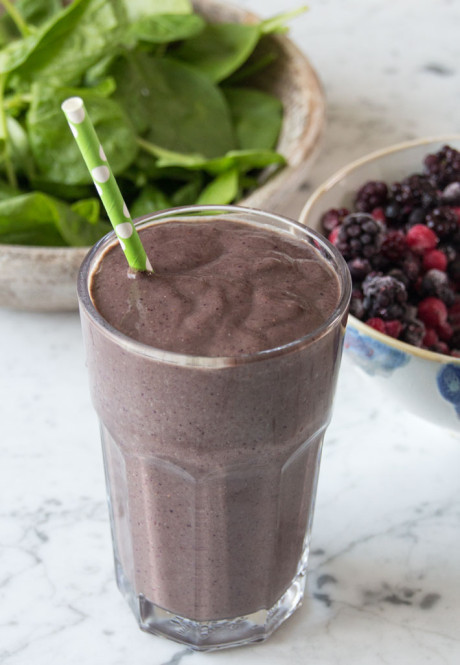 Lovely Ella of Deliciously Ella has come up with yet another hit recipe, and this one is a great way of packing oats into your smoothie. This smoothie will leave you feeling fuller for longer, and it's the perfect on the run option if you're in a hurry, and you don't have time for a sit down breakfast. And if you're a morning gym kind of person, this is the perfect post-workout breakfast. Get the recipe here.
3. Blueberry Coconut Super Smoothie

For a quick and easy smoothie that is still packed full of nutrients, try out this blueberry and coconut based smoothie from Green Kitchen Stories. Get the recipe here.
4. Frozen Banana & Cacao Smoothie

You could call Elizabeth Rider's concoction a super healthy version of a chocolate milkshake. Yep, that's right. A chocolate smoothie that is actually good for you. Get the recipe here.
5. Berry Good Smoothie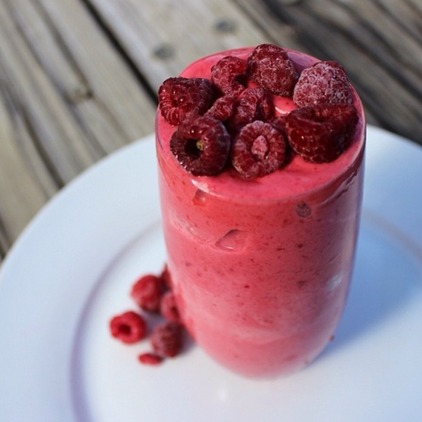 Have you met Essena? She's the Queen of simple, yet healthy recipes. This one will take you seconds to throw together, but it will be so berry, berry good. Get the recipe here. 
6. Green Avocado & Mango Smoothie

Madeleine has created a perfect, fresh smoothie recipe. It may seem odd, but don't be scared of adding avocado to your smoothie. Not only is avocado a healthy fat, and oh so good for you, it also makes your smoothie creamy and delicious. Get the recipe here.
7. Raspberry Dream Smoothie

Do you have a sweet tooth? Well sit back and enjoy this smoothie, and feel absolutely no guilt over the sweetness factor. Karly has created something delicious with this smoothie, and the sweet edge comes from medjool dates, best described as nature's candy. If you haven't tried adding medjool dates to recipes before now, oh my–go do it right now! Get the recipe here.
8. Tropical Green Smoothie

If the weather outside is far from that of a tropical island, don't sweat it. Grab your blender and make yourself this tropical smoothie courtesy of The Merry Maker Sisters, and just pretend you're sippin' it on a sandy beach . . .Get the recipe here.
9. Banana Blueberry and Peanut Butter Smoothie

Siobhan creates some fabulous recipes, and her blog is bursting with flavours that are not only tasty, but so good for you. And if like Siobhan you'd like to get some coconut water into your daily smoothies, go ahead and try out this recipe, it's the perfect combo. Get the recipe here.
10. Pumpkin Smoothie

We know what you're thinking, pumpkin . . . in a smoothie?! But we have faith in Natasha of Honestly Healthy, and this recipe is actually seriously good. And now you know what to do with those leftover veggies. Get the recipe here.
11. Pina Colada Protein Smoothie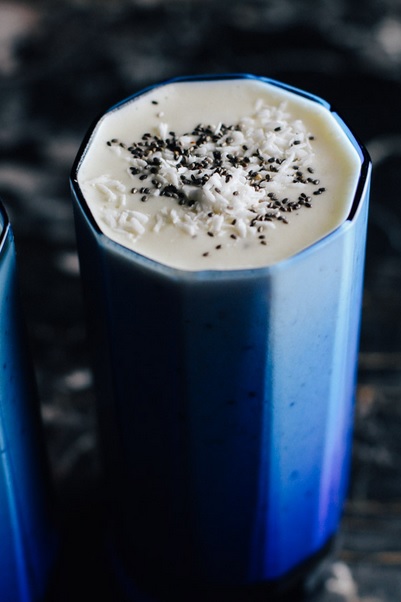 Sub the greek yoghurt for soy yoghurt if you're vegan, and you're onto a winner with this smoothie. Perfect for pre or post workout. Get the recipe here. 
12. Avocado Strawberry Smoothie

If you're still not convinced by the avocado base in a smoothie recipe, just give it a whirl. It really does transform the texture of your smoothie to being so creamy and delicious. Get the recipe here.
13. Stress Buster Orange Smoothie

De-stress with this vibrant citrusy smoothie and feel your woes slip away. Get the recipe here.
14. Banana Bread Smoothie

This may seem a little more ambitious than your average smoothie recipe, but it's also way more filling due to the use of quinoa. But it's still super nutritious, and packed full of all things good for you. And who wouldn't want a smoothie that tasted just like banana bread? Get the recipe here.
15. Crazy Healthy Smoothie

The name of this smoothie says it all. It's packed full of all things good for you, every single sip of it will have you bursting with energy. Get the recipe here.
16. Super Detox Green Cleansing Smoothie

If you're looking for a recipe that is packed full of detoxifying ingredients, then this super green smoothie by The Green Forks is the one for you. Get the recipe here.
17. Papaya Sweet and Sour Smoothie

This recipe is one for the more adventurous of smoothie makers, but it still packs a punch and is bursting with flavours. Get the recipe here. 
18. Cucumber Melon Smoothie

Summer in a glass! Cucumber mixed with melon creates a fresh, yet incredibly sweet smoothie that we think you'll really love. Get the recipe here.
19. Peanut Butter Nana Smoothie

It may be our second peanut butter and banana recipe, but these smoothies are packed with vegan protein. Plus, they're simply heavenly on the tastebuds! Get the recipe here.
20. Tropical Mango Pineapple Smoothie

Feel like tasting the tropics with your morning smoothie? Well then this recipe by Natasha's Kitchen is for you. The flavours of the mango, orange and pineapple blend so well together, it truly is a little taste of the tropics in a glass. Get the recipe here.
This article was originally published on www.eluxemagazine.com. Read the original here.