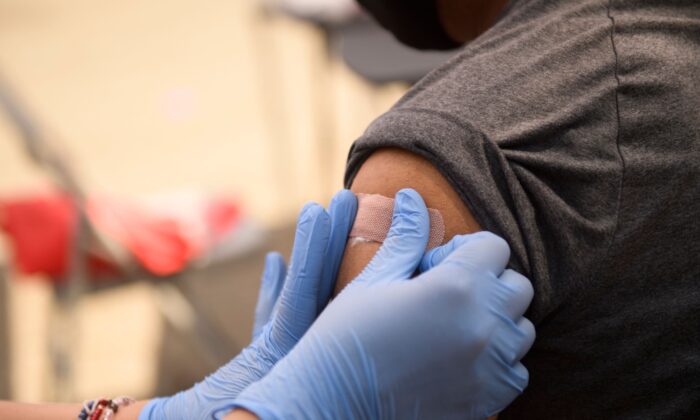 A person receives a bandage after their first dose of the Pfizer COVID-19 vaccine at a clinic in Los Angeles, Calif., on Aug. 7, 2021. (Patrick T. Fallon/AFP via Getty Images)
FDA Panel Recommends Authorization of Pfizer's COVID-19 Vaccine for Children 5-11
The Food and Drug Administration (FDA) was advised on Tuesday to authorize Pfizer's COVID-19 vaccine for children between the ages of 5 and 11.
The FDA's Vaccines and Related Biological Products Advisory Committee made the recommendation.
Seventeen panel members voted yes to recommend the authorization. One abstained.
The vote came after lengthy presentations and discussions about whether the benefits of the jab outweigh the risks for young children.
Pfizer and FDA experts were unable to say the vaccine can prevent transmission of the CCP (Chinese Communist Party) virus, which causes COVID-19. But they said it will lower the risk of severe disease, hospitalization, and death among the children, citing data from trials run by Pfizer and the effectiveness of the vaccine in older age groups, who have been getting it for months.
"The evidence is pretty clear that this vaccine has worked well," Dr. Jay Portnoy, a professor of pediatrics at Children's Mercy Hospital and a temporary voting member of the panel, said before the vote.
FDA scientists ruled the benefits of the shot outweighed the risks and panel members agreed, even after expressing serious reservations regarding the decision.
Members were forced to vote on whether to recommend authorization for shots for every 5- to 11-year-old. They were told that if they rejected the proposed recommendation, they could vote on advising authorization for it for a more narrow population within that age group, but it never reached that point.
The FDA is expected to agree with the recommendation, which would lead to the CDC's vaccine advisory panel deciding exactly who can get the jab.
Severe outcomes among children—especially among healthy children without comorbidities—from COVID-19 are much less likely than older age groups.
Hospitalizations among children 5 to 11 have happened at a lower rate than from influenza, according to adjusted surveillance data (pdf) from the Centers for Disease Control and Prevention (CDC).
And just 94 children in that age group have died from the disease since the start of the pandemic, Dr. Fiona Havers, a CDC official, said during a presentation.
But a small percentage of children have still experienced severe disease and required intensive care, motivating members to recommend the shot.
There are approximately 24 million children between 6 and 11 in the United States, according to Census Bureau data.
"The use of this vaccine will prevent deaths, will prevent ICU admissions, and will prevent significant long-term adverse outcomes in children," Dr. Amanda Cohn, a (CDC) official and a panel member, said after the vote.
Some outside experts have questioned giving vaccines to children, though the proposal has drawn support from a number of others.
A portion of the panel on Tuesday said they were worried about cases of heart inflammation among youth seen post-vaccination, with higher than expected rates of incidence being recorded among males 12 to 49, particularly after the second dose of the two-dose regimen.
The inflammation, or myocarditis or pericarditis, has also occurred among more young females than expected after getting a second dose of Pfizer's jab.
"We simply don't know what the side effects are going to be," Dr. Cody Meissner, a professor of pediatrics at the Tufts University School of Medicine and a panel member, said during the discussion.
He and several others said they were against authorities mandating vaccination for children to attend schools, given the lack of data available at this time.
Dr. Michael Kurilla, a National Institutes of Health official and a panel member, focused in part on CDC data that indicates some 4 in 10 children have already had COVID-19, which would grant them some level of immunity against re-infection.
He's among the experts who believe that a subset of children only need one dose, which would lessen the risk of side effects.
Modeling from the FDA showed that for males 5 to 11, vaccination was estimated to prevent 203 hospitalizations per million while leading to 156 excess hospitalizations per million due to heart inflammation, and prevent 67 intensive care unit stays versus leading to 57 excess stays due to the major side effect.
The gap between the predicted benefit and primary risk was much wider in females, and combining the genders showed a "clear benefit," Hong Yang, a senior FDA adviser, told members.
No cases of myocarditis or pericarditis were recorded among trial participants, Pfizer officials said. Approximately 1,518 participants got two doses in a phase 2/3 trial while another 1,591 received two doses in a separate study.
Efficacy was inferred by using a technique called immunobridging, or looking at the immune response it triggered and comparing it to the immune response that was triggered in older age groups for whom authorization has been in place since late 2020.
The data show "clear and compelling vaccine safety and efficacy and supports an emergency use authorization in 5 to less than 12-year-olds," Dr. William Gruber, who heads the vaccine clinical research and development group at Pfizer, told members during a presentation.
The dosage level for children between 5 and 11 is a third of that given to those 12 and older. If ultimately authorized and recommended by the CDC, young children would receive two doses of 10 micrograms each spaced three weeks apart.