The holiday season is indeed the most wonderful time of the year, but it's also the most exhausting. Traveling to be with family and friends during Thanksgiving and Christmas is rewarding, but also draining. The endless holiday parties are fun and joyful, but tiresome. 
Don't get me wrong, I love the holidays, but I think it's fair to state the obvious: we all get thrown out of our regular rhythm this time of year. Kids are out of school, offices are closed, and the merriment of the season takes precedence! Oh, and there are cookies available everywhere you turn, making your typical healthy eating habits a bit trickier. 
My husband George and I returned to our home in Carmel, California late on the Sunday after Thanksgiving, exhausted after three flights with an increasingly rambunctious 10-month-old baby, to a near-empty fridge and with completely empty (although noticeably rounder, after a southern Thanksgiving feast) stomachs. 
Living in a small town has its perks (we know all of our neighbors! It's so safe!) but the delivery food situation is not one of them. If you're hungry at 10 p.m. on a Sunday night, you better have a stocked refrigerator, and you better know how to cook. No UberEats or Postmates for us!
Fortunately, I keep a very well-stocked pantry, so a simple pasta with my favorite Rao's tomato sauce would have been an easy option for us. But after eating like it was our last meal for the past 20 meals while visiting family in the South, we were both craving something hearty but also healthy. In short: our bodies were begging us to consume some vegetables that weren't enveloped in a cheesy casserole. 
One-Pan Wonder
After rifling through the crisper drawer, I found a head of cauliflower, a bunch of parsley, and a lemon that were, although a bit tired, still perfectly edible. I always have a bowl full of onions on my kitchen counter, so I grabbed a yellow one (though red would've also been delicious). I keep my freezer stocked with a variety of organic meat, so I took out a package of chicken leg quarters (my favorite cut of chicken!) and threw them into a bowl of extra-hot water for a quick thaw. 
I knew there weren't going to be any special cooking techniques involved after 16 hours of travel—I just wanted to throw everything onto one pan, stick it in the oven, and go. 
This recipe is about as close to no-cook as you can get while still, in fact, cooking. You only have to chop two things: the cauliflower and onion. Everything else is just a matter of tossing, stirring, and roasting. I don't even use a bowl to toss the chicken and vegetables in oil and the cumin-y seasoning; I do that straight on the sheet pan to make this a true one-pan meal.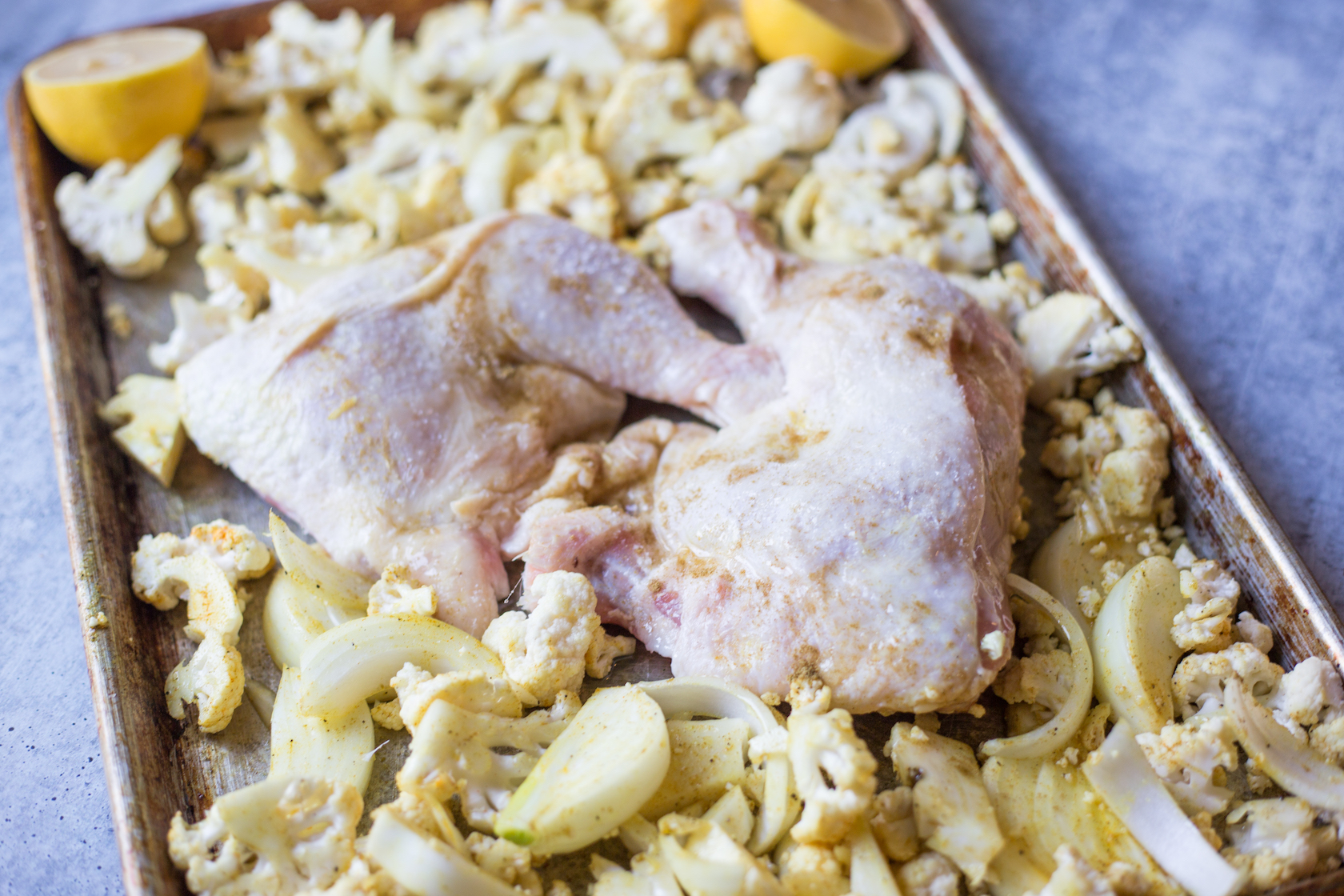 Cooking everything together on one sheet pan isn't just about convenience—it's also about flavor. As it roasts, the chicken fat renders, meaning that it "melts" off of the chicken and onto the pan below. Chicken fat, or schmaltz, is one of the absolute most delicious things you can cook with, so we take advantage of it by tossing the veggies in the fat halfway through the roast.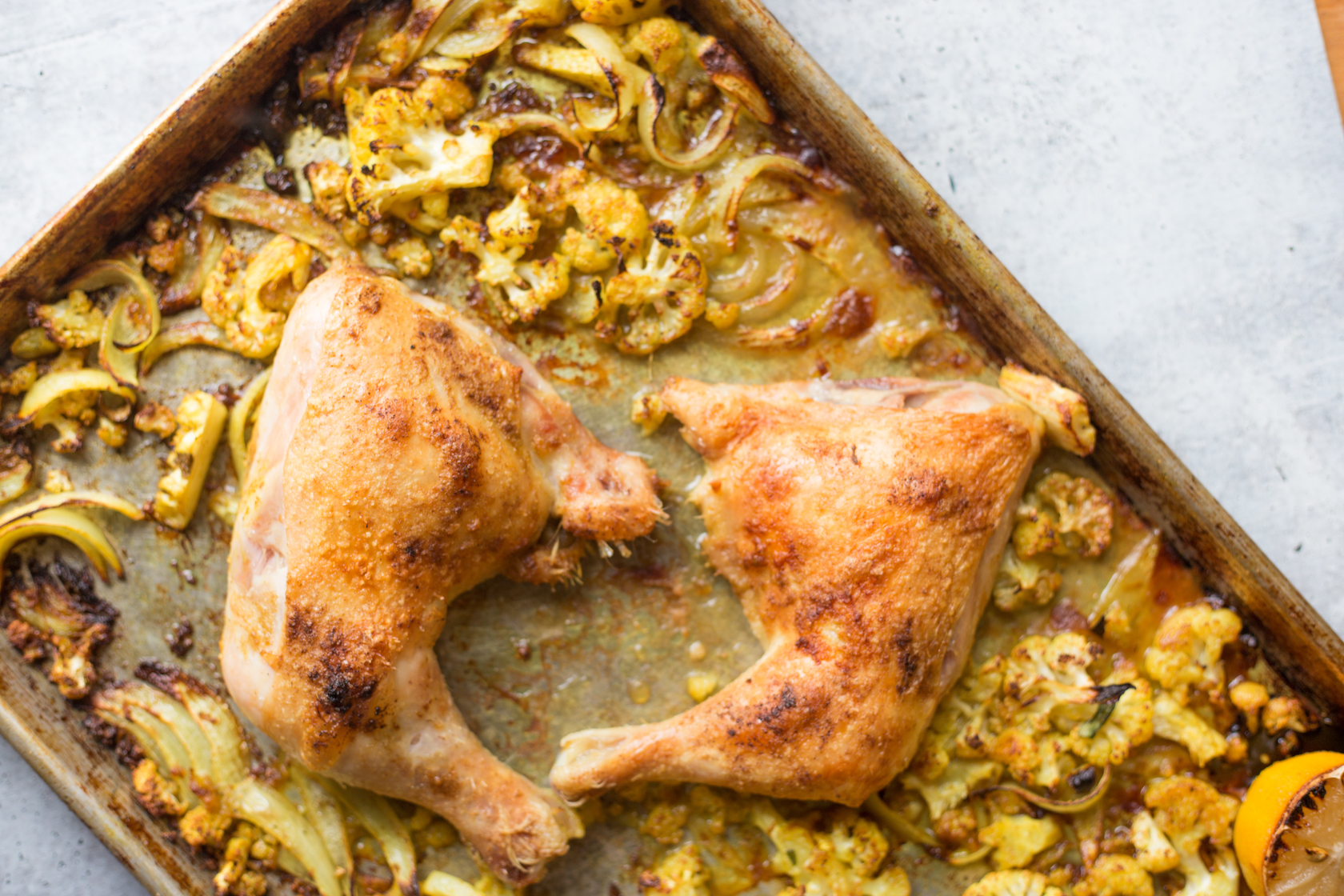 I highly recommend using dark meat here (chicken thighs also work if you can't find leg quarters) because it's so incredibly forgiving. If you accidentally leave it in the oven for five minutes too long because you were busy wrapping a present, or writing a holiday card, or wrangling a child into pajamas, no worries! The same can't be said for chicken breasts, which dry out disastrously when they are overcooked.
We throw a halved lemon in to roast, too, and after the pan comes out of the oven, the sweet, roasted juice is mixed into the veggies, along with a generous amount of spinach. The residual heat from the pan and vegetables will lightly wilt the spinach, so that it still holds its shape but becomes tender and warm. The result is a sort of hybrid between a warm veggie bowl and a spinach salad. Finally, we top it all off with feta and parsley to brighten up the dish.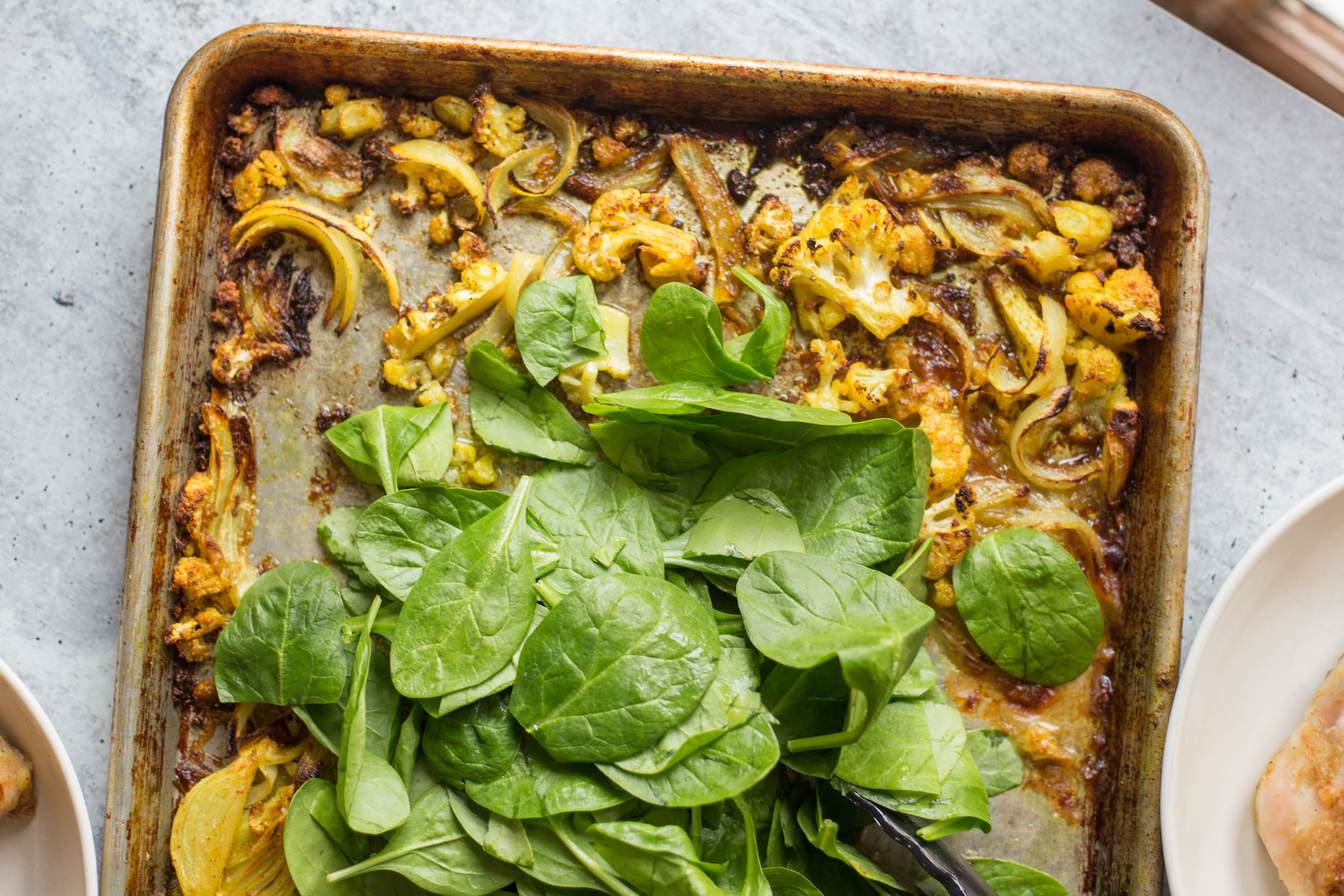 A Weeknight Dinner Blueprint
This sort of simple, healthy fare is exactly what this time of year calls for. In between all the hustle and bustle of the holiday season, I crave delicious, nutritious meals that I can enjoy with my husband—without extra stress and effort. 
George and I have already made several variations of this recipe this fall. Potatoes, carrots, fennel, romanesco, or any variation of winter squash can all be substituted in for the cauliflower. Any variety of onion will also work. Not in the mood for cumin tonight? Try curry powder with lime instead of lemon. The possibilities are endless with this sheet-pan supper.
When George and I cook this together, I handle the chopping and seasoning, and he handles the roasting and stirring. George admittedly isn't the most confident cook, but putting him in charge of setting a timer, stirring, and then re-setting a timer is the perfect job. 
If you, like us, are feeling a little rounder than you did the day before Thanksgiving, and are bracing yourself for a December full of eggnog and cheesy dips, then this healthy, weeknight-friendly recipe is for you.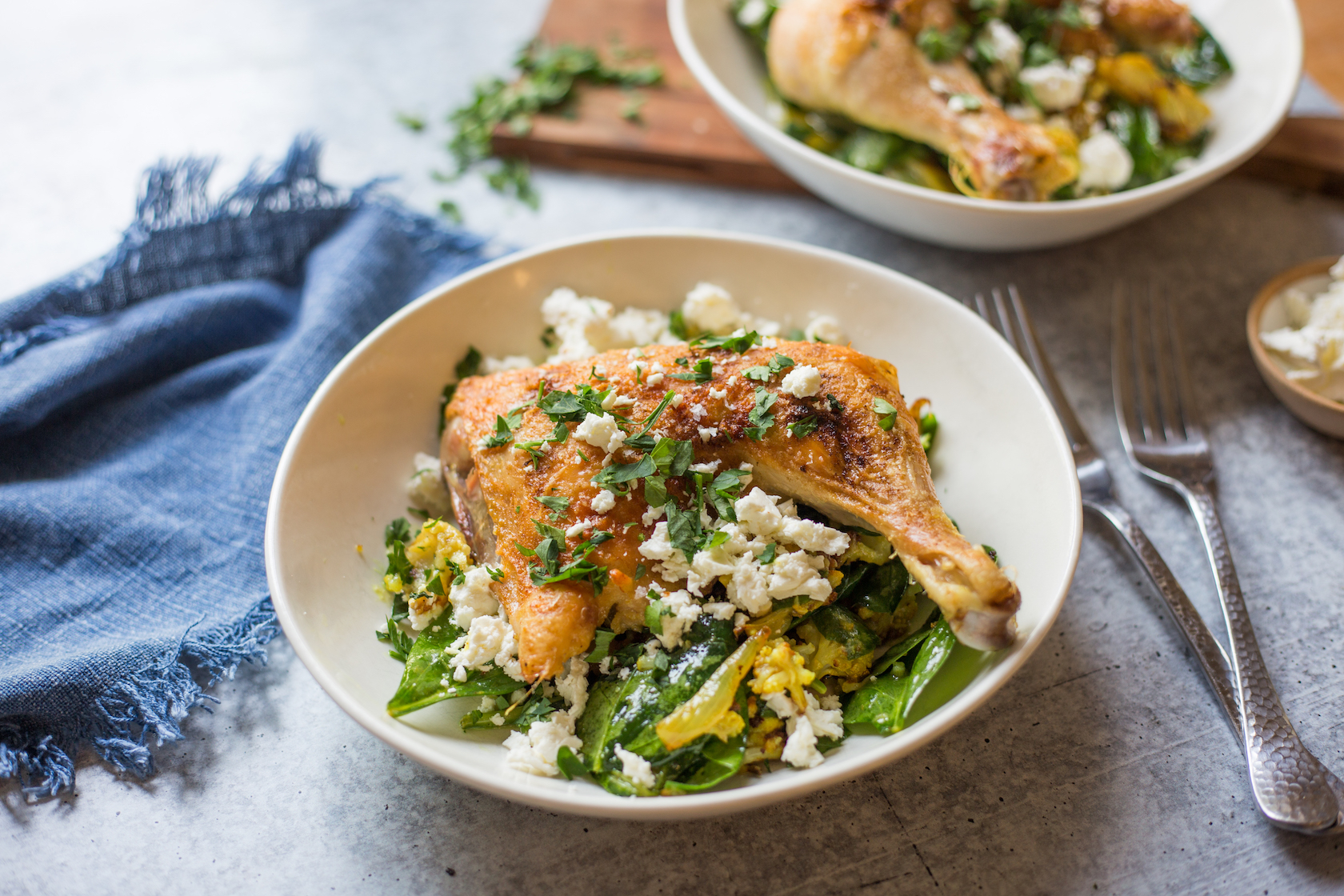 Sheet-Pan Lemon and Cumin Roasted Chicken With Cauliflower and Spinach 
Serves 2
2 chicken leg quarters (or 4 bone-in, skin-on chicken thighs) 
1 head of cauliflower, cut into 1-inch florets (about 3 1/2 cups)
1 medium yellow onion, 1/2-inch sliced
1 1/2 tablespoons olive oil
1 1/2 teaspoons kosher salt
3/4 teaspoon ground cumin
1/4 teaspoon ground turmeric 
1/4 teaspoon freshly ground black pepper
1 lemon, halved
1 1/2 packed cups baby spinach 
3 ounces feta cheese, crumbled
2 tablespoons finely chopped parsley
Position a rack near the top of the oven. Preheat the oven to 425 degrees F. 
Place the chicken, cauliflower florets, and onion on a large rimmed baking sheet. Drizzle with olive oil, then sprinkle with salt, cumin, turmeric, and pepper. Toss to coat everything evenly, then spread out in an even layer, so that no cauliflower or onion is under the chicken. Place the lemons cut-side up anywhere on the baking sheet. 
Place in the oven and bake for 25 minutes. Give the cauliflower and onion a stir to allow them to absorb the chicken fat, and return to the oven to cook for an additional 20 minutes. If your chicken skin isn't golden brown and crispy, broil it for 2–3 minutes, watching it closely the entire time to make sure it doesn't burn. 
Working quickly while the baking sheet is hot, transfer the chicken to two plates. Squeeze the lemon juice over the cauliflower and toss in the spinach to wilt it. It helps to use tongs to do this. It won't wilt entirely, but it will look soft when it's ready. 
Divide the cauliflower and spinach mixture between the two plates, top with feta and parsley, and enjoy immediately.
Cooking Tips
Want to use chicken breasts? Cook the cauliflower on its own for 15 minutes, then add the chicken. It needs much less time to cook and will dry out more easily.
If you want to swap in a heartier green such as kale or Swiss chard for the spinach, toss it with the cauliflower, then place the baking sheet back into the oven (turned off, but still hot) for a few minutes. It'll need that extra heat to get nice and tender. 
Make it Mexican! Use 1 tablespoon of taco seasoning instead of cumin, turmeric, and black pepper; cilantro instead of parsley; and lime instead of lemon. Throw some avocado on top and serve with hot sauce. Olé!
Caroline Chambers is a recipe developer, food writer, and author of "Just Married: A Cookbook for Newlyweds." She currently lives in Carmel, Calif., with her husband, George, and baby boy, Mattis. Follow her on Instagram for cooking tips and snippets from her life in Northern California @carochambers