March Madness is upon us. Gather your friends for a viewing party from the comfort of your own couch, complete with plenty of good food to fuel the fun.
To help you out, chefs share some of their favorite crowd-pleasing snacks, sure to be a win with your guests, brackets and team differences aside.
Buffalo Duck Wings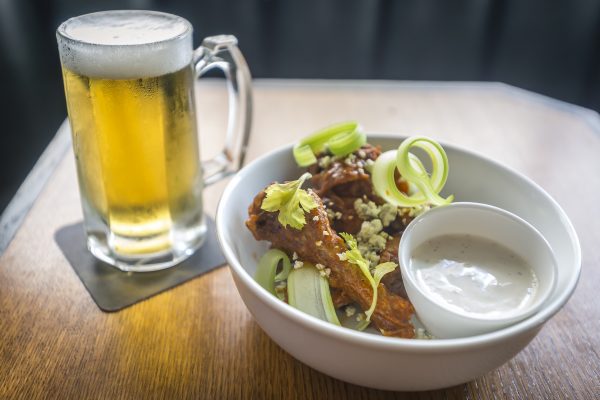 "I've been a Duke fan for a long time because my sister went there in the '90s, even though most people hate them, like the Yankees. They're almost always in the Big Dance, and they usually do pretty well. Back in the day, we used to watch the games at Brother Jimmy's on [Manhattan's] Upper East Side, but now I often watch the games at home. Last year, the national championship was on the opening day of our new bar The Spaniard, so we all watched it there. We had a good crowd, and it was a great way to christen a new bar. It felt like a good omen. I'm planning to watch it at The Spaniard again this year to keep the tradition alive."
—P.J. Calapa, The Spaniard, New York
Serves 10
10 cups duck fat, or more as needed

5 pounds duck wing drumettes, cleaned and trimmed

2 tablespoons granulated garlic

4 cups Valentina hot sauce

8 tablespoons cold unsalted butter, cut into cubes

Canola oil (or other high flashpoint oil), for frying
3 celery stalks, thinly sliced into long ribbons on a man

doline

, for serving

1 cup crumbled blue cheese, crumbled (about 1/4 pound)

Ranch or blue cheese dressing, for serving
Melt the duck fat in a large saucepan. Rinse the duck wings and place them in a large pot. Pour the duck fat over the duck wings so that they are completely submerged. Cook uncovered over medium-low heat for about 1 1/2 hours, keeping the fat at a lazy bubble, just below a simmer. When the meat is tender and just beginning to fall off the bone, pull the wings from the duck fat and let cool.
While the wings are cooking, prepare the sauce: In a small saucepan over medium-low heat, whisk granulated garlic into hot sauce and bring to a simmer. Whisk in the butter a few cubes at a time until incorporated. Remove from heat.
In a deep fryer or a very large saucepan, heat the canola oil to 350 degrees F. Fry the wings in batches until golden and crisp, about 5 minutes per batch; drain. Shake off any excess oil and place on paper towels to drain.
Add the wings to the sauce and toss well. Transfer the wings to a platter and top with crumbled blue cheese and celery ribbons. Serve hot.
Recipe courtesy of P.J. Calapa
Everything Spice Pigs in a Blanket With Rye Mustard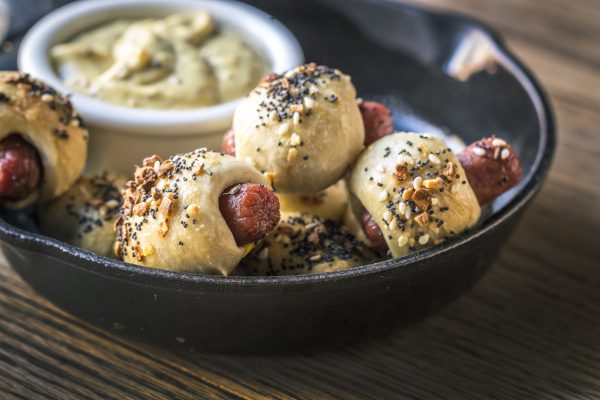 "I'm not a big sports fan, but I do love to throw a good party. Pigs in a Blanket are one of my favorite recipes to make because they're so crushable—you can eat 20 of them without thinking about it, and everyone loves them. And as long as you start with ready-made pizza dough, they're very easy to make at home. They look like you've been working for hours, but really you've only been wrapping dogs for 20 minutes. And that way, you can still nab your favorite spot on the couch to watch the game instead of spending the whole night in the kitchen."
—Nick Testa, The Bonnie, Astoria, New York
Serves 10 to 12
For the Spice Mix
1/4 cup coarse dried garlic flakes

1/4 cup coarse dried onion flakes

2 tablespoons

caraway seeds

2 tablespoons white sesame seeds

2 tablespoons poppy seeds

2 tablespoons coarse sea salt
For the Rye Mustard
1/2 cup spicy brown mustard

1/4 cup whole grain Dijon mustard

1 tablespoon ground caraway seeds

1 tablespoon rye whiskey

1 tablespoon horseradish
For the Pigs in a Blanket
Nonstick cooking spray
One large ball pizza dough, at room temperature (available at most pizzerias)
28 ounces beef cocktail franks
2 egg yolks beaten with 2 tablespoons cold water
Make the spice mix: Combine all ingredients and stir to mix.
Make the mustard: Combine all ingredients and whisk to blend.
Preheat oven to 350 degrees F. Line a baking sheet with parchment paper and coat with cooking spray.
On a lightly floured work surface, stretch one dough ball into a 13-inch round. Cut the dough into 1-inch by 1/2-inch strips. Loosely roll one cocktail frank into each strip of dough, brushing with a few drops of water to help the dough seam adhere. Put the pig in a blanket seam side down on the prepared baking sheet. Repeat with the remaining franks. Brush the pigs in a blanket with the egg wash and sprinkle with spice mix.
Bake the pigs in a blanket 
for 20 minutes, until puffed and golden; rotate the baking sheet halfway through baking. Serve hot with mustard on the side for dipping.
Recipe courtesy of Nick Testa
Scotch
Eggs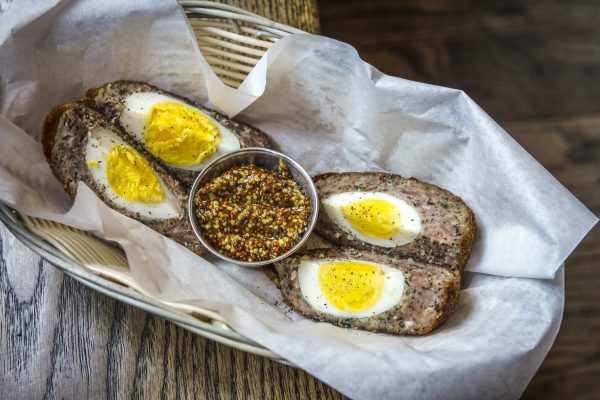 "I'm from just west of Cleveland, and I grew up watching the Ohio State Buckeyes, so they're my team. My family always did brackets with my dad and his workmates; we'd watch all the first and second rounds on Thursday and Friday nights when there were 30-some games going on. Now I do brackets with my chef friends, and I try to catch the games on my days off at some of the Buckeye bars around New York City. At the least, I check the scores on SportsCenter late night after work."
—Russell Ashton, Wilfie & Nell and The Wren, New York
Serves 8
2 tablespoons finely chopped fresh sage

2 tablespoons finely chopped fresh parsley

2 tablespoons finely chopped fresh thyme

1/4 medium white onion, diced

1 1/2 teaspoons garlic, minced

Pinch of ground pepper

8 eggs, hardboiled and peeled

2 eggs

1/2 cup whole milk

1/2 cup all-purpose flour

1 cup plain dry breadcrumbs

2 tablespoons kosher salt, divided

2 pounds ground pork

1 cup canola oil

Whole grain mustard, for serving
Preheat oven to 375 degrees F. Combine the sausage, herbs, onion, garlic, 1 1/2 tablespoons salt, and pepper, mixing together by hand. Divide the sausage mixture into 8 portions; spread each one out into an oval shape. Add an egg to the sausage, then gently form the sausage around the egg as evenly as possible.
In a medium bowl, whisk the two eggs with the milk and a pinch of salt and pepper. Spread the flour and breadcrumbs in 2 separate shallow bowls and season with 1/2 tablespoon salt.
Dredge the pork-wrapped eggs in the flour, dusting off the excess. Dip the eggs in the egg wash mixture, then dredge in the breadcrumbs. Transfer to a large plate.
Warm the oil to 350 F in a skillet, then add an egg or two. When first adding the eggs, gently roll them back and forth to allow the sausage to cook evenly and retain a round shape. Cook until the sausage is cooked through, about 5 minutes per egg.  
Transfer the cooked eggs to a baking sheet, then place in the oven for 15 minutes. Transfer to a platter and serve warm with whole grain mustard for dipping.
Recipe courtesy of Russell Ashton
Devils on Horseback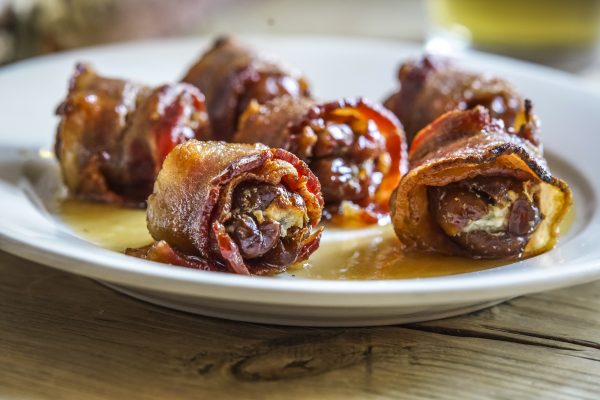 Serves 8
24 Medjool dates

1/2 cup crumbled blue cheese

12 bacon slices

1/2 cup maple syrup
Preheat the oven to 350 degrees F. Make a small slash in each date and remove the pits, keeping the dates intact. Fill each date with blue cheese, pinch them closed and set them on a baking sheet.
Cut each bacon slice in half, just long enough to wrap around a date and overlap slightly. Secure with a wooden toothpick, transfer to a baking sheet and drizzle with maple syrup. Bake 5 to 7 minutes, until the bacon is crisp. Transfer to a platter and serve warm.
Recipe courtesy of Russell Ashton
Warm Artichoke Dip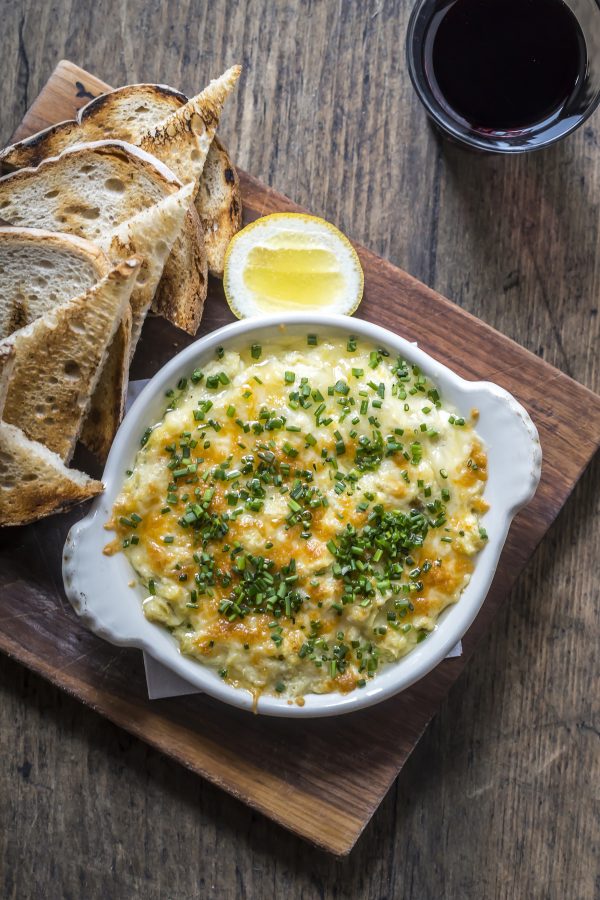 Serves 6 to 8
1 head garlic
Salt
Freshly ground pepper

2 1/2 cups canned, drained artichoke hearts (two 14-ounce cans)

1 cup shredded

muenster cheese

1 cup goat cheese

1 cup ricotta cheese

1 cup grated parmesan cheese

1/4 cup plus one teaspoon olive oil

1/4 cup mayonnaise

Juice of 1/4 lemon
Preheat the oven to 300 degrees F. Arrange the garlic cut side up on a sheet of foil and drizzle with the teaspoon of olive oil. Season the garlic with salt and pepper and wrap it in the foil. Roast the garlic for about 1 hour, until very soft. Let cool, then squeeze the garlic cloves out of the skins and mash.
In a food processor, pulse the artichoke hearts until coarsely chopped. Set aside.
Combine cheeses, roasted garlic, olive oil, mayonnaise, and lemon juice in a food processor and blend until smooth. Transfer to a large bowl and fold in artichoke hearts. Season with salt and pepper.
Recipe courtesy of Russell Ashton and Nick Testa