Jeanne & Gaston: A Hidden French Gem
March 21, 2013 11:50 pm Last Updated: August 14, 2015 5:19 pm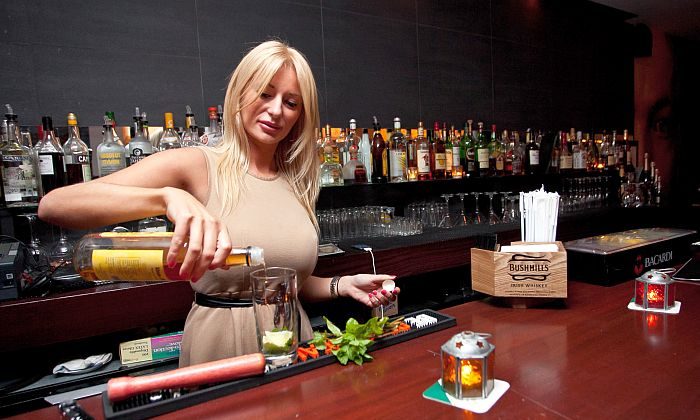 Impersonal storefronts, traffic, and noise are characteristic on this block of West 14th Street. But look carefully and you'll find a cozy, authentic French restaurant that's easy on the wallet. Jeanne & Gaston is one of those little gems of a restaurant that you want to tell everyone about but keep to yourself at the same time.
The man at the helm of Jeanne & Gaston is Claude Godard, a third-generation chef who hails from Burgundy. Over a decade ago he fell in love with the city's energy and moved to New York to open Madison Bistro. Its sister restaurant, Jeanne & Gaston, just over a year old, seeks to make authentic French cuisine accessible—and affordable.
His cuisine is inspired by the classics of France, with a bit of nouvelle cuisine for a lighter touch, but the restaurant is also the namesake of his grandparents, Gaston and Jeanne, names as French and homey as French names could ever be. And so while the technique is exacting and precise, the spirit is all about comfort. Chef Godard wants guests to have a good time and be able to choose from different dishes that suit their taste without having to "study the menu for three hours with your gastronomical dictionary," he says.
Although you can order a la carte, the prix-fixe options offer incredible value: there's a $29 prix fixe dinner (for three courses), a $40 prix fixe dinner (for three courses chosen a la carte); and a prix fixe lunch starting at $21 (for two courses).

Chef Godard is, by the way, a Maître Cuisinier de France, a distinction held by relatively few chefs worldwide who are recognized for their skills and dedication to advancing French cuisine. He is one of only 18 Maîtres Cuisiniers de France in New York City. To add some perspective, Boston and Washington, D.C each claim one.
A Piece of France for All
Although Chef Godard is originally from Burgundy, he carefully curates his menu to offer regional French dishes from all over the country to suit different affinities.
The Tarte Flambée, a regional dish from Alsace, makes a wonderfully light starter, with a wafer-thin crust topped with slivers of caramelized onions and bacon. The crab-and-avocado Napoleon is also a popular choice while the escargots with garlic and parsley butter have also won raves.
For meat-and-potato lovers, the short ribs Bourguignon, marinated in Pinot Noir for 24 hours and then slowly cooked for six hours, is mouthwateringly tender. The ribs are served on a bed of mashed potatoes garnished with small cooked onions, whose sweetness contrast with the red wine reduction. This dish stands out for its deep and complex flavor.

As I thought about the hours and even days of planning and cooking that went into it, I was glad I wasn't the one doing the cooking.
Standout Dishes
Another example of a dish that takes time and expertise is their remarkable Pike Quenelle with Sauce Nantua, a traditional dish from Lyon, and an uncommon find in New York City. Restaurant manager Jolis Nuñez, who has a long history of working in French bistros in New York, has seen it on only two other menus in the city. Their preparation requires multiple steps, exactitude, and painstaking consistency in making sure the balance between the ingredients is right. Quenelles have been described as fish dumplings, but they are much more than that.

The Pike Quenelle is a dish whose aroma wafts your way before you even see it. And when you do see it, it looks unassuming—a vague lump served in a sauce. But the apparent plainness belies how incredible it tastes. One bite and I was transported back to France, except that even in France, I never had a quenelle this light and tender. The Nantua sauce is made from a béchamel base and with crayfish, which give it a lovely orange color. Accompanying the dish is a side of rice, which is just perfect for soaking up the sauce.
Among desserts, the soufflés—they come in flavors of Grand Marnier, praline, chocolate, or raspberry—shine. So much so that Chef Godard has been petitioned to offer classes on how to make them. They make a perfect light ending to a meal—all flavor and no bulk. If you prefer a sweeter and more substantial dessert, the Warm Chocolate Molten Cake fits the bill. It looks innocent enough until you break into it, and a chocolate lava-like center flows out. It is perfect served with a small boule of vanilla ice cream, a marriage of hot and cold, and a crusty exterior and gooey interior.

This spring, some seasonal items make their entrance. Among the entrees, there will be a Dover Sole Meunière, and a Gratinated Atlantic Salmon with hollandaise sauce, as well as roasted Cornish Hen. Popular classics such as the Steak Frites or Short Ribs Bourguignon stay on the menu year-round. Among desserts, spring also brings a Seasonal Fruit Clafoutis and a Rum Baba.
A Microcosm
The wine list is eclectic, with a selection of wines from France as well as around the world. Although you can order almost all the wines by the glass or bottle, you can also order by the carafe. "Almost a bottle," says Chef Godard, "But sometimes people don't want a full bottle."
Brunch is popular, with a combination of traditional French dishes and traditional brunch dishes with a French touch. You can select the eggs cocotte, baked eggs served with rock shrimp and mushrooms, or the traditional eggs Benedict, done Jeanne & Gaston style—served on a potato cake, with smoked salmon and a shimmering hollandaise sauce.

The décor, with exposed brick and dark wood chairs and tables, is classy but relaxed. The music level is never so loud that you can't comfortably speak with your companions—even when, on the night I went, there was live jazz. The real secret, though, is the garden out back. In the middle of this impersonal, loud, barren 14th St. block, the garden provides a special escape from the city.
"It's an area that is completely protected from the wildness of the city," says Chef Godard. "You don't feel you are in New York City when you're in the garden … You cannot hear the noise of the street. It's very peaceful, with beautiful trees, a nice Italian-style fountain in the middle. You can just hear the noise of the water fountain." The garden will re-open as soon as weather turns warmer this spring.

Jeanne and Gaston has a soothing vibe that goes beyond the superficial. I peeked inside the kitchen and to my surprise, it was calm—unusual for a restaurant kitchen. Nuñez says it is the most peaceful kitchen he has seen, which translates to attentive and friendly service.
Chef Godard embraces balance and the seasons in cooking, but also a very French joie de vivre, and a view that healthy food should be balanced but also give you pleasure and make you happy: "I want people to be able to relax, enjoy themselves, and have a good time around a good plate."
—-
Jeanne & Gaston
212 W. 14th St. (between 7th and 8th)
New York, NY 10011
212-675-3773
jeanneandgaston.com
Lunch:
Monday to Friday 11:45 a.m. to 4 p.m.
Dinner:
Sunday to Thursday 4 p.m. to 10:30 p.m.
Friday and Saturday 4 p.m. to 11 p.m.
Brunch:
Saturday and Sunday 11 a.m. to 3:30 p.m.

 The Epoch Times publishes in 35 countries and in 21 languages. Subscribe to our e-newsletter.