SAVANNAH, Ga.—A love of history is what brought former provost and dean of student services at Florida's Palm Beach State College to see Shen Yun Performing Arts.
Scott MacLachlan, who was a history major, said he has always had a keen interest in learning more about Chinese history.
"I'm always fascinated with history and the culture. We've been in America since 1492, so that's 700 years since Europeans stepped here. China's been around 5,000 to 6,000 [years] … or more. History isn't that old but we're infants. We're not even out of the cradle compared to China," he said of America.
He added that with his interest in history, he often watched history documentaries to learn about China and the rest of the world. He commented that Shen Yun demonstrated clearly to Americans how the China we know today is nothing like the China that thrived before communism.
"What we see today of China is not what China really is. These dancers and actors portrayed what I think is truly part of what the Chinese people are; good, giving, spiritual, caring for each other—not this cold communism that we see today," he said.
Mr. MacLachlan also said he believes that Buddhism today is not what it once was either.
"What Americans understand about Buddhism is completely different than what Buddhism is really about. The five organs, the body, the spiritual connection with everything around you, Christianity has none of that kind of connection with everything in the world. Every atom, every part of nature is part of Buddhism and that's what I like about it," he said of the different approaches to spirituality.
Shen Yun Is 'So Much Fun to Watch'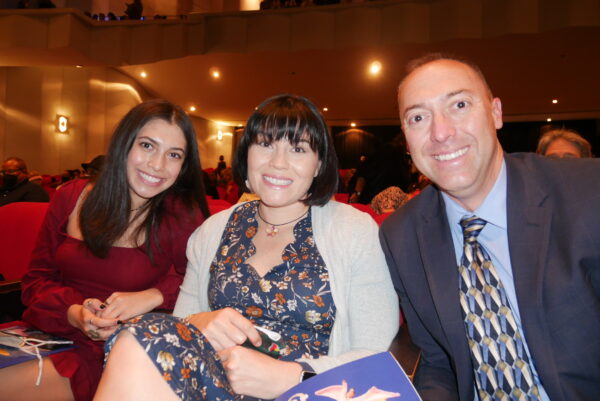 Mike Sandstrom, a lieutenant colonel, was also in the audience. He enjoyed New York-based Shen Yun with his family and was particularly impressed with the music.
"It's really the music that's speaking to me," he said.
"I was just looking at the soloist for the pipa—she's amazing! And the oboe player is amazing! All the soloists have really talked to me … I can feel that in my heart because it syncs with the dance and so it brings it all together."
He also commented on feeling deeply touched by the message of the performance and found himself wanting to catch every detail.
"We haven't been to a performance in a while and so it is magical, so beautiful. The women are lovely and the men; their energy is so much fun to watch," Mr. Sandstrom said.
Reporting by Sherry Dong and Maria Han.
The Epoch Times is a proud sponsor of Shen Yun Performing Arts. We have covered audience reactions since Shen Yun's inception in 2006.