On the April 9 episode of "Headwind," Dr. Robert Malone, inventor of the mRNA technology, and his wife and best friend, Dr. Jill Glasspool-Malone, joined journalist Jakobien Huisman in Spain to discuss the ups and downs of Malone's life in science and academics and how he came to terms with the maddening paradox of being the inventor of something that got into the wrong hands. 
According to adverse events systems like the Vaccine Events Reporting System, the mRNA vaccines birthed from his ideas are hurting and killing people all over the world. Malone is very aware of flaws in the technology he helped create and takes time to explain the fundamental problems of mRNA technology, which, his wife believes, still exist. 
Glasspool-Malone, a specialist in preclinical, regulatory, and clinical project management, said it was too early to release the gene technology
"We don't know the long-term side effects. We haven't evaluated the adverse events," she said.
The short indie documentary begins with a personal chat with Malone and Huisman, petting horses and sharing coffee on a remote farm in picturesque Andalucía, Spain. Unlike many of his formal coat and tie public appearances, this interview is carefully crafted to be casual and intimate—with strolls through the countryside, a picnic under olive trees, touring ancient cities to the sound of a busking accordion player, and even a horse ride toward the end.
What sets this interview apart from many is not just the beautiful setting, but the fact that we learn more about Malone's partner in life. His wife of 46 years is an equal match for his intelligence—a Ph.D. scientist in biotechnology and public policy expert. She is the biggest advocate for her husband, the writer and editor of all his papers, and partner in lab work.
When Malone talks of learning their profession has been corrupted, including the time when he received a cooked study from the Japanese government that broke every single rule of ethics and data practice, she was there to help him through it. She was there to hold his hand when Malone learned, like Oppenheimer discovering his work would become the atomic bomb, that Malone's inventions were not going to be used for good. She stood by him when he decided to destroy his career and go public with the information.
Malone is not the only truth teller with a powerful woman at his side. Robert F. Kennedy Jr. and Del Bigtree, two of the "old guard" leaders in the health freedom movement, speak fondly of their wives who stand beside them as their reputations are being dragged through the mud.
The idea that having the courage to speak the truth in a time of intense propaganda and medical tyranny takes a kind of devoted love is what this documentary portrays artfully; afterward, the viewer cannot possibly think of Malone as a lone wolf or outlier. He is a fellow human, who wants for balance and health like we all do. The documentary takes a look at what it means to be in his unusual position, and how he plans to make amends.
As we sit with Malone, who wears jeans, a black puffy jacket, and a vintage cap, we learn he misses being on his farm and caring for his horses. He feels his core is out of shape from not riding, and he yearns for the old days of philosophizing and talking science over coffee with his wife. We learn Malone is a father, a grandfather, and a carpenter who dabbles in masonry.
Yet we hear Malone beat himself up over his past. He said he was self-absorbed when he was young. He reveals all, saying he might be "on the spectrum."
Early in life he wanted more than anything to earn the approval of his folks—but he felt like they gave up on him. His wife's father became his biggest mentor. Malone describes a childhood with a bedroom room painted a patriotic red, white, and blue, with a poster of President Nixon on the back of his door. He might have gone into computer science like his father, who built computers, but decided instead to dedicate his life "more to healing and doing good works."
The reason Malone bears his heart and soul is because he can't do anything but tell the truth. This is his nature. He is known for quoting the famous words of Saint Augustine, "Truth is like a lion. You don't have to defend it. Let it loose. It will defend itself."
Malone was on the track of getting his Ph.D., and maybe even one day a Nobel prize from his work with the University of San Diego and the Salk Institute for Biological studies, but we learn he stopped short when an attention-hungry epidemiologist took credit for his inventions. When he went rogue to patent several more inventions—nine related to the RNA platform—he was threatened he would never get a grant again unless he stayed compliant within the American academic system. Malone's wife helps him remember the painful details of a time of backstabbing and competitiveness he wanted nothing to be a part of.
As Malone and Huisman drink fresh running water from Guaro River, viewers can feel like they have the inside view of arguably the most sought after and controversial scientists of the past few years—right up there with fellow truth tellers: Dr. Pierre Kory and Dr. Peter McCullough. This interview, Malone makes no excuses for the corruption he's seen, and he calls out the major players involved in censorship of treatments like Ivermectin in the pharmaceutical and tech industry, media, government, and even the Klaus Schwabs of the world who have gone out of their way to create the divisive narratives under the guise of "One World Government."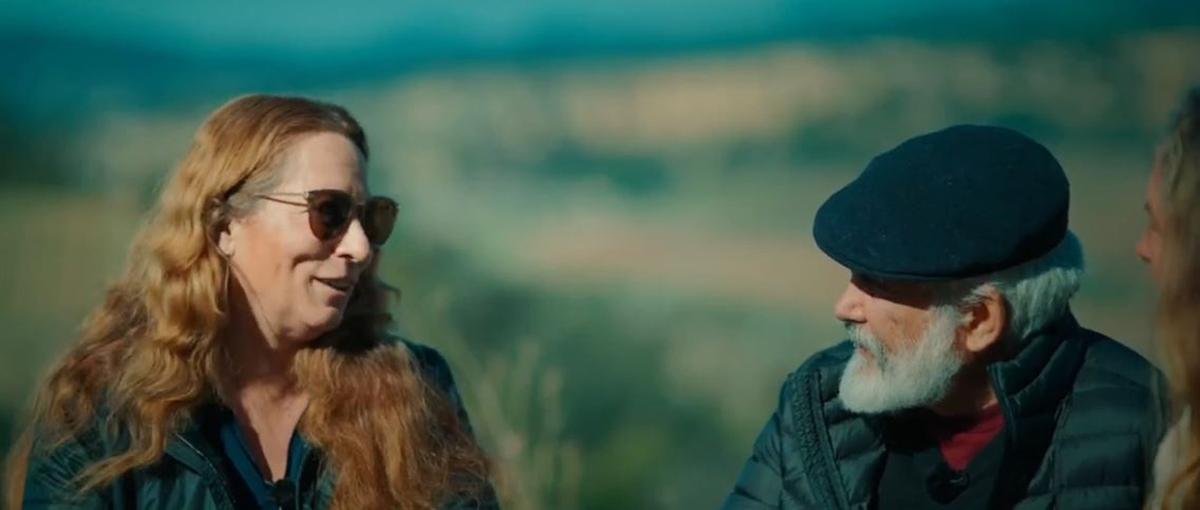 "I've become a little sensitized to the censorship," he said, about the politicalization of outbreak responses, "And you have to laugh about it or you'll cry." He said people are going to great lengths to shut people up.
"And it's getting worse. They're not backing off and there's a bunch of things that I think logically lead people to imagine there's a deeper conspiracy theory going on because it's so hard to explain the behavior because it's so illogical, without resorting to some other ulterior motive that's not driven by standard public health policy."
Malone said he couldn't live with himself if he didn't tell the world what he knows. He has been challenging the problem of medical ethics and censorship on a global scale, and he's been adamant that children should not receive the COVID jab—let alone be mandated to take it.
Just last week Malone showed up on stage in Los Angeles for the peaceful, eight-hour "Defeat the Mandates" rally attended by thousands in the medical freedom movement, including truckers, firefighters, police officers, military personnel, musicians, doctors, scientists, and the vaccine-injured.
Viewers learn how Malone is vaccine-injured himself and why—with all he knows about mRNA technology—he took the vaccine and a booster in the first place.
He caught the Wuhan strain of COVID in late February of 2020.
More than a year later he took two jabs. After the second, he experienced a multitude of adverse events, including life-threatening hypertension, narcolepsy, restless leg syndrome, and chronic cough.
He had what is described as long-COVID. When he's asked if he would take a third jab, he says, "I don't want to kill myself." But, he said, "we didn't know then what we know now about the adverse events. It was all hidden."
"We're all caught up in this flow of information."
Malone said even after having COVID, then taking two jabs, he caught COVID once again.
Like everyone else, he trusted the scientists who were supposed to be taking safety measures. Malone personally knew some of those scientists. Malone describes trying to fill a prescription for Ivermectin at WalMart and being turned down. He was told the pharmacy could not fill it for anything coronavirus-related.
The interview takes some deep dives into the science. When he speaks, he hopes to make the information accessible so people can use the information as tools to draw their own conclusions. He wants to empower people to think for themselves.
Spanish locals call the coronavirus "el bicho" which translates to "little beast or bug." Malone explained that we need to look at them as self-replicating genes. "They are really alive," he said. "They exist as a parasite and the way they become alive is when they get into our cells."
"I like to say we are the food for the virus," he said. "Think of the virus as a parasitic gene that isn't truly alive, but is at the boundary of living and non-living. It's a gradient…Viruses are even closer to a pure gene parasite—that's what they really are."
Smoothing his white beard with his thumb and forefinger, Malone theorizes on the push for vaccine development early on in the pandemic.
"What I object to is the exploitation of fear around this threat—irrational exploitation of fear in order to manipulate public behavior, even if it's for a noble cause."
Glasspool-Malone spoke on positive movements in the scientific and medical community and how important it is to get the word out on early treatment. She described the danger of mandating mRNA technology and how 'hunting physicians' for speaking the truth needs to end.
"We do think of our own children, and we think globally, in terms of the world's children," she said. "It's important that there's protections from emergency use of authorized drugs and vaccines, and we need to think of the long-term consequences before we just deploy a product like that upon the world."
She added, "If you are not following the data, the tendency is to overreact. You make things worse. And the problem with government is, once the government takes control it's hard for them to give it back. And that's the fear with this pandemic—it's that they have these new tools—but how are they going to use them on us in the future?"
Midway through the documentary, Glasspool-Malone joins Huisman and Malone. As they sit on the wall of a tall cliff in a historic town called Ronda, Huisman says the "republicans" of the time threw their opponents off the cliff. "They didn't have Twitter," she said.
Malone replied calmly, with a chuckle, "Things could always be worse."