Four of the highest-ranking U.S. health officials—including Dr. Anthony Fauci—met in secret to discuss whether or not naturally immune people should be exempt from getting COVID-19 vaccines, The Epoch Times has confirmed.
The officials brought in four outside experts to discuss whether the protection gained after recovering from COVID-19—known as natural immunity—should count as one or more vaccine doses.
"There was interest in several people in the administration in hearing basically the opinions of four immunologists in terms of what we thought about ... natural infection as contributing to protection against moderate to severe disease, and to what extent that should influence dosing," Dr. Paul Offit, one of the experts, told The Epoch Times.
Offit and another expert took the position that naturally immune individuals need fewer doses. The other two experts argued that natural immunity shouldn't count as anything.
The discussion didn't lead to a change in U.S. vaccination policy, which has never acknowledged post-infection protection. Fauci and the other U.S. officials who heard from the experts have repeatedly downplayed that protection, claiming that it's inferior to vaccine-bestowed immunity. Most studies on the subject indicate the opposite.
The meeting, held in October 2021, was briefly discussed on a podcast. The Epoch Times has independently confirmed that the meeting occurred, identified all of the participants, and uncovered other key details.
Dr. Jay Bhattacharya, a professor of medicine at Stanford University who didn't participate in the meeting, criticized how such a consequential discussion took place behind closed doors with only a few people present.
"It was a really impactful decision that they made in private with a very small number of people involved. And they reached the wrong decision," Bhattacharya told The Epoch Times.
The Participants
From the government:
Fauci, the head of the U.S. National Institute of Allergy and Infectious Diseases and the chief medical adviser to President Joe Biden until the end of 2022
Dr. Vivek Murthy, the U.S. surgeon general
Dr. Rochelle Walensky, the head of the U.S. Centers for Disease Control and Prevention (CDC)
Dr. Francis Collins, head of the U.S. National Institutes of Health, which includes the National Institute of Allergy and Infectious Diseases, until December 2021
Dr. Bechara Choucair, the White House vaccine coordinator until November 2021
From outside the government:
Offit, director of the Vaccine Education Center at Children's Hospital of Philadelphia and an adviser to the U.S. Food and Drug Administration on vaccines
Dr. Michael Osterholm, director of the Center for Infectious Disease Research and Policy at the University of Minnesota and a former member of President Joe Biden's COVID-19 advisory board
Akiko Iwasaki, professor of immunobiology and molecular, cellular, and developmental biology at Yale University
Dr. Peter Hotez, co-director of Texas Children's Hospital Center for Vaccine Development and dean of the Baylor College of Medicine's School of Tropical Medicine
Fauci and Murthy decided to hold the meeting, according to emails obtained by The Epoch Times.
"Would you be available tonight from 9–9:30 for a call with a few other scientific colleagues on infection-induced immunity? Tony and I just discussed and were hoping to do this sooner rather than later if possible," Murthy wrote in one missive to Fauci, Walensky, and Collins.
All three quickly said they could make it.
Walensky asked who would be there.
Murthy listed the participants.
"I think you know all of them right?" he wrote.
Walensky said she knew all but one person.
"Sounds like a good crew," she wrote.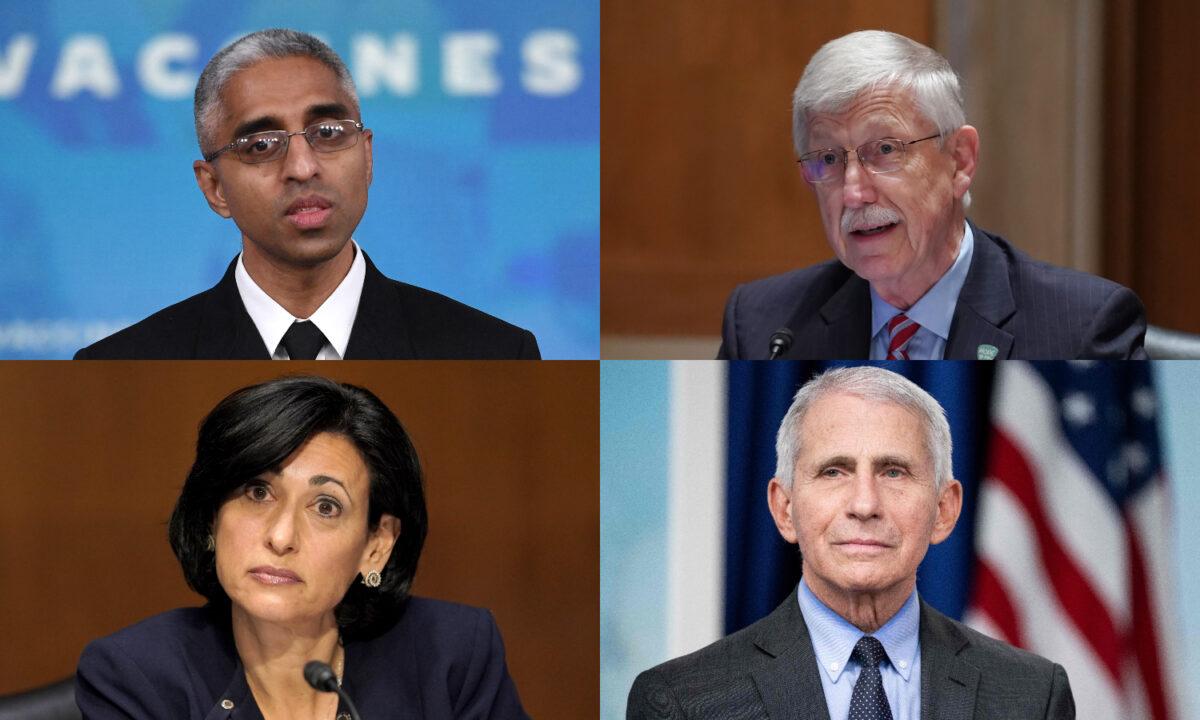 'Clear Benefit'
During the meeting, Offit put forth
his position
—that natural immunity should count as two doses.
At the time, the CDC recommended three shots—a two-dose primary series and a booster—for many Americans 18 and older, soon expanding that advice to all adults, even though trials of the boosters only analyzed immunogenicity and efficacy among those without evidence of prior infection.
Osterholm sided with Offit, but thought that having recovered from COVID-19 should only count as a single dose.
"I added my voice at the meeting to count an infection as equivalent to a dose of vaccine! I've always believed hybrid immunity likely provides the most protection," Osterholm told The Epoch Times via email.
Hybrid immunity refers to getting a vaccine after recovering from COVID-19.
Some papers
have
found
 that vaccination after recovery boosts antibodies, which are believed to be a correlate of protection. Other research 
has
shown
that those who have natural immunity have a higher risk of side effects than those who haven't recovered from infection. Some experts believe the risk is worth the benefit, but others don't.
Hotez and Iwasaki made the case that natural immunity shouldn't count as any dose—as has been the case in virtually the entire United States since the COVID-19 vaccines were first rolled out.
Iwasaki referred to a British preprint study,
published in Nature
 soon after, that concluded, based on survey data, that the protection from the Pfizer and AstraZeneca vaccines was heightened among people with evidence of prior infection. She also noted 
a study
she worked on that found the naturally immune had higher antibody titers than the vaccinated, but that the vaccinated "reached comparable levels of neutralization responses to the ancestral strain after the second vaccine dose." The researchers also discovered that T cells—thought to protect against severe illness—were boosted by vaccination.
There's a "clear benefit" to boosting regardless of prior infection, Iwasaki, who has since received more than $2 million in grants from the National Institutes of Health (NIH), told participants after the meeting in an email obtained by The Epoch Times. Hotez received $789,000 in grants from the NIH in fiscal year 2020 and has received other grants totaling millions in previous years. Offit, who co-invented the rotavirus vaccine, received $3.5 million in NIH grants from 1985 through 2004.
Hotez declined interview requests through a spokesperson. Iwasaki didn't respond to requests for comment.
No participants represented experts such as Bhattacharya who hold that individuals with natural immunity generally don't need any doses at all.
Public Statements
In public, Hotez repeatedly portrayed natural immunity as worse than vaccination, including citing the widely criticized CDC paper, which drew from just two months of testing in a single state.

In an Oct. 29, 2021, Twitter post, he referred to 

another CDC study

, which concluded that those with natural immunity were five times as likely to test positive compared to vaccinated people with no prior infection.

"Still more evidence, this time from @CDCMMWR showing that vaccine-induced immunity is way better than infection and recovery, what some call weirdly 'natural immunity'. The antivaccine and far right groups go ballistic, but it's the reality," Hotez wrote.

That same day, the CDC issued a "

science brief

" that detailed the agency's position on natural immunity versus the protection from vaccines. The brief, which has never been updated, says that available evidence shows that both the vaccinated and naturally immune "have a low risk of subsequent infection for at least 6 months" but that "the body of evidence for infection-induced immunity is more limited than that for vaccine-induced immunity."

The agency said that evidence shows that vaccination after infection, or hybrid immunity, "significantly enhances protection and further reduces risk of reinfection" and is the foundation of the CDC's recommendations.

Several months later, the CDC

acknowledged

that natural immunity was superior to vaccination against the Delta variant, which was displaced in late 2021 by Omicron. The agency, which has

made misleading representations

 before on the evidence supporting vaccination of the naturally immune, didn't respond to a request for comment regarding whether the agency will ever update the brief.

Iwasaki had initially been open to curbing the number of doses for the naturally immune—"I think this supports the idea of just giving one dose to people who had COVID-19," she said in response to one Twitter post in early 2021 that is restricted from view—but later came to argue that each person who's infected has a different immune response and that the natural immunity, even if strong initially, wanes over time.

Osterholm has knocked people who claim that natural immunity is weak or nonexistent, but has also claimed that vaccine-bestowed immunity is better. He also changed the stance that he'd taken in the meeting just several months later, saying in February 2022 that "we've got to make three doses the actual standard" while also "trying to understand what kind of immunity we get from a previous infection."

Offit has been the leading critic on the Vaccines and Related Biological Products Advisory Committee, which advises U.S. regulators on vaccines, over their authorizations of COVID-19 boosters. Offit has said boosters are unnecessary for the young and healthy because they don't add much to the primary series. He also criticized regulators for 

authorizing updated shots

without consulting the committee and with 

absent clinical data

.

Two of the top U.S. Food and Drug Administration (FDA) officials resigned over the booster push. No FDA officials were listed on invitations to the secret meeting on natural immunity.
Fauci, Walensky Downplay Natural Immunity
Fauci and Walensky, two of the most visible U.S. health officials during the pandemic, have repeatedly downplayed natural immunity.

Fauci, who said in an email in March 2020 that he assumed there would be "substantial immunity post infection," would say later that natural immunity was real but that the durability was uncertain. He noted the studies finding higher antibody levels from hybrid immunity.

In September 2021, months after claiming that vaccinated people "can feel safe that they are not going to get infected," Fauci said that he didn't have "a really firm answer" on whether those with natural immunity should get vaccinated.

"It is conceivable that you got infected, you're protected—but you may not be protected for an indefinite period of time," Fauci said on CNN when pressed on the issue. "So I think that is something that we need to sit down and discuss seriously."

After the meeting, Fauci would say that natural immunity and vaccine-bestowed immunity both wane and that people should get vaccinated, regardless of prior infection, to boost their protection.

Walensky, before she became CDC director, signed a document called the

John Snow Memorandum

in response to the

Great Barrington Declaration

, which Bhattacharya co-authored. The declaration called for focused protection of the elderly and otherwise infirm, stating, "The most compassionate approach that balances the risks and benefits of reaching herd immunity, is to allow those who are at minimal risk of death to live their lives normally to build up immunity to the virus through natural infection, while better protecting those who are at highest risk."

The memorandum, in contrast, said there was "no evidence for lasting protective immunity to SARS-CoV-2 following natural infection" and supported the harsh lockdown measures that had been imposed in the United States and elsewhere.

In March 2021, after becoming director, Walensky

released recommendations

that the naturally immune get vaccinated, noting that there was "substantial durability" of protection six months after infection but that "rare cases of reinfection" had been reported.

Walensky hyped the CDC study on natural immunity in August 2021 and the second study in October 2021. But when the

third paper

came out concluding that natural immunity was superior, she didn't issue a statement. She later 

told a blog

that the study found that natural immunity provided strong protection, "perhaps even more so than those who had been vaccinated and not yet boosted."

But, because the study came before Omicron, she said, "it's not entirely clear how that protection works in the context of Omicron and boosting."

Walensky, Murthy, and Collins didn't respond to requests for interviews. Fauci, who stepped down from his positions in late 2022, couldn't be reached.

Murthy and Collins also portrayed natural immunity as inferior.

"From the studies about natural immunity, we are seeing more and more data that tells us that while you get some protection from natural infection, it's not nearly as strong as what you get from the vaccine," Murthy said on CNN about two months before the meeting.

Collins, in a series of blog posts, highlighted the studies showing higher antibody levels after vaccination and urged people to get vaccinated. He also voiced support for vaccine mandates.
Vaccine Guidance Not Altered
Some other countries offered benefits to those with natural immunity.

Just days after U.S. officials heard from the experts, Israel announced that people who presented serological proof of prior infection could get a "green pass," which was required in the country to enter certain venues, for six months.

Some European Union countries said the naturally immune only needed a single dose, instead of two, to receive a digital certificate, enabling free movement within the bloc.

The UK's travel pass was available to people who tested positive for COVID-19 if the test was within the previous 180 days.

But U.S. policy on vaccines, which has been the basis for vaccination mandates across sectors such as education and health care, wasn't altered at all in the wake of the meeting.

"I think it's because the opinions were sort of generally diverse, so there wasn't a clear, unified message that came out of that," Offit told The Epoch Times, adding via email that there was "generally a divide among participants about how to think about this," with "no firm conclusions."

Bhattacharya said that the discussion happened too late, asserting it was already clear in 2020 that natural immunity protected against both severe disease and reinfection.

"The fact that the head of the CDC and the surgeon general both seem to have ignored these basic scientific facts is a scandal," he said. "And it resulted in countless Americans losing their jobs for nothing."

In 2022, the CDC did say that people who recovered from COVID-19 could wait up to three months after infection to get vaccinated, stating that reinfection "is less likely in the weeks to months after infection" and that waiting "might result in an improved immune response to vaccination."

Over time, some other U.S. policies came to acknowledge natural immunity. Walensky in April 2022 (

pdf

), for instance, when

ordering the end

of a public health policy called Title 42, said that she was doing so because deaths and hospitalizations in the Omicron era were lower "due, in part, to widespread population immunity."

A connecting footnote stated, "In addition to vaccine-induced immunity, studies have consistently shown that infection with SARS-CoV-2 lowers an individual's risk of subsequent infection and an even lower risk of hospitalization and death." SARS-CoV-2 is the virus that causes COVID-19.

In August 2022, the CDC

eased its COVID-19 guidelines

, stating in part that "persons who have had COVID-19 but are not vaccinated have some degree of protection against severe illness from their previous infection."

And on Jan. 26, the FDA

convened

Offit and the other advisers on the vaccine advisory committee to consider various vaccine-related issues. Among them? Whether individuals with natural immunity should be advised to only get one shot, even if they've never been vaccinated before.

Lia Onely contributed to this report.