When New York started shutting down in the midst of a pandemic, Magueda St. Jean's first thought was that now more than ever she had to be strong, especially for her patients.
"I had to be strong and take life by its horns. I knew, at this time—now—I'm needed more than anything," said St. Jean, a home health aide who has been working with Royal Care in New York City since last December. Caring for others has been a lifelong passion of St. Jean's, who was previously a nanny for children with autism, and a patient companion for older patients with autism at the Long Island Jewish Hospital.
Home health aides help patients who need to stay at home with a variety of things, including preparing meals, bathing, light housework. These infirm and elderly patients are a vulnerable population, so aides are required to take additional steps during this time, as the
CCP (Chinese Communist Party) virus
 commonly known as novel coronavirus is widely contagious.
Driven by Compassion
Just as important as the physical health and safety protocol St. Jean abides by—donning a mask and gloves, sanitizing, not sitting while she commutes by subway or train—is the emotional support that St. Jean provides the patients she helps during this time.
"Their reactions in general have been quite frightening unfortunately," she said.
St. Jean currently cares for one patient with dementia and another with Alzheimer's, and watching the news has become a great source of fear for them in recent weeks. Her own level of calmness and presence becomes a barometer for the patients, having great influence over their emotions. So St. Jean says she has been driven by compassion more than ever at this time, in order to stay present for them.
"I make it a priority for me to come in, at a time like this, and put away all my gadgets, books, and newspapers and just be fully present with them going through this, and being sensitive to their emotions and how they feel about it," she explained. Just today she visited a patient, and after fixing breakfast and taking his medication as usual, he got very upset at the television and she quickly switched the program to something lighter that let him remember the good old days.
"It's something that's worrisome, with their psychological, mental, and emotional states. It's not just about doing tasks and getting them ready for their day."
But sometimes patients do want the news, and St. Jean does not want to keep them in the dark, and sometimes dementia patients need to be reminded why they should not leave the house. She will sit with them and read the news together, trying to make it a calming and enlightening experience rather than a stressful one or keep them in the dark about bad news.
"Even if they're quarantined, I like to let them know they're not the only ones going through it, and there's a lot of activities that you can do at home, even if you want to be out, or you just want everything to be back to the way it was," St. Jean said.
St. Jean is one of hundreds of aides in the city who continue to commute to visit the homes of home-bound, often elderly patients who need care.
"I feel honored to be a part of this and help and push America through," she said.
'Have the Heart to Help One Another'
Persaud Salita, another home health aide with Royal Care, has actually had a patient who tested positive for COVID-19.

"On the 23rd I went to work and saw that my patient was not feeling good," Salita said. The patient seemed feverish and her temperature turned out to be 102 degrees, and had to go to the ER. Because it was the contagious CCP virus, Salita could not go to emergency room with the patient.

Later that day, Salita got a call from the patient's niece telling her the patient tested positive for COVID-19.

It was shocking news, but Salita was not very moved, because she had been keeping up with the news and knew how pervasive the virus has been. She felt no fear for herself.

Salita ended up having no symptoms, so hospitals told her she did not need to be tested, but to self isolate for 14 days. Since then, the patient has been at the hospital and is currently on oxygen, and Salita communicates with her regularly by phone, and has daily calls with her patient's niece. Salita returned to work on April 6 after being restless to do so.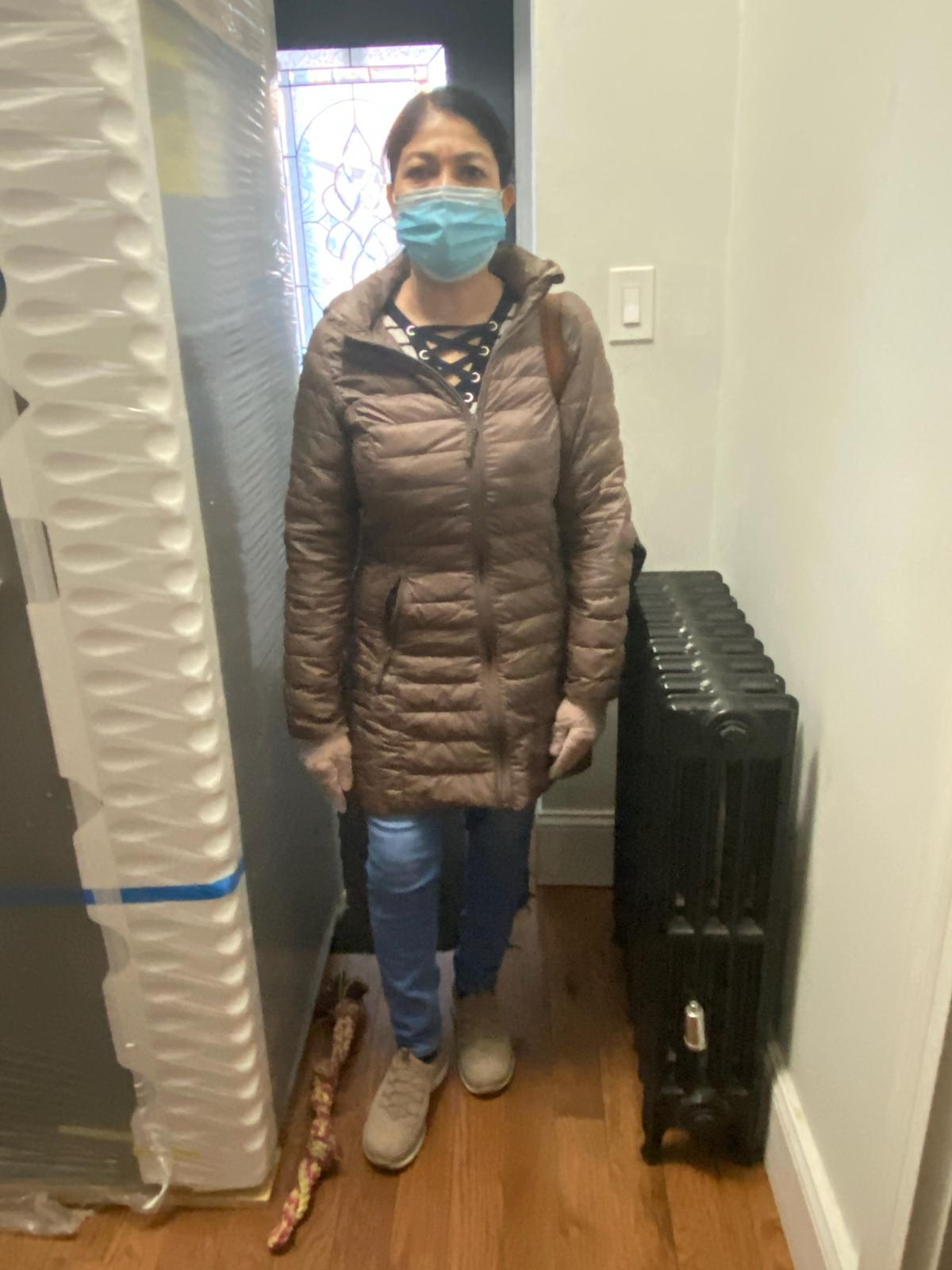 "I feel 100 percent fine," she said with a laugh. "I need to get back to work, I would like to get up out of my bed and get on out there with my job."
Salita has had a passion for helping others ever since she helped take care of her brother as a child, and feels especially called to work with the elderly. She says her support system through this time has been her frequent calls with her many family members. She hopes others can help each other out during this time as well, so as to not be overcome by fear.
"To be honest with you, I'm sad. I know a lot of people are going through a lot, and if there's one thing everybody could come together to do right now is to just have the heart to help one another," she said. "We never know what's going to come today, what's going to come tomorrow."
"I won't stress out over it, but the news is very sad, and my heart goes out to all the family members that lose their loved ones," Salita said.
'This Has Been So Wild'
Nannies are also essential caregivers during this time, though the rules vary by state.

"This has been so wild, I mean I could never have predicted in my life that it would be like this," said Katie Proviziano, founder of

Westside Nannies

, the largest nanny agency in Los Angeles. Things have been changing constantly since Februrary, and Proviziano feels like she's working three jobs now, as she keeps up with updating regulation and passing on information and best practices to all the nannies and families in her network.

"We've seen just dramatic changes in our business," Proviziano said.

Her agency provides services across the board, from babysitting to part-time, full-time, live-in, and many families have requested their nannies to switch to live-in, so they can self-quarantine together, which is generally safer, but also because nannies are not considered essential workers in California right now unless they are either live-in, or working for parents who are essential infrastructure workers like ER doctors.

Changes began even before state mandates were settled on, with uncertainty and parents working from home and changing their regular schedules.

Then schools closed.

"And then that was huge," Proviziano said. Some parents could work from home but some wouldn't, and not everyone can work from home and handle childcare as well. "And then about a week after that, the governor said, don't expect schools to open again, your kids probably won't physically in school until the fall. And that was like a bomb that dropped across every single parents' radar. It was such a stark reality."

"And I think families are just wondering, how am I going to work myself? How do I work while taking care of my kids, while making sure they're doing their virtual schoolwork," she said. "And then at a point, the stay-at-home order is going to be lifted, and parents are going to be able to go into an office, but yet their kids are still not going to be in school."

Summer tends to bring an uptick in childcare need anyway, and California is currently dealing with a childcare conundrum as most facilities can't operate (just try social distancing small children).

"So now we're seeing families saying, 'I need to find a nanny from now until the fall,' which is a much longer time period, and it's also much higher costs for families because you require care longer," Proviziano said. Not every family who needs it can afford childcare and business has decreased as a result. Many parents are working at home and foregoing nanny services, or have been furloughed or lost their jobs and cannot afford childcare anymore. Many people in the industry are out of a job.

"They're worried, they're scared about everything that's going on, but we're also seeing such bravery," Proviziano said of the nannies. "They're really stepping up and accepting that they're going to take of the kids while the moms and dads are out fighting this thing."
Providing Stability
It's important that kids aren't sharing the fear, Proviziano said, which is something the agency talks about.

"We talked about how to talk about this age-appropriately, and also the big thing is to not have the kids sense the fear and the anxiety that we're all experiencing. Kids shouldn't have that burden on them," Proviziano said.

Jacqueline Castro is a nanny for a family in LA where the mom is an ER doctor and the dad is an acupuncturist. Castro has been focusing on creating new routines for the second-grader she takes care of.

"He's super smart," Castro said. "He's aware of what his parents do, and what his mom is dealing with, he knows what a virus is, what a pandemic is. He's even asked me, 'Are you afraid of my mom? Are you afraid of me? Are you afraid of my house?' And I told him 'I'm not afraid, but I need to take extra precautions,' so I'm extra aware of where we're at, what we're doing in the house, and how clean we're being."

"He is, just like every child, they feed off their parents' energy. And a lot of parents are stressed out because this is a new for everyone. Everyone is learning how to adjust and they can feel that anxiety. Children can just feel that," she said.

Usually, when Mom gets home, they see her enter the house, in her scrubs, and greet her with a hug. Now the scrubs don't enter the house at all; she changes in the garage where there is an extra set of clothes, and Dad opens all of the doors for her until she makes it into the shower.

"So we don't even see her until she's done with all of that, and I feel like that takes 30 to 40 minutes," she said. Everyone is very aware of new routes and patterns in the house, and Castro has a set of "nanny clothes" she only wears at work as well, and her shoes stay outside. "She's [Mom] not allowed to come into the little boy's room. We have to go and out like it's very, very different now."

Castro's own schedule has changed dramatically as well. She is not living with the family, but her hours have doubled, as her mornings used to be free while the boy was in school, but now his mother is working many more hours than usual. Castro is a certified teacher and normally spends mornings preparing a curriculum and now she spends it at the family's house with the boy while the parents are at work.

"We have a different kind of routine now," Castro said. "I basically have to resort to pure creativeness—this is how we're going to come up with sounds and instruments, this is the next arts and crafts activity, and this is how I'm going to keep creative and just keep some kind of stability in his life."

"He's missing his regular schedule, he's missing his teachers, his friends, his regular piano, and all these things he's had, and he's aware, and I think that affects a lot of children at home," she said. "We try to keep a curriculum and a schedule and always something that's just like we always did: we always have lunch at this time, we always have recess, this is piano time."

Castro says she is the "strict teacher" sort of nanny, always there to provide academic structure. But during these times, she has found herself trying to play a more comforting role.

"Because I'm aware of his feelings, and I'm aware he might have some kind of fear for his parents or his friends. So I'm finding myself being more nurturing," she said. Now she might watch a show together with the child, even though she would never have done that before. "I think parents are feeling guilty because they're letting their kids have iPads and TV time, and I think it's perfectly fine. I'm the one who never did that, but I now needed to give him some kind of sense of comfort and we can still go together and do this. It's okay. I think it's part of what he needs right now, and maybe all of us. We all need something that makes us feel better."

For Castro, being with the child and coming up with activities to do together has been a grounding force during this crisis.

"That makes me feel good. The fact that we're laughing on a daily basis with little games and scavenger hunts to just keep us both going. That keeps me going every day: children's laughter," she said.