Hai Tran, Advanced Sommelier at Herons, at The Umstead Hotel and Spa, Cary, N.C., on his holiday picks:
Tasting Blind
By now a lot of wine lovers have received a glimpse into the certification process of becoming a master sommelier due to the documentary "Somm." One of the master sommeliers profiled in the film, Ian Cauble, has put together a great website, SommSelect, showcasing daily selections of wine from around the world. He has also put together a club membership, where he will ship six classic examples of wines from around the world for you to taste blind. You can gift membership or sign up for the monthly membership yourself. (SommSelect.com/club/)
Getting the Most for Your Money
A savvy shopper will always know where to shop and where the best deals are to be had without sacrificing quality in the process. The same can be said for wine, as the most exciting thing about the wine culture at the moment is the increasing quality of wines being produced in areas that previously were unexplored. Here are a few tips based on some of the more popular varieties as you decide on putting together a list of wines for gifting or enjoying at your holiday dinner table:
Sparkling Wine
Jansz (Tasmania, Australia)
There is definitely more to this island off the coast of Australia's mainland than the Looney Tunes Tasmanian Devil. Cool in climate and with soil types that are great for chardonnay and pinot noir, this area caught the eyes of many for being potentially great for sparkling wine production, so much so that Louis Roederer (esteemed Champagne house known for its prestige cuvée, Cristal) partnered with local Tasman producers to start its first sparkling wine production on the island. This would later become known as Jansz. A trade secret that is producing some head turning examples of sparkling wine and would draw the attention of any avid Champagne lover. Look for its Brut ($20) or Brut Rosé ($22)
Sauvignon Blanc
Jean-François Merieau, L'Arpents des Vaudons 2013 (Touraine, France)
A region within the Loire Valley, known more for its mass produced whites and reds, Jean-François Merieau is an up and coming star in the Loire producing wines that showcase great balance, fresh, vibrant fruit, and the distinct minerality that one comes to enjoy from Loire Valley sauvignon blanc, especially from the more well-known and prized appellations of Sancerre and Pouilly-Fumé. ($13)
Chardonnay
Hamilton Russell Chardonnay 2012 (Hemel-en-Aaarde Valley, South Africa)
If you are looking for rich textures with well integrated fruit, subtle minerality, with a soft kiss of oak, this is where the best value for chardonnay is. In a recent blind tasting among my peers, a lot of us swore that this was from the Côte de Beaune in Burgundy! Year in and year out, this is a trusted producer for high quality chardonnay that is often overlooked simply because it is from South Africa. ($25)
Pinot Noir
Vina Aquitania, Sol de Sol, Pinot Noir 2010 (Malleco Valley, Chile)
Chile is an area that is more renown for its work with Bordeaux varietals, but after a group of French winemakers and oenologists started exploring this southern region in Chile, they turned their sights to the Burgundian varieties as the future for the next chapter of Chilean wine history. This pinot noir is a great example of such showcasing fresh and tart red fruit underscored by baking spices and porcini mushrooms. This wine will certainly satisfy any pinot noir enthusiast with its elegance and charm. ($25)
Cabernet and Merlot Blend
Chappellet, Mountain Cuvee 2012 (Napa Valley, Calif.)
These days California cabernet and value seem to stray further and further away from each other. The folks at Chappellet definitely have a different opinion on this as showcased by this bottling. Robust, bold, and deep in color and flavor, this will certainly satisfy the die-hard California cabernet or merlot drinker. This is something that one can have at one's table on a weekly basis and not feel guilty about. ($25)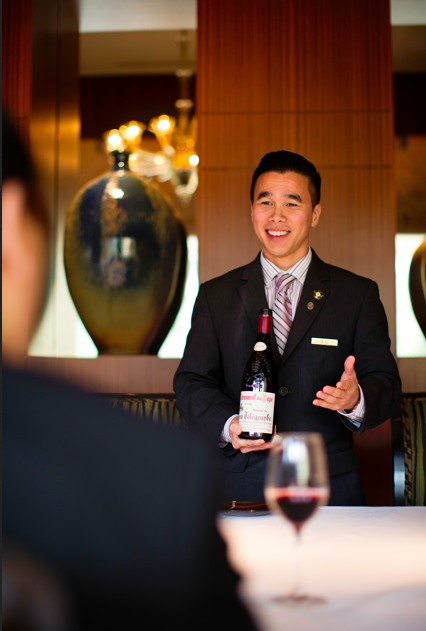 Life's Too Short to Drink Bad Wine, Go Ahead and Splurge
To show the special wine lovers in your life that you truly care, here are some rock star wines that will truly impress. At the same time, if they don't already have one, don't forget to grab them a Coravin (Coravin.com) so they can enjoy their wine at their own leisure without having to commit to the entire bottle.
Champagne
Krug Grand Cuvée
Hands down my favorite Champagne and bottling (don't get me wrong I won't turn away vintage Krug or Clos du Mesnil) that will never disappoint year in and year out. If you are a Champagne lover, Krug is the answer. ($199)
White
Emmerich Knoll, Vinothekfullung Gruner Veltliner Smaragd (Wachau, Austria)
Although Gruner Veltliner isn't a staple in most people's collections, this is one of the quintessential examples of why it should be—rich, complex with amazing minerality and stark acidity. This wine has the ability to age, but at the same time drinks stellar in the short term as well. Plenty of great vintages still to be had in the market like 2000, 2004, and 2009 if your wine lover prefers wine with age. Vinothekfullung is its library release, but is more designated for the best parcels within the given vintage. Enjoy and you can thank me later! ($75)
Sadie Family, Palladius White Blend 2011 (Swartland, South Africa)
This is a cerebral white blend from one of the most talented winemakers in the world (not just South Africa) located in the Swartland. A small production blend of chenin blanc, grenache blanc, chardonnay, and a few other varieties, Sadie has created a rich, textured multilayered wine that will make your wine lover go "hmmm" and then take another sip and another. ($85)
Domaine Roulot, Les Luchets Meursault 2011 (Burgundy, France)
Jean-Marc Roulot is a name to know in Meursault, crafting the benchmark examples of wines from his domaine's holdings in the area. Les Luchets is not one of the Premier Cru sites, but can easily hold its own against its brethren and is easier to find since it does not have the name recognition of the others. A must for white Burgundy enthusiasts. ($165)
Red
Marquis d'Angerville, Clos du Ducs Volnay Premier Cru 2011 (Burgundy, France)
Guillaume d'Angerville is arguably the best producer in Volnay and his monopole (single owner vineyard) Clos du Ducs produces some of the best examples of pinot noir in the Côte de Beaune. One could say that the wines bottled under this labeling can stand toe to toe with a few Grand Cru vineyards in the Côte de Nuits. This is a producer that showcases great prowess and is able to navigate even the toughest of vintages, which we are in store for with the upcoming releases, to produce a stellar product. A must for red Burgundy enthusiasts. ($260)
R. Lopez de Heredia, Vina Tondonia Gran Reserva 1994 (Rioja, Spain)
A stalwart of the traditional winemaking practices of its region, this producer does not release its wines until they are ready to be drunk, and as a result, you can often find "old" vintages as current releases. A great gift idea for gifting a wine with age without worrying about provenance or quality. There are two parcels, Vina Bosconia and Vina Tondonia, with the latter being highlighted for its rich structure and definition combined with the beautiful characteristics of a well-aged wine (balance of fruit, tannins, and acidity punctuated with truffles, leather, and olives). ($85)
Vietti, Villero Riserva Barolo 2007 (Piemonte, Italy)
Luca Currado and his family have been among the best producers in Barolo for some time now, owning vineyards in all of the major communes and Crus within Barolo. The Villero Riserva is only produced in the best vintages. In addition to being one of the quintessential nebbiolo of the region, Currado commissions a different artist to adorn the bottles each vintage for a stunning package to match what is inside. ($300)
Chateau Haut-Bailly Pessac-Leognan 2010 (Bordeaux, France)
One of the great chateaux that you might never have heard of. This property historically has been regarded one of the top chateaux in Bordeaux mentioned in the same breath as Lafite, Latour, Margaux, Mouton, and Yquem. The wine is definitely in the same caliber and worthy of any avid Bordeaux drinker's collection. ($150)