"I want to make a name for myself." How many times has this been said? Many people give in to a desire for fame, and it seems even more achievable as the internet provides new ways to gain notoriety.
As social media spawns a host of "influencers" (celebrities in their own limited spheres), more and more young people see apparently easy ways of making a name for themselves. However, few of these internet stars have the talent or accomplishments to back up their newfound fame.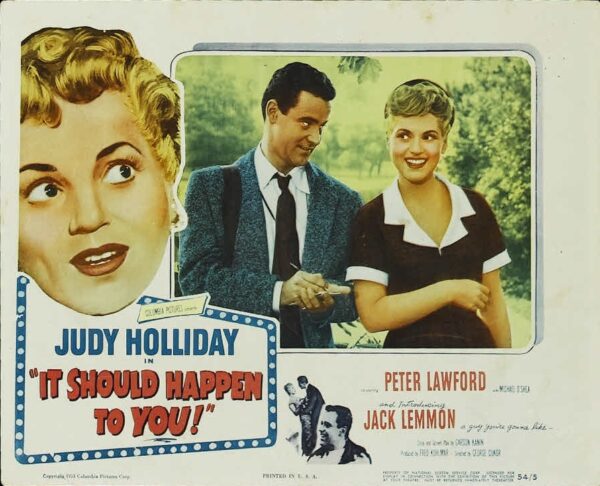 All About Fame
People pursued fame long before the internet came on the scene. A 1954 film reminds us of that: It's all about a girl whose main goal is to make a name for herself.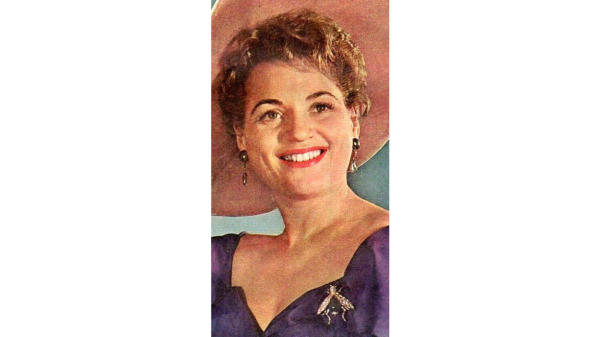 "It Should Happen to You" starring Judy Holliday, Jack Lemmon, and Peter Lawford was produced by Columbia, directed by George Cukor, and produced by Fred Kohlmar. A black-and-white romantic comedy, the clever story and screenplay were written by Oscar nominee Garson Kanin. The playful score was written by Frederick Hollander, a lesser-known but talented film composer.
Jack Lemmon is the biggest name of the film's three stars. You might be surprised to see him in such an early movie. Long before starring in movies like "Save the Tiger" and "Grumpy Old Men," Lemmon made his feature film debut at age 28 as the leading man in "It Should Happen to You." It was a success, cementing his early career at Columbia.
At the time, the film's main star was Judy Holliday, a successful stage actress who made only nine movies during her short film career. One of those roles was her Academy Award-winning performance as Billie Dawn in "Born Yesterday" (1950). Peter Lawford, the charming Englishman of the Rat Pack, completes the love triangle as a suave playboy.
A New York Story
Gladys Glover (Holliday) meets Pete Sheppard (Lemmon) in Central Park when he candidly films her for his documentary. She is depressed because she lost her job and has failed to make a name for herself after two years in New York City.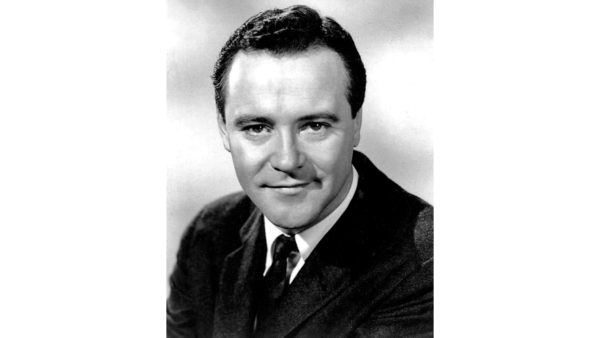 Pete, obviously smitten, encourages her.
Later that day, Gladys visualizes her name on a huge sign at Columbus Circle, so she decides to rent the billboard for three months. Soon after, Pete moves into her apartment building. They begin going out together, although he thinks her sign is a pointless waste.
Meanwhile, Evan Adams III (Lawford) wants the Columbus Circle billboard for Adams Soap Company's advertising, so he charms, threatens, and eventually trades six of his signs to Gladys for her one. This gains her the attention of greedy agent Brod Clinton (Michael O'Shea), who puts her on several television programs.
One of this film's most charming aspects is its location footage. Central Park in old movies is usually a Hollywood backlot, but this production spent 10 days filming in New York City.
Anyone who has visited Central Park will recognize the charming bridges, water fountains, and pathways through the greenery, surrounded by historic buildings that still populate the skyline.
Director George Cukor "used Central Park as a character … and this time it was during a heat wave, which brings all the mad people out. You can see lots of mad people in the park and sitting on steps in front of houses," according to Internet Movie Data Base. 
The movie begins at the Bethesda Fountain, recognizable as the "Friends" fountain, where Pete shoots the scenery with his handheld movie camera. As he films snippets of different locations throughout the park, he leads us to Gladys, who is walking barefoot to think.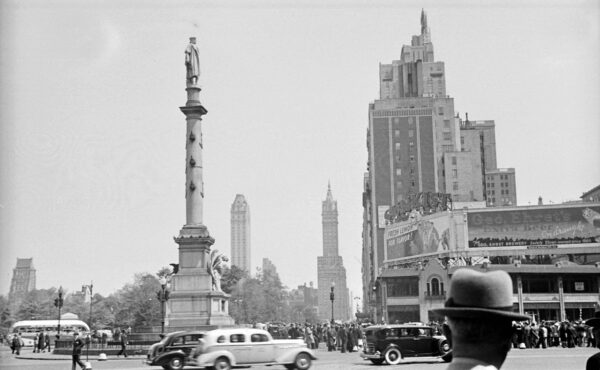 Judy Holliday's comedic talent shines in this story. Gladys Glover is a funny, sometimes irrational young lady, but she's not the typical ditzy blonde. Whether feeding pigeons barefoot, driving around and around Columbus Circle to see her beloved sign, speed-reading a teleprompter on live television, or cooling off an aggressive Romeo with champagne down the neck, she's always hilariously lovable.
Jack Lemmon is charming as her love interest, a fun-loving guy who tries to bring Gladys down to earth. Their first fight over Gladys's sign is full of impassioned emotions, as they realistically cut each other off. When filming this scene, Cukor coached Lemmon to incorporate his natural impulse of holding his stomach in anger, and the realness of this mannerism was the beginning of Lemmon's brilliance as a movie actor.
Stand for Something
One of this film's most poignant scenes is when Pete and Gladys are having lunch in her apartment. He tries in vain to divert the topic away from her signs, but he eventually must address the issue. "It isn't just making a name. Don't you understand that, Gladys? It's making a name stand for something. Different names stand for different things. … My opinion is, it's better for your name to stand for something on one block than for nothing or something bad all over the entire world."
Pete makes an excellent point. When the greedy Clinton learns the story behind Gladys's signs and sees a way to cash in on her funny personality, he helps her achieve her goal. At last, by being on every television show he can arrange, Gladys Glover has made a name for herself. Adams Soap Company hires her to advertise its soap, putting her picture on the Columbus Circle billboard she first rented. However, this doesn't lead to much of anything. She basically is just famous for being famous.
'A Name for Herself'
The movie's working title was "A Name for Herself." It's a shame that this very appropriate title was changed to the generic "It Should Happen to You." Nevertheless, don't assume that the movie is shallow, formulaic, or commonplace because of its title. The story is unusual, and the characters are unique. The score is infectiously upbeat in the lighter moments but powerfully absent in the more dramatic scenes.
More importantly, this movie carries more meaning than ever today. Looking at the current celebrities, one sees a lot of people who stand for nothing. Those who actually stand for something, seem to stand for something unwholesome. This film is a good reminder that fame is ultimately empty, especially when it is based on fame alone.