On Thanksgiving, families across the United States gather together to give thanks for the blessings of the year, but perhaps more importantly, to spend several hours pretending they are heavyweight eating champions. 
There is nothing quite like the sight of a full Thanksgiving buffet table, stacked high with one aunt's famous sweet potato casserole, your grandmother's buttery Parker House rolls, a perfectly golden brown turkey (or two!), and the many, many, many other casserole dishes that make up a traditional Thanksgiving meal. 
At my husband's family's Thanksgiving lunch, there are so many different dishes that you can only take about a spoonful of each if you want to try a little bit of everything. You wind up with a plate that looks more like a painter's palette, in shades of casserole-beige and stewed-veggie-green.
The day after Thanksgiving, individuals across America dig into their respective refrigerators for round two of their favorites. 
My mom loves stuffing, and will eat it cold, straight out of the refrigerator. I personally can't get enough cranberry sauce, and put the leftovers on sandwiches and cheese boards, eat it with chicken, and so on, until I finally run out and make more for my Christmas meal. 
My husband's family goes so far as to cook an extra bird to ensure that there is ample leftover turkey for turkey sandwiches in the days following Thanksgiving. I might disagree with a few of their more mayonnaise-heavy casserole choices, but I have serious respect for this next-level leftovers prep. Frankly, I prefer day two over the main event. 
I love Thanksgiving leftovers so much that I have an entire recipe in my cookbook, "Just Married," dedicated to repurposing leftover Thanksgiving turkey and veggies into a one-pot turkey curry. I've turned leftover mashed potatoes into savory waffles; I've stuffed turkey, cranberry sauce, and stuffing between white bread for an epic leftovers sandwich; I've even made turkey enchiladas. 
All of these leftover creations, however, pale in comparison to these cheesy, everything bagel-seasoned turkey and cranberry sliders.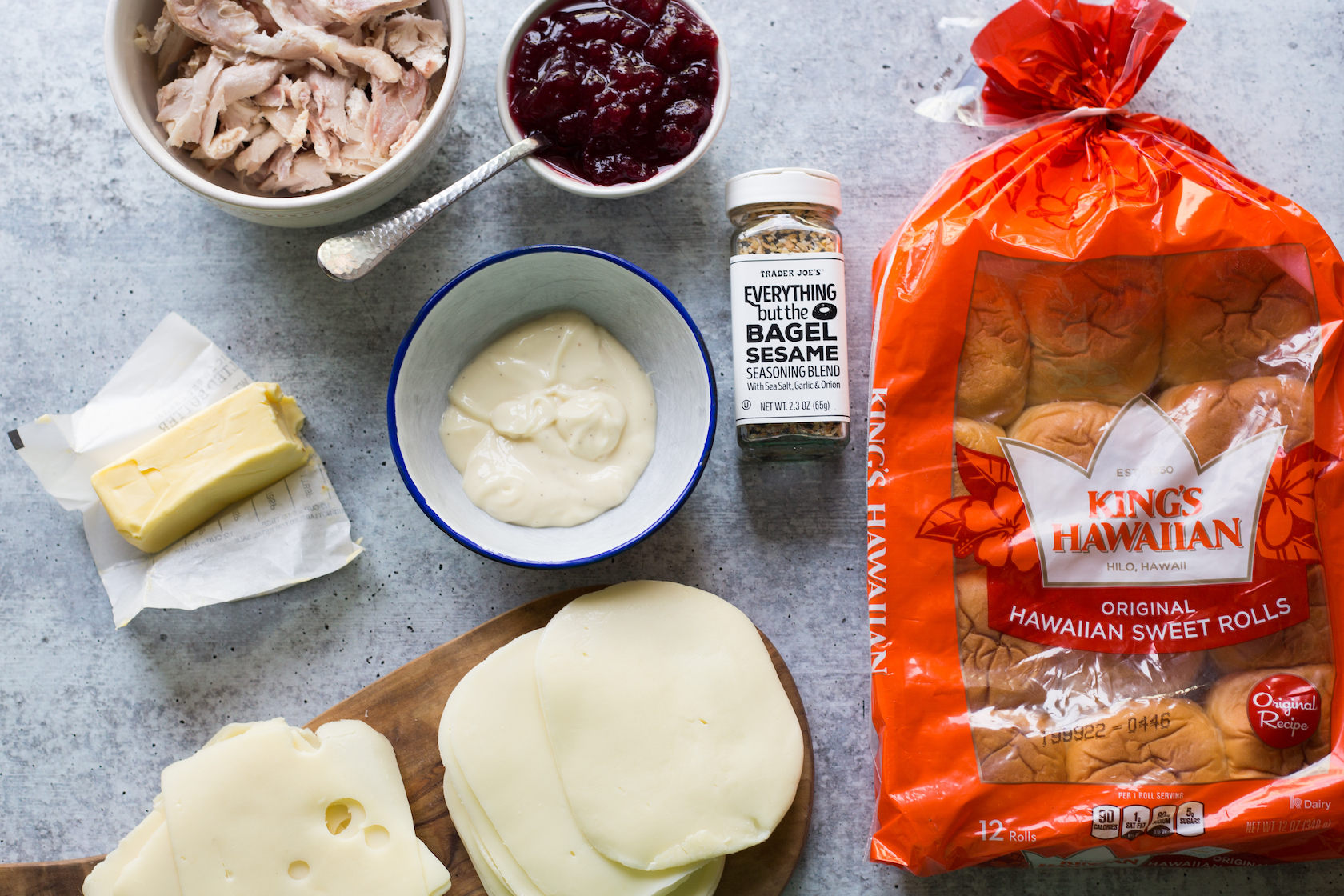 Layer by Layer
My family always, always winds up with an extra bag of dinner rolls, so that's where this recipe begins. I use King's Hawaiian because they are perfectly soft and sweet and I adore them, but you can use whatever rolls you prefer. I do love that the King's Hawaiian rolls are all stuck together, so I can create one big sheet of sliders versus having to individually build each one. 
Now, onto the sauces. Cranberry mayo is a staple in my Thanksgiving leftover arsenal: your favorite mayo and a few spoonfuls of cranberry sauce come together to create the absolute most delicious sandwich spread known to man. We slather a nice layer onto the bottom of our slider buns to kick things off. 
Next up: the turkey. We are going heavy on the turkey here, since it is, after all, the star of the show. I used two cups of pulled turkey meat, dark and white, but if you want to bring this recipe to a holiday party and don't happen to have half a turkey laying around, sliced turkey or ham deli meat would be a fantastic sub.
And by the way, it would be very wise of you to bring these sliders to a potluck or to serve them at your own holiday party. I have already served them twice this month, and both times they got absolutely demolished within minutes.
I digress. Onto the cheese layer. I tried gouda, cheddar, and mozzarella, but these sliders ultimately needed simple, melty cheeses. A combination of provolone and Swiss is the perfect complement to make sure the turkey and cranberry shine. Go ahead and buy pre-sliced cheese here—you worked hard yesterday, now it's time to let someone else do the slicing. 
A thin swipe of mustard on the top half of the buns provides a nice zippy contrast to the sweetness of the cranberry mayo. It's subtle, but it's important. If you absolutely hate mustard, make double the cranberry mayo and put it on top, too.
Finally, we pour honey butter all over the tops of the buns, and sprinkle them heavily with everything bagel seasoning. Everything bagel seasoning is essentially a mix of toasted sesame seeds, poppy seeds, garlic, onion, and salt—the perfect salty, savory complement to the sweetness of the cranberry sauce, honey butter, and rolls. You can find it at most grocery stores now; I always buy it at Trader Joe's. 
The sliders go into the oven for about 12 minutes, and when they come out, the tops are beautifully golden brown with crunchy seeds baked onto the tops, the cheese is gooey and melted, and the entire thing is just a piping hot picture of holiday food perfection. 
I'm not ashamed to say that my husband and I polished off all 12 of these over the course of two meals, so if you plan to make these for a large crowd, consider making double. Cheers to giving thanks and indulging in cheesy sliders this holiday season!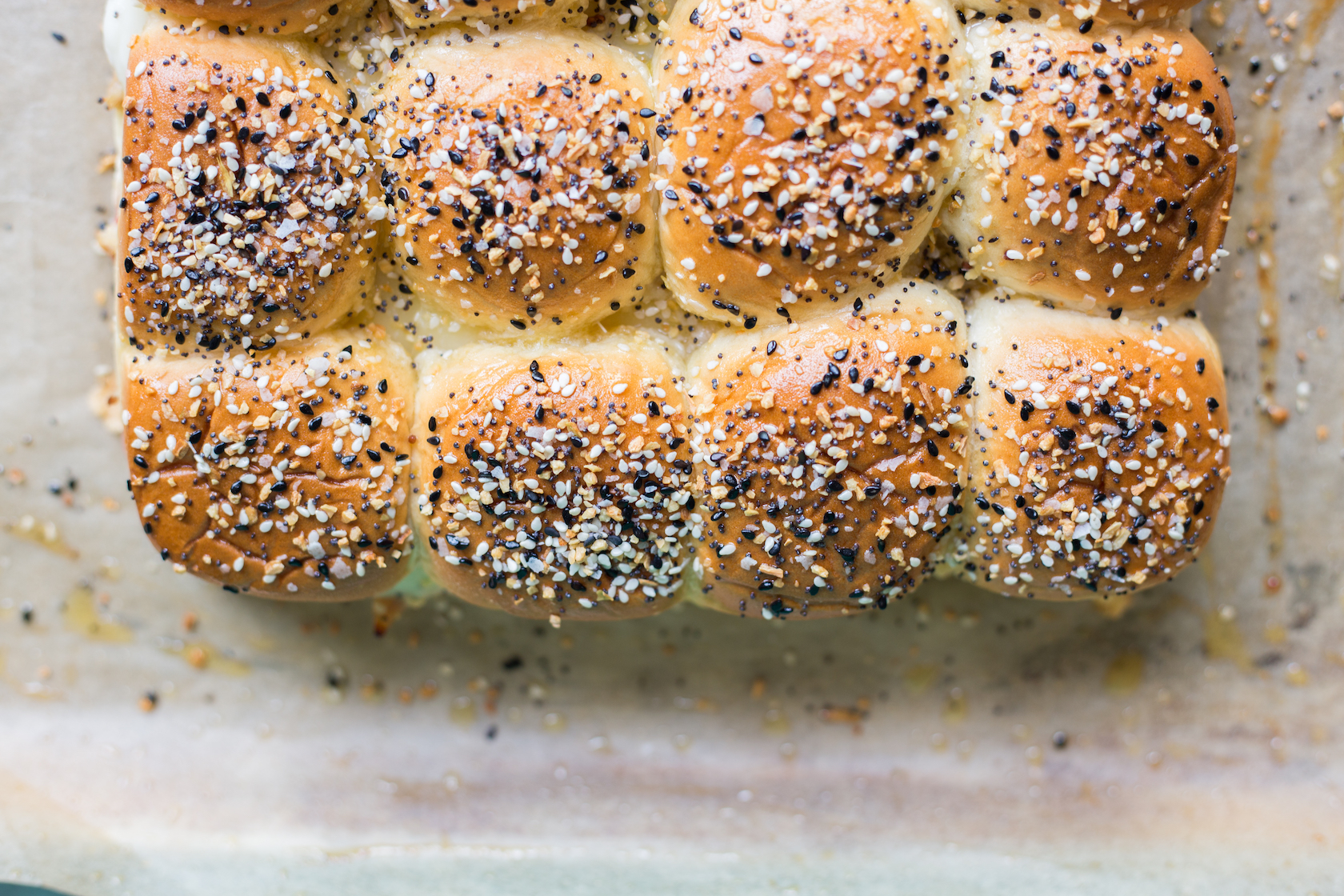 Cheesy Everything Turkey and Cranberry Sliders
Makes 12 sliders
1/3 cup mayonnaise 
3 tablespoons leftover cranberry sauce
4 tablespoons unsalted butter, melted
2 teaspoons honey
1 package (12-count) King's Hawaiian Original Hawaiian Sweet Dinner Rolls
2 cups shredded turkey meat (or 12 thick slices of deli turkey)
4 ounces sliced Swiss cheese (about 6 slices)
4 ounces sliced provolone cheese (about 6 slices)
2 tablespoons whole grain mustard (or Dijon)
1 tablespoon Trader Joe's Everything but the Bagel Sesame Seasoning (or poppy seeds and a pinch of sea salt)
Preheat oven to 350 degrees F and line a baking sheet with parchment paper. 
In a small bowl, stir mayonnaise and cranberry sauce together. In a separate small bowl, stir melted butter and honey together. 
Use a long serrated knife to split the buns in half horizontally. Place the bottom half of the buns on the baking sheet. Spread the cranberry mayonnaise in an even layer on the cut side of the bottom layer of the buns, then top with turkey, Swiss cheese, and provolone cheese. Spread the cut side of the top buns with mustard and place on top of cheese layer. 
Pour honey butter over the tops and sides of the buns until they're all coated. If you have a pastry brush, use it to make sure the butter spreads evenly. If you don't have a pastry brush, use your fingers! Sprinkle the tops with Everything But The Bagel seasoning. 
Place in the oven and bake until the buns are golden brown, about 12 minutes. Slice and serve. 
Cooking Tips
If you have leftover Parker House rolls, those would be great here in place of the King's Hawaiian rolls! Any roll works, really, though the pull-apart aspect of King's Hawaiian ones makes assembly a breeze. 
Leftover ham or chicken would work perfectly if there's not an excess of turkey in your house.
Want to make these when it's not Thanksgiving? Swap raspberry jam in for the cranberry sauce, and sliced deli turkey in for the roasted turkey.
Caroline Chambers is a recipe developer, food writer, and author of "Just Married: A Cookbook for Newlyweds." She currently lives in Carmel, Calif., with her husband, George, and baby boy, Mattis. Follow her on Instagram for cooking tips and snippets from her life in Northern California @carochambers