Flu cases are on the rise around the United States, according to a weekly snapshot ending Dec. 22 put out by the Centers for Disease Control and Prevention (CDC), but so far they have not reached epidemic levels.
Of the 10 regions the U.S. Health and Human Services has divided the country into, nine are reporting cases of flu-like symptoms at or above their region-specific baseline. According to the CDC, 3.3 percent of outpatient visits were for flu-like illness, which is above national baseline of 2.2 percent.
New York City and the states of Alabama, Colorado, Georgia, Kentucky, Louisiana, Maryland, New Jersey, New Mexico, and South Carolina are reporting high numbers of flu-like illnesses. The week before, only Colorado and Georgia were in this category.
The states of Arkansas, Arizona, Indiana, Mississippi, Oklahoma, Utah, and Virginia and Puerto Rico are reporting moderate numbers of flu-like cases.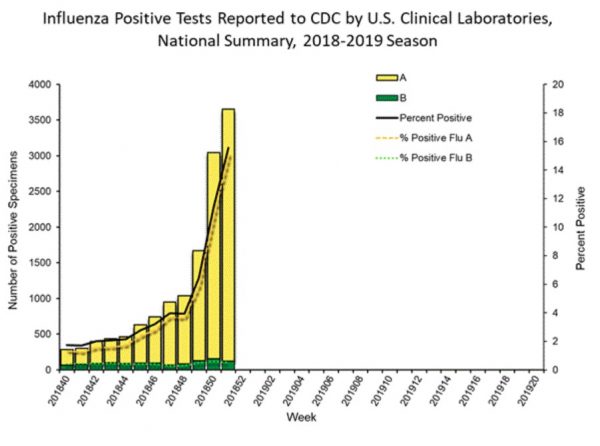 It is not clear how many deaths are related to the flu this year. Only data on flu-related deaths for children under 18 must be reported to the CDC, of which 11 have been reported so far for the 2018–2019 season.
Last year, CDC estimated that roughly 79,000 people with flu-like symptoms died, the highest since 2009, of which 185 were children under 18.
These numbers likely don't give a clear picture of the death toll, however, because CDC lumps pneumonia in with the flu when collecting data on flu-related fatalities. The National Center for Health Statistics (NCHS) Mortality Reporting System tracks the number of death certificates that list pneumonia or influenza as the underlying or contributing cause of death.
"This system provides an overall indication of whether flu-associated deaths are elevated, but does not provide an exact number of how many people died from flu," the CDC website says.
In a 2005 article titled "Are US flu death figures more PR than science?" published in The BMJ, researcher Peter Doshi questions the usefulness of putting the two together. He found that of the 62,034 deaths reported for the flu in 2001, 61,777 were attributed to pneumonia and 257 to flu. And of those 257, in only 18 cases was the flu virus positively identified.

The types of flu circulating are Influenza A and Influenza B. Within Influenza A, the (H1N1)pdm09 strain is predominant, with H3N2 only showing up in southeastern states like Alabama, Florida, Georgia, Kentucky, Mississippi, North Carolina, South Carolina, and Tennessee.
The H1N1 strain became well known in 2009 due to what has become known as the Swine Flu, which caused the first flu pandemic in 40 years. Despite its name, researchers found swine, avian, and human genes in the H1N1 of 2009.
The H1N1 of 2009 is now a human virus, and has replaced the previous H1N1 that was circulating in humans before 2009.
According to the CDC, flu symptoms include
Coughing
A sore throat
A runny or stuffy nose
Muscle or body aches
Headaches
Fatigue (tiredness)
Some people may also experience a fever and vomiting or diarrhea, though this is more common in children than adults.
To avoid getting the flu, the CDC recommends keeping hands washed and staying away from people who are infected. For people who already have the flu, the agency recommends staying home to avoid spreading it to others. There are also prescription antiviral drugs that can be used to treat the flu.
People who have chronic medical conditions, are pregnant, elderly, and children under 5 are particularly at risk of developing complications, such as pneumonia.
Most people who get the flu recover in a few days to less than two weeks.