We have been retelling the story of the great adventurer Odysseus, as he attempts to escape from the ruins of Troy—a symbolic destruction of the self—and return to his home. There he will be finally reconciled with his true self—his soul—as represented by his beautiful and faithful wife, Penelope.
The journey to find one's true self is long and arduous, fraught with dangers. For Odysseus, we know that has meant a 10-year war at Troy itself, as the old self was broken down and destroyed, followed by another 10 years of attempting to get back to Ithaca, to home. To return to the beginning, then, means we are not the same as when we started out.
Odysseus must let his old illusions die if he is to become who he truly is meant to be. The Enneagram is a way of tracking his progress, as each obstacle he encounters is one facet of the journey to his true self.
Odysseus has just encountered the personality type Six in the Laestrygonians, where he has had many illusions about himself shattered: Eleven out of twelve ships and all their crews were lost, and Odysseus himself in the last ship is running scared—terrified—as they sail off within an inch of total destruction.
He has had shattered the idea that he is a great warrior and general! How more thoroughly defeated could he have been, aside from losing his own life?
Where Odysseus goes next is to meet the type Five, the sage. As a reminder, this is the wise person who has insight and understanding, and whose basic self-image is "I see through"; in other words, the kind of person who is not fooled by appearances or superficialities, but who always seeks a deeper level of knowledge.
But intellectual quests can also lead to the deadly sin of avarice: the hoarding of information and expertise, because Fives have a desperate fear that there is not enough to go round, and so what they do have needs to be conserved rather than shared.
A New Kind of Danger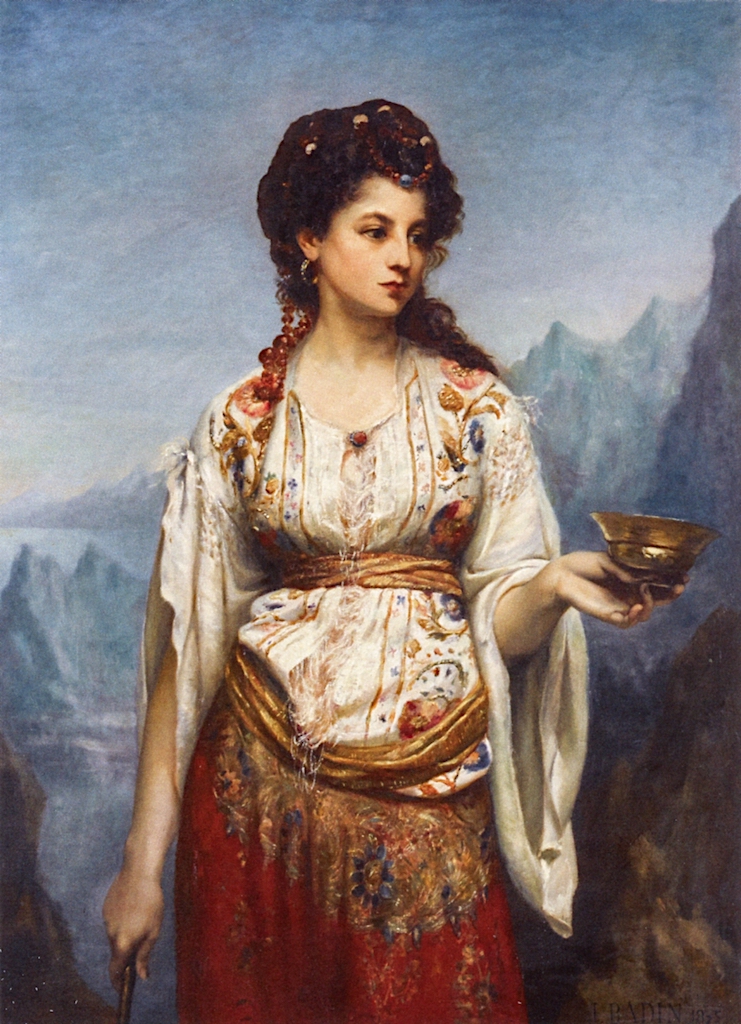 Odysseus now meets the type Five, the wise person, who in this case is a wise woman—one renowned throughout the ages—called Circe. Of course, another name for a "wise woman" is a witch (though Circe is actually an immortal goddess), and this term denotes what, perhaps, the word "wise" does not: namely, witches are dangerous and must be approached in the right way.
Notice here, at type Five, however, that the specific peril is feminine, and this is the first time (though it will not be the last!) this has occurred. This shift in gender perspective is interesting because the perils Odysseus has been through before have prominently featured outright and savage physical destruction, which is very masculine; here the danger is more psychological, more nuanced, and more emotionally charged.
As before at Six, Odysseus is cautious, not committing everything to one chance or one maneuver. So it is that his loyal lieutenant Eurylochus leads a party of 22 men to where the "smoke" appears to originate. Smoke derives from fire, and fire is always a symbol of transformation; it is also a sign of civilization, which is something we know that Odysseus desperately seeks.
Astonishingly, as the men approach the palace of Circe, they encounter wild animals—wolves and lions—which instead of attacking them, fawn around them like faithful dogs. All the animals are bewitched by Circe, whose deep knowledge and sacred wisdom tames and subdues nature. Today we call this knowledge science.
The crew hears Circe singing with her "spellbinding voice" and finds her weaving an "enchanted web." We too find science's spawn, technology, spellbinding and enchanting, often regardless of what its consequences may be. Who, for example, 10 years ago could have foreseen the negative aspects of that spellbinding and enchanting system—or web—we know as Facebook?
The men all go into the palace—except Eurylochus—and accept her offer of food and drink, not knowing that the drink is laced with "wicked drugs." As soon as they finish feasting, Circe strikes her wand and by magic they are transformed into pigs, which she herds into her pigsty to feed acorns and common fodder. Their tragedy is that although they are in pigs' bodies, their minds retain their human functions.

Terrified, Eurylochus runs back to Odysseus to tell the dreadful news. And en route to rescue his men, Odysseus is intercepted by the god Hermes, who gives him some advice and some practical help.
Dealing With Fives

Hermes provides the male counterpart—or the yang, if you will—to the female witchcraft of Circe, or the yin. We see this most particularly in the herb moly, which Hermes picks to counteract Circe's magic.
Moly has a "black root" but its flower is "white as milk." As Michael J. Goldberg comments, white and black are opposites, just as in the "famous circular Tai Ji symbol" where the opposition of yin to yang reflects a "constantly changing balance and together make a whole."
This antidote, then, is about fluidity, flexibility, and the ability to change as circumstances change, and not to get stuck in any one rut. Or again, as Goldberg observes, not to be "pig-headed." Ah! Stuck and stubborn like the men who accepted, without question, Circe's feast and so became pigs.

Fives become avaricious pigs (metaphorically) when they start to hoard their knowledge and know-how, frightened to share because they believe there is not enough to go round; and also fearful that their own power will be diluted if others possess the expertise that they hold. But this hoarding of expertise, as well as being avaricious, also can have the unintended effect that comes from endless accumulation. Just as financially the richest misers can—like Howard Hughes—live in appalling squalor despite their wealth, so the "stuck" Five, for all their knowledge and insight, can lead an impoverished lifestyle: Think of Glenn Close's character in "Fatal Attraction," where all emotional and social comforts are stripped away and only the bare necessities remain as her unbalanced focus consumes her life.
But approached in the right way, as Odysseus now approaches Circe forearmed by the wisdom of the messenger god Hermes, Circe and her magic can become a life-enhancing source of power.
Circe fails to enchant Odysseus and exclaims in fascinated surprise: "You have a mind in you no magic can enchant." The herb moly has protected Odysseus. He will not become "stuck" like a pig; instead, Circe will share her secret knowledge with him that will set him on the right course for the next stage of his journey. Remember, moly is black and white, so not "either-or" but "both-and." This kind of creative thinking, perspective, or approach is what can truly empower and free a Five.
Following Hermes's advice, Odysseus consents to make love to Circe, providing she swears a binding oath to the immortal gods not to harm him, or "unman" him when he is stripped naked. This she does, and so he sheathes his sword and mixes in "the magic work of love," which as Circe observes, "we'll breed deep trust between us."
Fives can be loners, locked inside their own heads. But trusting others (the right others, of course) can lead to amazing and fruitful results. How different, perhaps, from the results he had trusting his fair-weather friend," Aeolus, at type Seven.
A New Beginning
In this way, Odysseus frees his crew as his relationship with Circe blossoms. They spend a year feasting and enjoying themselves with all the delights of Circe's palace, but then, after a year, the longing to return home returns and Odysseus seeks Circe's permission to leave.

And here the Five type shows its true mettle: She gives Odysseus precise and exact details of what he must do if he is ever to entertain a hope of getting back. The knowledge she supplies is of a deep and profound nature, and not only that, it is entirely surprising, for the way back for Odysseus is not straight forward but via a vital detour whereby he must encounter the very depths of his being.
Circe instructs him to visit hell and come back alive again with the information he needs. Indeed, the journey of every great hero and heroine involves what the Greeks called "katabasis" or the descent into hell. Hell is an emotional state that involves a "going down."
After all the twists and turns, the stratagems, and the wisdom of his mind, at last Odysseus must face his own reality at a deeper level. This is the type Four, where envy is the typical vice, and where, along with visiting hell, Odysseus gets to hear the Sirens' call.
In this multipart series, "Finding the True Self," we will discuss nine types of personalities, their flaws, and show how Odysseus, through his adventures, overcame them to find his way back home.
James Sale is a poet and businessman whose company, Motivational Maps Ltd., operates in 14 countries. James will be appearing in New York to do talks and poetry readings for The Society of Classical Poets on June 17, 2019, at Bryant Park and The Princeton Club. To meet James and for more information, go to http://bit.ly/Poetry_and_Culture