Financial Professional Enlightened by Shen Yun's Performance
April 18, 2014 6:19 am Last Updated: April 20, 2014 12:46 pm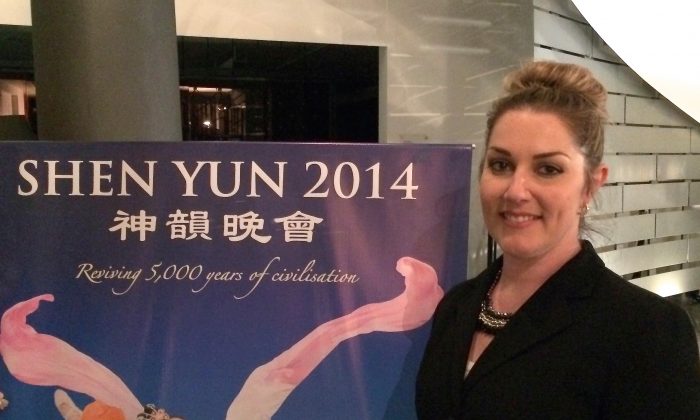 SYDNEY—"I thought it was enlightening," said Alison Rumble, a west Sydney Wealth Management professional after attending Shen Yun Performing Arts International Company's performance at the Sydney Theatre on Wednesday April 16.
Shen Yun is based in New York. Independent and nonprofit, the company's website explains, "In 2006, leading Chinese artists from around the world came together with a mission to revive authentic Chinese culture."
Ms. Rumble knew there was a long Chinese tradition in the history but admitted she knew little about it. She said, "I know there is quite an intricate history and a way things are done but I hadn't ever witnessed it before so to see it on stage and the preciseness of it all was just fantastic."
Shen Yun's mini-drama pieces draw upon stories and legends that span China's history from the Yellow Emperor and through the Tang and Song dynasties and all the way to the modern day."
This mixture of storytelling; traditional and modern, provided Ms.Rumble with a view of the Chinese history and culture.
"It was a really good balance between what is happening and what has happened as well as the history of it," she said.
Ms. Rumble responded to the cultural values presented and the spiritual aspect of the performance.
"I am from a Western culture. … I understood what they were saying. … I found it really enjoyable and even thought provoking," said Ms. Rumble.
Ms. Rumble shared that her Chinese friend said "she left [China] because of communism. She has recently written, yet to be published manuscript, about her time in China and communism."
"Shen Yun performances bring back traditional values that have sustained and created cultural expression for so many generations. The mere representation of this lost heritage and its virtues immediately, by way of contrast, unmasks the [Chinese Communist] Party and its ideology of struggle. This is why the Communist Party fears Shen Yun, and why this kind of performance cannot be seen in China today," explains the company's website.
Ms. Rumble continued, "It gives me a deeper understanding of what she has been through."
Ms. Rumble thought that the performance was full of positives saying, "If you are not a spiritual person to begin with, then give it a chance. Then you can pick up the messages that are there. It's all positive so come along; really look deeper. It's a really lovely message.
"There was a lot of traditional [content] along the way and then [it] circled back to the beginning where the hope is for a peaceful China."
Reporting by Shar Adams and Judy Shakespear
New York-based Shen Yun Performing Arts has four touring companies that perform simultaneously around the world. For more information, visit Shen Yun Performing Arts. 
The Epoch Times considers Shen Yun Performing Arts the significant cultural event of our time. We have proudly covered audience reactions since Shen Yun's inception in 2006.