PG-13 | 2h 9min | Action, Adventure, Sci-Fi | 2 July 2019 (USA)
I'd thought we'd finished the Marvel Universe storytelling marathon with "Avengers: Endgame." Twenty-two movies! It was done. Cooked. Iron Man had died. Thor got fat. Gone was the little tidbit of a post-credit-roll scene we'd all gotten so used to.
But no! Here we are right back at it again! I was about to walk out of "Spider-Man: Far From Home," when the movie usher whispered at me, "You should stay for the post-credit-roll scene."
What was I thinking? The Marvel Cinematic Universe (MCU) had merely pulled a James Brown type fake-out stage exit, where they'd throw a cape over James and he'd be escorted, limping, off stage, too tired and beaten down to continue, only to shake it off and dash back to the microphone for another encore! The MCU is the Hardest Working Man, er, Franchise, in Showbiz: the Godfather of Soul, er, Superheroes.
Now, you knew 2017's "Spider-Man: Homecoming" was going to be hard to beat. Not to mention "Far From Home" arrives on the scene six months after "Spider-Man: Into the Spider-Verse," which actually won an Oscar. So along with "Avengers: Endgame," that's not one, but three hard acts to follow. Not to mention one risks Spider-saturation.
Teen Romance
This Spidey flick is a very entertaining transition: the emergence of Peter Parker from the shadow of his mentor Iron Man. What will it ultimately transition to? I'll muse more about that later.
"Far From Home" picks up where "Avengers: Endgame" left off. It's been five years since the great, purple, bald god Thanos finger-snapped the cosmos into disarray, and Iron Man finger-snapped it back into ordered existence again. Which was so immensely cosmic.
So to counteract all that bombast, the franchise has to start small again. Basically, "Far From Home" is a comedic high school romance, with Peter (Tom Holland) and MJ (Zendaya) pining for each other, Peter's chubby buddy Ned (Jacob Batalon) pining for prim, cheerleader-looking Betty (Angourie Rice), and even Jon Favreau's avuncular Happy hilariously crushing on Peter's Aunt May (Marisa Tomei).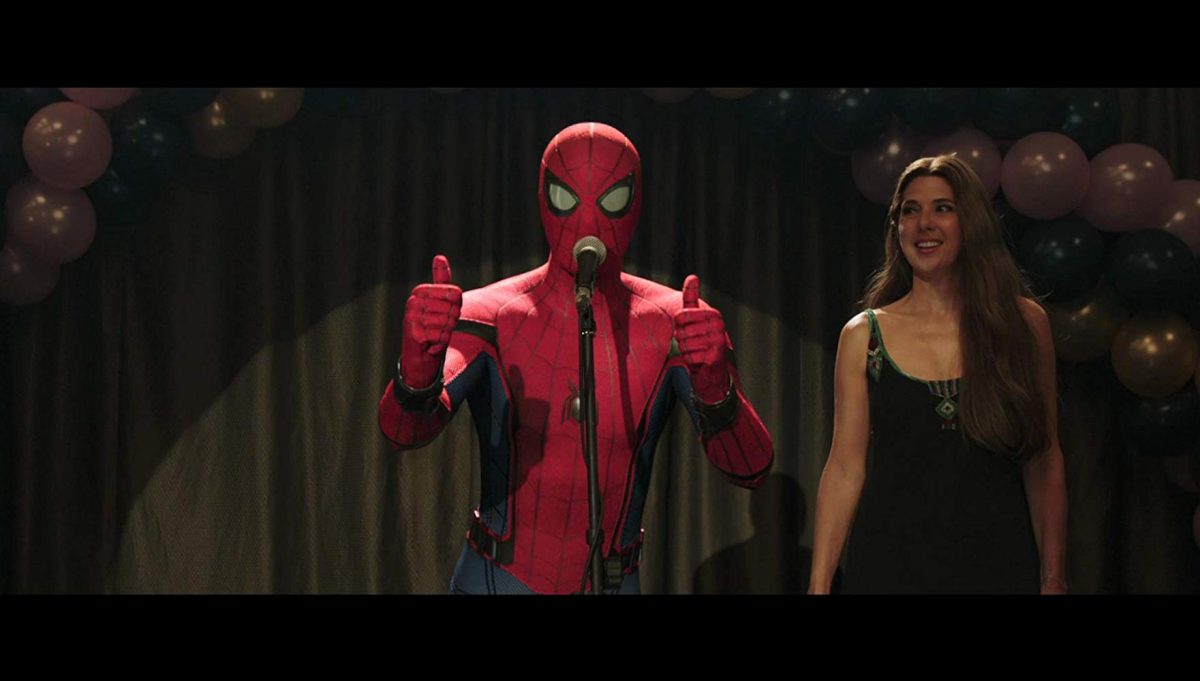 It's young, geek love to the max, all of which can be summed up by that favorite millennial word: "Awkward!" But it's delicious awkwardness with great payoffs of dissonance-resolution.
Speaking of awkward, it also gets a lot of mileage out of Aunt May cluelessly calling Peter's "Spidey sense" his "Peter Tingle," which will make all boys in the audience resonate with mortification memories, where one had to holler, "Mom!?! Stop!!"
Shirking Responsibility
Peter's now famous, but fame is not his thing; he's not feeling it—not feeling the heavy mantle of Iron Man-type world saving-ness. No. He and his classmates go to France, hilariously chaperoned by teachers Mr. Dell and Mr. Harrington (J.B. Smoove and Martin Starr).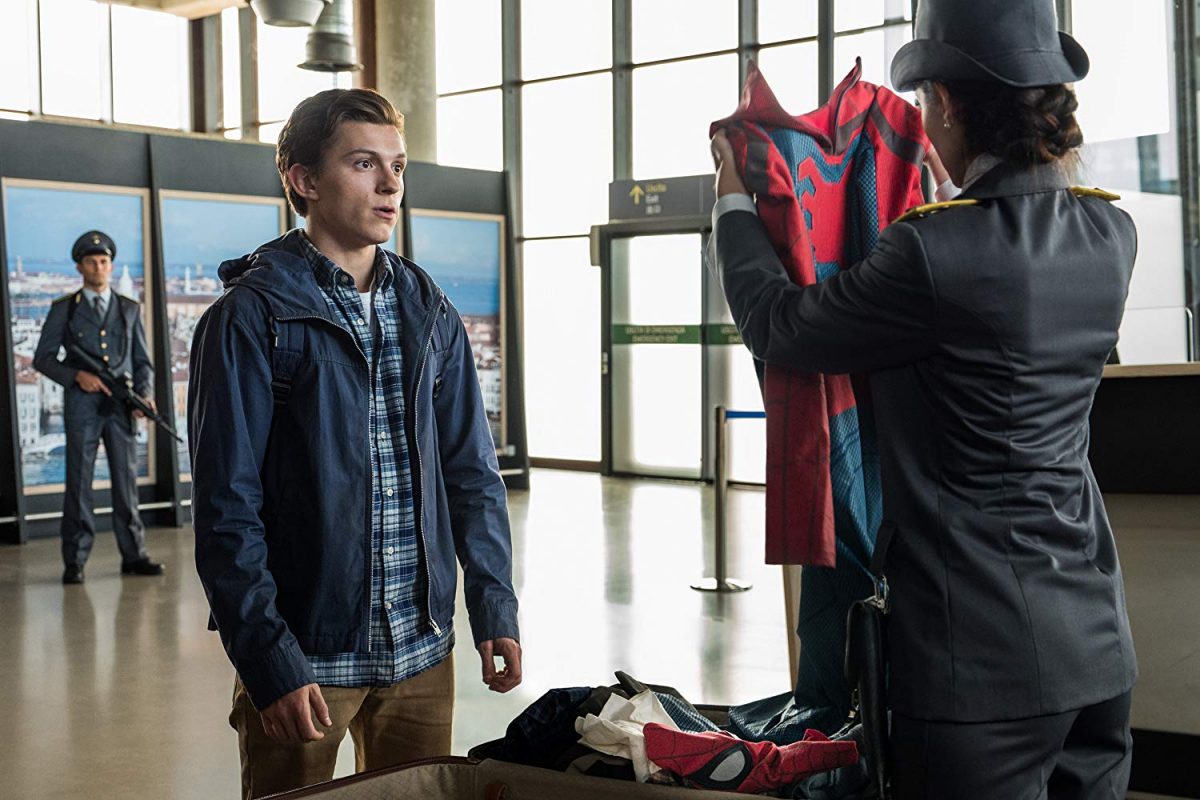 All Peter can think about is the lovely MJ, again played with great awkward quirkiness by the deeply charismatic Zendaya.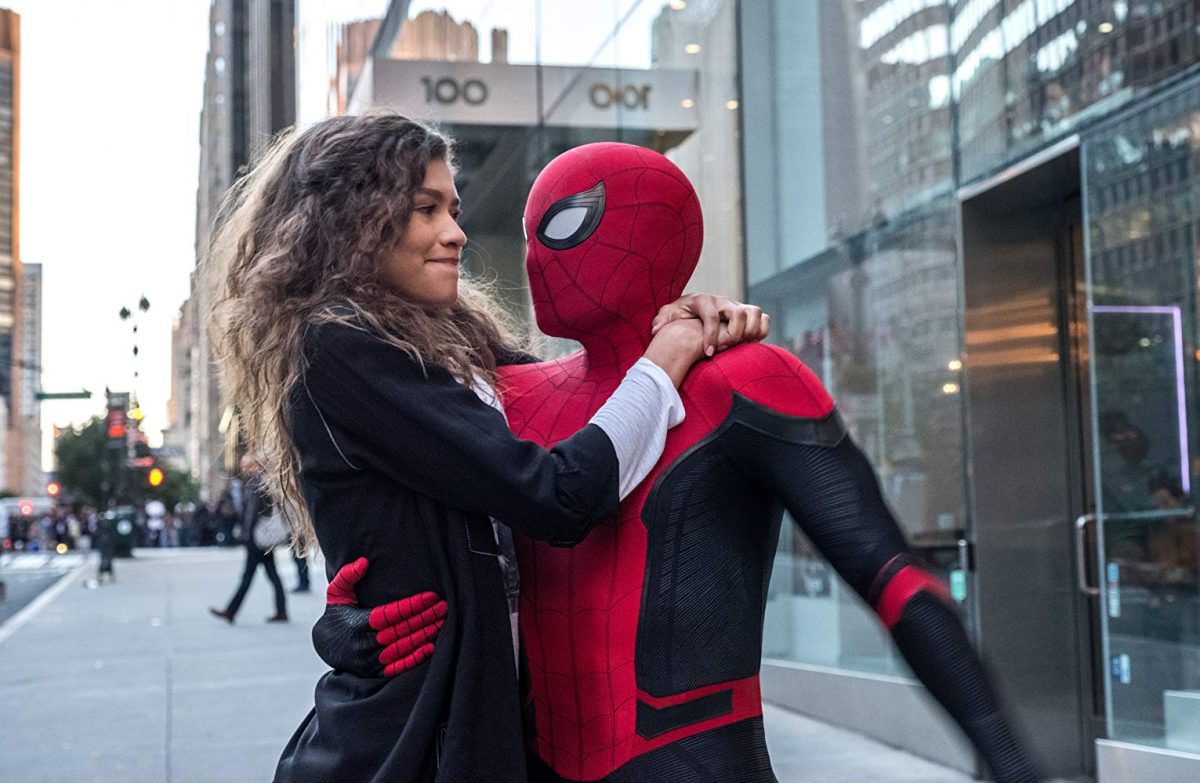 However, this is summer blockbuster season, not to mention a July 4th weekend opening; therefore—blockbuster writ large—and that means some 'splosions need to happen. Many 'splosions.
Are you familiar with how the term "blockbuster" came to be? A blockbuster was an illegal 1970s firecracker that kids managed nevertheless to get their hands on. It was a quarter of a stick of dynamite. Can you imagine kids playing with such a thing in this day and age? Blockbusters blew many a (male) teenage digit to kingdom come. So like I said—blockbuster-sized 'splosions.
While Peter and class are on their European class trip (hence, "Far From Home") along comes former S.H.I.E.L.D. director Nick Fury (Samuel L. Jackson) with some depressing news about an imminent, dire attack and an "Are you going to step up?" challenge.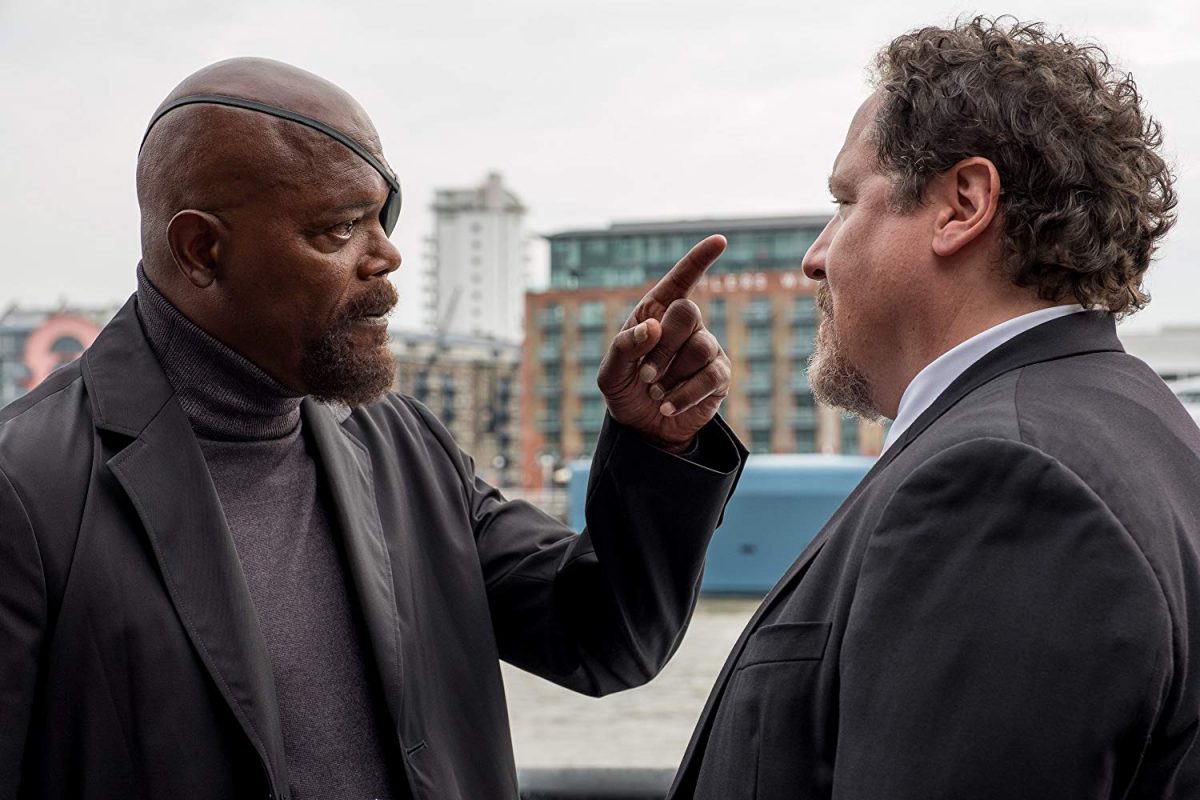 Peter pretty much has no choice but to work with Fury and a new superhero named Quentin Beck, aka Mysterio (Jake Gyllenhaal), who has the most ridiculous superhero costume ever seen in the Marvel-verse (there's a good reason for that)—a mix of something like Thor's bodysuit with a helmet that looks like a big snow-globe.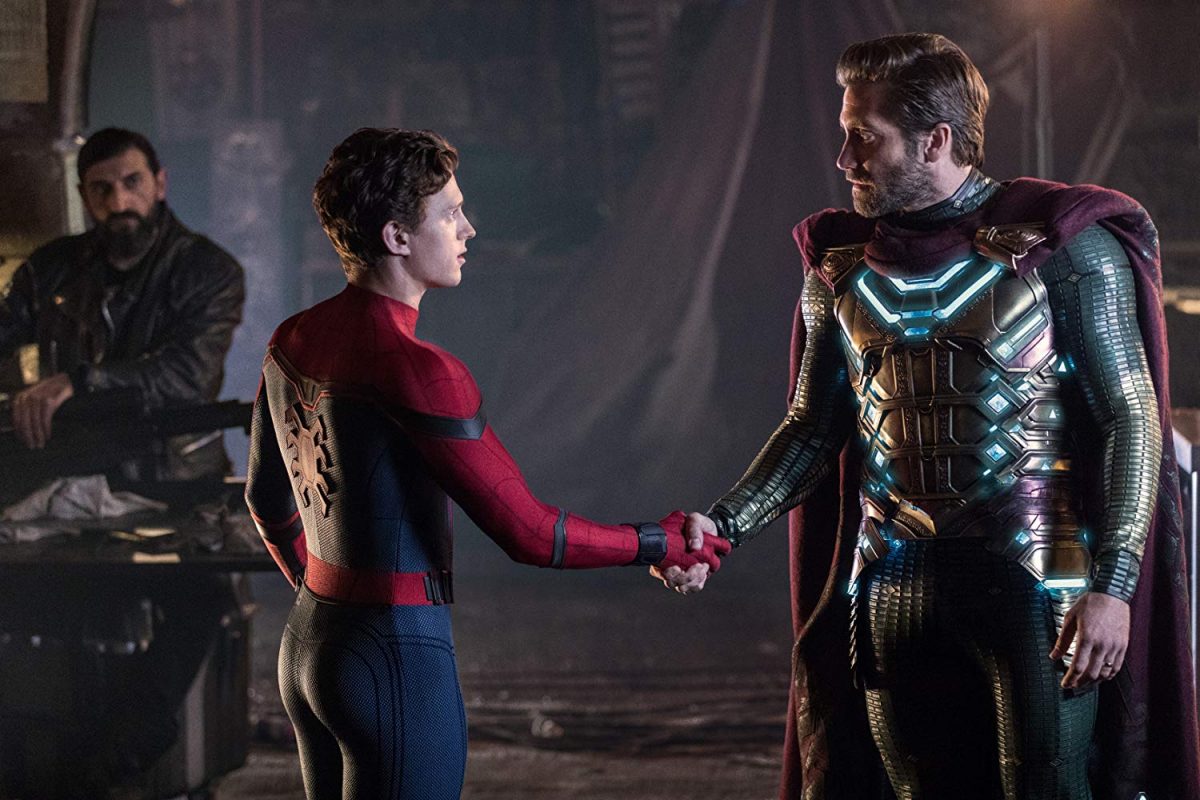 Apparently, Mysterio's here from another planet (maybe another universe) to fight these new monsters called Elementals, which are basically earth, wind, and fire swirled up into anthropomorphic form by some uninspiring CGI. Tidal waves rise up out of canals and smash the lovely Venetian architecture with big water-fists. And such.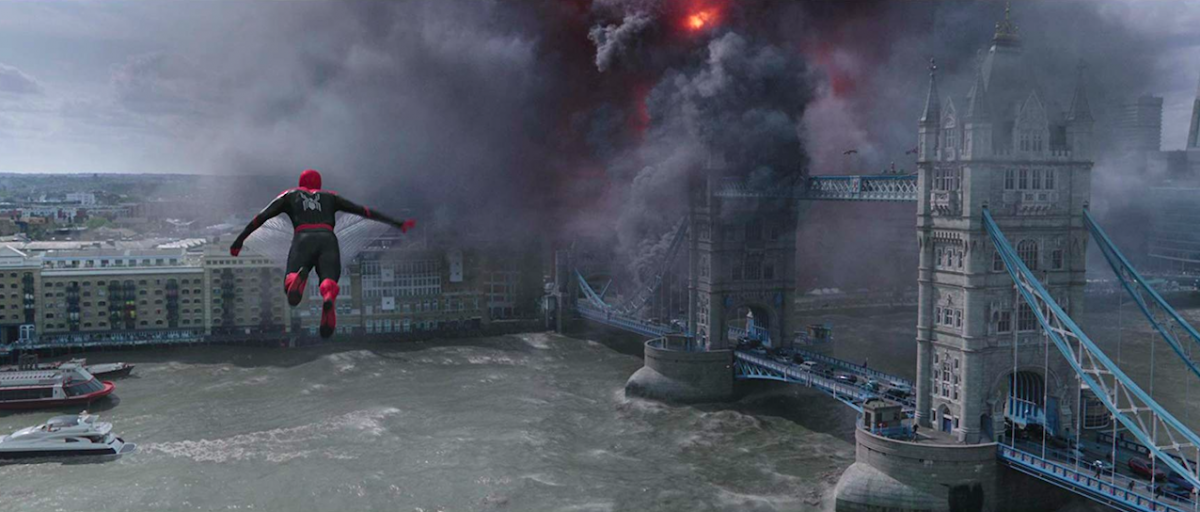 Karmic Ripple Effect
Gyllenhaal as Mysterio is quite good. But is Mysterio really a good guy? He might be the disgruntled former employee of someone we all know quite well, and therefore, in a sense, "Spider-Man: Far From Home" is the story of the karmic ripple effect of a former superhero rolling out: how his bad side affected some and, conversely, how his good side affected others. Gyllenhaal makes Mysterio both likable and dangerous at the same time.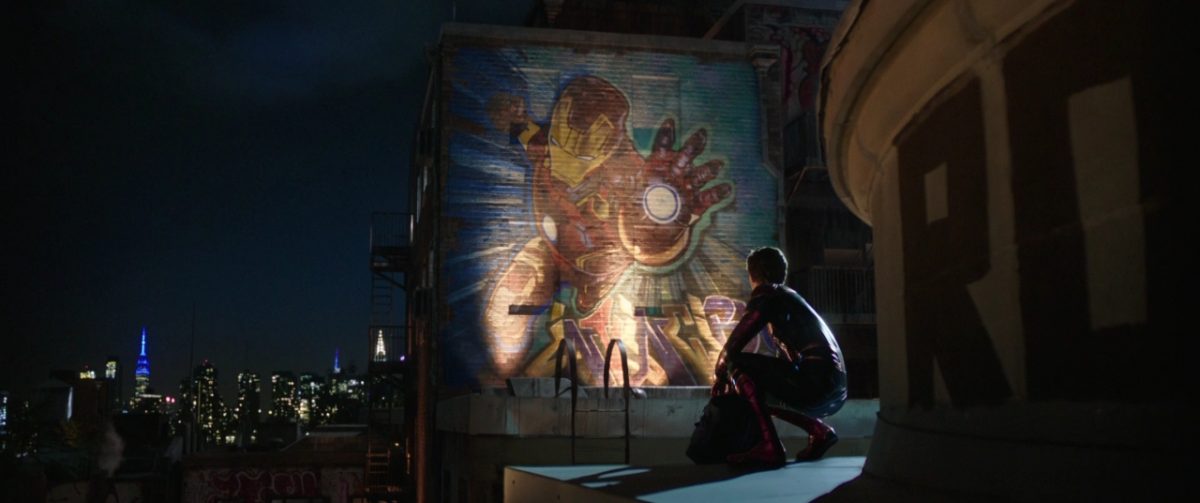 So, as mentioned, this is the story of Peter Parker transitioning out of the shadow of his mentor. What will it ultimately transition to? Hopefully, to a maturation story where Peter becomes a man.
I've personally never been a fan of skinny, teenage Spider-Boy. Young Tom Holland is great, but I'm wanting to eventually see Spidey morph into a full-blown, 6-foot-4, mean, stacked, ripped, deep-voiced, grim superhero you don't even want to think about messing with. Spider-Man. Not boy.
Spidey's quippiness has always been his schtick, but I imagine, rather, a mash-up of Deadpool's dark quippiness and Batman's nocturnal taciturnity.
This is my personal Spidey vision. Allow me to paraphrase myself: But as a former trainer, this reviewer feels that the Spidey producers should consult a fitness coach about specificity. The spider-bod should be rockclimber-ish. All that pulling and hauling and grabbing that Spidey does should result in some truly epic lat muscles (latissimus dorsi).
Spider-Man should also have Popeye forearms, with all the grip-strength requirements in his line of work. Build a better body for Spidey! Put a sinewy bodybuilder like 1970s Frank Zane, or a swole Ultimate Fighting Championship fighter like Cheick Kongo, in the Spidey suit.
They can keep the newest iteration of the Spidey suit though, which has X-Games type, wing-suit capabilities. Anyway, we shall see.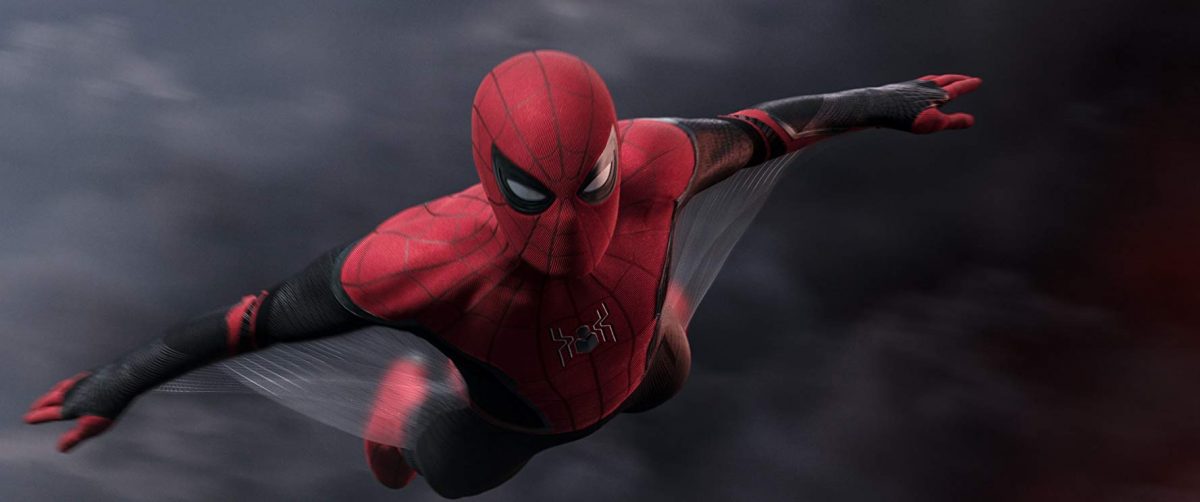 'Spider-Man: Far From Home'
Director: Jon Watts
Starring: Tom Holland, Samuel L. Jackson, Jake Gyllenhaal, Marisa Tomei, Jon Favreau, Cobie Smulders
Rated: PG-13
Running time: 2 hours, 9 minutes
Release Date: July 2
Rated: 3.5 stars out of 5