November 24, 2021 | R | 2h 38m
Based on the 2000 book "The House of Gucci: A Sensational Story of Murder, Madness, Glamour, and Greed," "House of Gucci," by acclaimed British director Ridley Scott ("Blade Runner," "G.I. Jane," "Alien") has a go at the fashion world: It's about the rise and fall of the titular famous fashion family.
It features a great cast. There's a firecracker performance by rock-star Lady Gaga in her sophomore effort after her Oscar-winning debut in "A Star Is Born," there's an uncharacteristically campy Al Pacino performance, and there's a Jared Leto performance that would win an Oscar if they had a category for "Best Unrecognizable-Rendering, Self-Ugly-fying Performance by a Model-looking Leading Man." The overly long "House of Gucci" is unfortunately lukewarm.
The Gucci Family
Gucci, referred to in the movie as "The Vatican of fashion," (as opposed to Versace, which is like the Aspen ski resort of fashion, or Armani, the high-class night club of fashion, or something like that), is of course one of the most famous and venerable brands in the world. A little history via Luisa Zargani in Women's World Daily:
"… the allure of the brand is enduring. An allure that was carefully crafted by the founder himself, Guccio Gucci, who in 1897 found work at London's prestigious Savoy Hotel as a bellboy. Famously, the tale goes that he was inspired to create his company by the luxurious suitcases and trunks carried by the aristocrats staying at the hotel. The original storyteller, Gucci associated the brand with luxury and those aristocrats' pastimes, such as horse-riding—hence the brand's signature horsebit decorative element. In 1921, Gucci's first stores opened in Florence, where he founded the company. The boutique in Rome's luxury shopping street Via Condotti opened in 1938."
"House of Gucci" kicks off in 1978 at which time the Gucci empire belongs to Guccio's sons Aldo and Rodolfo (Al Pacino, Jeremy Irons, respectively), who each own 50 percent of the company.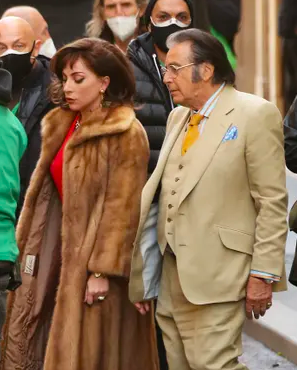 Aldo, an aging lothario and talented businessman, lives primarily in Manhattan. His son Paolo (Jared Leto) is the family's black sheep and source of embarrassment, feeling himself to be a fashion genius, when, in fact, he has stunningly bad taste.
Brother Rodolfo, a former movie actor, enjoys a luxurious life in his villa, like unto a Milanese count. He fathered Maurizio Gucci (Adam Driver), a mild-mannered law school student.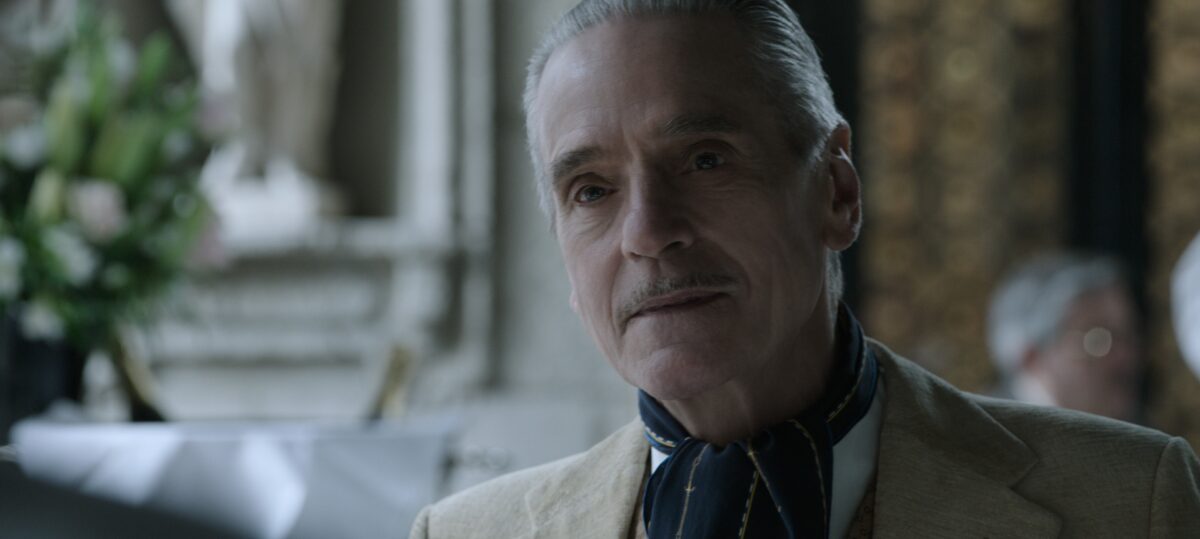 The Monkey Wrench
The story begins with the courtship and marriage between Maurizio and Patrizia Reggiani (Gaga), a woman who helps run her father's trucking business, which means she's got excellent business skills but probably also questionable ethics, seeing as how there's usually another type of family, quite different from the Gucci family, that runs trucking businesses in Italy. And when I say courtship, Patrizia's the one doing all the chasing. Can you say, "highly determined, 24-karat gold-digger?" Rodolfo is not happy with his son's low-class spouse.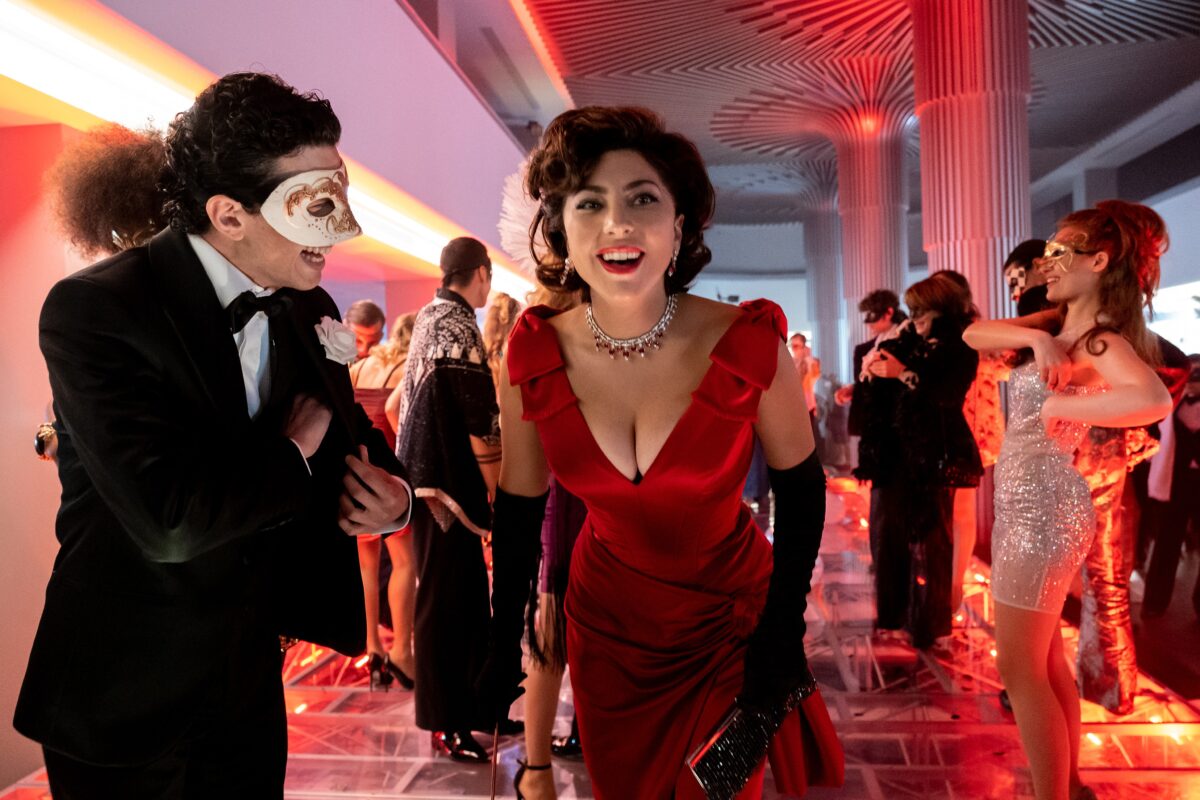 At the outset, we're set up to condemn Rodolfo Gucci's class snobbery; Reggiani comes off as a passionate romantic and also clearly the type of mothering female the rather spineless-seeming Maurizio would attract, and who he'd also need to succeed in life.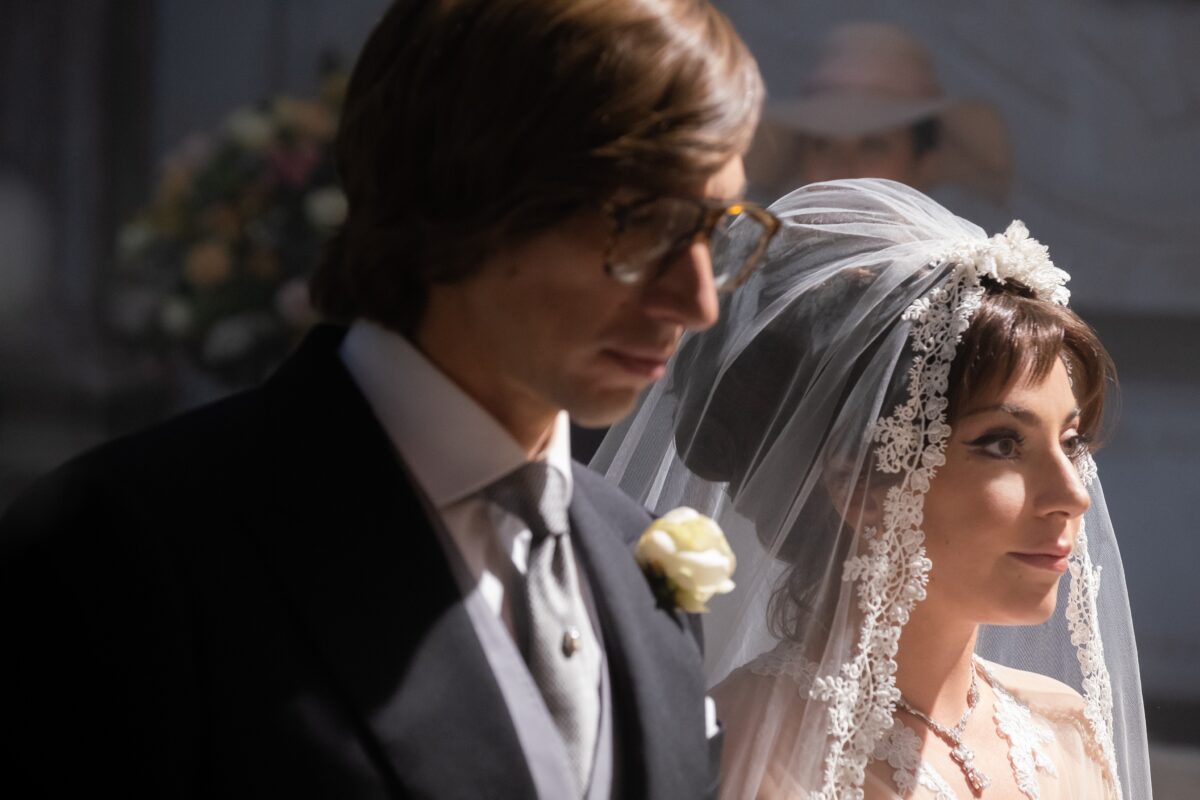 Little by little though, the perennially high fashion-adorned Mrs. Gucci, under the mentorship of Uncle Aldo, and having now spawned Gucci offspring, is feeling, like the proverbial created monster, evermore entitled to have a say in the family business. After all, she knows about family businesses. And so the nagging begins. Like the fabled Fisherman's Wife, she'd like to see her simp husband exert himself and take a more active role.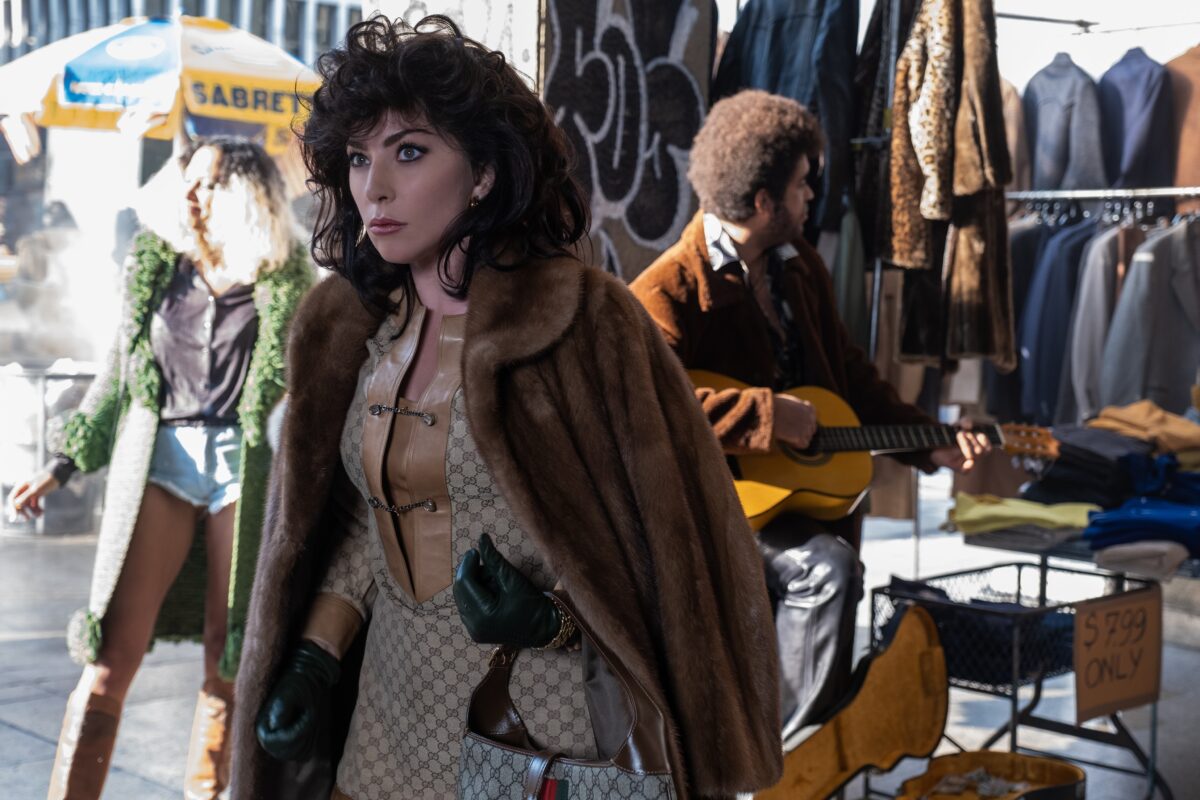 Eventually, like the Fisherman's Wife wishing to be queen, and then God (and also like Lady MacBeth, which means we're talking about a particular archetype of gold-digging human female here), Patrizia goads her husband to attempt taking on his relatives, obtaining a controlling interest in the company, and then usurping the brand. Which he does. Only it backfires on her.

Cinematic Whitewashing
For some reason, Ridley Scott clearly wishes to frame the story from the point of view that Mrs. Gucci's love for her husband is sincere. He paints Maurizio as morally shiftless, morphing from a reluctant MacBeth into a self-involved, cheating, sacker of the family-business. We're set up to sympathize with Mrs. Gucci and (spoiler alert) given to understand that having her husband assassinated was merely a case of "Hell hath no fury like a woman scorned" or "If you mess with the bull, you get the horns."
The real Reggiani apparently didn't have the work ethic on display here, or the warmth portrayed by Gaga. Her murder trial (here glossed-over and perfunctory) shone the spotlight on a much darker character who had her husband killed after he allotted her slightly under a million dollars a year to live on, post-divorce.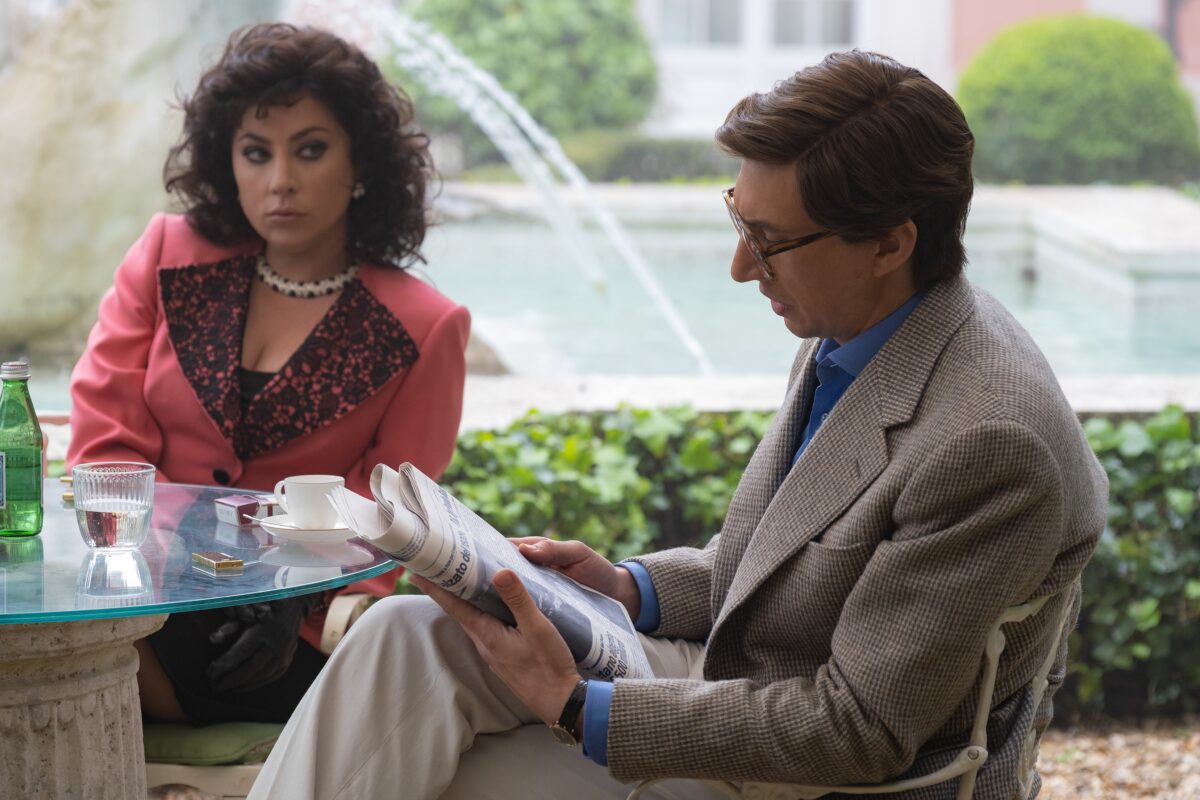 Any Merit?
I'm not in the slightest bit interested in the lifestyles of the rich and famous unless they're contributing to the greater good of humanity in some (pun intended) fashion. I don't know what the Gucci company realistically did in terms of philanthropy, and the movie makes no mention of it.
So what's the takeaway? Personally, it was listening to six extremely different Italian accents, the best of which is Gaga's, the worst of which is a toss-up between Pacino's and Driver's, and the most fun of which is pretty boy Leto reveling in making himself, yet again, unrecognizably unattractive.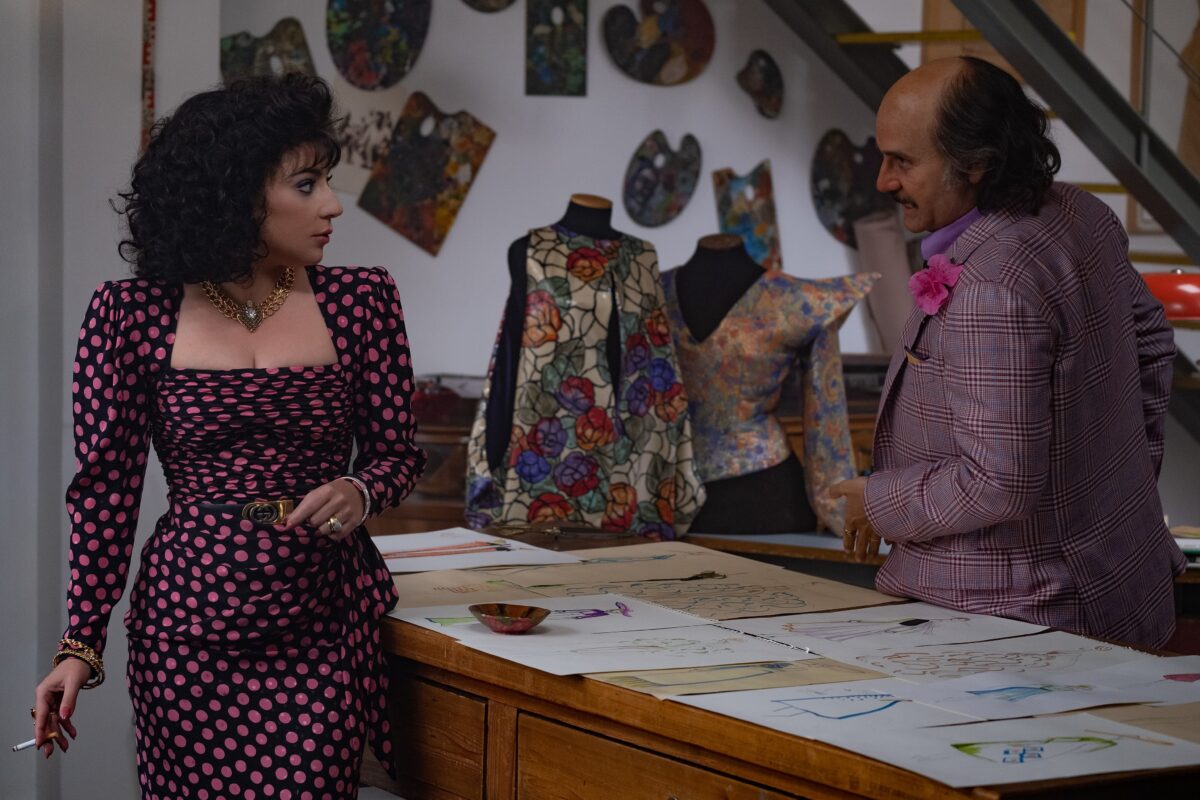 It's like he's using cinema to do penance for having been fated to look in the mirror and realize, in the words of Mohammad Ali: "I'm so pritt-ay." Which he seems to loathe. But at 2 hours and 38 minutes, that's not enough entertainment to recommend "House of Gucci."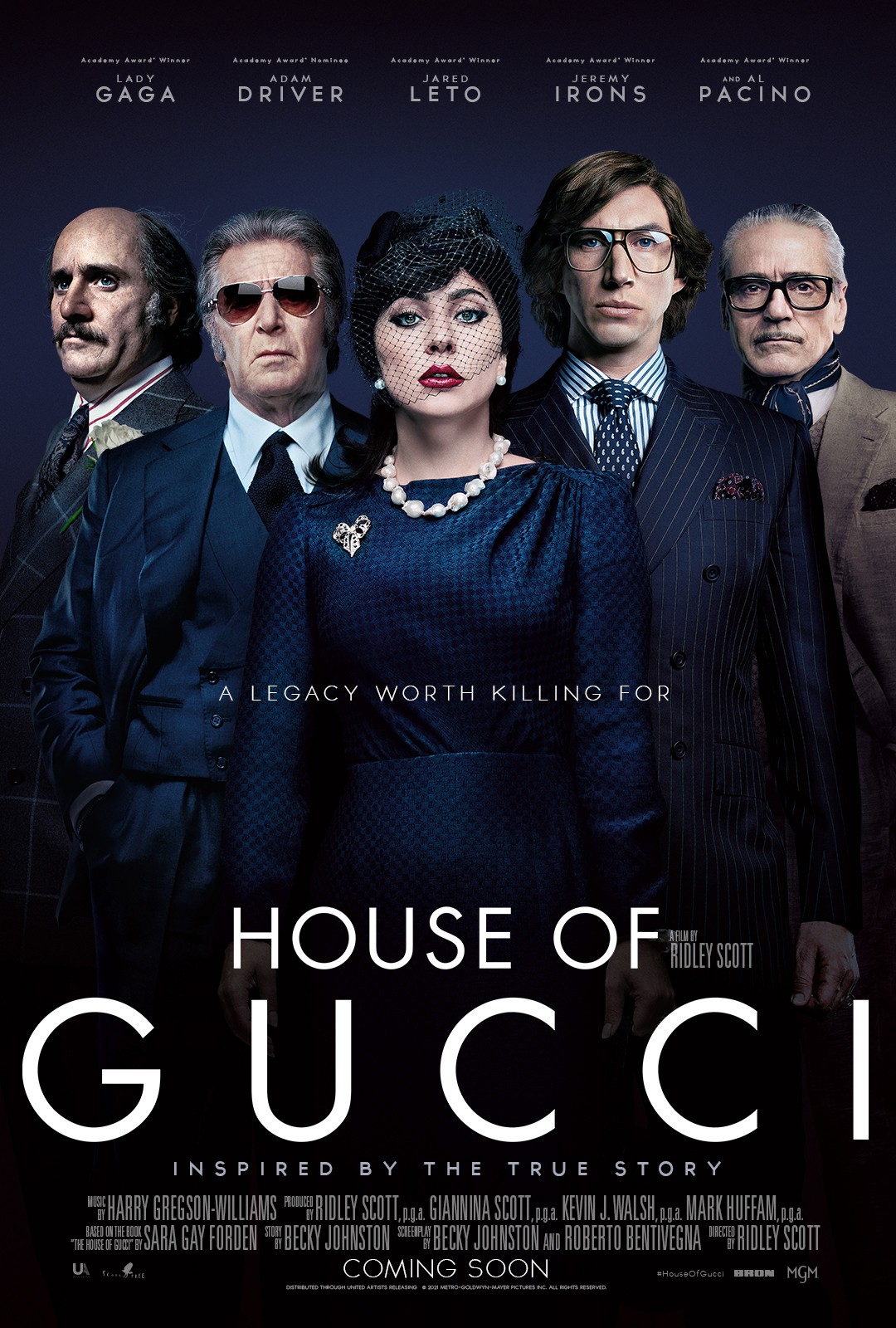 'House of Gucci'
Director: Ridley Scott
Starring: Lady Gaga, Al Pacino, Adam Driver, Jeremy Irons, Jared Leto, Salma Hayek
Running Time: 2 hours, 38 minutes
MPAA Rating: R
Release Date: Nov. 24, 2021
Rating: 2.5 out of 5 stars