Well, I didn't wanna like it—this, this, this "Cruella." "Cruella" is a movie for girl tween-agers about fashion. I prefer a movie where guys punch each other in the face. I'm not exactly a couture aficionado. Here's who I think does fashion well: Jason Momoa. He wears Harley-Davidson T-shirts; that's about my speed when it comes to fashion.
That said, I rather enjoyed this Disney tween girl fluff. Why? Two words: Emma. Wait, that's one word. Emma, Emma. As in Stone and Thompson. They're loads of fun. The cliché, mean-as-a-rattlesnake, fashion-icon diva is a genre that allows actresses to pull out all the stops. Which I believe is a church-organ metaphor. Emma and Emma pull the whole organ out of the church. Very amusing. I'm almost tempted to have another look at "The Devil Wears Prada" and see who pulled this cliché off better, Thompson or Meryl Streep. (I said almost.) I think Thompson edges out Streep.
There's also Glenn Close, who teed off on the role of Cruella de Vil (that dastardly Dalmatian-detesting "One Hundred and One Dalmatians" villainess with the Dalmatian-like hair) when the original 1961 Disney cartoon film was remade in 1996 as "101 Dalmatians."
Beginnings
Emma Stone, one our most delightful young leading ladies, who can tear it up equally on both the comedic and dramatic fronts, has so much fun vamping and camping about with the title role, the fun is infectious. She's definitely the best thing about "Cruella." With a deep, husky British accent, she goes all out with this haute couture designer archetype.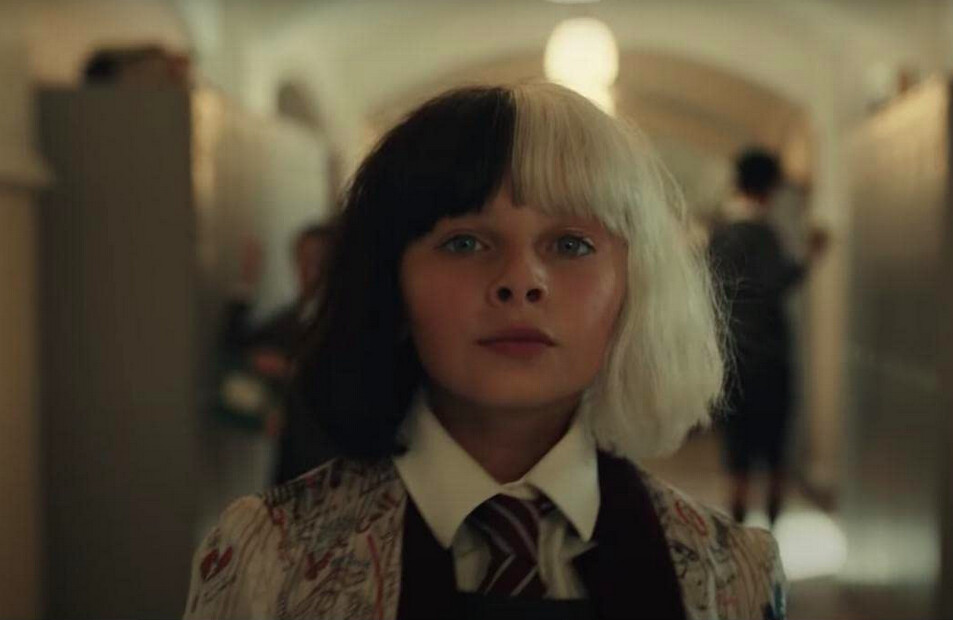 But it takes her a while to evolve into that; she wasn't born that way. Cruella was born Estella, and the movie starts with her birth, with much fuss being made about her strange follicular birth defect. Her youth recalls Charles Dickens's Great Britain; there's also definitely a connection in the similarities of the names Estella, Cruella, and Cinderella.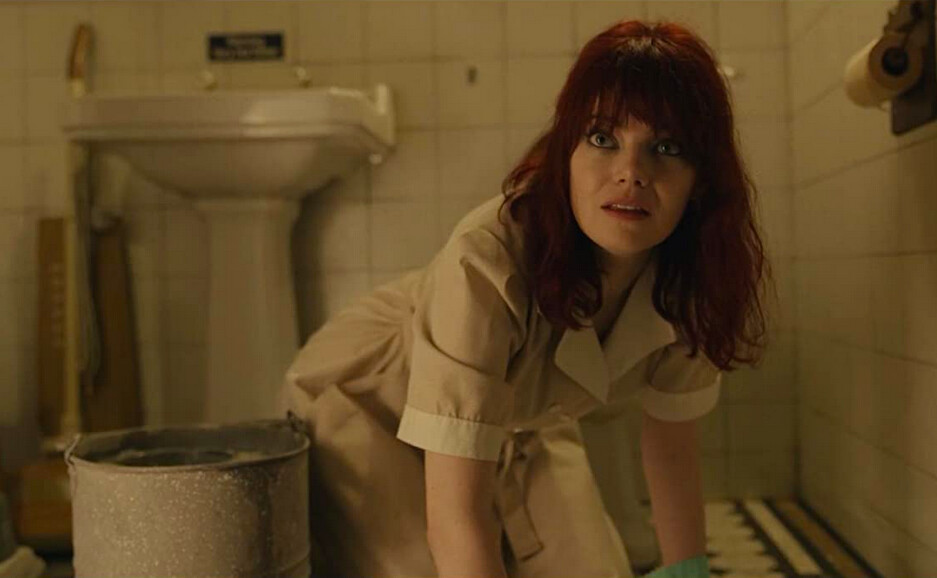 She's soon booted out of school for too much attitude, escapes to London, and falls in with young pickpockets Horace (Paul Walter Hauser) and Jasper (Joel Fry), her future partners in crime.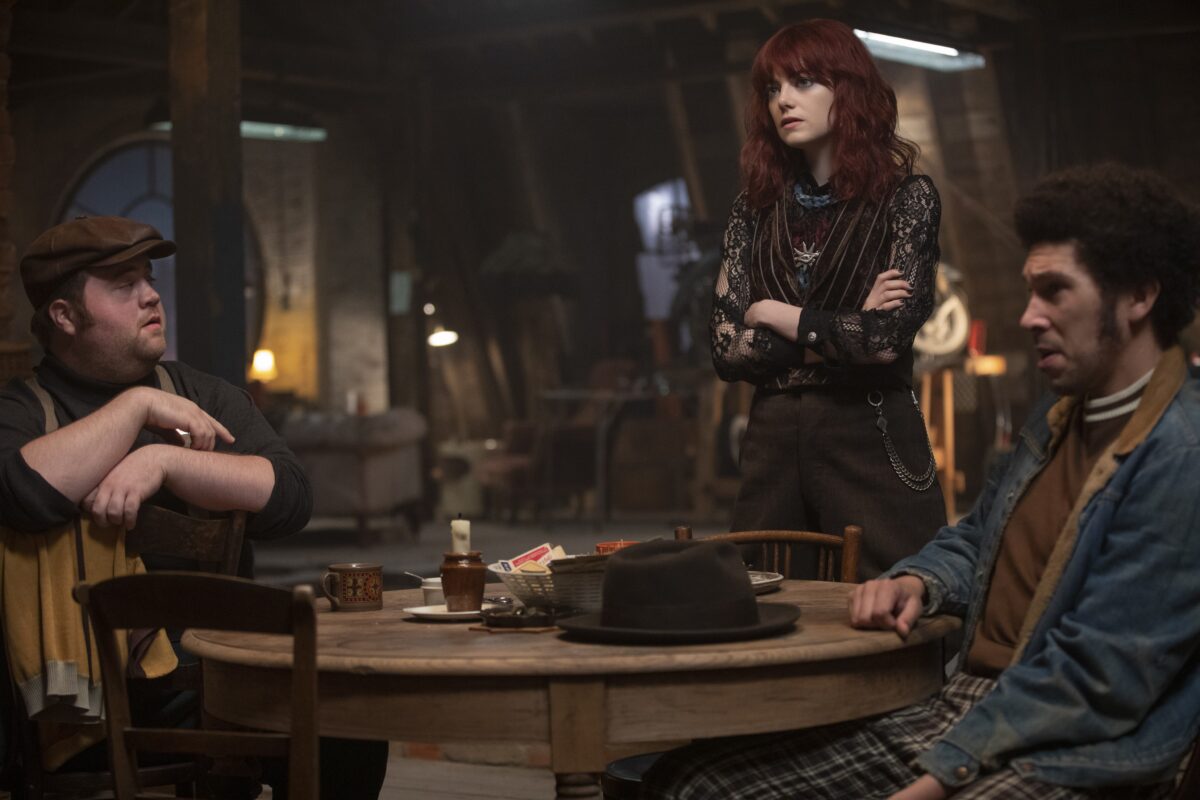 Ten years later, Estella has discovered her flair for fashion and eventually goes to work for London's leading fashionista, the Baroness (Emma Thompson). The Baroness becomes Estella's mentor and eventual archenemy, and is ultimately responsible for the the movie's biggest plot twist.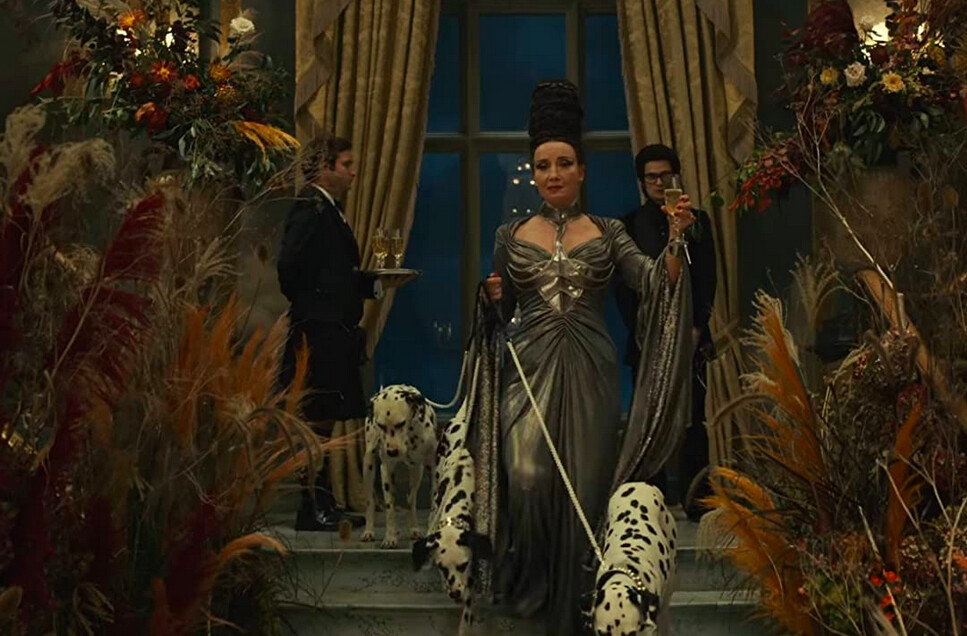 Thompson's rendition of the fashionista archetype is as an icy queen of everything, always in control, always a few steps ahead of the crowd, encouraging and demanding the worship of her minions, and with a haughty flair for humor. She's the quintessential litterbug, flinging empty food containers out car windows, and flicking away hors d'oeuvres toothpicks and no-longer-useful humans with the same imperious disregard.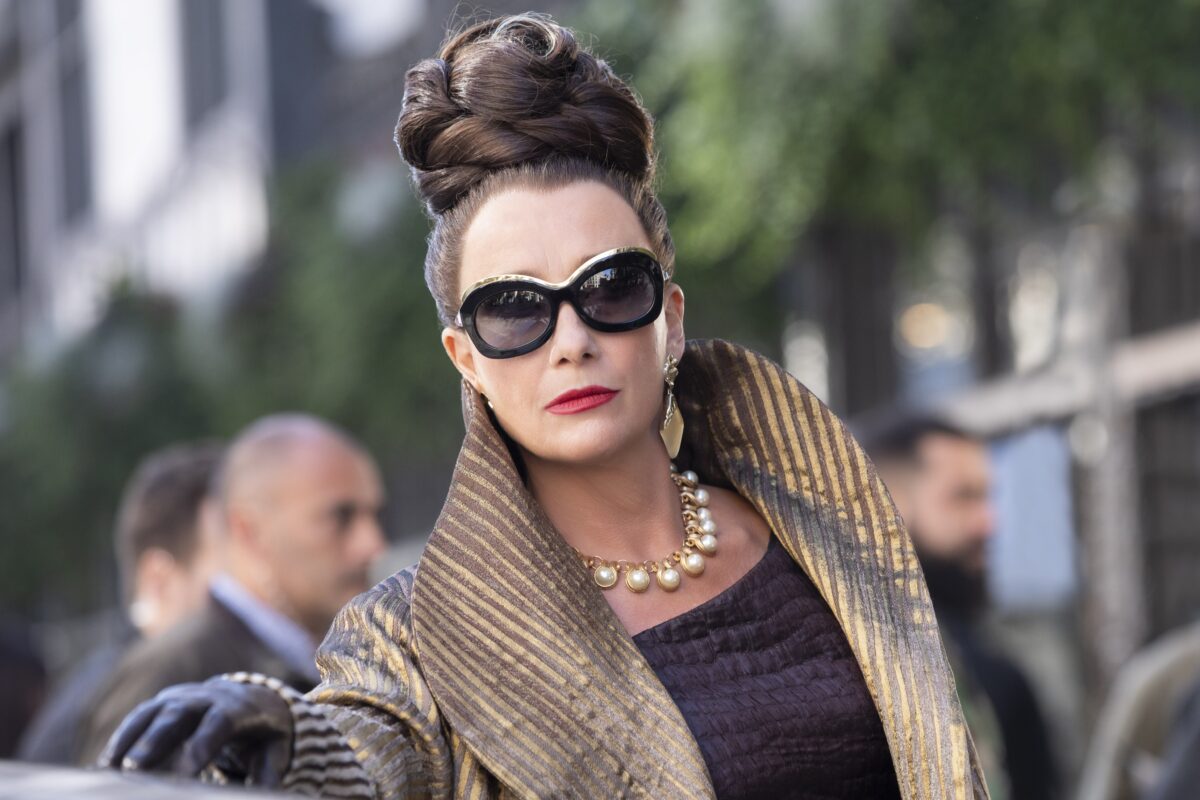 Estella/Cruella is ambitious as they come, and mines her mentoress the Baroness for tips on how to become successful, eventually attacking her with guile, subterfuge, and massive, flashmob-type upstaging events. She starts off sweet and kind and then slides evermore quickly into diva-esque, "All About Eve" narcissistic behavior, to the general unhappiness of her pickpocket buddies.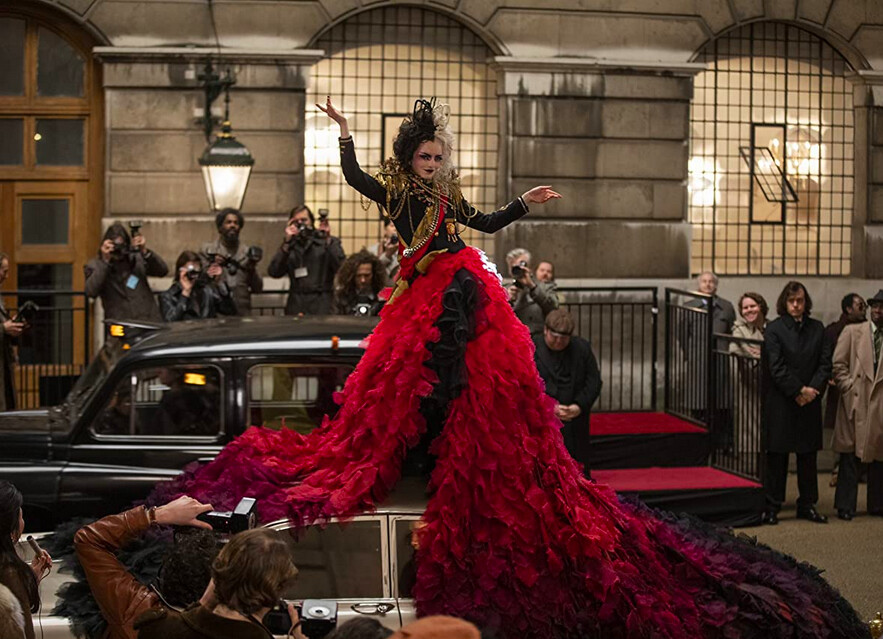 It's Another Villain Origin Film
The origin film is now hugely popular; it's inherently fascinating to go back and discover how people got to where they got to. This trend is now being used a lot to explain the bad behavior of the worst criminals, such as with "Joker" and "Wicked." It's a good device because it can engender compassion and a sense of "There but for the grace of God, go I."
The problem with "Cruella" is that the original Cruella de Vil was all about skinning Dalmatians for her fur coat; she was a cartoonish, bad, bad, evil, cruel person. This newfangled Cruella is much too PC to be skinning pups for pelts. She's now an insidious evil of the self-centered, self-involved, narcissistic type; it's the kind that evolves just by being part of modern selfie culture, and continuously and compulsively starring in, and putting on display, a life more fabulous than the one actually lived. It's a perfect portrait, if  cartoonishly over the top, of this exact soul regression.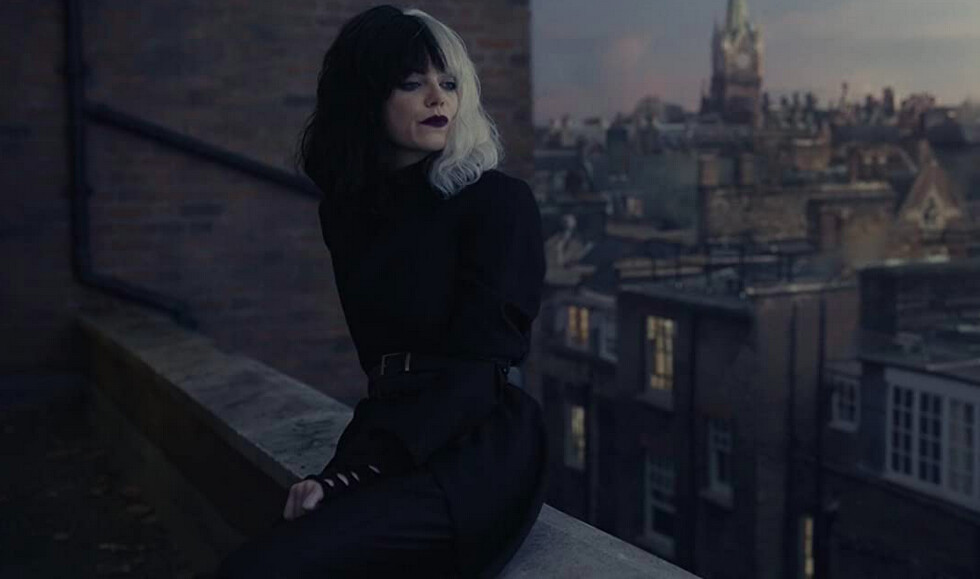 "People need a villain to believe in," Stone-as-Cruella says. And I would respond, in the millennial vernacular: But do we really? While this Cruella is a version of "Wicked" for a younger Disney crowd, with an atmosphere akin to director Tim Burton's type of dark fun, I'm not sure that it's apparent at all that Cruella's soul-devolution is mirroring our current selfie culture. In fact, it may be seen as justification: Kids today may say, in the words of Tom Wolfe, "Skoal!" and "Just so!" and then own it and forge ambitiously ahead with it to their collective detriment.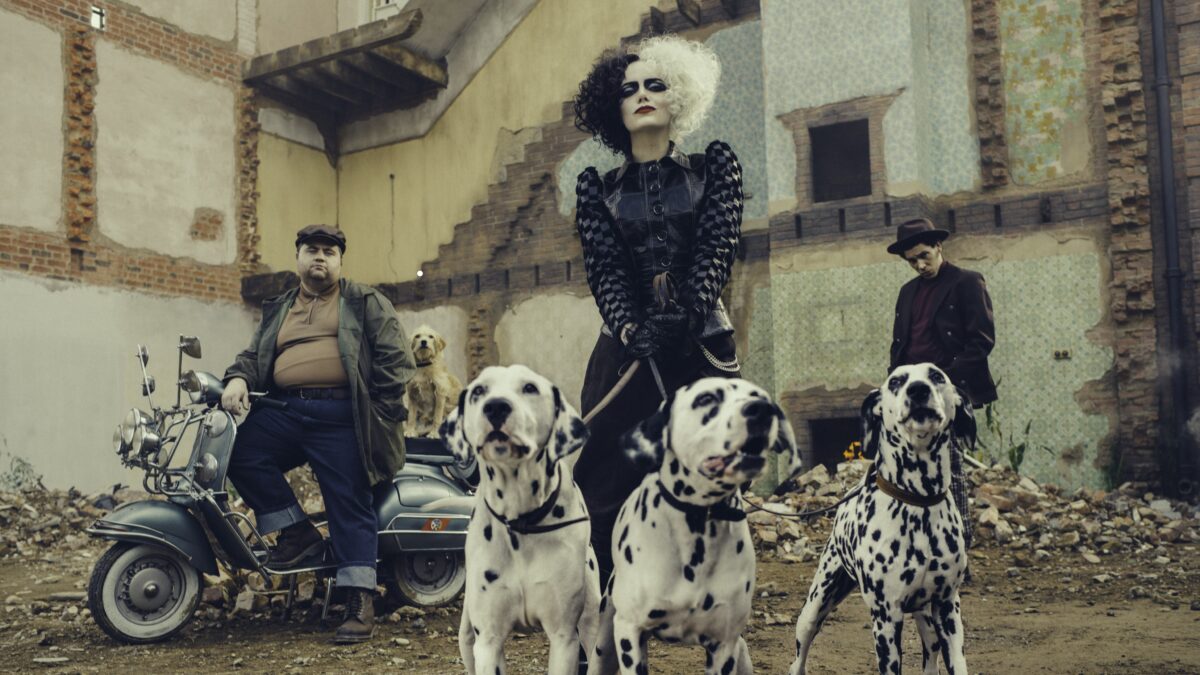 'Cruella'
Director: Craig Gillespie
Starring: Emma Stone, Emma Thompson, Joel Fry, Paul Walter Hauser, Mark Strong
Running Time: 2 hours, 14 minutes
Rating: PG-13
Release Date: May 28; streams for an additional fee on Disney+
Rating: 3.5 stars for fun—2 stars for deleterious effect

Mark Jackson is the senior film critic for The Epoch Times. Mark has 20 years' experience as a professional New York actor, classical theater training, and a BA in philosophy. He recently narrated the Epoch Times audiobook "How the Specter of Communism is Ruling Our World," and has a Rotten Tomatoes author page.