For a father-son duo from Virginia, a Mahi fishing trip took a turn when an unmanned boat almost collided with their vessel. Using their combined expertise, they managed not only to secure the boat but to find and rescue its captain who had fallen overboard.
Jack Sherman and his father, Andrew, went offshore fishing from their vacation home in Topsail Beach, North Carolina, on July 5. They were 37 miles off the coast of Wrightsville Beach when another boat emerged.
"We're stationary, and we have the boat come directly at us, which is pretty insane," Jack, 21, told The Epoch Times in a telephone interview. "We didn't really notice until the last second."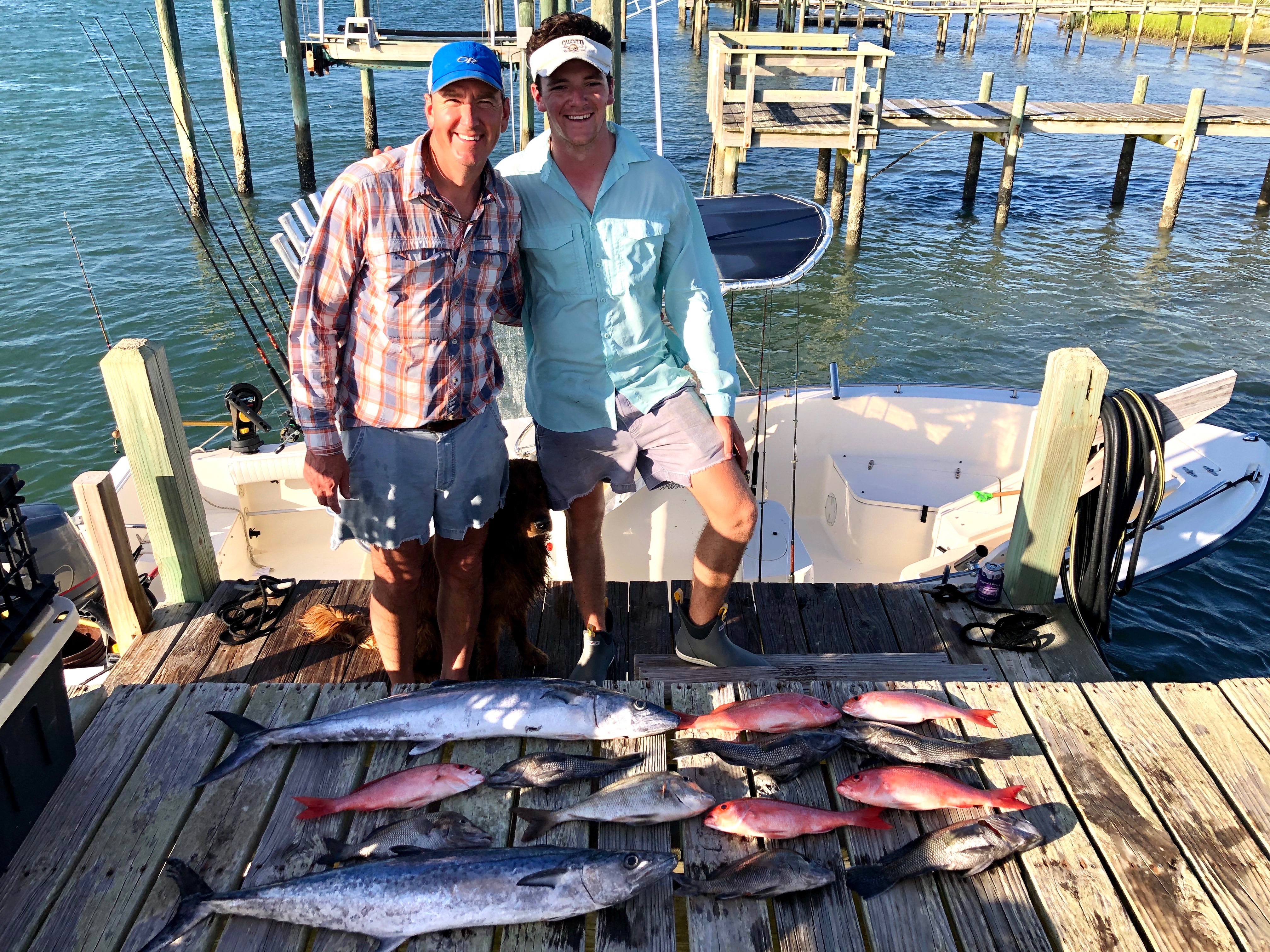 Andrew instructed his son to help move their boat out of the way. "It passed super close right behind us," Jack recalled.
After calling out, "Hello?" and hearing no response, they decided to investigate, first securing the two boats together. Jack jumped aboard.
He shut down the engine and found a wallet and ID lying on a seat, unattended. The pair called the Coast Guard but were acutely aware that every second counted for the errant captain.
"We were just like, alright, we can't let this guy die out here. We need to go find him. So we did," Jack said.
"We went in his GPS and looked at tracks, and the places he had been earlier in the day, and using that information we followed his trackback."
With 50 years of fishing and sea navigation experience between them, Andrew and Jack were able to track back to an intersection of patterns that "didn't make sense," and start looking for the lost boater using a wide, S-shaped search path to cover the most surface area.
Roughly 30 minutes in, Jack saw a pair of shoes floating on the water. Andrew intuited that the missing boater had taken them off to tread water more easily. After another 30 minutes of tracking, Jack and Andrew saw splashing in the distance.
The pair wasted no time and helped the exhausted captain, Sascha Scheller, aboard. His legs were cramping badly; Jack guessed he had been in the water for as long as 2 1/2 hours.
"He was just extremely thankful … really, really thankful," Jack said.
(Courtesy of Jack Sherman)
The 21-year-old, who attends Naval Academy, says he is trained to manage stress and make quick decisions.
"For me, I was kind of able to fall back on super stress-induced methods of thinking," he said. "I was able to focus really hard, and my father is also a really competent individual."
Andrew drove Scheller, who is a local fisherman and father of two, and his boat back to shore while Jack manned the Shermans' vessel.
Incredibly, Scheller didn't need any medical attention. The following day, Scheller posted his story on Facebook as a cautionary tale for others.
"I got too comfortable, and decided with the conditions of the ocean yesterday being as good as it gets … to take my life jacket off for a bit, which I never do when I'm by myself," he wrote. "I somehow lost my footing, and in less than a split second I was in the water."
The Shermans, he added, are "true heroes" for their actions. "To them, I and my family will be forever grateful and indebted!" Scheller wrote.
"Never get too comfortable… Always keep safety equipment on you," he cautioned.
Days later, the trio decided to reunite at a meeting spot between their two homes to relive the shared experience. "Almost everyone in that situation dies," Jack told The Epoch Times, describing the captain as a fantastic guy and a really great boater.
"Which just goes to show it could happen to anyone," he said.
While reliving the rescue, Jack and Andrew learned an incredible fact: Scheller thinks it was a fish on his fishing line that turned the boat in the direction of the Shermans' vessel, enabling them to save the captain's life.
Share your stories with us at emg.inspired@epochtimes.com, and continue to get your daily dose of inspiration by signing up for the Epoch Inspired newsletter at TheEpochTimes.com/newsletter