Engineer Gets 'Goose bumps' From Shen Yun
April 14, 2014 8:09 pm Last Updated: May 3, 2014 8:15 pm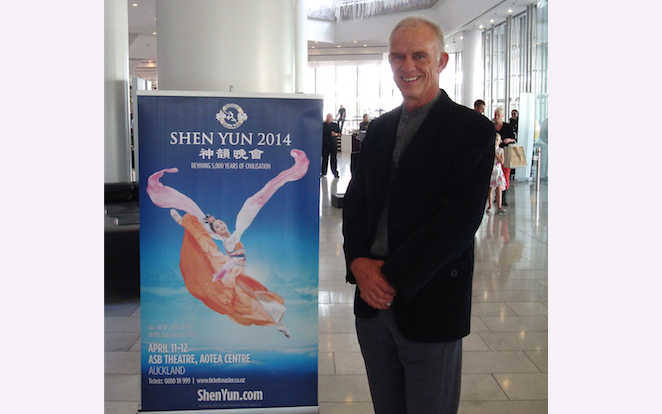 AUCKLAND, New Zealand—Engineer Achim Klupes travelled 350kms from New Plymouth to see Shen Yun Performing Arts, the world's premier classical Chinese dance company in Auckland.
"I really get the goose bumps from it and I just love to see this performance that is such an art. The show is really taking me into the culture of China."
Mr. Klupes saw the New York-based Shen Yun at the ASB Theatre in Aotea Centre, April 12.
"It is really touching my heart. It is the people, it's the dresses, it's the music, it's the performance, and it's the perfection in the performance. It is just overwhelming."
Mr. Klupes was greatly impressed with the performers. "They do it with their heart and with full power," he said.
He was also "very touched" not only with the beauty of China's 5,000-year-old culture, but also by the contemporary stories of modern day China.
"I am too much a Chinese fan. I see it only with big eyes, my heart is beating. I texted some friends in Chinese, 'if you haven't seen it come here and see it. This is from your culture, they are real [authentic] Chinese."
Mr. Klupes hoped Shen Yun would spread widely and more shows would come to New Zealand.
"I just wish that more people can come and see what these people can do."
Reporting by NTD Television and Raiatea Tahana-Reese
New York-based Shen Yun Performing Arts has four touring companies that perform simultaneously around the world. For more information, visit Shen Yun Performing Arts.
The Epoch Times considers Shen Yun Performing Arts the significant cultural event of our time. We have proudly covered audience reactions since Shen Yun's inception in 2006