Skye McAlpine, cookbook author and consummate hostess, doesn't believe you need a special occasion to cook for the people you love.
"If you keep things simple, if you can find a way to have friends over more often and make gatherings a regular, easy part of your life, you will feel richer for it," she writes in her forthcoming cookbook, "A Table for Friends."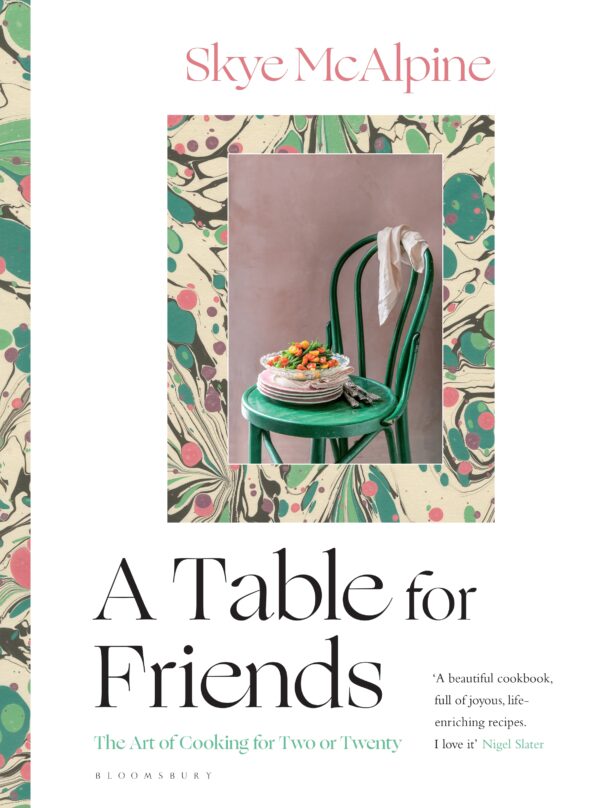 Of course, not much has been regular or easy these past months, much less gatherings. McAlpine, who splits her time between London, where she was born, and Venice, Italy, where she and her family moved when she was six, spent them on lockdown in London, busy balancing work and homeschooling but still cooking up a storm—if on a smaller scale, rather than for her usual constant rotation of dinner party guests. (A silver lining, she said, has been "sitting down to three meals a day together as a family: it's been a real joy.")
But as we ease out of lockdown, itching for connection and fresh air, safely gathering around food with close friends and family again may be just the balm we need. Better yet if it's done outside under the summer sun, around a backyard table or picnic blanket.
McAlpine proves an inspiring guide with her elegant but unfussy approach to cooking and hosting.
Take her lead and cook up a spread of "the kind of food you can plonk down in the center of the table for everyone to tuck into, towering platefuls of it, higgledy-piggledy, unpretentious, colorful, and overflowing," she writes.
To lay the table, she prefers bowls of colorful fruit over fancy flowers—that way, she writes, after the meal, "everyone breaks into the decorations and helps themselves."
And she has a rule of no starters: that means less to plan, fewer dishes to wash, and no interruptions of the flow of conversation to clear the plates for the next course. Instead, she suggests, set out a selection of low-effort nibbles: good olives, cheese, and charcuterie; whole radishes with butter and salt; a bowl of salty chips ("not chic or imaginative, but everyone loves them").
Here, she shares her tips and a trio of seasonal recipes for stress-free summer entertaining.
The Epoch Times: What do you love most about cooking for others? 
Skye McAlpine: It's such a simple and rewarding way of showing love, of bringing a little joy into someone's life. On a more selfish note, I love nothing more than to eat in the company of friends and indulge in their company, and cooking a good meal for us all to share together is an easy and fun way of bringing that about! 
The Epoch Times: How do you like to cook, eat, and host in the summer? 
Ms. McAlpine: In the heat of the summer, I'm a big fan of "no-cook" cooking, recipes that you can just toss together on a plate and that don't involve a hot oven or hours simmering away over the hob. There's a whole section on this kind of cooking in my new book—and I think it might be my favorite part. 
One of my favorites is burrata with preserved lemons: you just arrange a few of the cheeses on a nice plate, drizzle with a little olive oil, and sprinkle over a few slivers of finely sliced preserved lemon. I can't tell you how good it is. Something about the buttery, creamy cheese, and the sharp, salty lemons. 
I also love fig carpaccio—just slivers of fig with a drizzle of honey and a few sprigs of rosemary.
The Epoch Times: What are your go-to summer dishes?
Ms. McAlpine: Spaghetti with a creamy lemon sauce and just a dash of fresh thyme is a real favorite. There's no reason why you have to make it in the summer, as lemons are available for sale all year round, but it's such a sunny, light dish that somehow, I always associate it with lunches al fresco. 
I also love strawberries at this time of year: strawberries in either lemon syrup or a sweet red wine syrup are a go-to dessert for summer entertaining.
The Epoch Times: What's your favorite way to set a summertime table?
Ms. McAlpine: I like to decorate it with lots of bowls of fruit. There is so much beautiful fruit in season right now—peaches, plums, apricots, cherries, and so on—it seems a shame not to take advantage of it.
The Epoch Times: What are your best tips for picnics and other al fresco meals? What do you like to pack and serve, and how do you set the scene and make the experience feel special?
Ms. McAlpine: I love a good picnic! It's such a fun way to have lunch. 
The key is to take a nice blanket or tablecloth to lay out on the ground and designate your "table." Then I always bring proper linen napkins with me because I think it makes the whole thing feel more luxurious and special. For the rest, you can use paper plates, though I have some old enamel ones which I love—they're inexpensive to buy, never break, and last forever. Plus, they're reusable. 
I always keep things simple and focus on the kind of food that can be packaged up easily and travels well: chilled soup in flasks; chunks of fennel, carrot, and red pepper with mayonnaise for dipping; charcuterie and hard cheeses; a good loaf of bread. Then, for dessert, punnets of strawberries and perhaps a tin of meringues. 
A pretty picnic basket goes a long way toward making things feel special. I also make a point of avoiding any plastic packaging as it really ruins the mood: I wrap sandwiches in greaseproof paper and tie them with twine; try to use glass bottles for water, lemonade, and other drinks; and use tins rather than plastic containers to transport cake, and tarts, and so forth. 
The interview has been edited for clarity and brevity.
RECIPE: Sicilian Couscous Salad
RECIPE: Spaghetti With Creamy Lemon Sauce
RECIPE: Summer Berry Cloud Cake