NEW YORK—Based on the 1948 film by Michael Powell and Emeric Pressburger, as well as the Hans Christian Anderson fairy tale, Matthew Bourne's presentation of "The Red Shoes" masterfully tells a tale of three people undone by obsessive ambitions.
In late 1940s, impresario Boris Lermontov (Sam Archer) is the undisputed king of the ballet world. Serious and imposing, he's always the center of attention, with people hanging on his every word and standing when he approaches.
Determined to join Boris's ballet company is Victoria Page, (Ashley Shaw), a young woman who dances for him as part of the company's after-party entertainment during its London engagement. While initially unimpressed, Boris eventually sees potential in both Page and her accompanist, Julian Craster (Marcelo Gomes), a struggling composer, and invites them both to join his troupe.
With Julian working as a rehearsal pianist and Victoria in the ballet chorus, their stars seem to be on the rise. However, things change suddenly when Irina Boronskaya (Michela Meazza), the company's prima ballerina, is injured during rehearsal, and Victoria is chosen to take her place in the company's new ballet "The Red Shoes."
When the "Red Shoes" proves to be a great hit, (the dancing here by Shaw and her co-star in the sequence (Danny Reubens) is nothing short of brilliant), it is Boris who is most affected. He finds himself falling in love with Victoria, while also growing jealous over her and Julian's own burgeoning romance.
Boris sees Julian, who has now started writing his own music for the company, not only as a romantic rival, but also someone who will distract Victoria from her dancing career—something the driven Boris cannot allow. The tension between the two men grows until Victoria is forced to choose between man she loves and the art form which defines who she wants to be.
If there were an ultimate moral to the show it is that ambition, unchecked by reason or compromise will lead to one's downfall, be it personally, professionally, or both. Boris, Victoria, and Julian each initially stick to their own moral certainties, and all suffer for it. None are willing to make the sacrifices necessary to prevent their individual passions from overtaking and destroying what they love.
Thanks to Bourne's direction, the way the story is told allows the audience to feel the passion and joy of these people when enmeshed in their art; along with their pain and anger when what they desire most is threatened.
Told completely in dance, Bourne and company are able to make the story spring wonderfully to life. From Boris' stiff attitude, to the continual exasperation by the ballet master (Glenn Graham) over repeated failures by company members to follow a certain step in rehearsals, we are always able to read the emotions on characters' faces.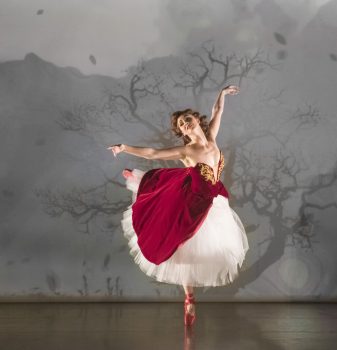 The best word to describe the dancers themselves would be powerful: their movements deliberate, certain and poised, whether threatening to overwhelm a total innocent in the "Red Shoes Ballet" or performing in period bathing suits and an end-of-season beach party.
It helps tremendously that Bourne's choreographic work enables him to fully realize the vision he had for the piece. This is particularly evident in the show's intimate moments, such as a confrontation between Victoria and Julian. When the characters leave Boris's company and are reduced to living in a cheap flat in London, they take their anger and frustrations out on each other in a fantastic choreographic display of physicality, expressing sensuality and pain.
Another good idea was to use music of the late Oscar-winning composer Bernard Herrmann. Best known for his film scores for Alfred Hitchcock, his music helps to create a feeling of urgency and power, particularly during the "Red Shoes Ballet." Though even during the lighter moments, such as an end of season beach party for the company, the music brings forth an underlying tension.
As Boris, Archer perfectly projects an air of certainty and imperiousness. A nice touch by Bourne and set/costume designer Lez Brotherston was to have the actor always dressed as though going to a formal dinner, conveying that Boris is never being able to relax, no matter the circumstances.
Shaw is wonderful as the young ballerina turned star whose need to dance soon becomes everything. When cut off from that world and forced to perform in an English Music Hall in order to survive, she looks like someone has cut off one of her limbs.
Gomes works well as Julian, though his character is often overshadowed by Boris and Victoria. Yet it's not long before he too succumbs to ambition and the expectation that everyone will support his artistic journey, irrespective of their own.
Brotherston's scenic work, ranging from a ballet rehearsal space to a scene with an oncoming train, are excellent. Lighting work by Paule Constable also augments the story, especially in the final scenes.
An exhilarating experience, Matthew Bourne's "The Red Shoes" is an artistic triumph.
Also in the cast are Sara Mearns, Cordelia Braithwaite, Dominic North, Nicole Kabera, Liam Mower, Will Bozier, Leon Moran, Kate Lyons, Stephanie Billers, Katrina Lyndon, Katie Webb, Seren Williams, Joshua LM Harriette, Andrew Monaghan, Jackson Fisch, Jack Jones, Philip King, Daisy May Kemp, Dominic Lamb, and Joe Walking.
'The Red Shoes'
New York City Center
131 W. 55th St.
Tickets: 212-581-1212 or NYCityCenter.org
Running Time: 2 hours, 10 minutes (one intermission)
Closes: Nov. 5
Judd Hollander is a reviewer for Stagebuzz.com and a member of the Drama Desk and the Outer Critics Circle.