Can you ever get enough corn in the summer months? I don't think so. Once you locate a purveyor of fresh sweet corn, you may find yourself there more often than usual just to pick up a few extra ears. I have a farm stand nearby, and I can't stop myself from picking up a few extra ears when I find myself in the area.
I've made more than my share of side dishes, salads, and soups with corn as a main ingredient. This simple soup is a favorite of mine when surprise cold weather shows up in the summer.
Every summer includes a few chilly days when you crave something warm and substantial. This recipe is a good solution because it uses seasonal produce in a hearty way.
The bacon adds an important flavor element. You'll also notice some of the soup is pureed, giving it a bit of thickness without using flour. If you like spice, feel free to throw in a chopped jalapeño or serrano chile when sautéing the red pepper. You could also add chipotle hot sauce for some smoky heat.
Serve bowls of this chowder with hot, crusty French bread and a vegetable salad for a satisfying meal.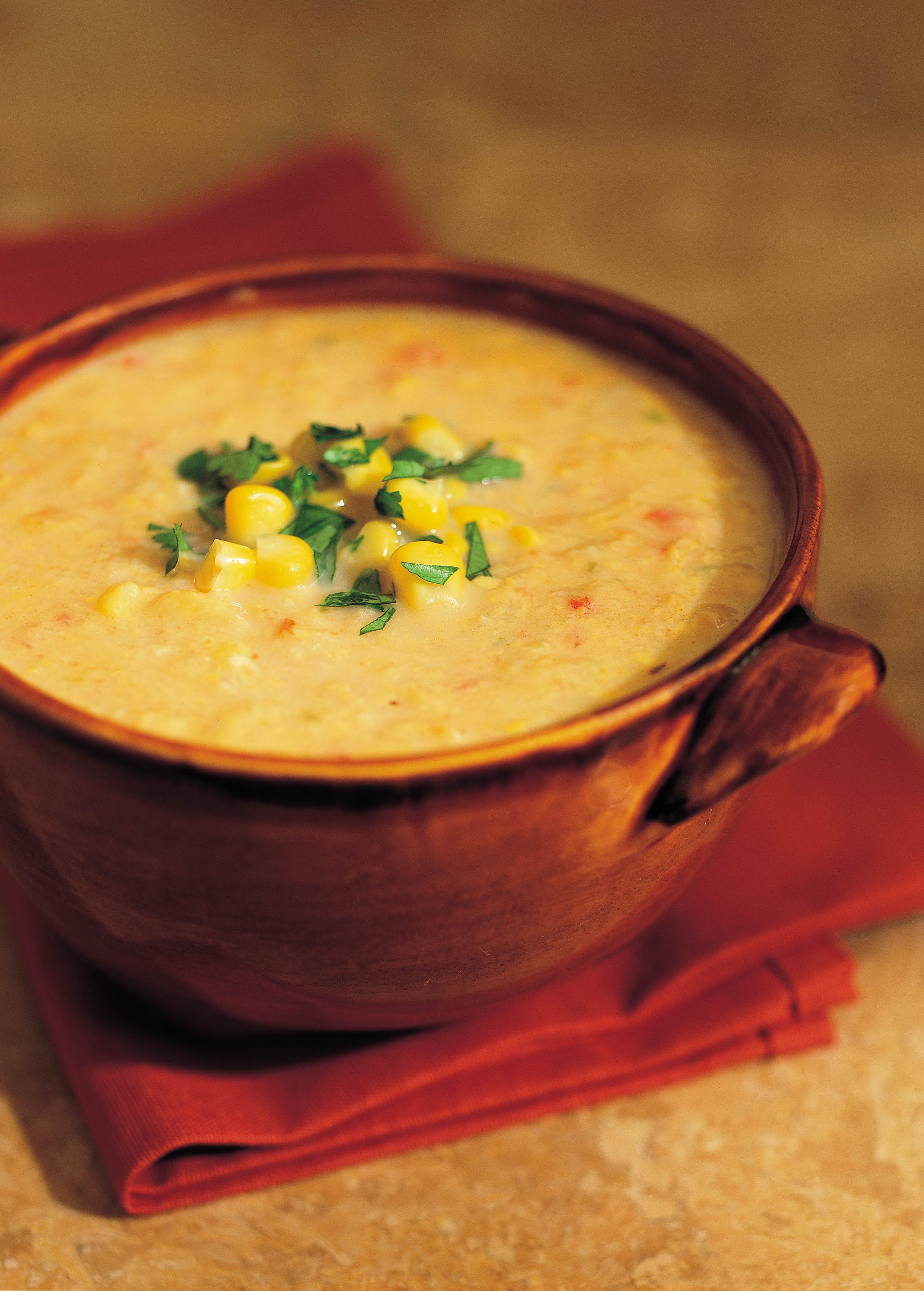 Corn Chowder With Bacon, Potatoes, and Red Peppers
Serves 6
1/4 pound bacon, cut into 1/2-inch pieces
1 large onion, finely chopped
2 pounds white rose or red rose potatoes, peeled and cut into 1/2-inch pieces
1 large red sweet pepper, seeded and finely diced
6 cups chicken or vegetable stock
2 fresh thyme sprigs
4 cups corn kernels (from about 8 medium ears)
1/2 cup milk or whipping cream
Salt
Freshly ground white pepper
1 tablespoon finely chopped parsley, for garnish
Place the bacon pieces in a large non-aluminum soup pot over medium heat. Sauté until crisp and light brown, about 5 minutes. Using a slotted spoon, transfer to paper towels and reserve.
Add the onion to the bacon drippings and sauté over medium heat until softened but not browned, 3 to 5 minutes. Add the potatoes and sauté until slightly softened, about 3 minutes. Add the red pepper and continue to sauté for another minute, stirring constantly.
Raise the heat to medium-high, add the chicken or vegetable stock and thyme, and bring to a boil. Reduce the heat to medium-low, cover partially, and simmer until the potatoes are just tender, about 20 minutes. Discard the thyme sprigs.
Scoop out about 1/4 of the potato-vegetable mixture and place in a food processor or blender. Process until smooth. Return the puree to the soup.
Add the corn and cream and cook for about 5 minutes longer to cook the corn and blend the flavors. Add the bacon and mix to combine. Stir in the salt and pepper and taste for seasoning.
Ladle into bowls, garnish with parsley, and serve immediately.
Advance Preparation: This may be prepared 8 hours in advance and refrigerated. Reheat gently and garnish with parsley before serving.
Copyright 2021 Diane Rossen Worthington. Distributed by Tribune Content Agency, LLC.