The routine draining of a lagoon in Britain exposed the remains of a Jurassic reptilian sea-dweller called the ichthyosaur—more impressively known as the "sea dragon."
In preparation for re-landscaping, regrading islands in the UK's Rutland Water Nature Reserve, Rutland water conservation team leader Joe Davis, alongside Reserves Officer Paul Trevor, spotted what looked like "clay pipes" protruding from the mud. Only they weren't pipes. Davis noted that they "looked organic."
"I worked out on the Hebrides, so I've found whale and dolphin skeletons before. This appeared similar and I remarked to Paul that they looked like vertebrae," Davis said in a press release. "We followed what indisputably looked like a spine and Paul discovered something further along that could have been a jawbone.
"We couldn't quite believe it."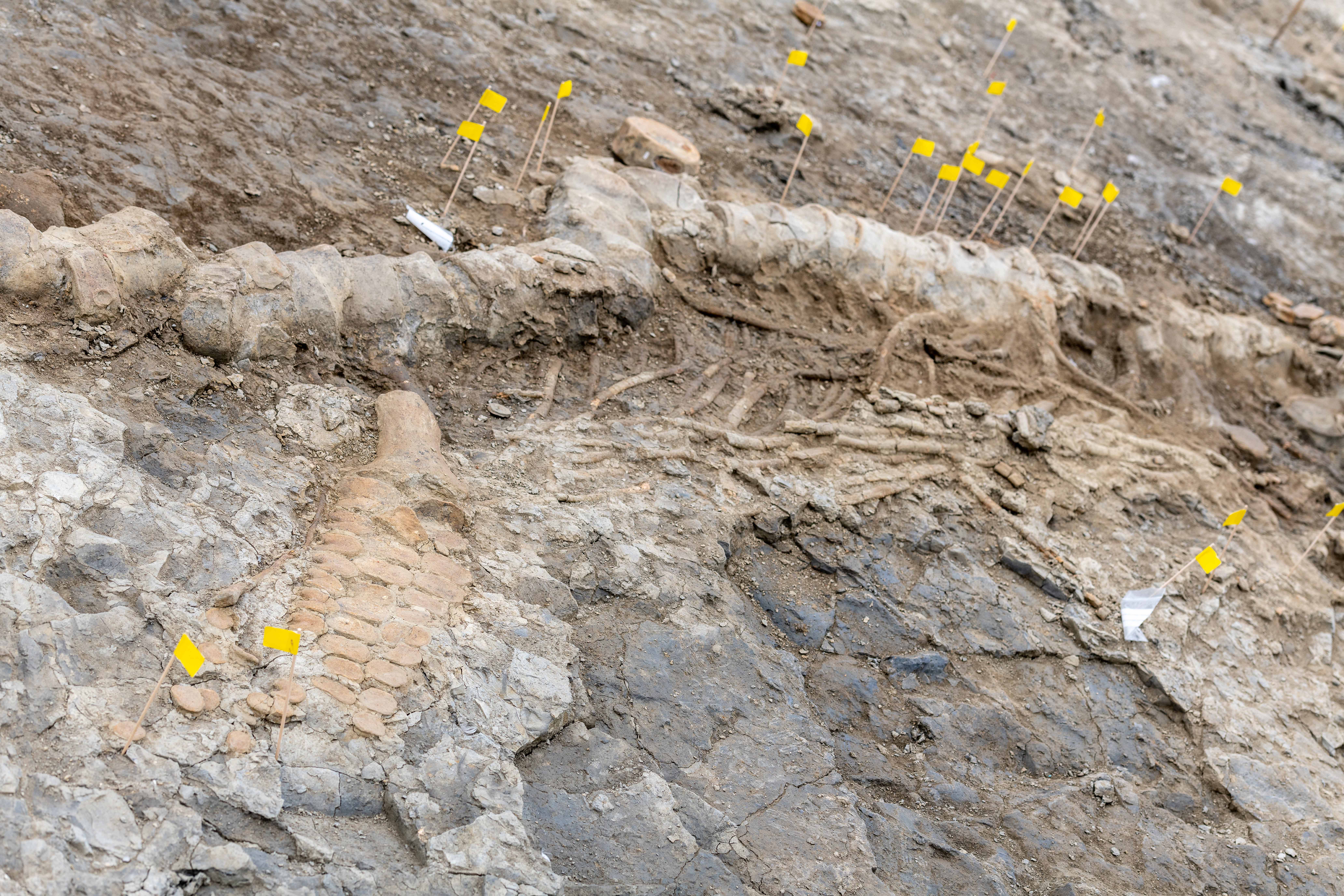 The initial ichthyosaur skeleton sighting, in February 2021, was followed by an excavation in August and September. A team of expert paleontologists assembled from around the UK partnered with Anglian Water, Rutland County Council, and Leicestershire and Rutland Wildlife Trust to unearth the long-extinct behemoth of the sea.
The operation was led by ichthyosaur expert Dr. Dean Lomax and several other paleontologists, marine reptile specialists, and volunteers experienced in excavating fossilized marine reptiles.
Meticulous excavation uncovered a fragile specimen dating back to the Jurassic period approximately 180 million years ago. Measuring over 10 meters (33 feet) long, with a 2-meter-long (6.5-feet-long) skull weighing about one metric ton, it is the largest and most complete ichthyosaur skeleton to date found in the UK—famously known as "the birthplace of ichthyosaurs," said Lomax. It is also the first of its particular species, Temnodontosaurus trigonodon, found in the country, the release stated.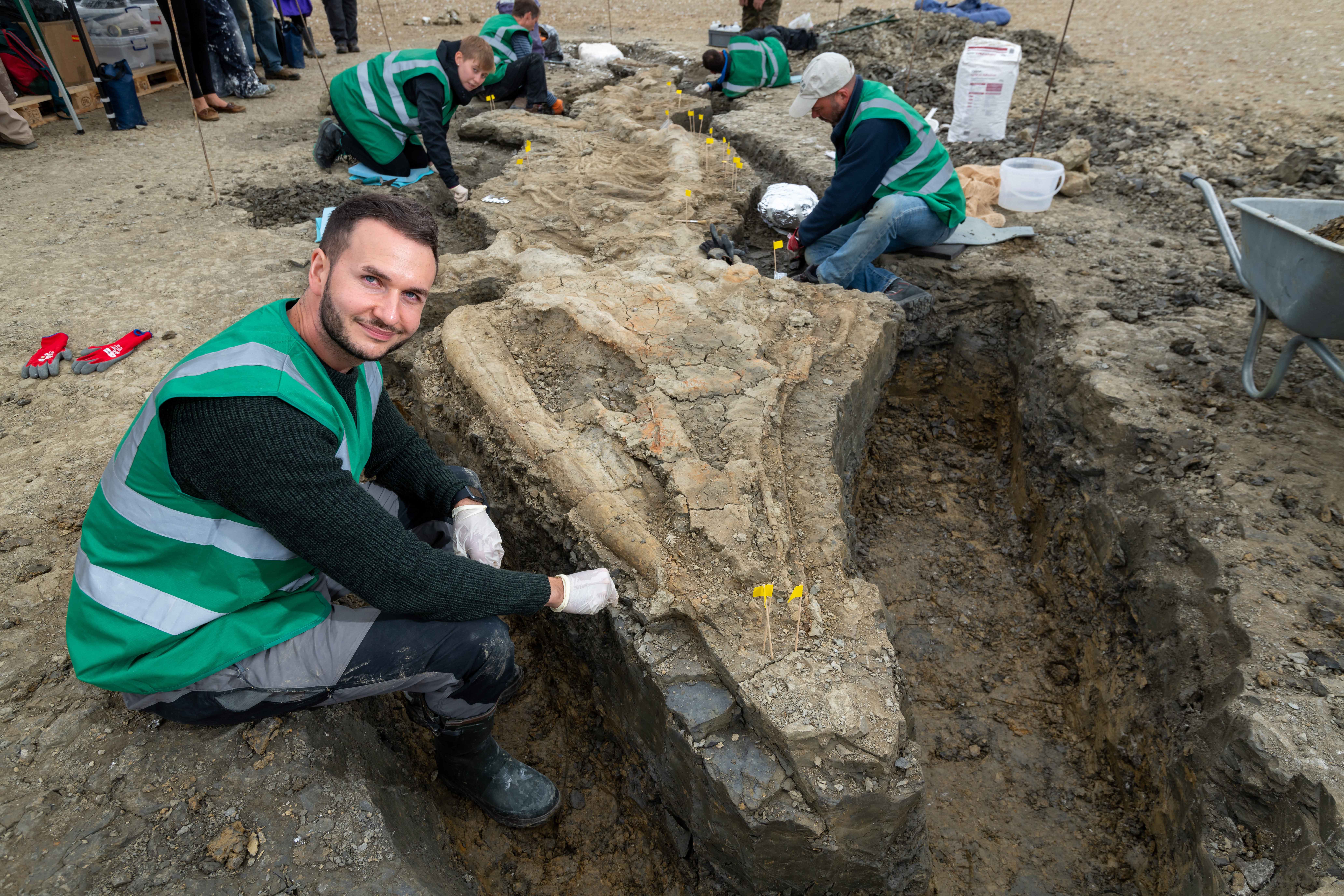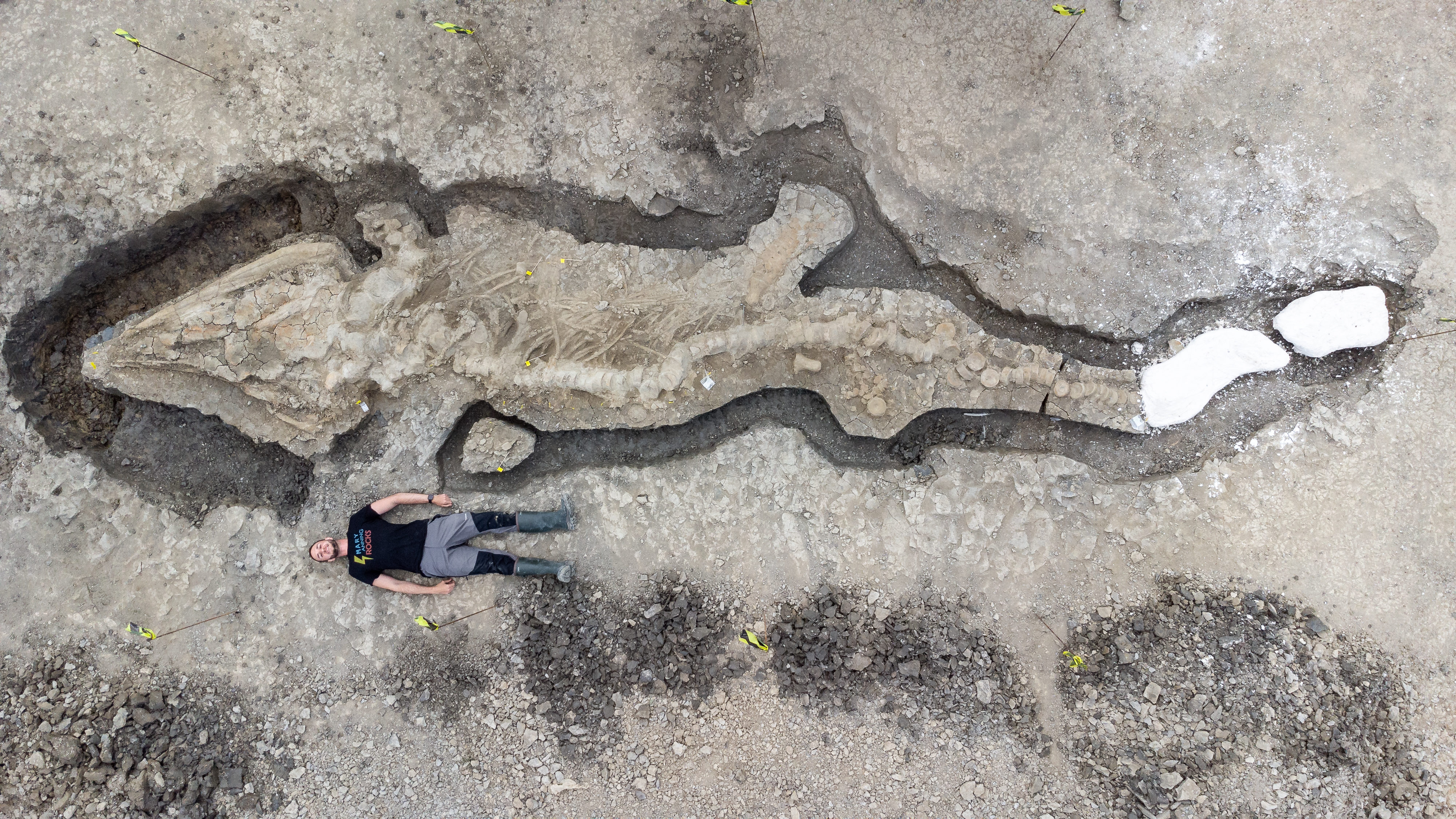 "Sea dragons" first appeared in the Triassic period around 250 million years ago before going extinct some 90 million years removed. This extraordinary group of marine reptiles varied in size from 1 meter to over 25 meters in length with a body that somewhat "resembled dolphins" in shape—only much larger that dolphins and more ferocious. Although reptilian, these ancient sea dwellers are not dinosaurs.
This ichthyosaur discovery is not the first conducted at the Anglian Water reservoir. Two other incomplete and much smaller ichthyosaurs were found during the site's initial construction in the 1970s. "Rutland Water has a long list of previous, fascinating archaeological and paleontological discoveries, but none more exciting than this," said Anglian Water CEO Peter Simpson. "We also recognize the significance a find like this will have for the local community in Rutland. Our focus now is to secure the right funding to guarantee it's legacy will last into the future."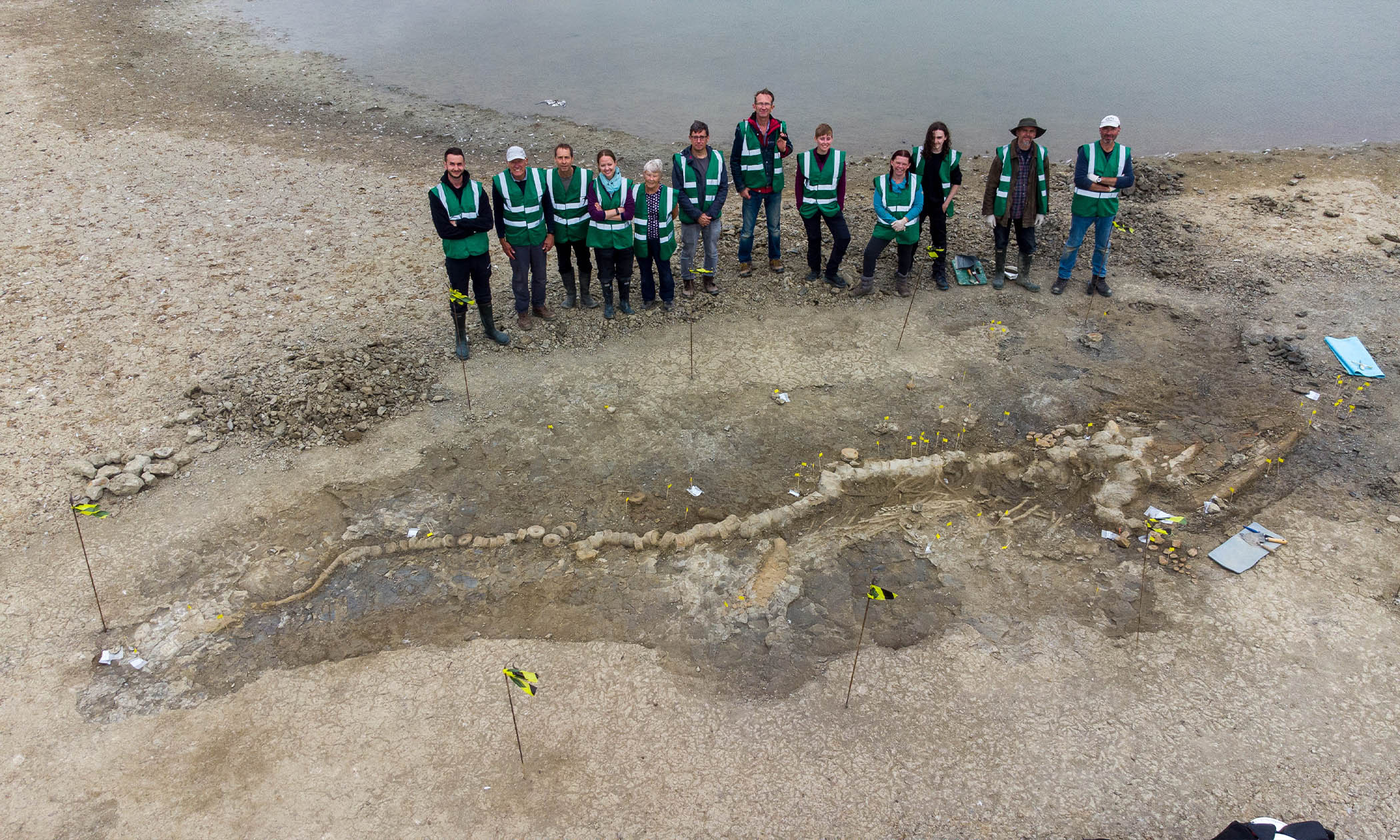 The delicate bones were carefully removed from the mud and covered in plaster of Paris for protection, before being shipped to a laboratory 2 1/2 hours' drive from Rutland, the New York Times reported. Further work to remove rock from and preserve the skeleton could take between 18 and 24 months, said Lomax, adding that researchers hope to keep the specimen in the Rutland area for display.
For the smallest county in the UK, the record-setting sea dragon discovery fits Rutland's motto: "Multum in Parvo," translating as "Much in Little." "Despite the many ichthyosaur fossils found in Britain, it is remarkable to think that the Rutland ichthyosaur is the largest skeleton ever found in the UK," added Lomax. "It is a truly unprecedented discovery and one of the greatest finds in British paleontological history."
Share your stories with us at emg.inspired@epochtimes.com, and continue to get your daily dose of inspiration by signing up for the Bright newsletter at TheEpochTimes.com/newsletter