Chicken noodle soup has been cast as the ultimate healing food in America for many decades.
Recovering from a nasty head cold? Here, eat a bowl of Mom's chicken noodle soup! On the mend after a bout with the stomach flu? But of course, your first solid food must be chicken noodle soup! 
This past week, I came down with my first cold of the season. And it was a bear of a cold: runny nose, sore throat, too congested to breathe or eat without having to gasp for air—the whole nine yards. Having grown up in a home where chicken noodle soup was our sick-day default meal, I found myself yearning for a piping hot bowl of it. 
My nutritional knowledge is a bit more robust now than when I was a kid growing up in North Carolina, and after looking over a couple of classic chicken noodle soup recipes, I couldn't help but think: How on earth is this supposed to make me feel better? Chicken broth has plenty of restorative properties from the vegetables and chicken bones from which it's made, but beyond that, a classic chicken noodle soup frankly doesn't contain much in the way of healing ingredients. 
So I turned to my refrigerator and cabinets in search of ingredients that would serve two purposes: They needed to create a delicious, craveable soup, and they also needed to restore my health. Oh, and I needed to make it in under an hour, before my 9-month-old woke up from his nap. 
A Star-Studded Cast

I kicked things off by sautéing an onion in some butter. Say what you will about butter, but I tend to pay more attention to the research that tells us that high-quality animal fats like grass-fed butter are good for us, delivering vitamin A and K2, among other benefits. Plus, it will help give the soup a bit of richness. 
Next up, garlic! When a friend heard me start sniffling last weekend, she confided that she and her husband both swear by eating a whole, raw clove of garlic when they begin to feel a sickness coming on. I'm not a doctor, so I won't attempt to explain the merits of garlic's immune-boosting properties, but I will say that there are a lot of people out there who believe in the healing powers of garlic. 
Which brings us to our next additions: ginger and turmeric. Both of these knobby looking roots are widely used in Eastern medicine. The anti-inflammatory gingerols in ginger are just one of its purportedly beneficial components, suspected to help soothe inflamed, sore throats. Curcumin, a naturally anti-inflammatory compound, is the main active ingredient in turmeric, and Western scientists agree that inflammation plays a major role in almost every major chronic disease. Into the pot, they went!
With the idea of congee, a soothing, healing Asian rice porridge, in mind, I swapped out the noodles of chicken noodle soup for rice. My soup has more broth than congee, making it more soup-like than porridge-like, but the thickness that comes from the rice makes it reminiscent of the beloved comfort food.
Finally: leafy greens, leafy greens, leafy greens. It seems that there isn't a single thing that leafy greens can't solve. Drawing from my own recent experience, during every phase of pregnancy, women are told to consume leafy greens to help aid the development of the fetus. While breastfeeding, women are then told to consume leafy greens to help aid the development of the growing baby. Pretty powerful stuff! I had a bunch of spinach in my fridge, so that's what went into my soup. 
At this point, I gave my soup a taste. Delicious, but it was missing one element. Glancing around my kitchen, I realized what it was: This rich, chicken stock-based soup was missing a kick of acid. I wound up squeezing three entire limes into my soup to achieve the citrusy balance that the soup needed.
Though the soup was created for my own healing purposes, I shared a bowl of it for dinner with my husband that evening, hoping to help him stave off any sickness. My "Table for Two" recipes are always written to serve two, but I wrote this recipe to make four to six servings, to ensure that you have lots of soup to go around. 
If you, too, are craving some of your mom's chicken noodle soup this sick season, give my healing chicken and rice soup a shot instead.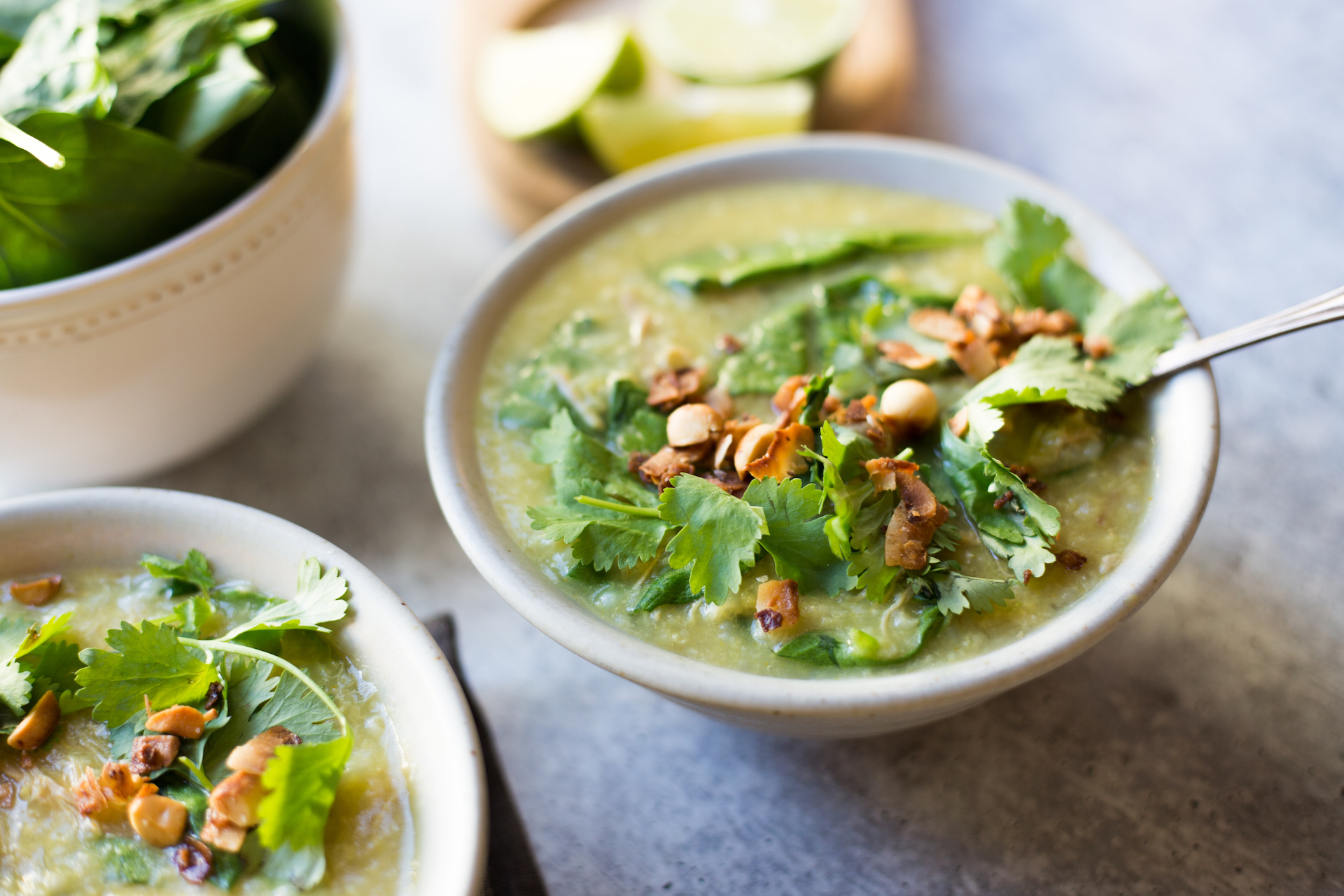 Healing Chicken and Rice Soup
Serves 4 to 6
2 tablespoons unsalted butter or olive oil
1 large yellow onion, chopped
4 garlic cloves, grated
1 (2-inch piece) ginger, peeled and grated
1/2 teaspoon ground turmeric
1 1/2 pound boneless, skinless chicken thighs
7 cups chicken stock
1 1/2 cup sushi rice 
1 teaspoon kosher salt
3 cups chopped winter greens (spinach, Swiss chard, kale, beet greens, etc.)
Juice of 3 limes, plus more wedges for serving
1/2 teaspoon freshly ground pepper
Optional: cilantro, toasted peanuts, and coconut
Melt butter in a large heavy-bottomed pot over medium heat. Cook onion for 4–5 minutes, until soft and translucent. Add garlic, ginger, and turmeric and cook for an additional 30 seconds. 
Add chicken thighs, chicken stock, rice, and salt and bring to a boil over high heat. Cover and reduce to a simmer. Cook for 25 minutes.
Remove the chicken to a holding plate. Use two forks to shred. Fish out the ginger slices and discard.
Stir the shredded chicken, greens, lime juice, and pepper into the soup. You can enjoy it immediately, or if you have time, cover the soup and refrigerate, and the rice will continue to absorb the liquid and the soup will thicken. 
Enjoy the soup with a bit of cilantro and a sprinkle of toasted peanuts and coconut, if desired.
Cooking Tips
If using spinach as the leafy green in your soup, don't use baby spinach! It becomes slimy and unappealing when wilted into soup. Use regular spinach, typically found in bundles in the refrigerated vegetable section at the store. 
As your soup sits, the rice will continue to soak up the broth, becoming thicker and thicker. If you want to loosen it up, add a splash of stock when you re-warm it. 
Looking ahead, this soup is a great way to use up leftover Thanksgiving turkey! Just shred the turkey and use it in place of the shredded chicken.
Caroline Chambers is a recipe developer, food writer, and author of "Just Married: A Cookbook for Newlyweds." She currently lives in Carmel, Calif., with her husband, George, and baby boy, Mattis. Follow her on Instagram for cooking tips and snippets from her life in Northern California @carochambers