A little dog with a huge obsession for sweet-smelling flowers is inspiring others to always stop and smell the roses. In fact, any bloom would do.
Finn, the 2-year-old, 9-pound Brussels griffon-Pekingese mix, who has lived with Sarah Geers, 25, since he was 9 weeks old, first began showing an interest in flowers when he was just 3 months old.
"I saw him sniffing my father's garden of zinnias and he was so intrigued!," Sarah, a registered nurse, told The Epoch Times. "I snapped a few pictures, and I had no idea this was just the start."
Finn's flower obsession soon grew to include all varieties.
He sniffs all flowers while out on walks, pokes his head through Sarah's deck railing to "catch a whiff" of her hanging pansies, and is always excited by a fresh bouquet, wagging his tail and wiggling his behind to show appreciation.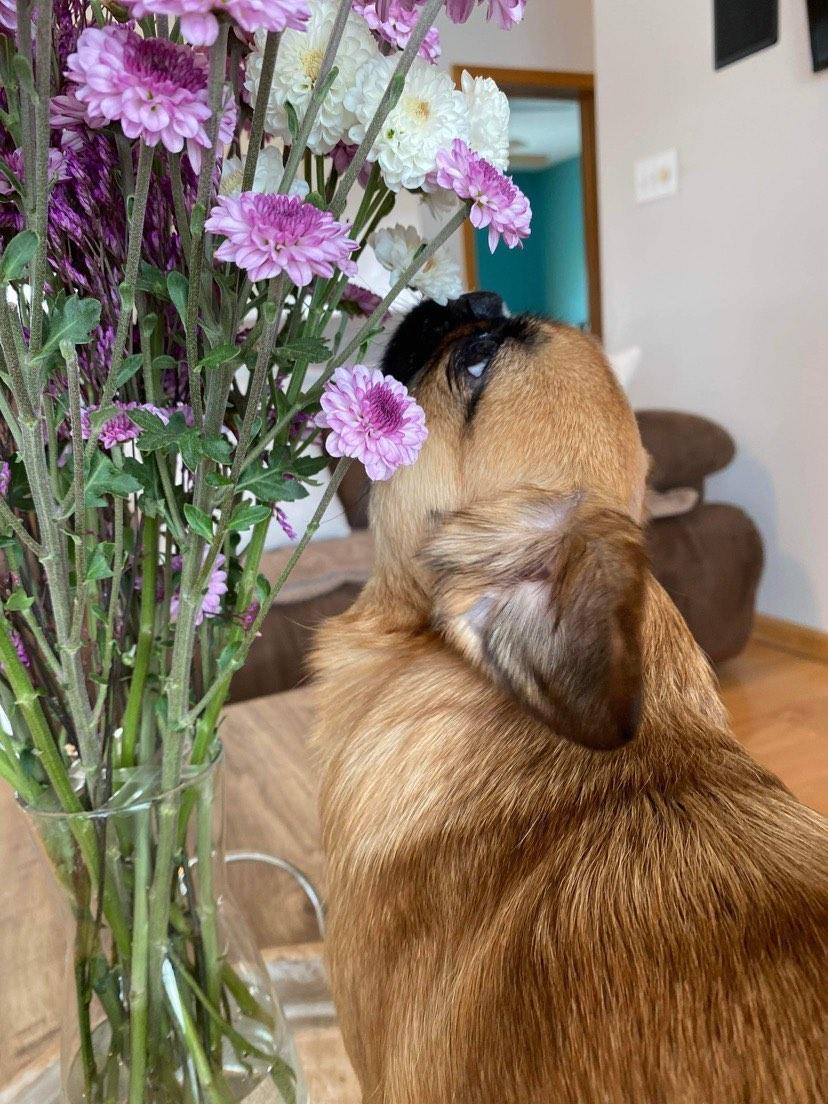 "Finn is in awe every time I come home with some fresh cut flowers," said Sarah. "He also enjoys sniffing fake flowers; he does not judge."
According to Sarah, he particularly loves vibrant pansy blooms along with the colorful varieties of zinnias. During the spring season, Finn likes running around the dandelion field and sniffing throughout the journey.
"The only downside to his cute obsession is that I can no longer have fresh flowers on my coffee table, because Finn never fails to jump up and take a sniff; I'm afraid he will knock them over!" Sarah explained.
Clever Finn also knows to hang back when he needs to. He is wary of the more "dangerous blooms," said Sarah, and doesn't bother to sniff her geraniums or dahlias, which are not considered pet-friendly.
Sarah shares her adorable pup's flower-smelling antics and daily chronicles on
Instagram
.
She purchased Finn from a Brussels griffon breeder when he was 9 weeks old. The breeder hadn't known that Finn's mother, a Pekingese, was pregnant until the day they found her carrying newborn Finn in her mouth. When Sarah saw the "accident pup," it was love at first sight, as he reminded her of her other dog, Harley, a Shih Tzu-Shar-Pei mix.
"Finn had some extra vet appointments to ensure he was healthy, given the lack of prenatal care," she told The Epoch Times. "He was in the clear, so I booked a flight to Florida and welcomed my little boy home."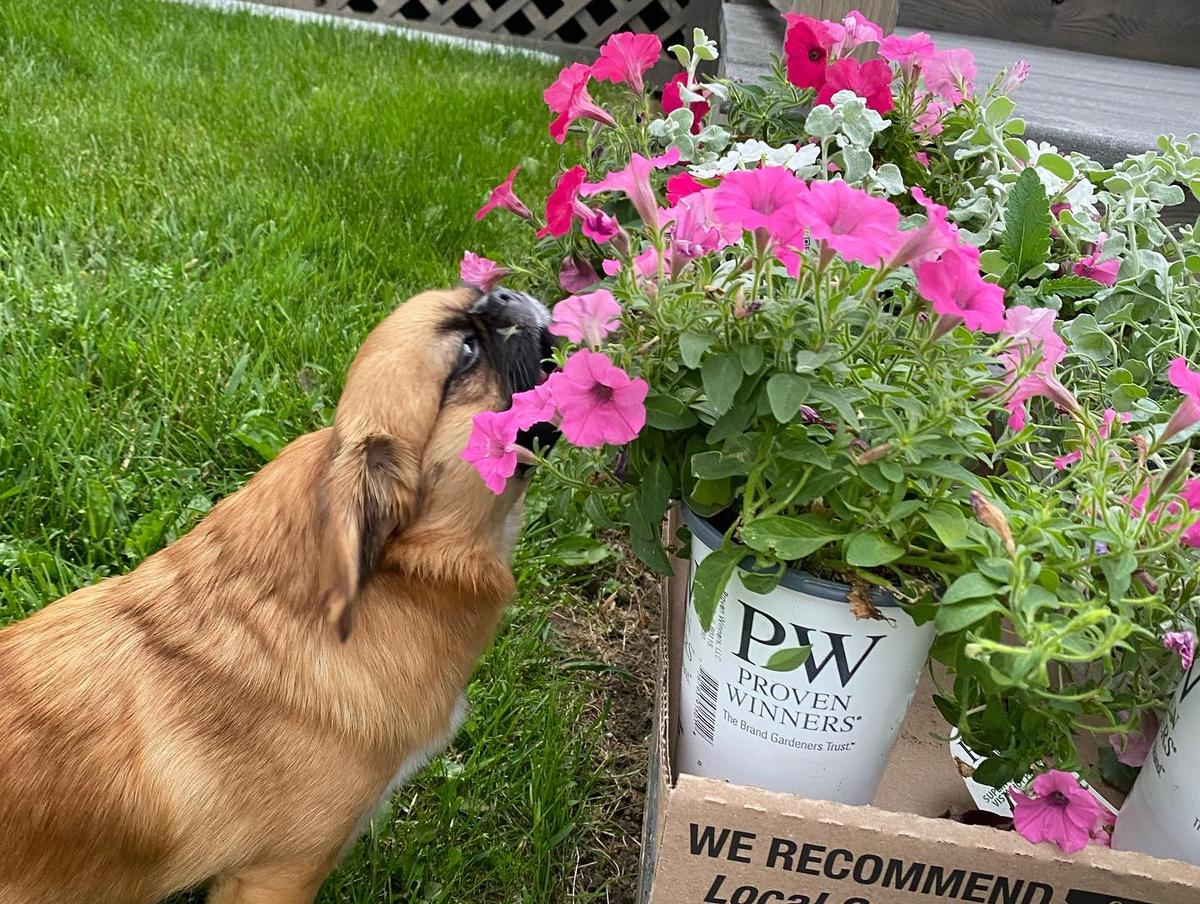 Sarah's husband, Matthew, who was deployed to Afghanistan, first met Finn six months later. But Finn had another play buddy to bond with in the meantime; Harley, who is now 4.
The two enjoy playing and wrestling throughout the day, Sarah explained.
"Harley often grooms Finn by licking the top of his head—this will go on for over 20 minutes and it puts Finn right to sleep," Sarah shared. "It's the cutest thing ever to watch!"
The proud owner describes Harley as her "independent pup" and Finn as her "velcro pup."
Sharing more about Finn's personality, Sarah said: "Finn is the happiest pup I've ever met. He certainly loves attention and people. His hobbies include car rides, lounging on the arm of the couch like a cat, floating in the pool on his floaties, and chewing Whimzees. He dislikes thunderstorms and spinach.
He has a gentle soul, and is always the pup to give out extra cuddles on a bad day."
Finn and Harley played key roles in Sarah and Matthew's wedding, with Finn even being the "best dog of honor." The couple named their signature wedding drinks "Harley's Lemonade" and "Finn of the Beach."
In December 2021, Sarah and Matthew accomplished "every millennial's goal" by purchasing their first house with a big backyard for their beloved dogs in the village of Palatine Bridge, New York. Finn and Harley now have seven glorious acres to roam, next-door horses to admire, and plenty of new flowers to smell.
"Dogs are precious souls," said Sarah, reflecting. "Dogs are only with us for a short period of our life; we are in their world for a lifetime!"