In Clint Eastwood's "Jersey Boys" (2014), we learn there were only three ways for young Italian American men to escape Jersey in 1951: join the Army, join the mob, or get famous. "Jersey Boys" is the movie version of the Broadway musical about the life and times of Frankie Valli and The Four Seasons: four juvenile semi-delinquents who made it out of Belleville, New Jersey, on the third option.
When asked at a June 9, 2014, press conference in Manhattan (with other members of the movie's team as well) how he related so well to this seemingly foreign material, Clint Eastwood revealed a little known fact: Growing up in Oakland, California, his high school and neighborhood were largely Italian American. And much like comedian Jay Mohr, who grew up similarly and said that it took him years to stop saying "Marone!" Eastwood let on that, unbeknownst to most, he possesses an in-depth familiarity with all things Italian American. Who knew?
For Those Curious About Clint
The first thing you notice about Clint Eastwood, in person, is that he's not Dirty Harry. Nor is he Staunch Republican Clint, chiding Obama-in-a-chair (who was not there). He's also not that movie-star legend, two-fisting Oscars in a tuxedo. And he's definitely not the gruff guy from "Gran Torino." He's all of the above, of course, but in person he's quite different. His voice is higher, he's very actor-y in the sense that he's chatty, he enjoys the spotlight, and is (not surprisingly) very funny. A chameleon.

It was a bit of a shocking revelation—all those film and TV Clint Eastwoods I thought I knew, plus a lot of the public Clint Eastwoods—all characters. So who is Clint, really? Clint Eastwood's an actor's actor.
A Jukebox Musical
At one point in "Jersey Boys," the band is watching 1951's "Ace in the Hole" on TV in a hotel room. Kirk Douglas's Chuck Tatum is having an altercation. "Make me!" says Jan Sterling's Lorraine to Chuck. Chucks slaps her across the face: Whack! "Oh!! Does she cry?!" asks a band member. "No, big girls don't cry," responds his band mate.
A so-called jukebox musical often uses a contrived setup to play a famous song. In this case, it's the truth—this is how The Four Seasons' hit "Big Girls Don't Cry" came into the world.
Mob or Music
At a barbershop in Belleville, New Jersey, local mobster Gyp DeCarlo (Christopher Walken) is having himself a shave. Young Francis Castelluccio (John Lloyd Young) will do the shaving honors—it's his first time. Gyp's taken him under his wing.

Francis is in a band. Buddy Tommy's on guitar, and Nicky's on bass. This kind of harmonizing variety trio was what people wanted to hear in 1951. This kid Frankie—he's got a voice! When he sings, it moves Gyp to tears (which, because it's Walken, is funny).

Buddy Tommy DeVito might as well be Frankie's bad-boy older brother; he's in and out of Rahway Correctional. Frankie's mom doesn't love Tommy and his ilk: "I don't understand the infatuation with those mamaluke bums!"
Tommy schools Frankie about girls. "Marriage is when you take a shave while your wife sits on the can, cutting her toenails." But Frankie doesn't listen to Tommy; he marries Mary Delgado (Renée Marino) who tells him to change his name to Valley. With an "I." "Valli's more Italian."
From Trio to Quartet
But 'round about 1960, nobody's hiring trios anymore. They need to evolve, so Tommy finds a talent scout named Joey Pesci (Joseph Russo). That Joe Pesci? That Joe Pesci. And Joey Pesci finds them a fourth member, Bob Gaudio, writer of songs.
What to do about a band name? While they're standing outside a bowling alley called the Four Seasons, its sign goes haywire, lights flickering on and off. It's a sign. From a sign.
The way they sing and play, people think they're black. They go to the famous Brill Building on Broadway and talk to agents who say, "You? You're not black?" "No, we're Italian!" "Great! Come back when you're black!"
But agents are eventually landed, contracts signed, and fame waxes. And then wanes. Ironically, in the waning phase, we learn that Tommy's into a loan shark named Waxman for $162,000 large. Plus an extra half a mil to another source.
Tommy's hustler personality may have ultimately gotten them off the ground, but it now threatens to grind them back into it. Nicky eventually quits the band. Tommy's compulsive need to use up every last towel while in a hotel suite got on Nicky's last nerve.
Tommy also dishes dirt to a reporter about Frankie. And yet golden-hearted Frankie, faithful to the end, winds up playing 200 dates a year in the polyester '70s, in cheap hotels and dive bars, while countertop roaches stroll by his coffee cup—all to cover Tommy's massive financial debt. Talk about a friend in need.
Jukebox Perennial
Since "Jersey Boys" is based on the Broadway musical, the movie version borrows the theatrical device of "breaking the fourth wall," where actors speak directly into the camera to tell their stories. This emphasizes the homey, bygone feel of American neighborhoods where everybody intimately knows everybody else's business.

Highly reminiscent of the now classic "Saturday Night Fever," which rocketed John Travolta to stardom in 1977, "Jersey Boys" is likewise about four Italian American youths in Manhattan's outer boroughs; the attitudes and lingo are the same.
"Fever" wasn't a jukebox musical, but its songs dominated jukeboxes and airwaves across America, and 45 years later they're still there. So are Frankie Vallli's "Sherry," "Big Girls Don't Cry," "December, 1963," "My Eyes Adored You," "Grease," "Rag Doll," and "Walk Like a Man," to name a few.
An Actor's Director
In "Jersey Boys," thick-as-ragù accents pervade. When you meet the cast in person, you realize there's not a hint of mob-inflected Jersey-ese among them; they don't walk or talk that way in person—all highly articulate. So why not hire some "Jersey Shore" types for "Jersey Boys"? Why not Pauly D in the role of Nick Massi instead of Canadian Michael Lomenda? Because Eastwood, an actor's actor, who also directs, prefers to direct actor's actors. A Pauly D type also could not be cast due to the performers needing to have serious singing chops.

Eastwood hired musical theater vets  from the Broadway shows, with hundreds of performances' worth of experience in these roles under their belts. Young has 1,400 performances, to be exact. It shows. These are classic Broadway actors who, in the words of cast member Erich Bergen, "live in fear they might be working at Starbucks next week." Clint hands down the ladder.
Stage Song Versus Movie Close-Up
So what about the differences between a stage and a film version of the same story? At the same interview session, co-scriptwriter Rick Elice mentioned some of the challenges of moving a musical to the big screen. The example he gave is that in musical theater, the magic of live music provides the vehicle of the close-up. The act of breaking into song allows us to focus on the inner life of the actor.

On film, however, music loses its magic. The camera close-up becomes the storytelling device that reveals a character's inner world. The use of the close-up then allows more of the story itself to be brought into focus. And it takes a director of Eastwood's caliber to manipulate the medium to enhance that storytelling to riveting effect.
The Eastwood Movie Set
Regarding Clint's on-set milieu, Bergen (who plays Bob Gaudio, predominant Four Seasons writing talent) said:
"When you walk onto a Clint Eastwood set, there's no ego there. There's respect for everyone, from the actors to the catering truck." (Clint injected in a stage whisper, "Especially the catering truck!")
"The ego-free nature of that set teaches me that if you have the talent, everything else is unimportant."
Female roles are few and far between, with only the actress playing Frankie's wife getting more than a couple of lines. Eastwood's daughter Francesca Eastwood plays a waitress.
The only thing really missing is that when Clint pays tribute to the stage musical with an all-cast dance number, he should have let legendary (yet few know this) song-and-dance man Christopher Walken do a nice soft-shoe. While dispersing priceless Walken-isms. Clint should've allowed the Saint of Strange Syntax to combine his musical and cinematic talents into one instantaneous, hall-of-fame YouTube classic.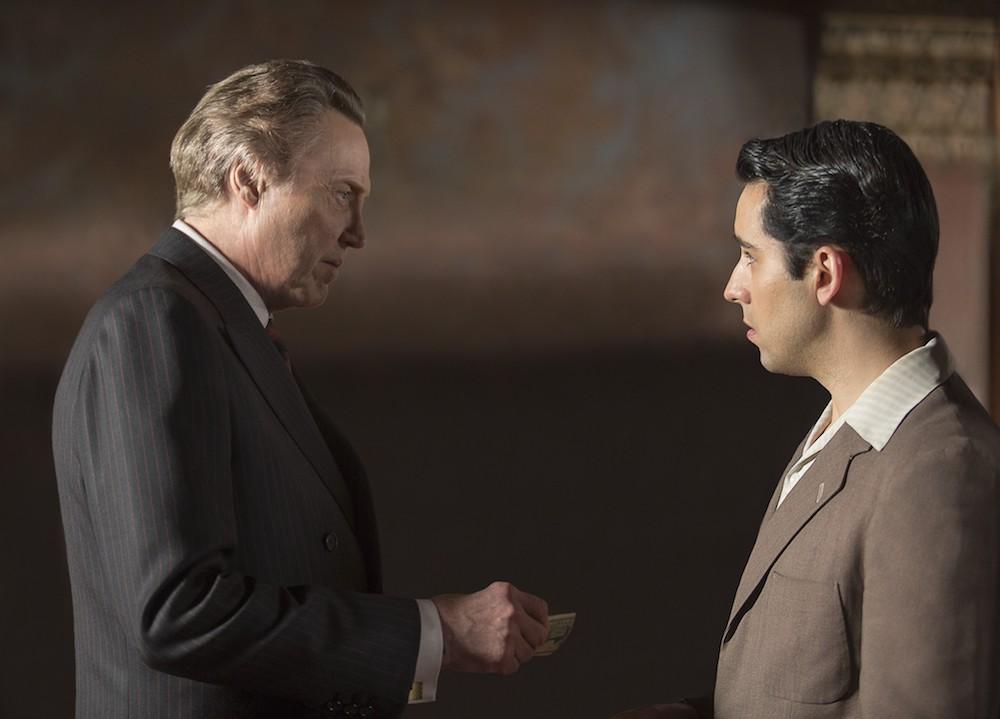 'Jersey Boys' Director: Clint Eastwood Starring: Christopher Walken, John Lloyd Young, Vincent Piazza, Michael Lomenda, Erich Bergen Running Time: 2 hours, 14 minutes MPAA Rating: R Release Date: June 20, 2014 4 stars out of 5