The last time a stretch limo set the record for World's Longest Car, the show "Knight Rider" was still on TV, Ronald Reagan was in the White House, and the Soviet Union was still a concern in world affairs—That was 1986.
But buckle up! Because on March 1, 2022, one New York native rolled out an even longer limo, and set a new Guinness World Record.
Long Island resident Mike Manning, 61, who's been working on cars since childhood, paired with Orlando's Dezerland Action Park to pull off the project.
The record-setting stretch measures 100 feet, 1.5 inches, breaking the previous record by a slim inch and a half. "It goes on and on forever," Manning joked, speaking to The Epoch Times.
"It's a great accomplishment," Manning said. "Being in the car business, you don't get that much notoriety unless you become famous on TV or something like that."
The car, sporting 26 wheels, is fully loaded, with over-the-top luxuries including a swimming pool, jacuzzi, putting green, waterbed, seating for over 75, and a functioning helipad—which they successfully tested with a real chopper.
The limo was built "like a bridge" from six separate Eldorados in 1986 and, actually, is the same record-setting vehicle as last time. Only, it was lengthened and fully restored by Manning and a small team, in partnership with Dezerland.
"I came across this car about 10 years ago, and I saw it as a project, something that nobody would want to take on," Manning said. "The goal originally was just to restore it to put it outside for an attraction to draw people into the building."
The limo was in "total disrepair," rusted and falling apart. "When I [saw] the car, it was in very poor condition, on a scale of 1 to 10, it was minus 1," he told Guinness. It was shipped from New York to Florida to be restored and made drivable again. They purchased three donor cars for parts.
"We actually cut the car and replaced the cab of the car, that's where the driver sits," Manning told the newspaper. "The original was so deteriorated, you could see down through the floor."
The dashboard and wiring were destroyed from being outside in the elements for decades.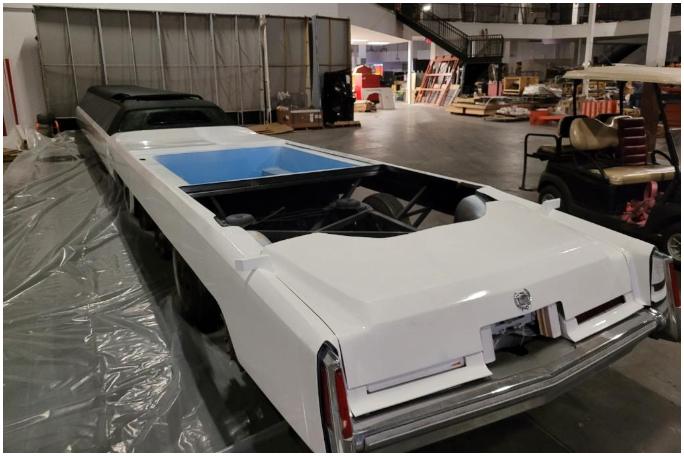 "In that section, we added an inch-and-a-half behind the front seat. We could have [lengthened] it by more, the goal was really just to bring it back to the way it was," he said, adding that the world record was just an "added bonus at the end."
It was Guinness who reached out to Manning. "I didn't reach out to them," he shared, but they kept in touch with Guinness, providing periodic updates during the restoration.
A date was set. And on March 1, Guinness adjudicators authenticated the world record, making it official.
As for future usage, the stretch Eldorado's single V8 472 Cadillac engine has more than enough horses to haul the front-wheel-drive limo's 25,000–30,000-pound heft, Manning said.
But it's not for the road.
"The length of it is too long for any street legally to drive on," Manning said. The limo's considerable length makes navigating most turns impossible. It's now on display at Dezerland.
Manning and the museum are even considering making it even longer. "I was talking about putting some kind of atrium in the middle, almost like a train has the sightseeing car," he added.
"It just makes you smile, and that's what's important."