But sometimes, while still alive, they manage to touch the face of God. This is the source of the intense addiction of both climbing and flying; mountaineers and aviators alike share the reverence of the sanctity of space, a phrase that comes from John Gillespie Magee's famous poem "High Flight." It's unfailingly read at the funerals of military aviators who die in the line of duty. It's a beautiful, powerful poem. I include it at the end.
"The Sanctity of Space" is a sometimes riveting documentary by climber and filmmaker Renan Ozturk, whom I previously wrote about when he was part of the team that climbed the unclimbable Himalayan Shark's Fin, in climber and filmmaker Jimmy Chin's "
Meru
."
What Shall We Climb?
Climbing trio Renan Ozturk, Freddie Wilkinson, and Zack Smith take a gander at some of legendary mountain photographer Brad Washburn's 80-year-old, rugged, black-and-white, haunting aerial images. One daunting, snow-capped path, shrouded and clouded in mystery, calls their names.
The colossal mountain range of the Moose's Tooth massif rises off the deck like a giant jawbone, on the east side of the Ruth Gorge, in the Central Alaska Range, 15 miles southeast of Denali (formerly known as Mt. McKinley). It features a series of peaks appropriately named the Moose's Tooth, Eye Tooth, Bear Tooth, Sugar Tooth, and Broken Tooth.
While not particularly high (compared to the Himalaya) these climbs are nevertheless treacherous, and while all the peaks had been bagged separately, they had yet to be conquered collectively and laterally. This summit-bagging traverse of the most forbidding peaks in the Moose's Tooth massif took two extremely dangerous expeditions. It's basically a mind-blowing altitude hike that traverses a meandering, vertiginous wave of frozen snow that can crumble, disintegrate, and drop climbers to their death in a heartbeat.
The climbing is amazing; the movie's a little amateurish. But like some of the dicey, crumbling rock they had to scale, I want to tread lightly, because just the climbing of this route was a major feat; hauling along many pounds of additional filmmaking equipment and simultaneously shooting a movie is a next level effort that really needs its own Oscar category. If there were such a category, Jimmy Chin's aforementioned "Meru" would have won Oscars, in the same way his better known work, "
Free Solo
," did.
Actually, It's Two Documentaries in One
"The Sanctity of Space" is really two documentaries woven together. The first is the actual climb; the second is about the life and times of renowned photographer and cartographer Bradford Washburn, who was also a climber and explorer.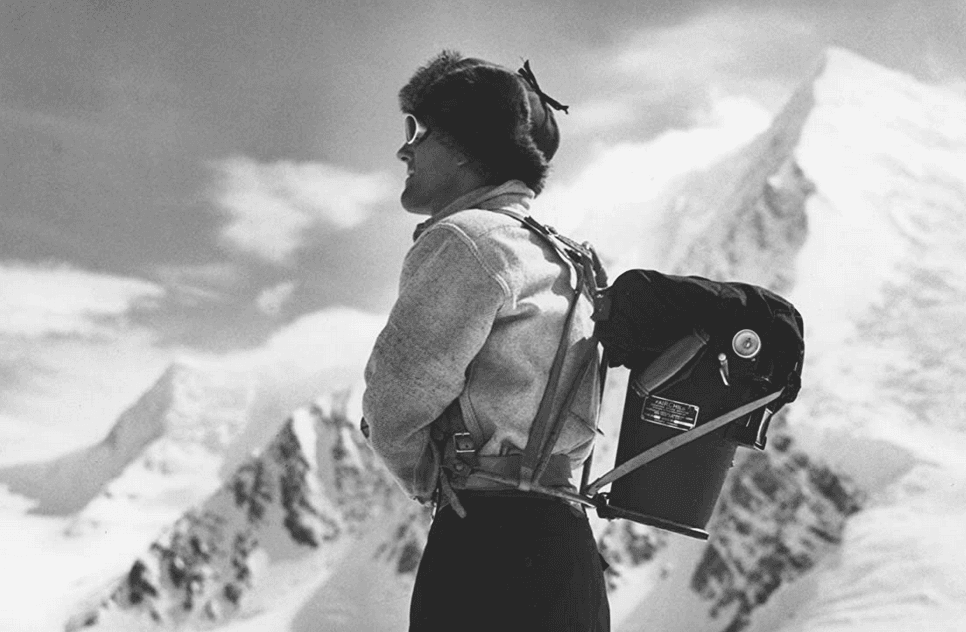 Washburn's recurring narrative basically walks us through this native son of Massachusetts's legacy, describing how he pioneered the use of aerial photography in cartography and crafted superbly detailed maps of regions previously neglected by geographers. It includes the story of how his disregarded advice to Amelia Earhart directly led to her death; his approximately four- decade residency as the director of Boston's Museum of Science; one of his grueling, near-death expeditions; and his charming lifelong partnership with his lovely, game, no-nonsense, nurturing, self-deprecating wife. The climbing story is successful, but the Washburn portrait needed its own, more exhaustive, committed (and more interesting) treatment, and serves more as a distraction throughout.
The Main Course
The climbing story, which took place roughly between 2007 to 2013, is about the three central climbers. It documents the deaths of other, fellow mountaineers; Ozturk's neck-breaking ski accident, and his decision to drop the Moose's Tooth project and climb the Shark's Fin before returning to finish the Tooth traverse (also recounted in Jimmy Chin's "Meru").

This storyline also includes the financial struggles of non-pro Zack Smith (non-professional only in regards to his not having a sponsor and navigating all the necessities of the modern pro- climbing career, that is, social media, non-stop photo-documentation, expedition-as-marketable movie, and so on.

"The Sanctity of Space" talks about the burning commitment and unshakeable resilience this lifestyle requires, and also the heartbreaking possibility of getting dumped by terrified girlfriends. The best fictional movies give us world-building and places we've never see or imagined before, but mountaineering documentaries also transport us to other-worldly existences, amid perilous avalanches and hypothermia.

To experience vicariously the enthusiasm and childlike wonder of world-class expedition mountaineers via this risk-taking, high-altitude footage, not to mention the breathtaking views, can certainly rival the fantasy worlds thought up by screenwriters. To to be able to witness the glacial otherworldliness of Alaska, without having to risk life and limb, is a treat.
'High Flight'
"Oh! I have slipped the surly bonds of Earth And danced the skies on laughter-silvered wings; Sunward I've climbed, and joined the tumbling mirth Of sun-split clouds, – and done a hundred things You have not dreamed of – wheeled and soared and swung High in the sunlit silence. Hov'ring there, I've chased the shouting wind along, and flung My eager craft through footless halls of air … Up, up the long, delirious burning blue I've topped the wind-swept heights with easy grace Where never lark, or ever eagle flew – And, while with silent, lifting mind I've trod The high untrespassed sanctity of space, Put out my hand, and touched the face of God."
John Gillespie Magee
'The Sanctity of Space' Documentary Directors: Renan Ozturk, Freddie Wilkinson Starring: Renan Ozturk, Freddie Wilkinson, Zack Smith Running Time: 1 hour, 41 minutes Release Date: May 31, 2022 Rating: 3 stars out of 5