"Emily" is reminiscent of "Thelma & Louise." Thelma (Geena Davis), a mousy woman suffocated by a lousy husband, learns how to rob people at gunpoint after watching J.D. (Brad Pitt) demo his armed-robbery pitch in a motel room. When later financially backed into a corner, she tries it on for size and discovers the method fits her like a glove. "Thelma & Louise" was a fun movie, though.
Dreary but Important Social Commentary
"Emily" turns out to be more of a dark, dreary, depressing tale, located in and around catering kitchens and parking lots. It's got some cocaine partying in club bathroom stalls, some aloof Korean roommates, and involves a racially cacophonous band of citizens and undocumented workers living lives of varying degrees of financial precarity.

The feature film debut of writer-director John Patton Ford (shot on a low budget over three weeks during the pandemic), "Emily the Criminal" tracks art-school grad Emily (Aubrey Plaza). She's from New Jersey and she punches the clock, delivering work lunches to downtown corporations and sketching portraits in her car between shifts. Her existence is every artist's worst nightmare.
However, her life is made exponentially worse by her collegiate DUI criminal record, and her defensive attitude about having to talk about that little situation—the drunk driving—to potential employers.
Eventually meeting up with Liz, her college bestie (Megalyn Echikunwoke) at a trendy bar, Emily offhandedly confesses, "I need a job, a good job." Liz is well situated. She's headed to Portugal on an all-expenses-paid work trip, whereas Emily can't afford her rent, much less buy paint for painting.
Liz arranges an interview for Emily with her boss, the graphic design firm's president, Alice (Gina Gershon), for a position, which turns out to be an unpaid, full-time internship with no benefits. The desperate Emily is not about to pay these kinds of life-destroying dues, and when lectured by Alice about how much worse the field was in her day (when Alice was "the only woman in a room full of men"), Emily stomps out, delivering the parting shot: "If you want to tell me what to do, put me on the … payroll."
Crime Pays
On a tip from a catering coworker, Emily stumbles on a "dummy shopper" gig, which involves buying up high-end electronics and luxury cars with fake credit cards, for resale. In a world of unmarked warehouses, Emily soon finds herself immersed in an underworld of savvy Middle Eastern immigrants, nondescript outlaws, and desperate single parents, all motivated by one desire—survival. It's the logical outcome of a society in which socialism has begun financially squeezing the middle class with a pair of vice-grips.

As Emily's new "boss," the mild-mannered middleman Libyan ex-pat Youcef (an unrecognizable Theo Rossi, a long way from his mohawk and tattoos biker role in "Sons of Anarchy") explains about buying sports cars: "With a purchase of this size, the bank will call the vendor, but that takes eight minutes. You have eight minutes to leave, or they know it's fake."
As mentioned, each time Emily ingests these "wisdoms" and chooses the easy wrong instead of the hard right of legal employment, they take root in her soul. Each new criminal event fertilizes a quickly burgeoning latent destiny as Emily the Criminal, as opposed to the destiny of Emily the Painter—especially when she gets robbed of loads of cash, at box-cutter point. It unleashes a fiendishly determined, vengeful inner shadow warrior she didn't know she possessed (or maybe it suddenly possessed her).
Plaza as Emily appears in every scene, whether hauling containers of pasta or tasing a would-be thief, her quietly charismatic performance demonstrates that she's not just a quirky comic but a very well-rounded actress with a lot of range.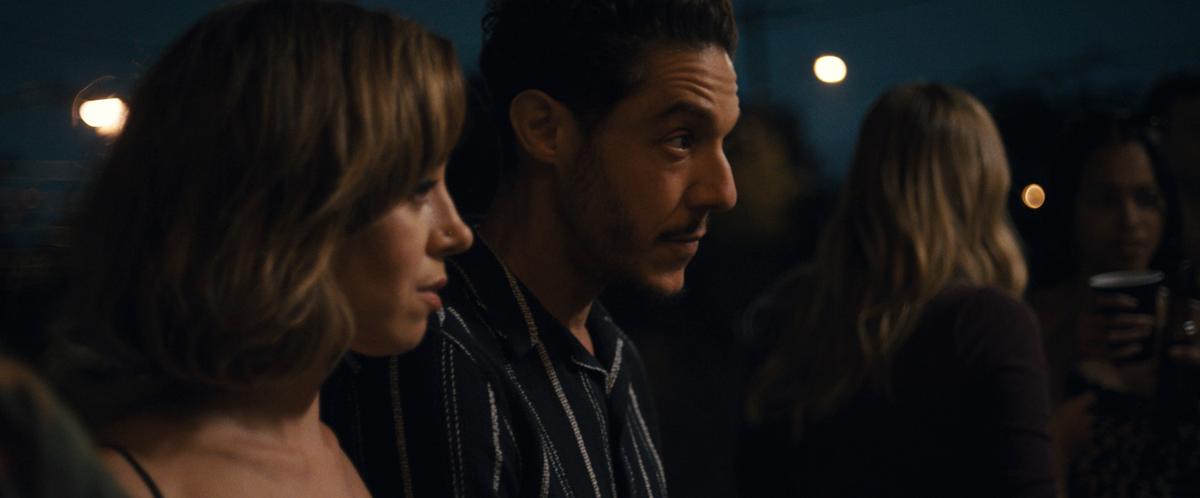 Overview
"Emily the Criminal" is both a character study and an indictment of the U.S. carceral system. As demonstrated by this movie, a criminal record sets up a vicious cycle of crime necessitated by a completely overwhelming load of debt.

"Emily the Criminal" also speaks to the ongoing Great Resignation, which journalist Stefan Ellerbeck defines on World Economics Forum thusly:

"The Great Resignation, a term coined in May 2021, describes the record number of people leaving their jobs since the beginning of the pandemic. After an extended period of working from home with no commute, many people have decided their work-life balance has become more important to them.

"This revolution in the world of work appears to be continuing apace, with one in five workers globally planning to quit in 2022. That's the key finding of consultancy firm PwC's Global Workforce Hopes and Fears Survey of more than 52,000 workers in 44 countries and territories, carried out in March 2022. It says pay is unsurprisingly the main factor in people wanting to change jobs, with 71% citing it as a key reason."

Record numbers of low-wage employees have voluntarily quit their jobs, because working a demeaning job that can't ever pay your bills is one of the steps on the road to communism. You will give up and let the state take care of you.

Or as Emily declares to Youcef at the film's climax: The system "will just keep taking from you and taking from you until you make the … rules yourself. Am I wrong? Am I wrong?"
The final scene suggests that escape from the rat race is possible. But also criminal. And that's too facile. The film needed to find a way to explain that Karl Marx planned the lawless phase ("Defund the police!").
Like one in five Americans, Emily is buried in debt. And like nearly a third of her compatriots, she has a rap sheet that effectively precludes gaining the means to pay it off. So she should be recognizable, if not relatable. But she's not really likable. And so while "Emily the Criminal" is a good reminder of where things stand today, the film ultimately grates on the nerves. "Emily" is similar to Adam Sandler's "
Uncut Gems
" in that respect; it carries a high degree of tension generated by a character it's difficult to really care about—thrillers are only really thrilling if you care.
'Emily the Criminal' Director: John Patton Ford Starring: Aubrey Plaza, Theo Rossi, Gina Gershon, Megalyn Echikunwoke MPAA Rating: R Running Time: 1 hour, 33 minutes Release Date: Aug. 12, 2022 Rating: 3 stars out of 5