A senior pet dog was almost put to sleep after her owners neglected a tumor "the size of a melon." A shelter intervened and discovered that the little dog's tumor was benign.
Boo Boo the dachshund had become so burdened by the huge mass—which grew to comprise a third of her body weight—that she could barely walk.
In early October, the 13-year-old pup was taken to a shelter by her owners, who requested euthanasia. However, Muttville Senior Dog Rescue, a San Francisco sanctuary, stepped in and decided to investigate.
Sherri Franklin, the founder of Muttville Senior Dog Rescue, told the
Mirror
 that Boo Boo weighed 12 pounds (approx. 5.4 kg) and the tumor weighed 3.5 pounds (approx. 1.6 kg).
"[The tumor] was the size of a melon," Franklin said, adding that her tumor was dragging on the ground as Boo Boo walked.
"It was starting to rupture just because it was hitting the ground," Franklin said. "The family let it get that big and then they decided to have her euthanized."
She said Boo Boo's owners brought her in for euthanasia "even though she is full of life," reported the Mirror.
However, Muttville Senior Dog Rescue decided that Boo Boo was a candidate for adoption no matter the outcome of her biopsy, the report said. If the tumor was cancerous, she would be put up for hospice adoption; if it was benign, she would be eligible for a brand-new forever home.
A volunteer surgeon successfully removed Boo Boo's tumor. Blood work confirmed that the little dog was healthy despite the huge mass she had carried for so long.
The sweet, affectionate senior dog was adopted by Ashley Shuster, 26, just one week after her surgery.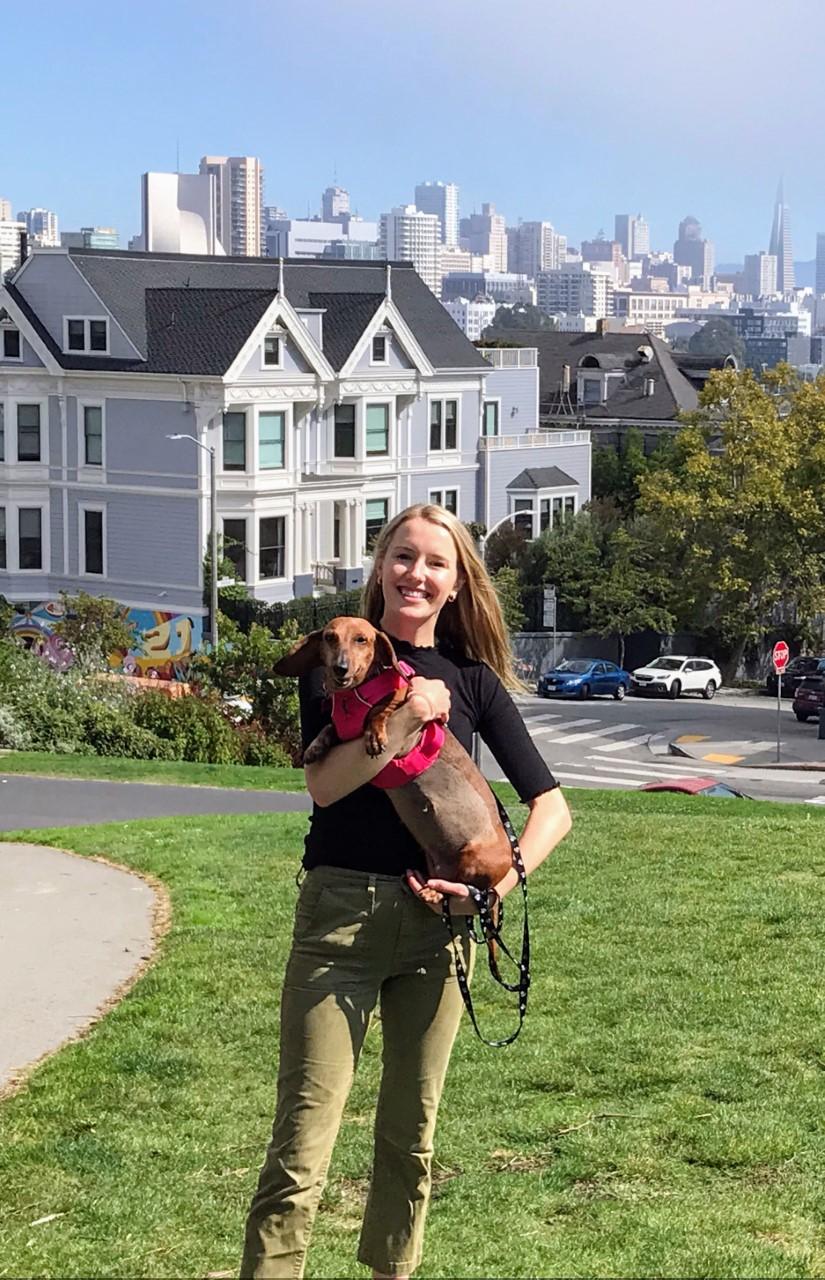 "I've always wanted a dog," Shuster told
Today
. "I was watching Muttville's website really closely. Then I saw Boo Boo. She had a little party hat on in her photo. I was immediately drawn to her."
"[M]y grandma had dachshunds her whole life, and that brought up a lot of really good childhood memories," she added.
Shuster said Boo Boo loves running around more than anything, probably because "it's been so long since she was able to move this freely."
"She came to us as a happy dog who couldn't walk. Now she acts like a puppy," Franklin told Today. "She has a whole new life ahead of her."
The shelter's intervention brought this patient pup the new lease on life she truly deserved.
Sharing the adoption news on their social media
page
, Muttville Senior Dog Rescue wrote: "During the day, Boo Boo is going to get so much love as Ashley will be working from home. Lots of neighborhood walks and adventures are in store for these two!"
We would love to hear your stories! You can share them with us at emg.inspired@epochtimes.nyc