As a former foster dog himself, this partially deaf and blind dog knows how scary it is to be in a new place. So, he made it his mission to comfort all the pets his owner rescues, gain their trust, and make them feel at ease in their stressful situation.
And now, the internet loves him!
Shiro is a maremma sheepdog cross whose life hasn't been easy. He's partially blind and deaf to begin with. He has spent time in 12 different foster homes and two shelters, and was also adopted into four different families only to be returned just as many times due to his anxious behavior. When long-term foster rescuer Sheryl Smith heard about him, she knew she was his best chance at a happy life.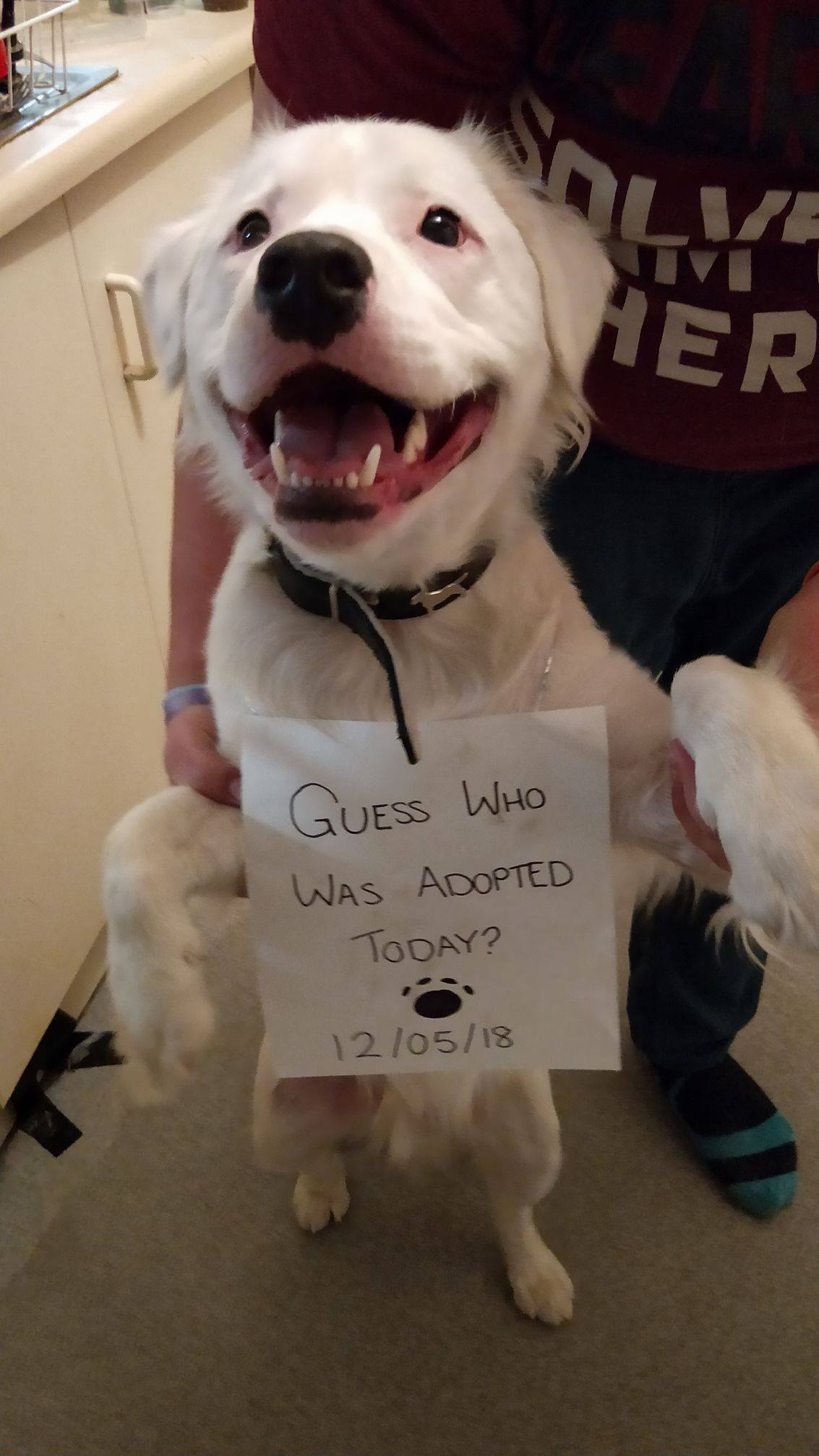 "He was a handful, but everyone else had given up on him and we weren't prepared to do that too," Smith explained, The Dodo reported.
Even though he was permanently adopted into Smith's home back in 2018, the pooch still suffers from his previous traumas. "He still to this day cries in the car because he thinks he's being dropped off somewhere else," she shared.
In spite of his issues, this little pup also has shown extraordinary character. According to Smith—who regularly rescues and fosters pets in need—Shiro made it his mission in life to make new arrivals feel safe.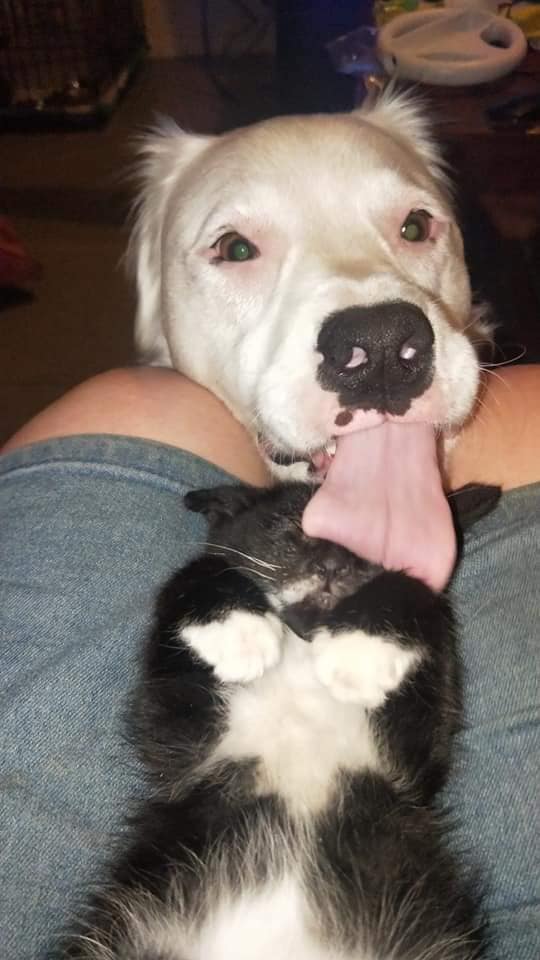 "Just after his rescue, l rescued a pregnant dog who was too sick to care for her pups, so Shiro climbed in with them and started cleaning them," she recalled. "He's done that with every rescue I take in. He will just sit patiently with the feral cats/kittens and bonds so strongly with them, they trust him before they trust me." Smith also cares for abused and neglected cats, an effort she supports through a GoFundMe page.
It was January 2020 when Shiro became a viral hit for looking after a rescue kitty named Tiny Tolley. The owner posted some adorable photos on Facebook with the dog and the cat and a caption that read, "Poor Tiny Tolley has no idea what just slapped her in the face. Shiro looks very proud of himself though."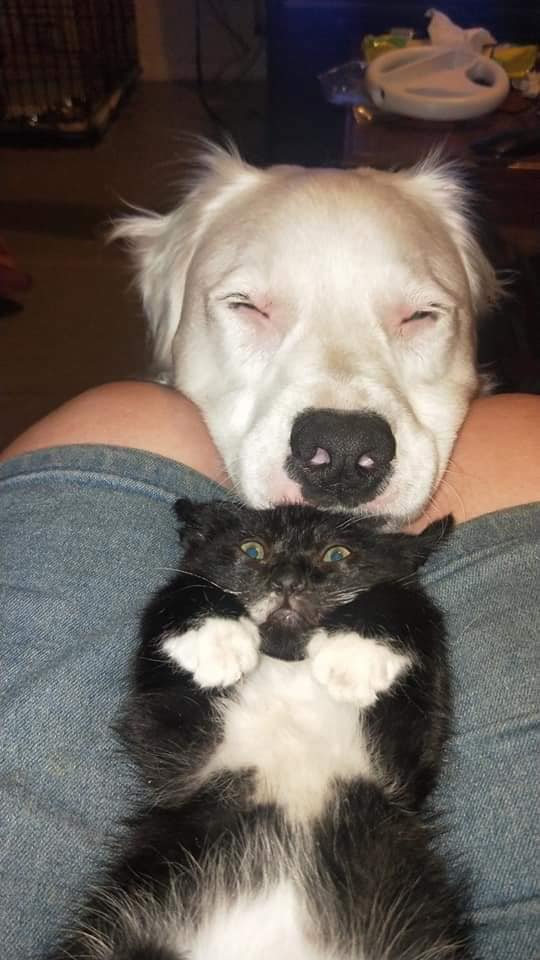 While Tiny Tolley was sick and scared, the pooch refused to leave her sight. He just stood by her kennel so that she would feel safe and secure. "Shiro never left her crate for a second," Smith said. "He knew she was so sick and so scared and that she needed to be comforted."
And to the owner, that shows she was right all along to adopt a dog everyone else had given up on. "His love and compassion for the other rescues is nothing short of amazing," Smith added.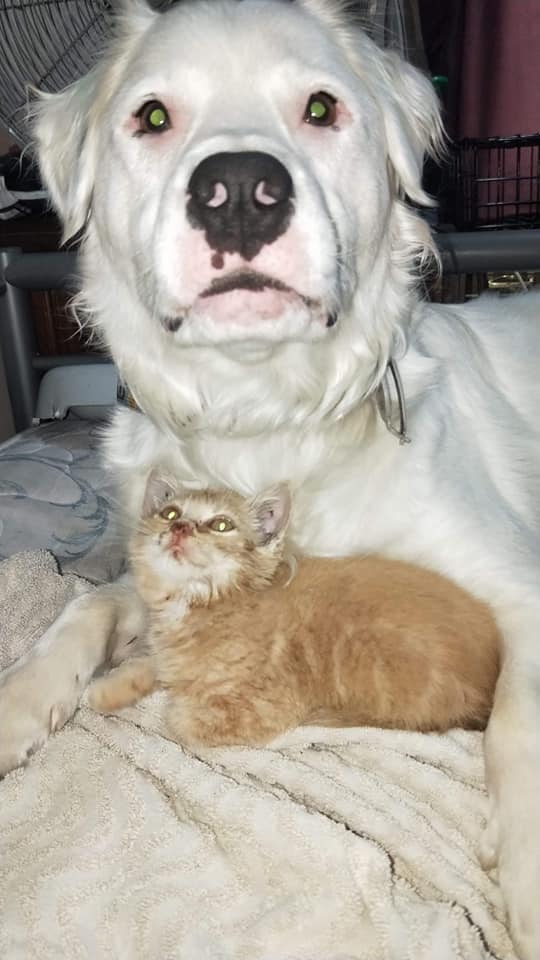 Now, this incredible dog has his own Facebook page, where Smith regularly posts photos of his hilarious antics. The page delves further into the pup's inspiring story, and it's as heartbreaking as it is touching. Smith has also faced many challenges caring for Shiro , including separation anxiety and aggression, but it was all worth it in the end.
In spite of his blindness and deafness, though, the pooch even managed to learn tricks in sign language! "He's a hard dog and tests my patience, but I wouldn't give him up for the world," the woman writes at the end of a heartwarming Facebook post.